14
min read
Okay – quiz email automation has to be (hands down) the most popular question we get in Riddle support.
"Hey, just how can I send different emails to my quiz takers – based on their quiz or personality test results?"
Seriously – this is a hugely popular quiz email automation use case for Riddle.
And the good news? You easily do this in almost every email marketing tools – but we'll be using MailChimp for our example.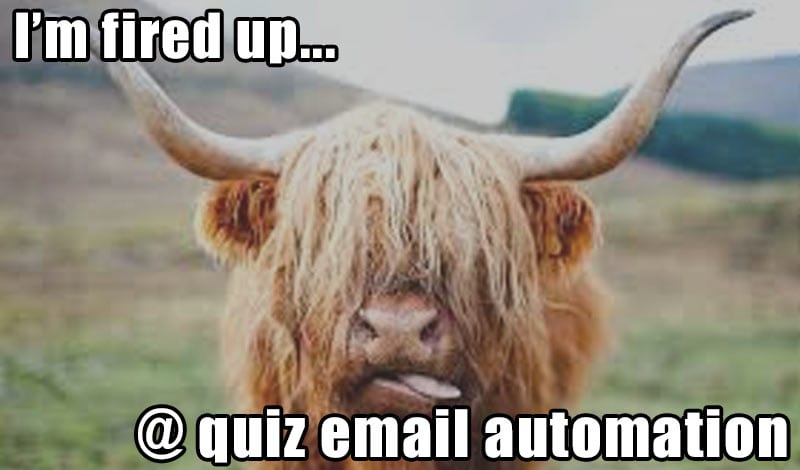 Fear not if your email marketing tool doesn't support this sort of marketing automation. Check out how you can get the same results Riddle's app on Zapier.com. Best of all? No coding required… (yay!)
Now brace yourself – the list of steps might seem a bit intimidating, but they're all pretty simple. MailChimp's user interface makes this process a bit drawn-out – but the results are totally worth it.
Want to see these steps in action? Check out our help video below.
Quiz email automation – step by step guide
In this example, we'll be creating a very simple personality test with two personalities – "great person" and "awesome person". (Yes, yes – not very imaginative, we know… you caught us in a caffeine-deprived state.)
We'll add the test result to a new custom field in MailChimp.
Using this field, we'll send out an email to the test taker with content that is tailored to the result.
For example, the "awesome" person gets a different email than the "great" person.
This is pretty awesome. For instance, imagine you ran a travel site. You could use this technique in a quiz like "What is your ideal weekend get-away?".
Suppose you had two results: "City Break" or "Beach Time".
Each quiz taker would get a personalized auto-generated email tailored around each result.
The benefit? You'll get much better results from your leads than a 'one size fits all' email template.
Intrigued? You could take this approach one step further – sending each lead a second test that qualifies their vacation tastes even further. For example, "City Break" users might get invited to take "What European City Break is right for you?" – which you could use to send out extremely targeted offers to each customer around Paris, London, or Rome getaways.
(By the way, if you are interested in the psychology behind this method, check out this blog post on Ryan Levesque's awesome "Ask Method".)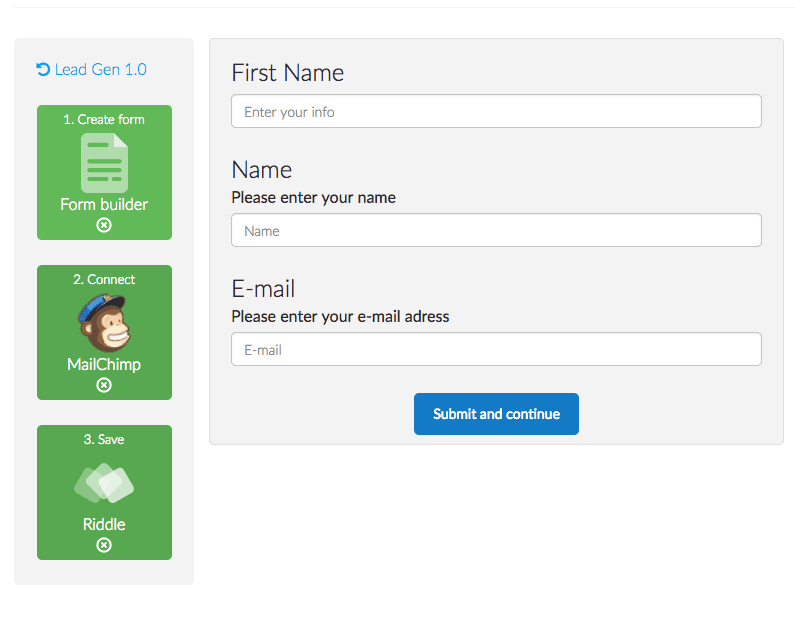 Step 1
Create a Riddle test and set up your lead capture form.
We'll keep it simple – asking for only first name, last name, and email.
But feel free to drag and drop any number of fields into your form to collect more information – from dropdowns to star ratings. (Date and time pickers are especially popular – you can ask for the best day or time to reach them.)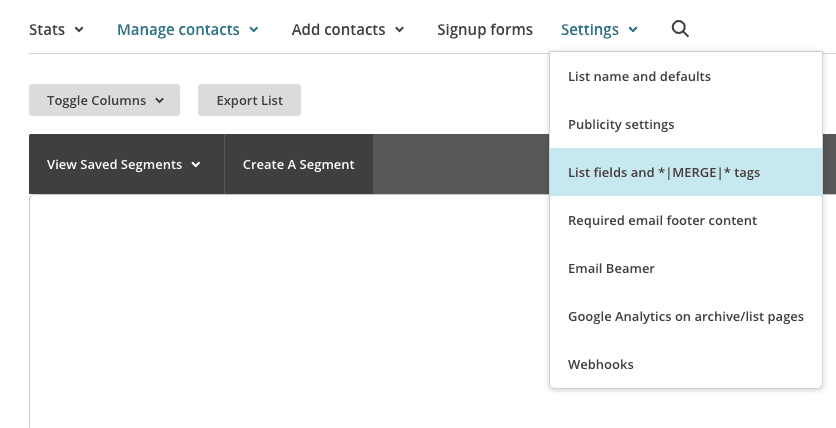 Step 2
First, make sure that your MailChimp list is set up to receive all the info from your Riddle quiz or personality test.
Go to your MailChimp account and open the list where you want to store your Riddle data.
Click on list settings and select "List fields and MERGE tags".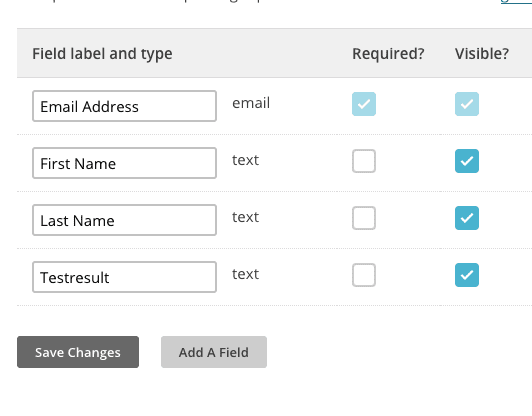 Step 3
To follow this tutorial, remove any unwanted fields by clicking on the trash can symbol – then make sure you have these fields created:
first name
last name
email
testresult
(Click on the "Add A Field" button and add a new text field.)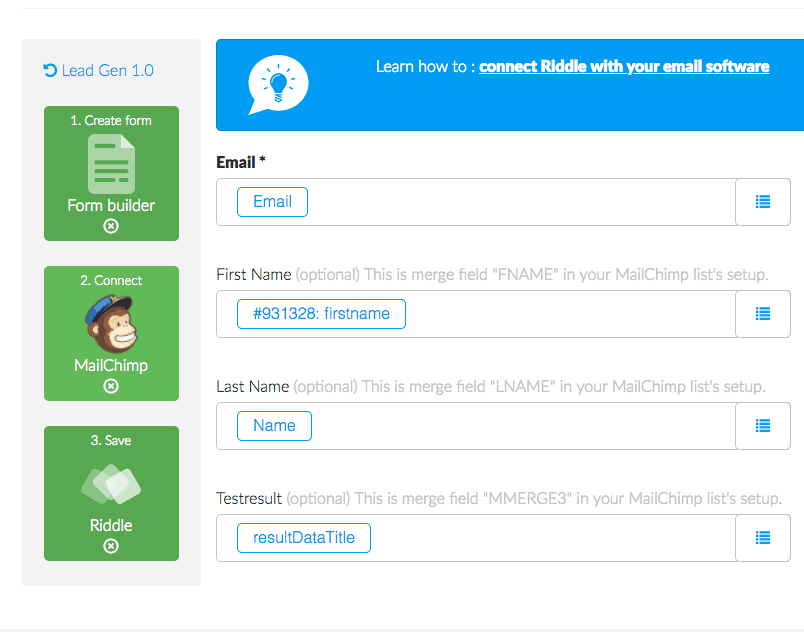 Step 4
With your list set up in MailChimp you can go back to Riddle and complete the lead form setup.
Move to step 2 and select MailChimp as your preferred connector.
Riddle will ask you to log in to your MailChimp account and show you with a drop-down with your available lists on MailChimp.
Select the list that you prepared in step 3.
All your list fields will appear.
Next – click on each field and select the matching Riddle data to go into that field.
We are mapping:
Email -> Email
First Name -> Form Field firstname
Last Name -> Form Field lastname
Testresult -> resultDataTitle (This passes the actual title of your quiz/test result into MailChimp – which is great for the quiz email automation we are setting up.)
That's just the start.
You can always map other fields – such mapping a specific question's answer. This would be super cool – you could use this as a merge field when generating the message in MailChimp later… something like "Hey , we're with you… the best type of city break is !"
(If you like, you can also complete step 3 in Riddle's form builder – to simultaneously save all lead data on the Riddle servers to download them in CSV or XLS format.)
Right – job done with Riddle… click over to the 'Publish' step to share quiz with your audience.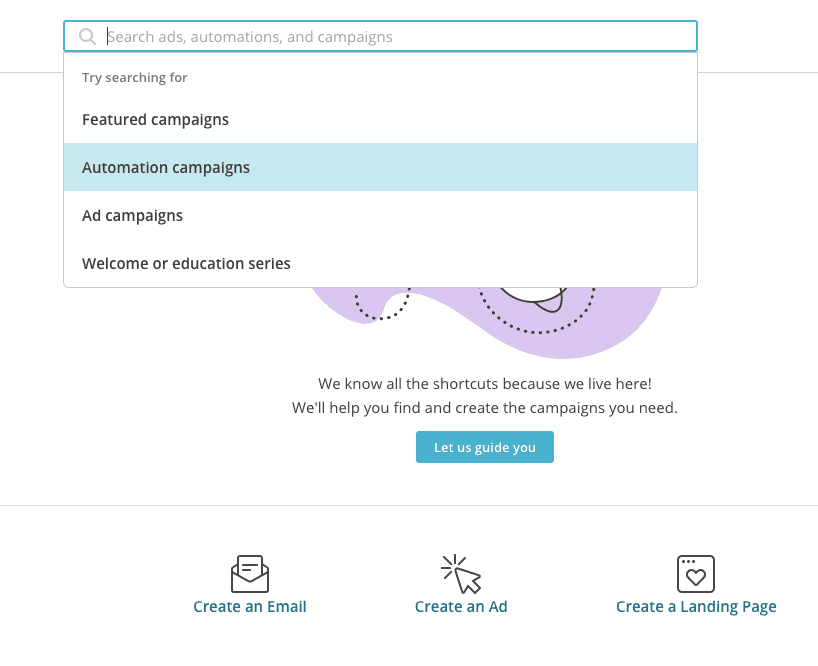 Step 5
Pop back over to your MailChimp account.
Click on Campaigns in the top nav bar.
Select "New Campaign".
Type "Automation campaigns" in the search bar of the pop up that appears.
Select that entry from the dropdown to move to the next step.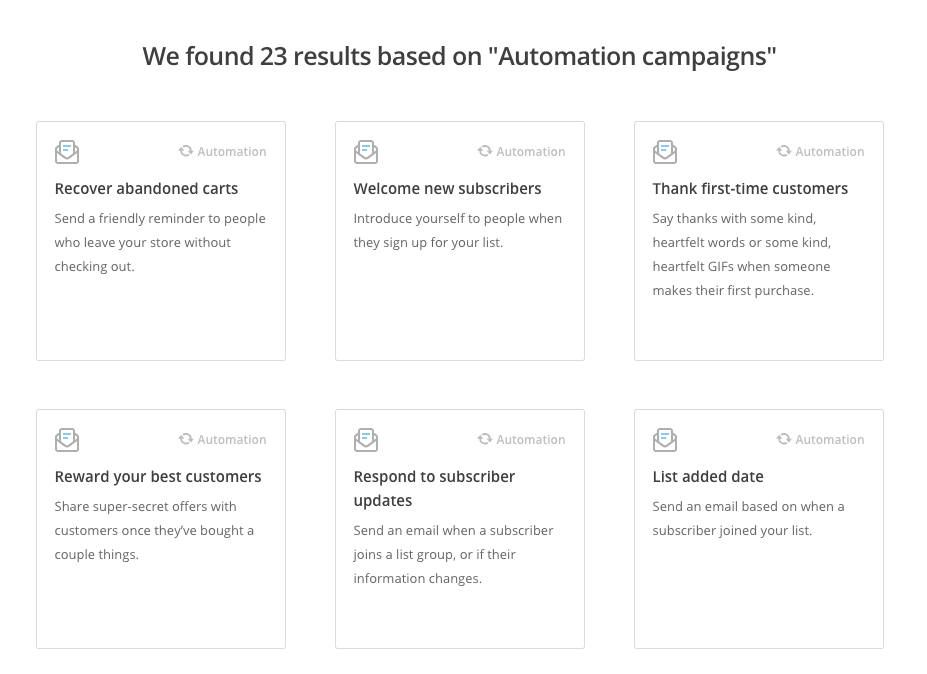 Step 6
Okay – brace yourselves. When we wrote this, MailChimp provides 23 different automations – that's a lot.
But for our purpose, the "Welcome new subscriber" works best. It starts whenever a new subscriber is added to your list.
Pro tip: Using double opt-in for your MailChimp lists? Please note that this automation will not start until the new subscriber has confirmed the subscription.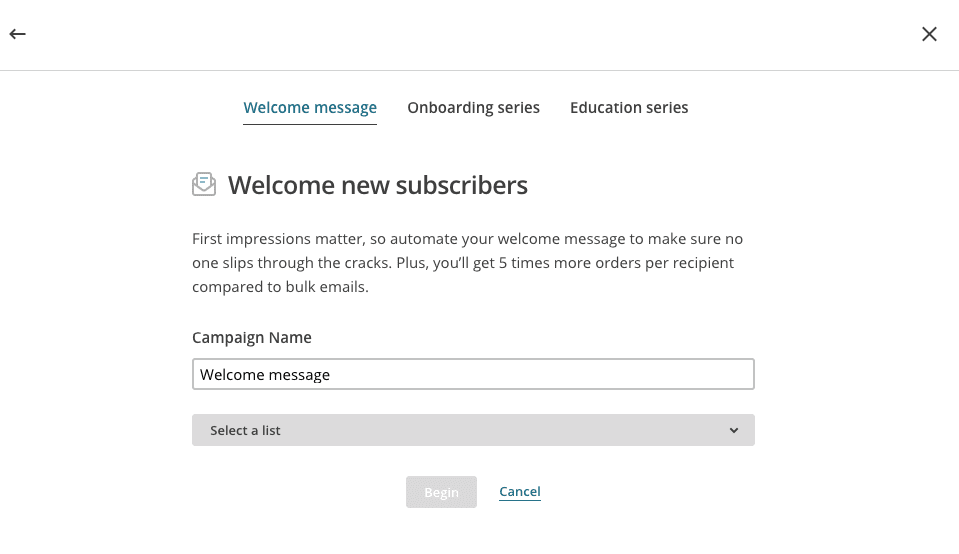 Step 7
Next, simply give your campaign a catchy name so you can find it easily later on – then select the list you earlier prepared for your Riddle.
Once you are familiar with automations, you can also choose to start a whole Onboarding or Education series of emails by selecting one of these 2 options at the top of this screen.
But for now:
Please leave "welcome message" selected
Pick your list
Click 'begin'

Step 8
On the next screen, we start dealing with the 'triggers' – which defines when emails are being sent out.
The default setup by MailChimp sends an email one day after a new subscriber joins your list.
Pro tip: Changing the trigger to send the results out immediately – so your new subscribers get immediate email follow ups.
Click on 'edit' to change the trigger.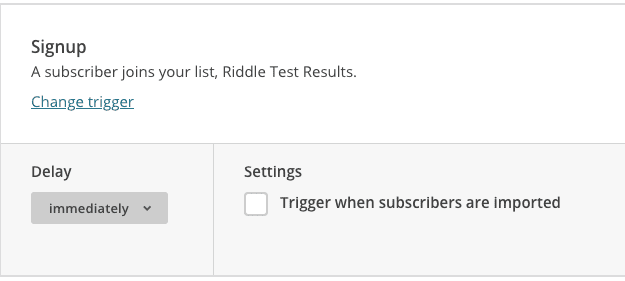 Step 9
Now you can set up the triggers.
Simply click on 'edit trigger'.
Change it to these settings: Delay -> Immediately
We recommend not checking the box for importing subscribers.
The reason? Otherwise, MailChimp will try to send out automated test results to every user you imported – but have never taken your test.

Step 10
Next up? Creating the emails you want to send out to your subscribers for each trigger.
Click on 'design email'
Select an email template to work with
Any template will work – just choose the one that best suits your brand.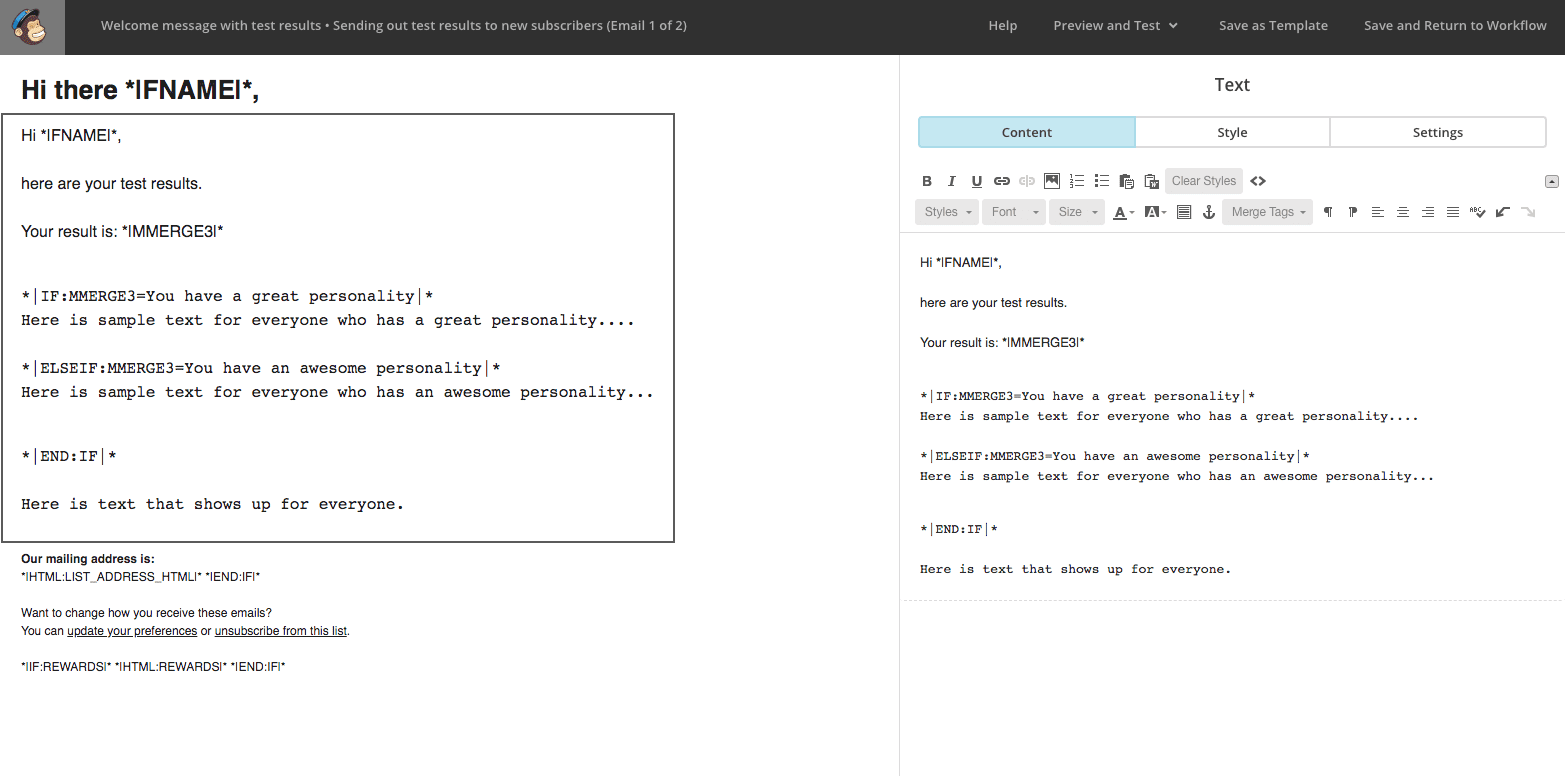 Step 11
Okay, now this step is where the magic happens.
When designing the email, you'll make use of the conditional logic built into MailChimp to create customized email text for each quiz result.
Here's how:
Edit the text block where you want the custom email text to show up.
Add the merge tag for the "testresult" field (that's the new field we set up when we first configured the list in MailChimp).
Note how MailChimp names the field – often something like "MMERGE3"
Copy the conditional logic from below.
Change the names of the result titles to your actual result titles – and alter the text that will show up.
The geeky back story?
In case you have never worked with conditional logic anywhere before, here is how this works in MailChimp.
For each email it sends out, MailChimp looks up the value in the field "Testresult".
If you have followed this tutorial step-by-step, that field value should equal the result title from your Riddle quiz.
So in our case, the two possible results titles are:

"You have a great personality" or "You have an awesome personality"

Next, it will compare that field's value to the text after the = sign in the conditional logic field.

If the text matches the account MailChimp wants to send the email to, it will use everything you write after the |* symbol.
If it is not equal to that text, it will skip that part and look for the next logic command and compare again.
Here is a template for logic tags you can copy:
*|IF:MMERGE3=You have a great personality|*
Here is sample text for everyone who has a great personality....

*|ELSEIF:MMERGE3=You have an awesome personality|*
Here is sample text for everyone who has an awesome personality...


*|END:IF|*
The parts you need to change are:
MMERGE3 -> this is the name of the Testresult field in our example, this field may have a different name in your setup
You have a great personality and You have an awesome personality -> these are the result titles from our quiz.
Make sure to copy the titles from your quiz in here and also make sure to copy everything including things like ! or . or ? — conditional logic is very precise.
Something like "You rock!" is not equal to "You rock" – and also not equal to "you Rock!".
Note that you can add as many *|ELSEIF: lines as you want.
Ideally one for each result you have set up in your test.
Just do not forget to end the logic blocks with *|END:IF|* — anything that is written after *|END:IF|* will show for everyone.
To sum it all up, here is the complete text I am using for the sample Riddle you see below:
Hi *|FNAME|*,
Thanks for taking our personality test! Here are your test results.
Your result is: *|MMERGE3|*
*|IF:MMERGE3=You have a great personality|*
Here is sample text for everyone who has a great personality....

*|ELSEIF:MMERGE3=You have an awesome personality|*
Here is sample text for everyone who has an awesome personality...

*|END:IF|*

Here is text that shows up for everyone.

Step 12 (almost finished!)
This is the last step – yay!
Save your email.
You should be back on the automation screen, where you configured the triggers.
Look at the very bottom of the screen to locate the small text "confirm" click on that.
Follow the steps to start the automation.
We recommend:
Take your Riddle quiz a few times to send some test leads through – then watch the magic happen.
Please note that we've seen MailChimp take up to 10 minutes to actually run the automation.

If nothing happens, check first if the new lead was properly added to your list.
Then click on that new lead to see all activities associated with it.

You should see an automation running if all was set up properly.
The most common error we've seen when the automation fails after your lead is sent to MailChimp is a typo when setting up the conditional logic.

Make sure you copied all the * and | symbols and also make sure that you Riddle test result title is set up precisely as it appears in Riddle.
Quiz email automation example
Check out quiz email automation in action with this Riddle.
If you enter a correct email address into the lead form, you will get an automated email from us – sent via MailChimp.
We are not going to use this email for anything else – we promise.
But you can click the unsubscribe link in case you want to immediately take yourself off that list again.
Quiz email automation: Our video 'how to'
(We're a little sheepish – this video is 19 minutes long. But that's due to *ahem* MailChimp's complicated set up. It's only tricky the first time around – you'll be an expert after that.)
And of course – please give us a shout at hello@riddle.com if you have any questions about quiz email automation (or anything else for that matter).
Everyone on the team – from our CEO Boris on down – loves to help out. 🙂