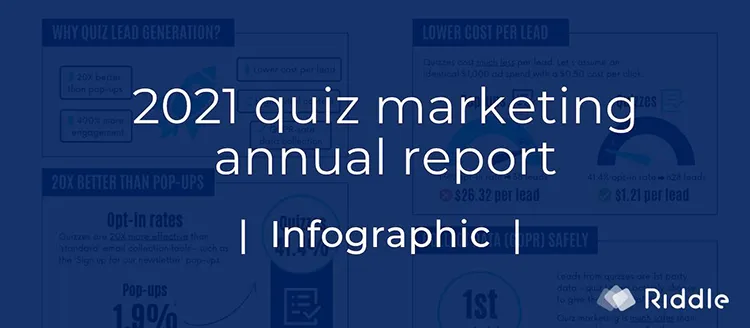 Are you thinking about using quizzes for lead generation?
You're not alone – marketers are increasingly turning to quizzes, personality tests, and other interactive content. They're drawn by the promise of high opt-in rates, a lower cost per lead, and the ability to collect personal data while being GDPR-compliant.
That sounds great – but marketers need solid data to make important decisions.
We found there was a lack of detailed data to back up all of the hype – so we created the web's first detailed analysis of quiz lead generation.
The story behind Riddle "2021 Quiz Marketing Annual Report"
Riddle was one of the first online quiz maker tools – we started way back in 2014.
Our suite of 4 quiz formats with 13 question blocks and 17 lead fields is used by some of the largest and smallest brands and companies on the planet – from big players like the BBC and CNN to scrappy startups like The Hair Fuel.
Infographic: Why use quiz lead generation? (free download)
This infographic is free to use – download our infographic about using quizzes for lead generation below.
Download the infographic
Feel free to use and republish this infographic on any site or in any publication. You may also cite the statistics by including a DoFollow backlink to this post.
Do you have any questions about the report or data? We're happy to help!
Please contact us at hello@riddle.com – or ask our team of quiz experts on support chat, on our blog, or in our quiz maker.
Why are marketers using quizzes for lead generation?
Advertising is changing – data privacy laws like the EU's GDPR as well as Big Tech's new policies such as Apple's removal of in-app tracking mean marketers need to rethink their approach to collecting data from potential customers.
That's where quizzes come in – Quizzes are unmatched when it comes to catching – and holding – the attention of visitors to your site.
They could be serious ("What's your management style?") or light-hearted ("Which breed of dog are you?") – but quizzes are irresistible to users!
Merilyn Beretta achieved a 68% opt-in rate with her quiz
Executive coaching consultant Merilyn Beretta is a big fan – she got a stellar 68% opt-in rate with her quiz.
Merilyn's personality test is a classic example of how to use a quiz as a top-of-funnel lead magnet – and as the centerpiece of your quiz marketing funnel.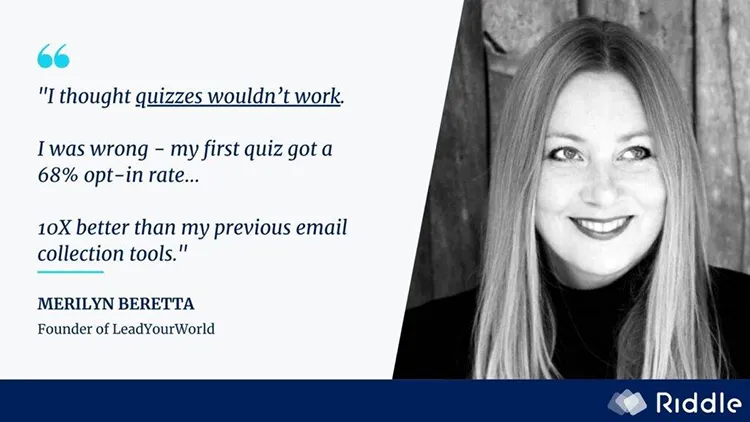 Laura Sagen reduces customer acquisition costs by 60%
Laura's the CEO and founder of the founder of The Hair Fuel – a fast-growing hair product start-up.
She runs ads on Facebook and Instagram that link to her Riddle-powered "Which hair oil are you?" personality test on her site.
Because quizzes are so popular and fun to take, it means her potential customers are far more likely to click on the ad, take the quiz, and opt in with Laura's lead generation form.
There's a rough formula regarding improving CTR and Conversion rate:
Better clickthrough rates on ads + better opt-in rates on lead forms = 60% reduction in customer acquisition costs!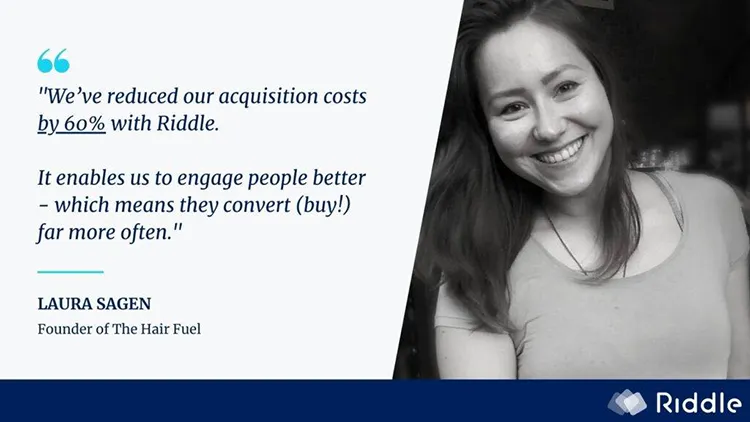 Key findings from our analysis of quiz usage
Yes – we do have a beautiful infographic about the advantages of using quizzes and interactive content in your marketing strategy.
We summarized the key points for you below.
Riddle's dataset – 3.3 Billion strong!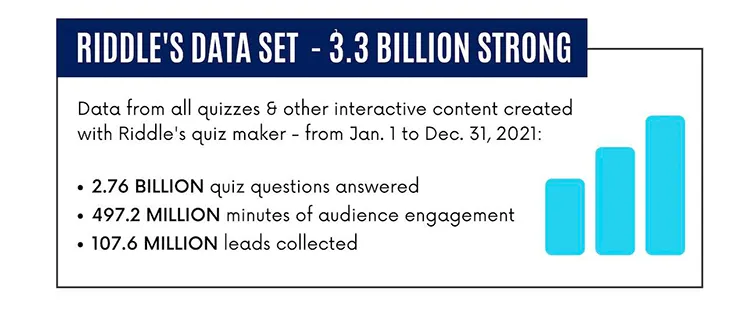 That means we have data. A lot of data.
So we crunched the numbers – more than 3 billion points of data – from an entire year of use by our entire quiz maker community (see our favorite live quiz examples), including:
2.76 BILLION quiz questions answered
497.2 MILLION minutes of audience engagement
107.6 MILLION leads collected
Top 3 quiz benchmarks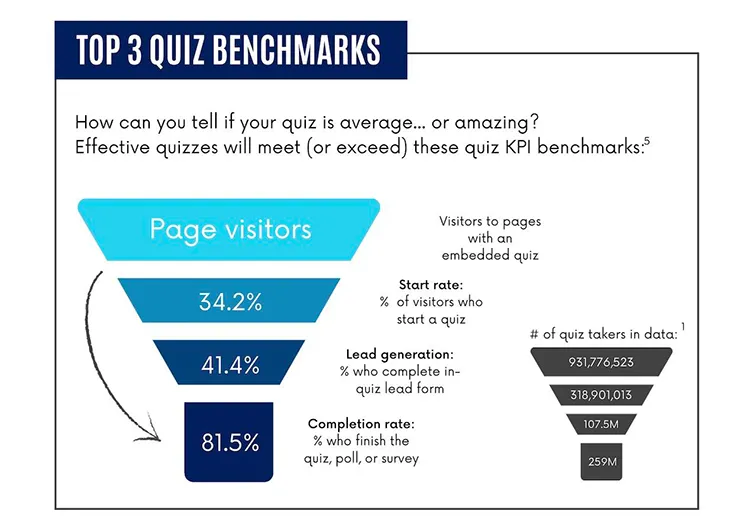 How can you tell if your quiz is average or amazing? An effective quiz should exceed or at least meet these benchmarks:
34.2% start rate: from your total visitors to the page with an embedded quiz, at least 34.2% should start it.
41.4% lead form completions: 41.4% of people who take your quiz will opt-in and complete a lead form.
81.5% completion rate: at least 81.5% should also finish it
Reason #1 to use quizzes for lead generation: Quizzes are 20X better than pop-ups
This statistic blew us away.
Sure, we knew quizzes were super-effective at lead generation, and that people tend to ignore the pop-ups ("Sign up for our newsletter!") seen all over the web.
But we analyzed the numbers – it turns out quizzes are more than 20X (or 2,000%) better than pop-up email collection forms. Actually – if you want to be precise, quizzes are 21.78X more effective.
Let's check the data: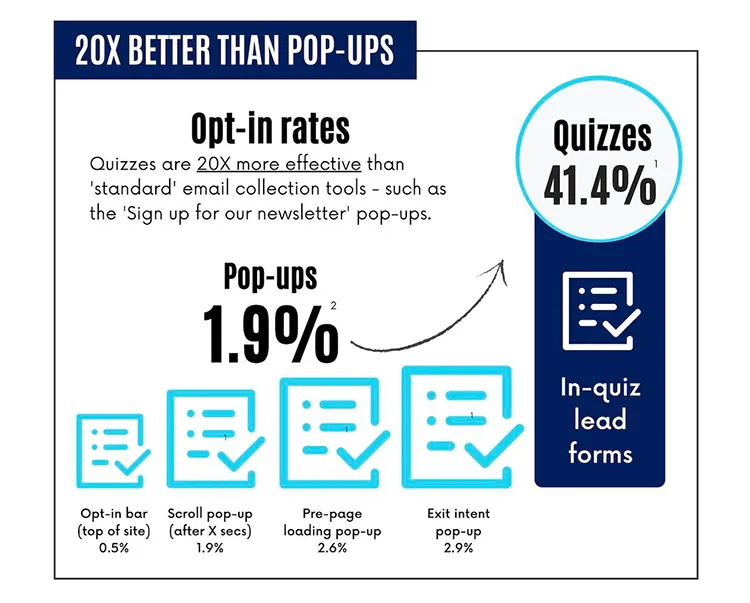 Reason #2 to use quizzes for lead generation: Quizzes achieve much lower CPL (Cost per lead)
Fact: people like to click on quizzes a lot.
And, as Merilyn and Laura's stories demonstrate, Facebook and Instagram ads that feature quizzes get clicked on much more often. That means you'll get more traffic for less money taking your quiz. And using quizzes for lead generation also gets higher opt-in rates = more people will fill in your lead form.
Example funnel using quizzes with lead generation
Imagine we have two companies creating lead generation funnels around paid ads.
Let's assume an identical 1,000 ad spend with a 0.50 cost per click. (Spoiler alert: The page with interactive content to generate leads performs more than 20 times better!)
| | |
| --- | --- |
| Company A | Company B |
| Sends their users to a page with a pop-up leadform | Sends their users to a page with a personality test or quiz |
| 2000 clicks * 1.9% Opt-in Rate = 38 leads with $26.32 CPL | 2000 clicks * 41.4% Opt-in Rate = 828 leads with $1.21 CPL |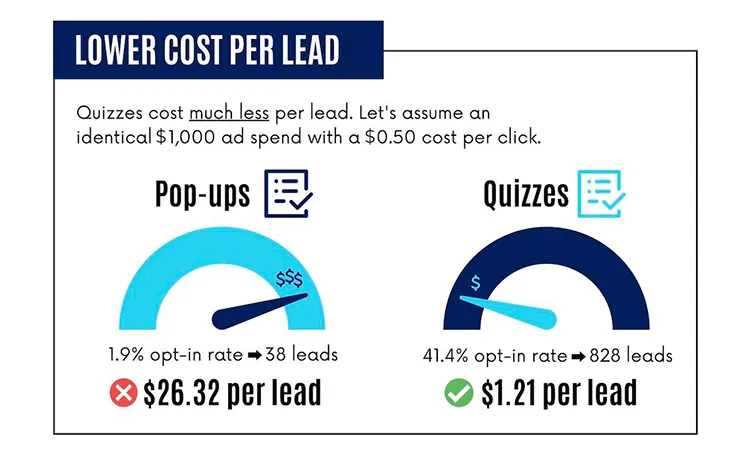 Reason #3 to use quizzes for lead generation: Contests & coupons work best for quiz lead generation
Lead forms are more than just name and email fields. You need a compelling 'call to action' – to persuade users to give you their email address and personal information.
So you might wonder: what types of offers work best?
We took a deep look at the top 1,000 performing quizzes on Riddle's quiz maker that included in-quiz lead generation forms.
It turns out that the best offers give users something of value – beyond just cluttering their inbox with your newsletter.
Coupons ("Save 20% your first order!") and quiz contests ("Score 90%+ & be entered to win!") work especially well.
Even the gift of time and expertise works. Offering a free, short 15-minute consultation pays dividends for career coaches, consultants, and other specialists.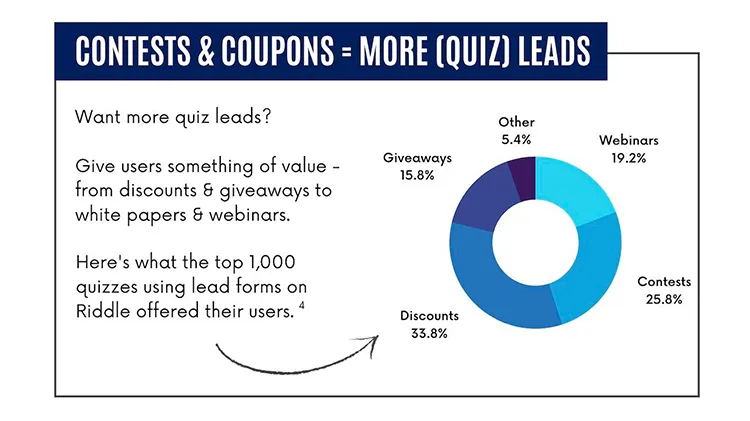 Reason #4 to use quizzes for lead generation: Short forms are the best forms
Another key finding about using quizzes for lead generation? Shorter forms are (almost always) the most effective forms.
Our analysis found that 3-4 fields work best – with a sharp drop-off for each form field after that.
The takeaway for marketers using quizzes for lead generation?
Fight the temptation to ask for more and more data from each lead.
Keep your quiz lead generation forms as short as possible.
First name, last name, and email are often most-effective, with a checkbox that gives permission to use leads' data for marketing.
We've seen savvy marketers who have decided they don't need names, just emails. They include quiz lead generation forms with just an email field and an opt-in checkbox.
Of course there is an exception to this rule: you might find that asking for lots of data is valuable for your business.
For example, if you run an in-person sales approach, contacting each lead takes precious time and energy. In this case, you might want to add more fields to your quiz form – to help you learn more about each lead.
Sure, you'll get fewer leads, but you'll know far more about each one – to help you decide which leads to focus on.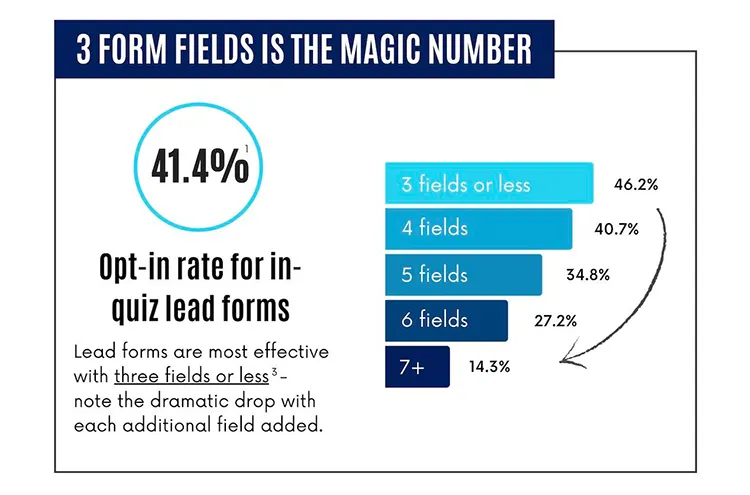 Reason #5 to use quizzes for lead generation: Quizzes get 400% more engagement (time on site)
The global average for all visitors to all sites is just under a minute – at 54 seconds.
We also got confirmation for something we always suspected – quizzes are really good at encouraging visitors to spend more time on your site.
That means you get more time to get your users engaged with your brand – increasing the chances they'll convert to a happy customer.
Quizzes and other interactive content do much, much better – more than 4X better in fact:
Personality tests: 3 minutes 47 seconds (+421% over the global average)
Quizzes: 2 minutes 34 seconds (+281% above the average)
That makes sense. Quizzes tend to have 6-8 questions (or more) – and require users to ponder, think, then click on the right answer.
Each user gets more emotionally engaged with the quiz with each answer – eager to see their final results.
That increases the chances they'll finish the quiz – and even re-take it, for yet more time on-site.
(Handy tip: you can boost quiz completion rates by displaying the right/wrong answers at the end of the quiz, instead of immediately after each question.)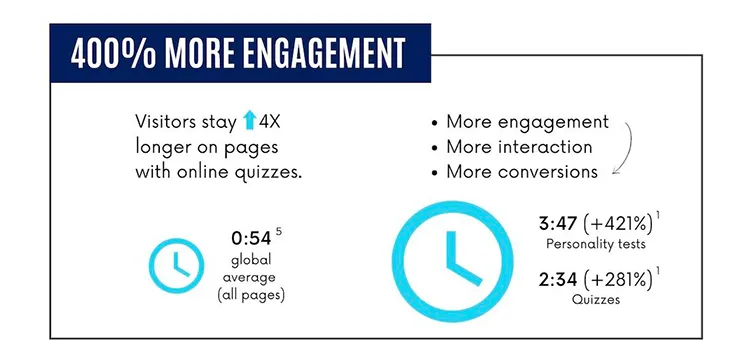 Reason #6 to use quizzes for lead generation: Quizzes are highly viral
Online quizzes and personality tests are some of the most viral content around. And if you're looking to use quizzes for lead generation, that means you'll get more free traffic – as users share their results on various social networks like LinkedIn, Facebook, Twitter, FB Messenger, WhatsApp
Viral traffic is also more effective – it's 'word of mouth' marketing, as your quiz takers' inspired their friends to take your quiz.
Sharing something online is a powerful endorsement – according to Nielsen, people are 92% more likely to trust recommendations from friends and family.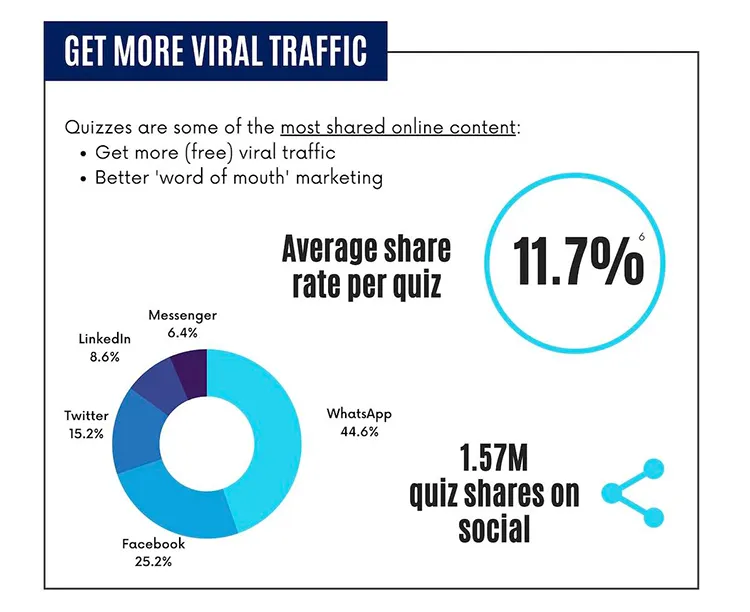 Reason #7 to use quizzes for lead generation: 34.2% visitors start & 81.5% of quiz takers finish a quiz
We already touched on this at the top – but let's dive deeper into each step of the quiz marketing funnel.
34.2% quiz start rate (80-85% on dedicated landing pages)
You can see that quizzes are powerfully attractive to visitors – with 34% of page visitors starting a quiz on average. Bear in mind – this is just the average, including pages with quizzes embedded amidst other content.
If your quiz is embedded on its own landing page, you should see start rates of up to 80-85%.
81.5% average quiz completion rate
We've already shown how quizzes are great at attracting that initial click. Once quiz takers start the quiz, they're very likely to finish.
Our data shows that 4 out of 5 – or 81.5% of quiz takers will complete a quiz (and see your lead form).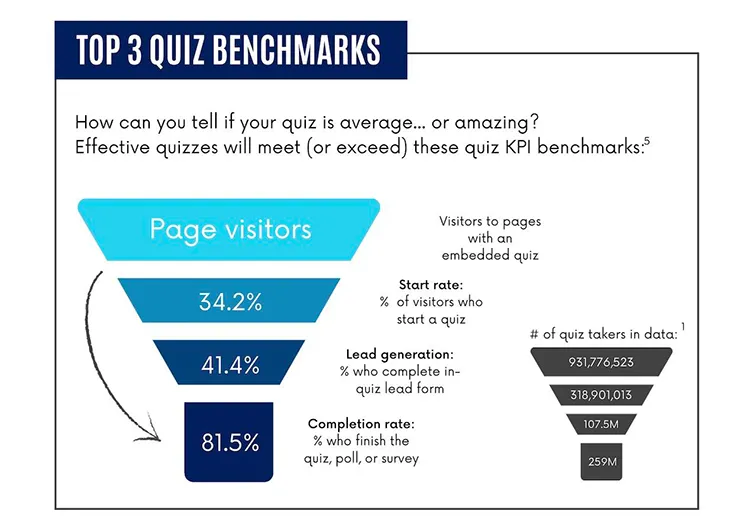 Key Takeaways: Why you should use interactive content for lead generation
We hope you found this overview and our infographic helpful – covering our detailed analysis around using quizzes for lead generation.
The best news for marketers? Creating a quiz is easier than ever. You can quickly make a quiz – then embed it on your site.
There are a number of excellent quiz maker tools on the market that let you get started using quizzes for lead generation.