2
min read
Did you know that you can use our quiz CSS editor to seamlessly embed and match your Riddle quiz, list, or poll to your website's look and feel?
Yup – from button styling to text, colors to borders, you customize nearly every element of a Riddle – and you don't have to be a code guru to do it.
Designers and marketers love this – because your quiz will feel completely organic to your site, instead of an awkwardly pasted 3rd party widget.
Quiz CSS editor – examples:
Check out how Penguin / Random House did it – changing our standard round buttons to square and adding in a nifty yellow border to more closely match their site.
Our CEO Boris shows a fraction of what's possible with Riddle's quiz CSS editor. He added text overlays, created new placements for sponsors' logos and more in this burger quiz (in the 'Enterprise' section).
Marketing thoughtleader AdWeek also got involved – you can see the 'before and after':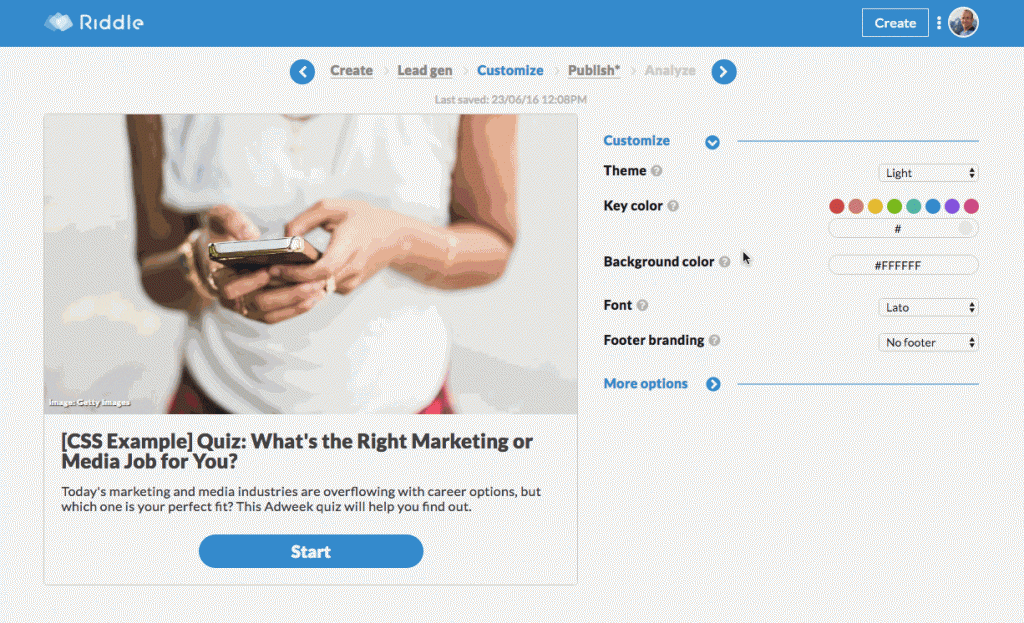 Quiz CSS editor – how to use:
Here's how to do use this powerful tool in one easy step:
For privacy reasons YouTube needs your permission to be loaded.
I Accept
CSS can seem a little intimidating if you're new to coding.
But fear not, we're happy to create a free CSS 'recipe' to blend your Riddle embed to your site.
All we need is a bit of guidance from you – such as the URL you'll be embedding your quiz on, and we'll get our CSS ninjas on the case.
You can also use Riddle's template feature to save any changes you make with our quiz CSS editor.
Apply all your customizations with just a click – or make it a 'default' template for any quiz, list, or poll you make going forward.
(This is a free service for all subscribers to our Enterprise plan – so don't be shy.)
Just give us a shout at hello@riddle.com if you have any questions – we're happy to help and respond in minutes (unless we're sleeping). 🙂