< 1
min read
Riddle is a global quiz maker – we've localized our quiz creator into 67 languages (and counting!). From Chinese to Croatian, Gaelic to Greek, you can quickly build your own Riddle quizzes, personality tests, and more in your own languages.
Using right to left languages like Farsi, Arabic, or Hebrew? How about glyphs or tricky characters (we're looking at you Burmese)?
Riddle handles them without breaking a sweat.
Global quiz maker – changing languages:
Changing the language of any Riddle is easy:
While editing your Riddle quiz, go to the 'Customize' step
Click on the 'Text & language' section – and select the drop-down for 'Languages'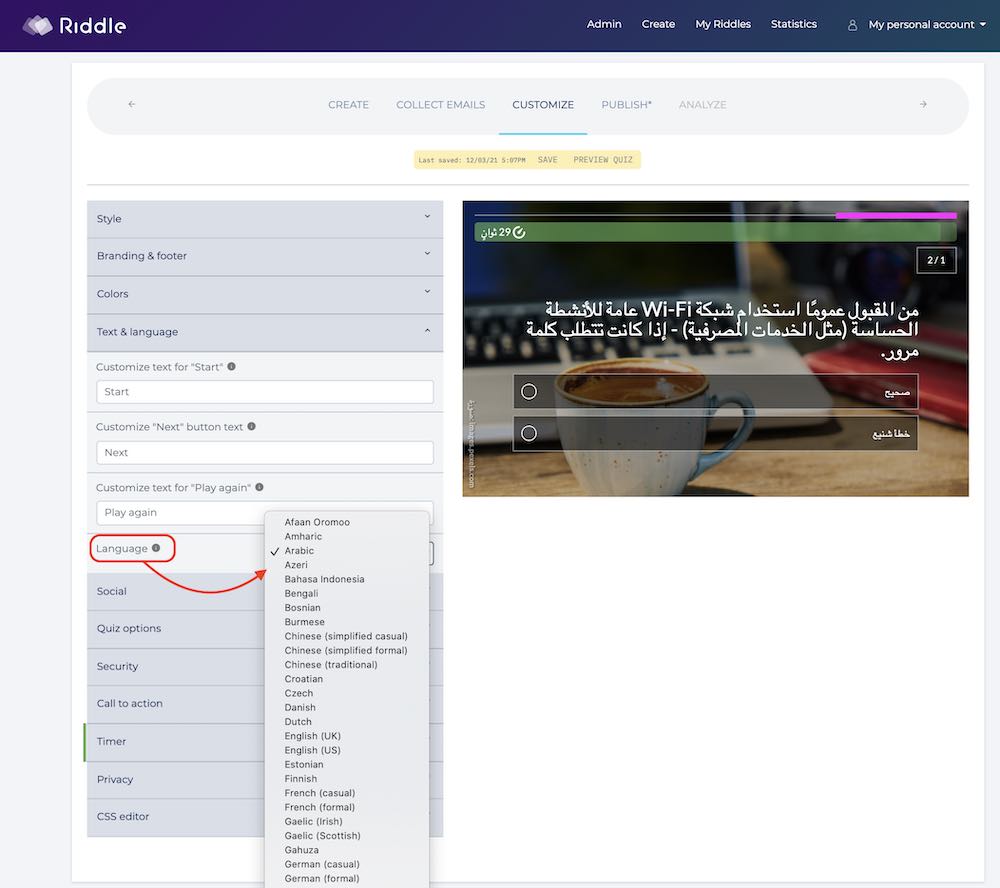 You can do the same thing for any Riddle you have already embedded – it will automatically update. Neat, right?
Global quiz maker – supporting multiple languages
Are you creating quizzes for more than one language at a time? Riddle makes this very scalable with our 'duplicate' function.
This is especially useful if you're rolling out quiz contests or lead generation campaigns across multiple sites
Simply create your quiz in the language of your choice.
Add images and all other assets – then press the 'Publish' button in the 'Publish' step.
Go to 'My Riddles' – and click on the three dots by your quiz, then 'Duplicate'.
Voila! You'll have a fresh quiz copy. No need to re-upload images, etc. – you just need to change the questions and other text.