7
min read
Online marketers, rejoice! You can now fire a Facebook conversion pixel to track when your readers interact with your Riddle quiz, personality test, or any of our 15 content formats.
Create quizzes to power your marketing funnel (we're big fans of Ryan Levesque's Ask Method).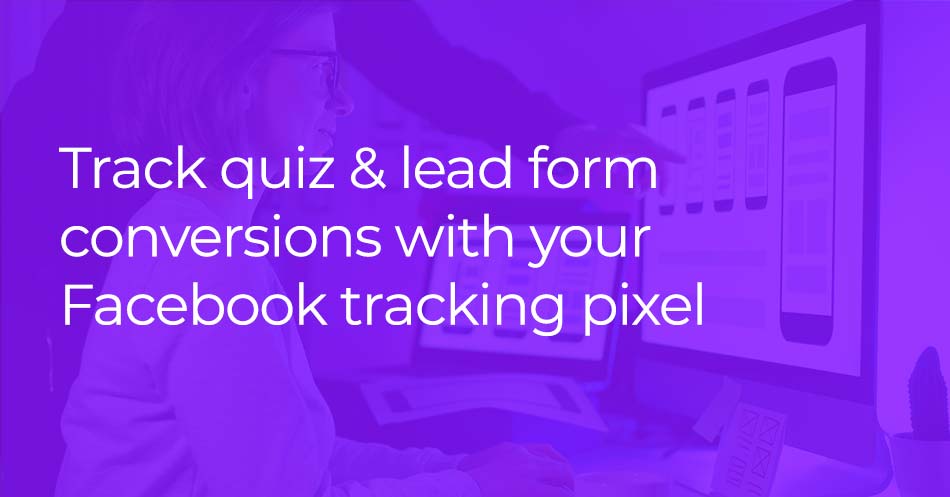 Now you run ads on Facebook to the right audience and measure which ads result in the converted leads – optimizing your marketing spend.
Even better? You can then tell Facebook to find more similar users as each successful Facebook conversion lead – all using the data captured by your Facebook conversion pixel.
Want to use a different tracking pixel than a Facebook conversion pixel to track your lead form conversions? No problem – we've got you covered. Just skip the next paragraph and continue on below to learn about lead tracking.
Verified domains and the Facebook Pixel – July 2021
Facebook recently changed how their Facebook Pixel works. Tracking quiz events in an embedded iFrame – like a quiz – is more difficult unless you verify your domain.
The good news? We've got you covered – check out our guide 'How to verify your domain', so you can track all your quiz events.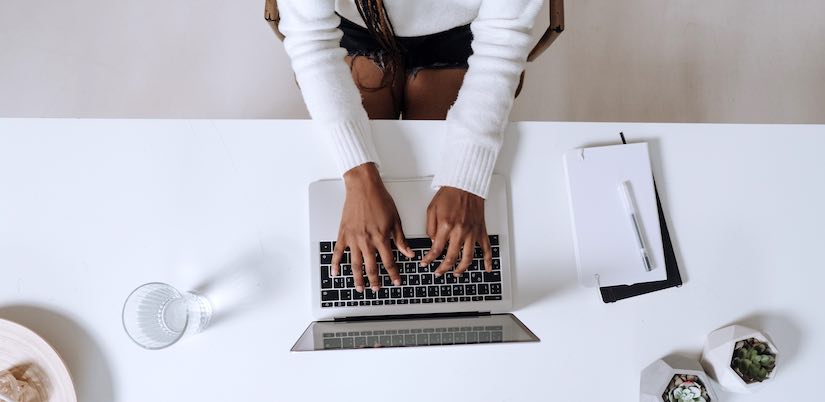 You'll need to do some coding, though. We're working on an easier-to-implement solution. However, since Facebook sprung this change on all quiz maker tools with little warning, we wanted to get version 1.0 out to our community as quickly as possible.
Why is Facebook conversion pixel tracking important?
Imagine this: You are in the business of selling vacation packages, and you specialize in vacations to ocean resorts or mountain resorts.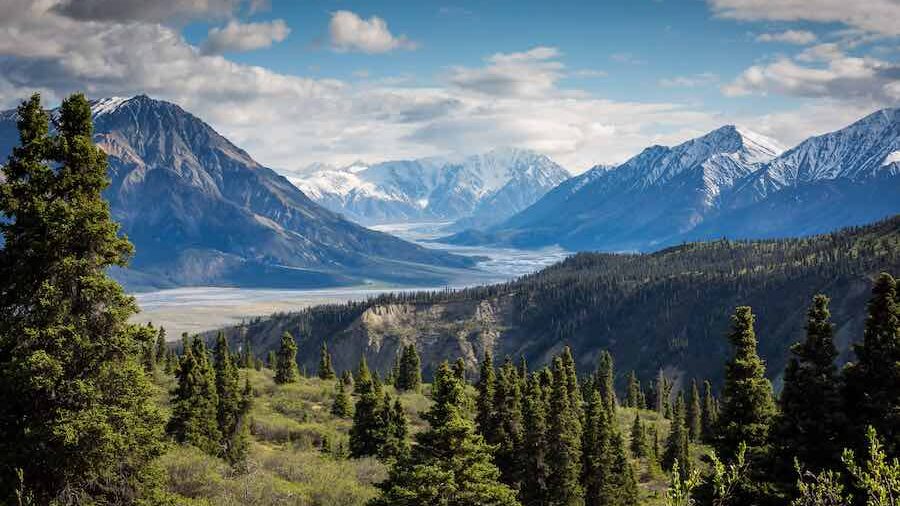 Now, with such a niche market, it will be pretty hard to run a Facebook ad campaign that specifically targets people who prefer one type of vacation to the other – it's just not something that people indicate on their user profile.
So if you're a traditional Facebook marketer, you're probably stuck with either running ads for both of your vacation packages or making wild guesses, which demographic might prefer lounging by the ocean to traipsing over the mountains.
But fear not – this is where the Riddle quiz maker and a Facebook conversion pixel come into play.
You'd fire up Riddle on your computer – then follow these steps:
Create a "Which is your dream vacation?" quiz or personality test with two different possible results (Ocean or Beach) – then run that on your site.
Include a Facebook Pixel ID to your quiz.
Next, you would create and run Facebook ads to drive traffic to your quiz.
Now, Riddle will add a ton of events to your conversion pixel, including your quiz result title.
Now the fun starts.
Using your conversion pixel, you can set up a Facebook ad campaign that targets only people who finished your quiz AND got "mountain" as their result. This will allow you to create highly targeted ads such as "Tackle the Alps" or "Test yourself on Everest".
These ads will speak to the users' interests and will perform much better than a broadly targeted campaign around general holiday.
If you then combine this "mountain" result targeting with other demographic targeting like age, gender and location – you'll be getting more qualified leads from your Facebooks ads than ever before.
Facebook conversion pixel – monitor what is tracked
This sounds slightly geeky, but I highly, highly, highly recommend that you install the Facebook Pixel helper in Google Chrome.
It does a great job of making complicated things easy – and gives you better insights into your Facebook lead event tracking.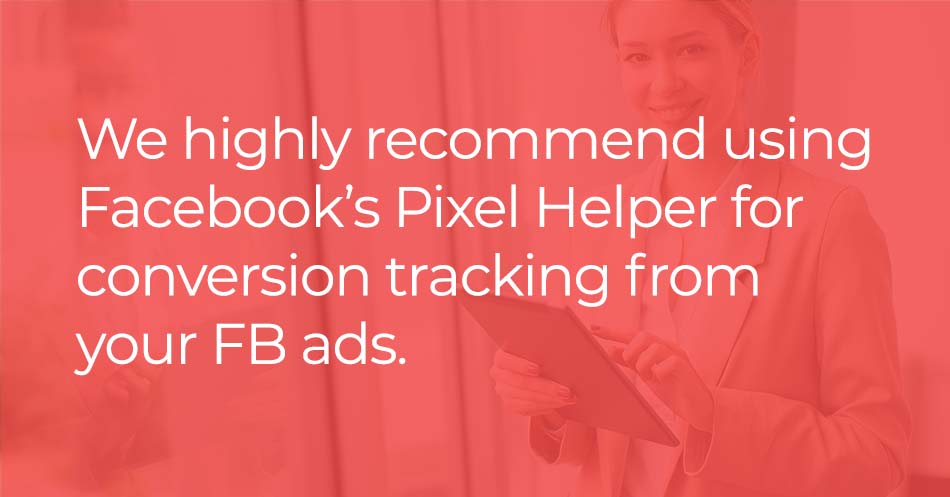 Find your Facebook conversion pixel ID
Log in to the Facebook Business Manager
If you have multiple business accounts, make sure to select to correct one before continuing
Open the top left menu and select "Pixels"
4. This will open up the Facebook conversion pixel setup. (If you do not have a pixel created yet, no worries – just follow Facebook's handy help steps.
5. Find the pixel ID in the top right corner, right below the pixel name. Next copy that and paste it into your Riddle in the 'Advanced' tab.

Note: your conversion pixel ID is not private. Anyone can sniff it out using the Facebook Pixel Helper tool.
But the good news, there is really no point in using someone else's Pixel ID – it will only clutter up their own results.
Facebook conversion pixel: GDPR-compliant tracking
Okay, so you've probably heard a lot already about the EU's GDPR (General Data Privacy Regulation) – it's a sweeping regulation governing how companies collect personal information online.
And it doesn't matter if you aren't based in Europe. The GDPR will affect you if your content targets visitors from the EU.
Let's talk about how you can use the Facebook conversion pixel in a GDPR-compliant way.
Do NOT track anyone before they agree to it.
Do NOT even initiate the Facebook conversion pixel before you have the user's consent – the Facebook conversion pixel starts tracking lots of user data even if a user does not even interact with your content.
Provide users with a link to a relevant privacy policy – teell them why they will be tracked and what you will do with the data.
The good news?
Riddle gives you this option – no coding required. We're a completely GDPR-compliant quiz maker – also with California's CCPA. We don't want to collect any data from your users to sell to other companies.
Nope, we just provide really good quiz tools – and let you take it from there.
Just enable the tracking opt-in overlay in the Facebook pixel section (Publish step > 'Extras' while editing your Riddle.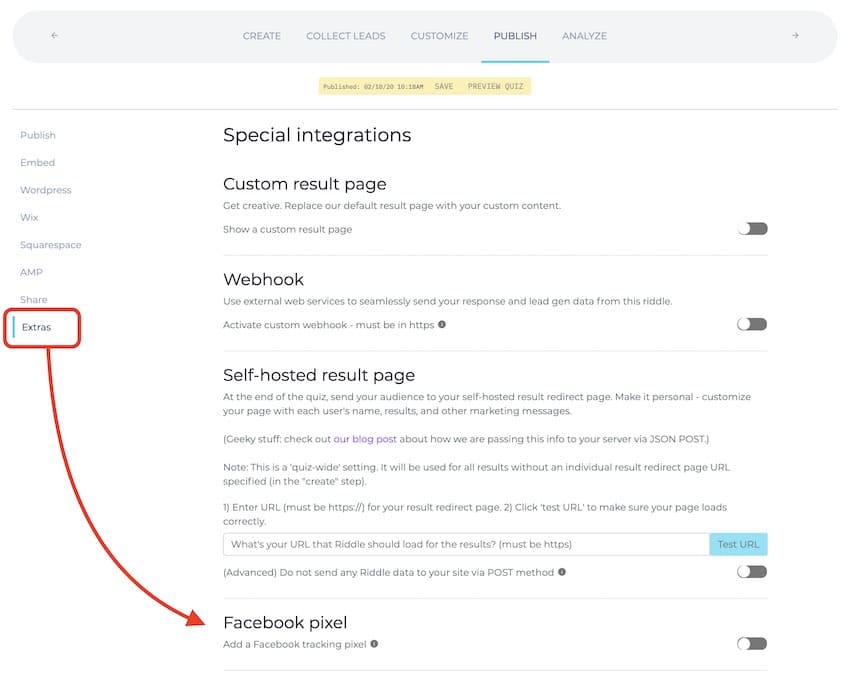 When turned on, users can take the quiz, but we will not load your FB conversion pixel until the user has given his consent.
You can also require people to accept tracking before they take your quiz with our "Require opt-in to FB tracking before quiz can be started" option.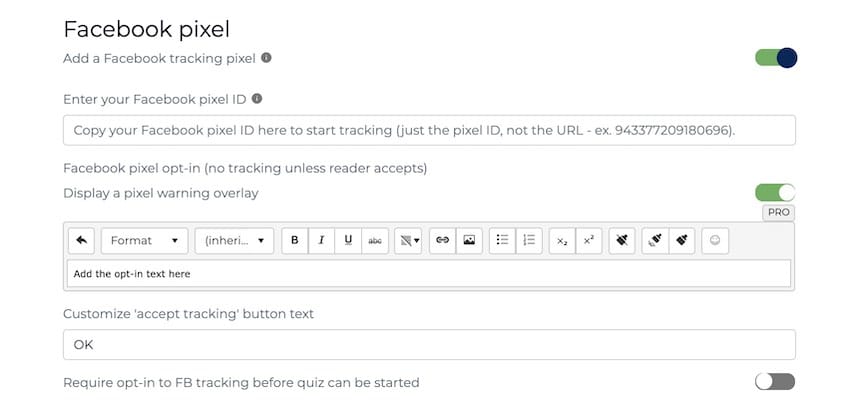 Riddle is super transparent – we do not place any of our own Facebook conversion pixels in your embed code. Your quiz is entirely your own – and we do not want to track your information.
Think every quiz maker is the same? Check out our CEO Boris' medium post – many big players in the industry do some seriously dodgy stuff.
Facebook conversion pixel – live example:

Facebook conversion pixel tracking in action
Right. So we've covered a lot of the high level information about a conversion pixel – now let's learn how to use the data.
The best way to start?
Set up a short sample quiz (one question, 2 possible results) and add a Facebook conversion pixel to it.
Publish the quiz and click through it after you installed the Facebook Pixel helper in Google Chrome.
There is really no good way around using Facebook Pixel helper. It is an amazing little tool – and critical to making the best out of your Facebook Pixel.
Check out the screenshot to see some sample data, tracked by the Facebook Pixel in a sample quiz. You can see that the result of this quiz was 'Mountain'. This data is being passed to Facebook and can now be used in a new ad campaign.
You also get tracking data for how each question was answered, if the lead form was submitted, and much more.
Want to narrow down your target audience on Facebook even further?
You could combine all that data and create a custom audience on Facebook that includes only people who:
answered question 1 of your quiz with "yes"
answered "red" in question 2, completed
submitted the lead form and got "mountain" as a result.
The only wrinkle? You might need a few thousand quiz takers in your audience – so there are enough people to show ads to. Running ads to a custom audience of 100 people doesn't work very well.
Create a custom audience or ad with the conversion pixel data
After your pixel has collected some data, Facebook will allow you to set up a custom audience using this data. This is the fun part – as custom audiences can be used in your Facebook ad campaigns for targeting.
On the screen where you grabbed your Pixel ID, click on the button "Create Custom Audience".
This will open a pop up window where you can define the audience.
Select the pixel you used in your Riddle.
On the next drop down menu, scroll down to the section titled "From your events"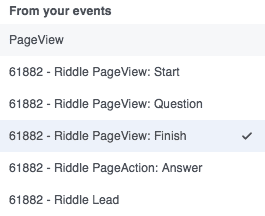 If you have gone through your Riddle with the pixel once and completed it, you will find all the Riddle events here. The pixel will have 'fired' and sent all events to Facebook.
Select the event you are most interested in (for example, I would like to target people who got "Mountain" as their result title).
On the next drop down box "URL or Parameter" select the Parameter "title" and "contains" and enter the title of your result here (in our case "Mountain")
This is where the pixel help Chrome add on comes in really handy. You'll need to check how the title is transmitted to Facebook here so you can enter it here exactly as it is sent to Facebook by the pixel.
The full set up for our example is in the image to the right.
Add a Facebook conversion pixel to your Riddle quiz
You can add your Facebook tracking pixel by entering the pixel ID in the 'Extras' section of the publish step of your Riddle quiz: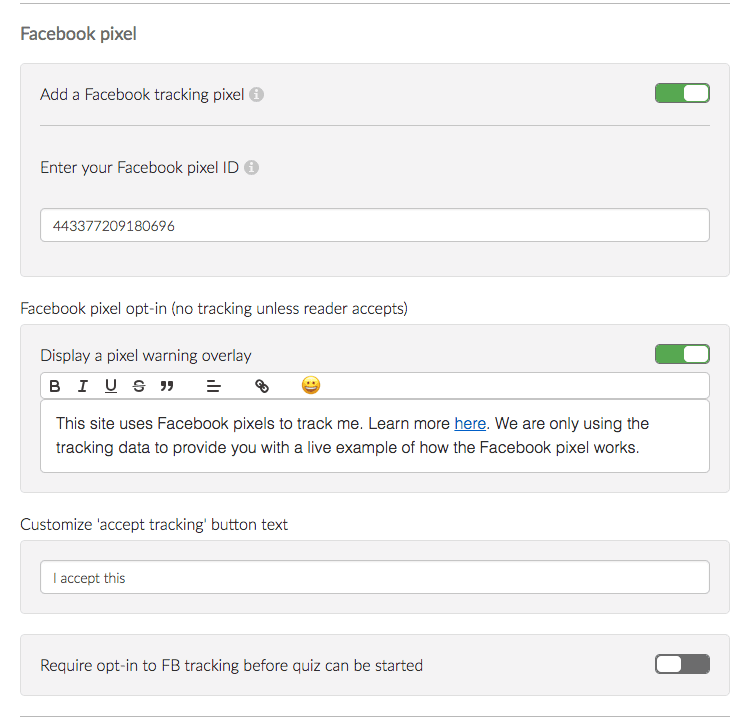 Riddle will now send a wide range of events to the pixel, including:
questions answered
lead form submitted
quiz completed
quiz result
These events will vary depending on the type of Riddle quiz you're creating.
Riddle will call the conversion pixel URL as soon as the Riddle is loaded (unless you're using our GDPR safe feature mentioned above).
Facebook pixel error messages
Now, tracking pixels can be a little tricky – everything needs to be 'just so' for tracking to work correctly.
You might see error messages like "You are sending a non-standard event 'formlead'" or similar.
Fortunately, Facebook has this pretty comprehensive list of error messages for their conversion pixel.
Why should I use a Facebook conversion pixel? (It's awesome!)
Facebook tracking pixels are pretty powerful if you are using Facebook's ads to grow to your business.
You can define events – then target your Facebook ads to people who initiated this event (like filled out a lead gen form). Even better, you can target people who are similar to your previous successful conversions – so your ad spend will be more efficient.
Configuring your conversion pixel, the most logical event to use with Riddle lead forms is the Lead Event. Sure, there are events ranging from "View Content" to "Purchase" but we think the Lead Event is the most relevant in this scenario.
Next? Once your Pixel starts getting some traffic from completed lead forms, you can run an ad campaign on Facebook – targeting those people who filled out your lead form.
Effective online advertising with Facebook is all about targeting. And this is probably going to be the best targeting you could possibly get – you should see a big improvement to your conversions and ad spend effectiveness.
Can I use other tracking pixels?
If you need additional tracking, you can use the Riddle events and JavaScript to code your own tracking solution.
We have examples and documentation for you on how to fire off a Google Analytics event on your page, when something in the Riddle happens (like a completed quiz). Check out our Google Analytics example here. Using the Riddle event system and the Google Analytics example should enable you to fire any kind of tracking.
If you need any help setting this up, just grab us on our support chat or email us at hello@www.riddle.com/blog.