9
min read
Email automation experts AWeber and Riddle's online quiz maker help marketers easily run highly personalized and effective email marketing campaigns.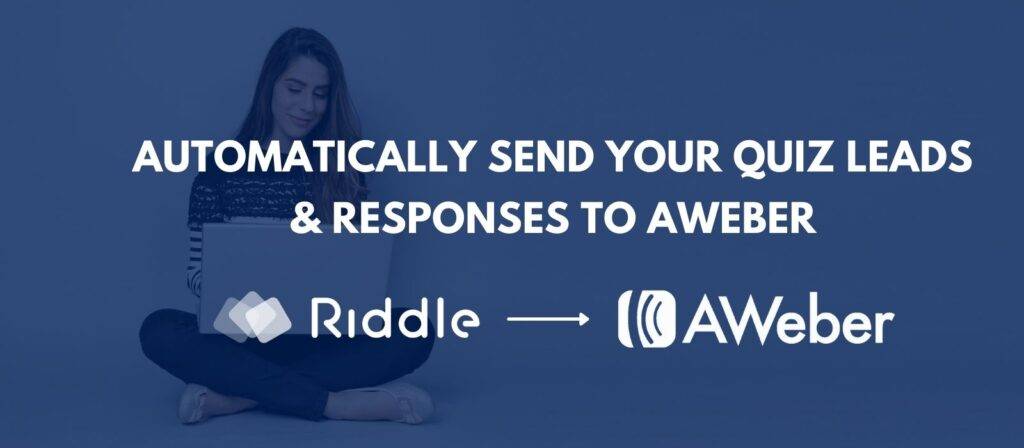 We know that growing your business online is a tough challenge.
First, you need to capture the attention of your target audience. And that's just the start. You then have to convert them to paying customers. The best way to do that and avoid sounding like spam? Follow-up messages that are both relevant and specific to each user.
There's no way you can write these manually. You have a million things on your plate – so the process needs to be automatic and dead simple.
Why use Riddle and Aweber?
Enter AWeber and Riddle's online quiz maker.
Quizzes are "the most shared content on Facebook" (AdWeek). They're proven to attract (and keep) an audience's attention.
And best of all? When you make a quiz, you can use the answers they provide to help convert them to happy, paying customers.
Now you can leverage both Riddle's online quiz maker with AWeber's email automation tools to rapidly grow your customer base.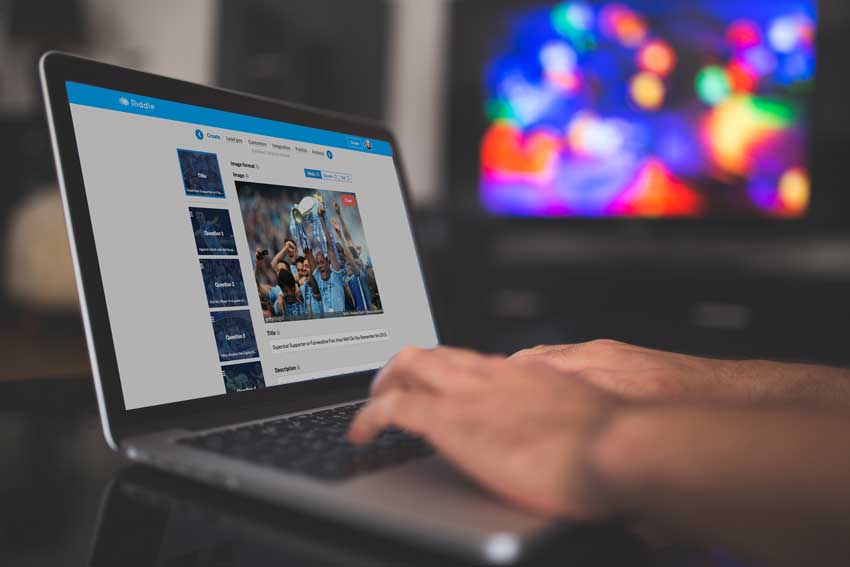 Before we explain how it all works, here's a very brief use case:
Imagine you're selling online cooking classes for all skill levels.
You go ahead and create a quiz with tough cooking-related questions to help segment beginner cooks from advanced chefs.
Each user who takes the quiz gets a different follow-up offer – pro cooks might get 50% off your 'Advanced Soufflés' course, while beginners get a free '3 day Cooking Fundamentals' coupon.
Sounds tricky? It's not – it takes just a few minutes with our online quiz creator and AWeber.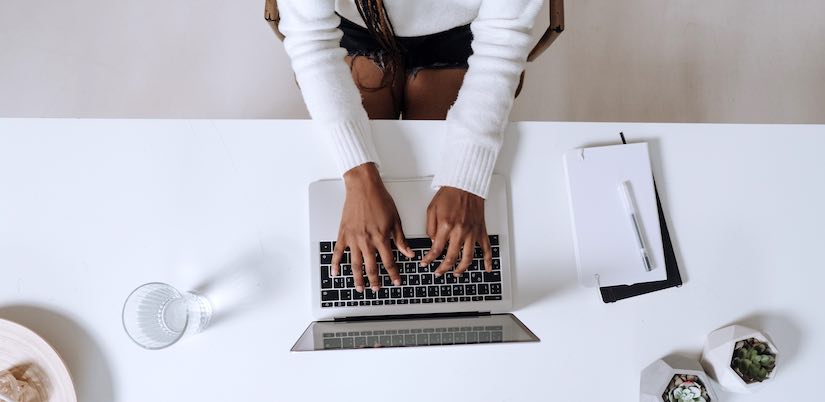 Video: How to connect AWeber with Riddle's quiz maker
You can watch a quick walkthrough below from our co-founder Mike.
He'll show you how to connect your AWeber account with your Riddle quiz builder account – with tips and best practices so you get the most out of this handy feature.
Setting up AWeber with Riddle's quiz maker
We'll walk you through a basic example – after that, you'll know how to connect AWeber with Riddle's online quiz creator to turbocharge your quiz email marketing.
(Not an AWeber user yet? Sign up for their free trial first.)
Step 1: Create a quiz or other content
Right, so Riddle's AWeber integration works with any of our content. You'll need to start by creating a Riddle quiz, personality test, or any of our 15 types of interactive content.
For our example, we're using our financial literacy template called 'Are you a savvy saver?'.
Step 2: Add a quiz lead generation form
Next up – use our easy drag and drop lead generation form builder to create your in-quiz lead form. You can add checkboxes, drop-downs, and other options.
And don't worry, Riddle is a fully GDPR-compliant online quiz maker (as well as other global privacy regulations like California's CCPA).
Step 3: Create custom fields in AWeber
Before we connect Riddle's online quiz creator with your AWeber account, you need to create fields to 'catch' the data from your quiz in AWeber.
AWeber includes standard fields like first name, last name, and email – but you'll want to create custom fields for things like 'Quiz results', 'Question 1 answer', 'Question 2 answer', and the like.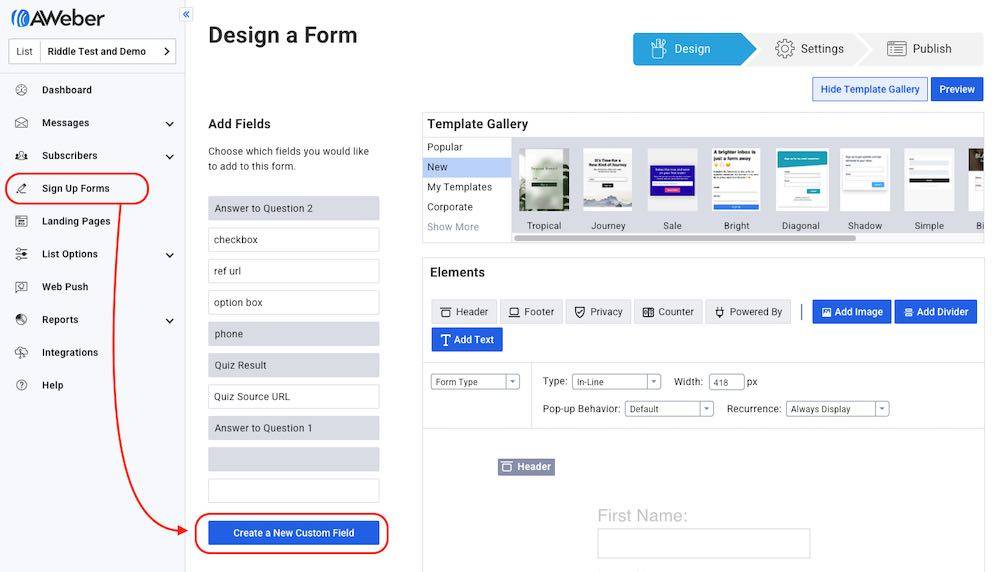 Step 4: Connect your AWeber account to Riddle's online quiz maker
In the 'Connect' step, click on AWeber – and select 'connect'.
Either select your existing AWeber connection – or if new, click on 'connect'.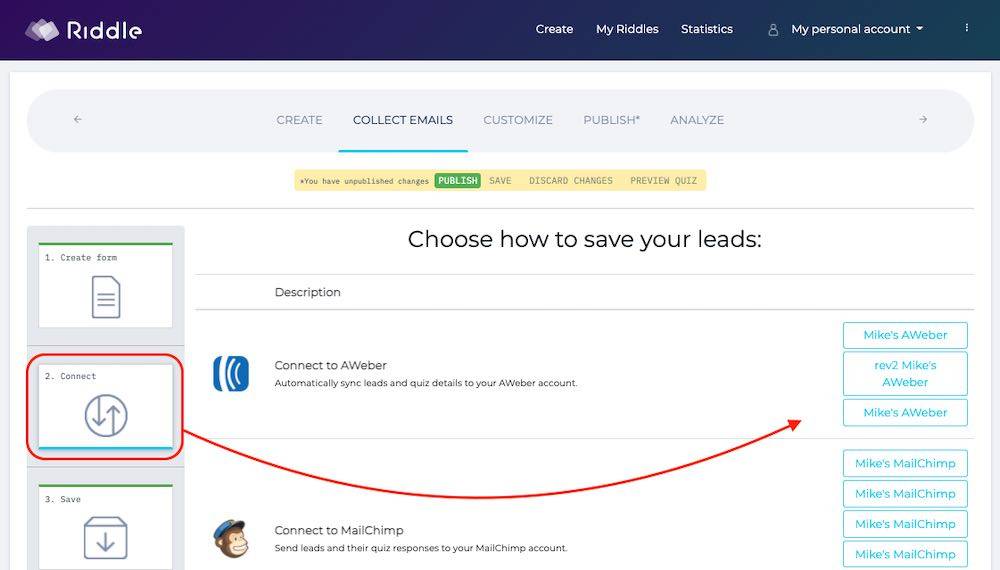 You'll be taken to our accounts area, where you can click on 'Connect account' under the AWeber section.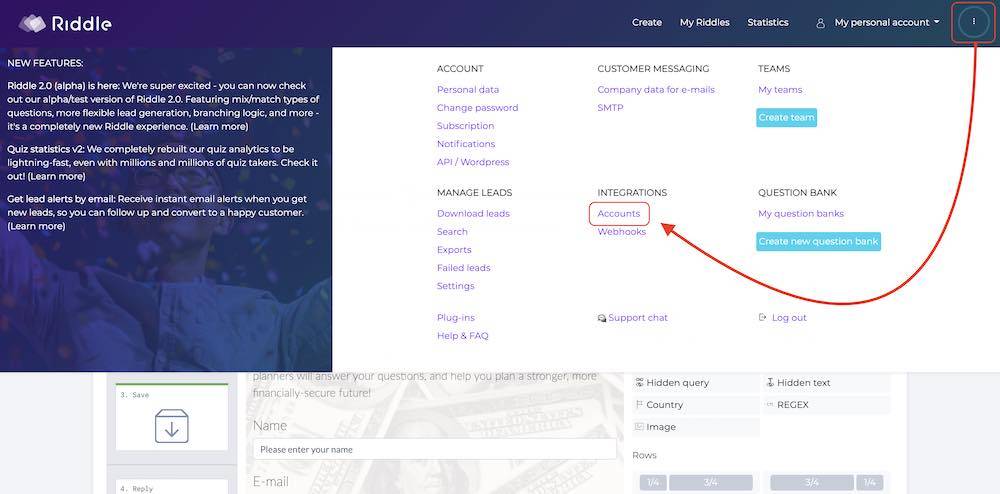 Next, 'click for authorization code' to get your AWeber authentication code and paste that into the field on Riddle.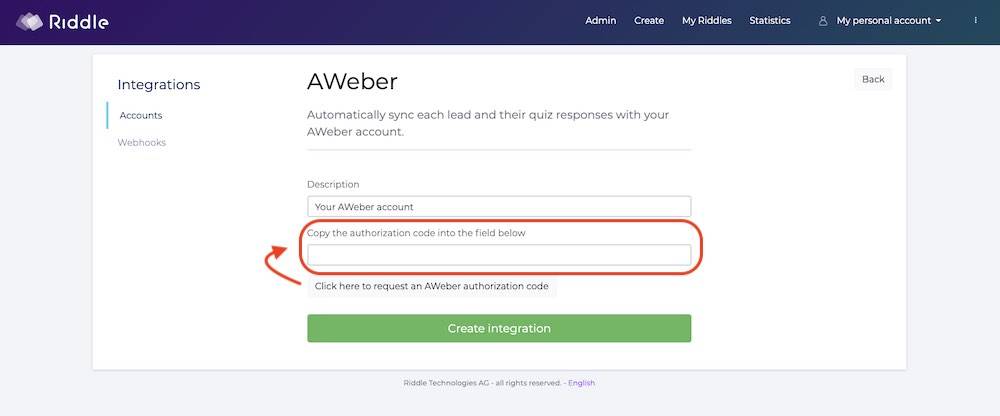 Step 5: Map fields in Riddle to Aweber
Okay, now the fun part.
Pop back over to Riddle, and map each field of your quiz (e.g. question 1 answer) and your lead form (name, email, etc.) to the corresponding AWeber field.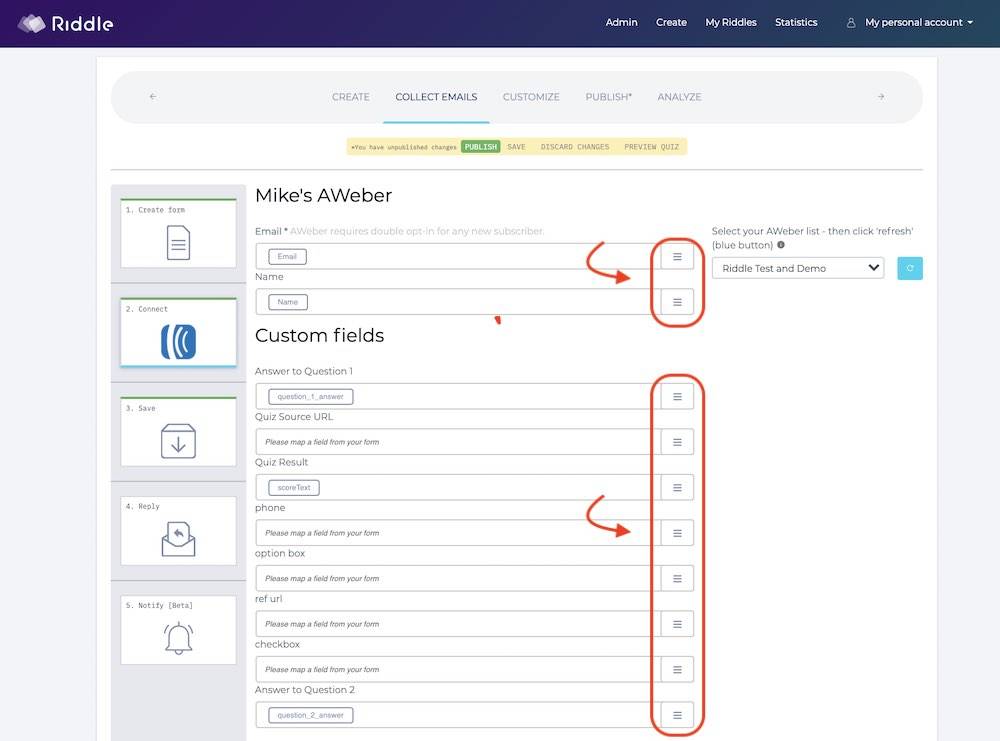 You'll see we've mapped email and name fields from our lead form, plus scoreText and question_1_answer and question_2_answer from our quiz.
Step 6: Pick an AWeber list and (optional) tag users
Connecting your lead form is just the first step. AWeber makes it easy to send your quiz leads to the right list in your account.
And you can also tag users based on their quiz results. For example, leads who get 0-43% are tagged 'You're a savvy saver!' (their quiz result) – but you can always change that.
You can also choose to add tags to all your leads – perhaps you might want to track where they come from. Adding a tag 'Riddle quiz leads' will help you keep track inside AWeber.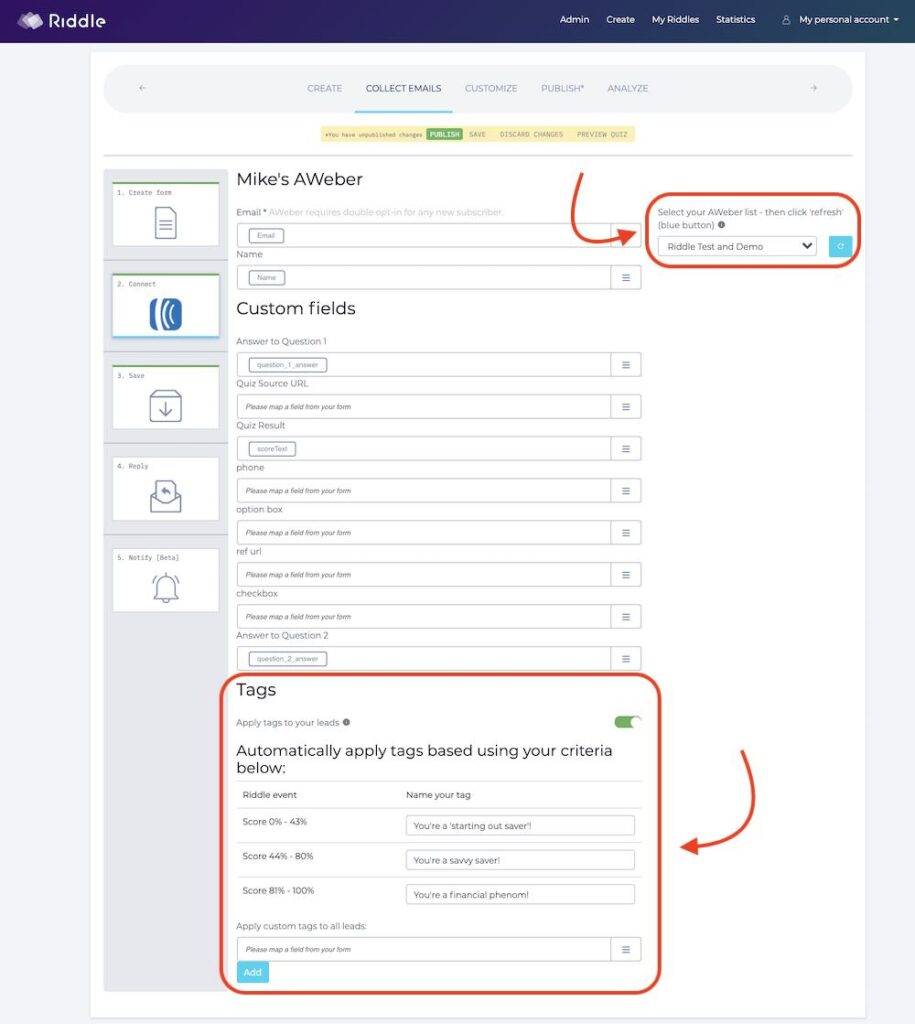 Step 7: Test your AWeber <> Riddle connection
We highly, highly recommend you test your quiz.
Go to the 'publish' step and click on the link.
Take your quiz and fill in your lead form – using a completely new email address (AWeber won't add a previously used email).
Click on the double opt-in link in your email.
Check the lead appears and all custom fields and tags are working properly.
Setting up automated emails in AWeber using leads from Riddle's quiz maker
Now that your shiny new quiz is finished, you'll want to set up personalized emails and marketing automations.
The next steps are done in AWeber.
Login to AWeber and click on the Messages Menu item.
Select "Campaigns" from the drop down and create a new campaign.
You'll want to create a campaign that kicks off when a tag is applied, so select that option.
Start the campaign when the tag "Pro" is applied and add "send a message" as a second step. (Now all you need to do is come up with a cool message to send to the pro chefs out there.)
Repeat this to set up a second campaign for the tag "Amateur" and you are all set.
Email marketing automation greatness awaits!
Below is a screenshot of the campaign set up for the tag "pro".

If you have any questions, please write us at hello@riddle.com or hit us up on support chat. We read and reply to every message – almost always under two minutes flat. How's that for fast? 🙂
(We're big customer service geeks and love to help – all our founders tend to race each other to be first to answer each message.)

******
Video transcript – connecting your Riddle quiz to AWeber
(We love to add transcripts for all our help videos. Our community of quiz makers has found to be very useful – especially folks using accessibility software such as screenreaders or text to speech tools. It's all part of our philosophy to make Riddle a fully accessible online quiz maker.)
Hi there. My name is Mike and I'm one of the co-founders here at Riddle. And in this video, I'm going to give you a quick walk-through of how you can use our online quiz maker to connect with your AWeber account.
And the idea behind this is that when you create a quiz with a lead generation form on Riddle, every time someone fills it in, all that data can get mapped and saved to your AWeber account.
That means you can automatically send out personalized follow-up messages.
You can tag each lead, segment them, then follow up with the right message to the right person at the right time.
The best thing? There's no coding, and it's super easy to get started.
Okay, so first, you can use any of our quiz types, but in this case, I already have a quiz set up, and I have used our sample template, which is around financial literacy. So you can see here it's the 'AWeber demo. Are you a Savvy saver?' online quiz.
Now, you see here we have a couple of different results. You're either a 'Starting out saver', a 'Savvy saver', or 'You're a financial phenom!'. And next step is to go to the collect emails step where you can build a drag and drop form builder.
Whoops, sorry. you'll see here I'm going to actually disconnect our previous connection, which is ActiveCampaign. I'm going to delete that.
Right. So the next step is to say, "Okay, well, I need to set up an AWeber connection."
Now, you'll see here, I already have a couple of connections because I've done this a couple of times, but if you don't, you'll see a button here saying, 'Connect'. So you'd click Connect here, which is basically just be a shortcut taking you up to our top right hand corner into the integrations and accounts section of our online quiz builder.
In this case, again, I already have a couple integrations, but I'll show you how to set up a new one.
So I'm going to click Connect account to Riddle. Now, this is where our quiz creator will talk to AWeber. So you need to get an authorization code. I'm going to click here to get an authorization code. I'm going to log in here.
We click 'allow access', and now the connection will be set up so that AWeber is ready to go. So they've given us a code. I'm now actually going back into Riddle, and I'm just going to paste in that code. Click integration. AWeber is going to think, "Geat, Riddle is now a trusted source. You can now talk to each other."
So now the AWeber to Riddle lead generation connection is set up. Let's go back to our online quiz and let's get everything going in the collect email step. This is where you need to tell AWeber and Riddle how the date is coming.
So in this case, I'm going to click on my AWeber integrations.
Okay, there we go. So we now have our AWeber account set up.
Now, one thing you'll need to do now, AWeber has certain standard fields they include. So in this case, in my account, it was email and name. However, you will need to add custom fields if you want to capture quiz data, because AWeber doesn't really have 'quiz title' or 'quiz results' as part of their standard fields.
So you need to give spaces where Riddle can put in that data. Here's how you do it in AWeber. In the sign up forms, I can create new custom fields. So I'm going to click on this.
And maybe I'll say 'answer to question two'. And next, I'm always going to select text – remember, it's always important to use the text option.
There we have it. So we now have all these extra fields here. Now, if I go back to this option here, let me go refresh and you should see.
Okay. And so once you have your custom fields set up, you're going to want to go to publish and save your form. So I've already saved it. But you will definitely want to make sure it's saved because that pushes the changes live. And now when you go to Riddle, actually, I'll do this one more time.
I'm going to reinstall my form.
So here's AWeber. Here we go. And now it's going to pull all the most current custom fields. So you'll see here here's that new custom field I just created. Now let's go through and map all the fields from my quiz lead generation form.
First off, you can always change different lists in your AWeber account. So you can say, "Hey, what list do you want these leads to go to?"
I'm going to map name to name, which makes sense. Obviously, I won't map all these. But I will for the answer to question one.
You'll see down here with an online quiz, we actually have the question, but we also have the answer. And you also can save 'Did they get the question right or wrong? (as a true or false value). So you can kind of segment people that way. Maybe I'll get the results. So I'm going to map 'score text', which would be the result the user sees – such as 'hey, you're a savvy saver!' or 'you got two out of five' or whatever you have set up.
So here's a new field. We set up a question to answer. So you get the idea. The other thing you can do is you can tag users based on what they have.
Riddle's online quiz maker automatically tag your users based on the results, to save you time.
But you might also add another field as a custom tag. So just something else to think about. But we're just going to leave it as is we're going to click publish.
Ready to test out your lead generation connection? Now, when you need to test this out – it's really important to go to the live quiz and then test it out. Don't test it out in the 'preview' of your quiz in the 'Customize' step – the data connections won't be be active.
Okay. Now let's just run through this very short three question quiz just going to go through really quickly and answer these three questions and last question. And now we'll see our lead form. So I'm just going to type this lead in as Easter Bunny, but I will give my email one note.
Please note, AWeber requires you to use a new email address each time you test this out.
If you've already tested your AWeber account with your email address, you'll need to delete that name because AWeber likes new submissions. Okay, there we go. I've now submitted this. The last step is that here's our results. But in order to make sure the lead goes into AWeber, AWeber is going to send us out as an double opt-in email.
Cool. So I just received this double opt-in email, and I clicked that link. And now let's go back to AWeber and make sure that everything is working as planned in the subscribers section.
I'm going to refresh this. And we should see Easter Bunny coming through. So let's see what we got and there you have it. So we have Easter Bunny as a lead in our AWeber account.
Now you'll see here Easter Bunny. It's marked as pending. I think AWeber actually does a little bit of information scrubbing before removing the 'pending' label – to make leads are genuine and not spam.
But I have clicked the link. This label will turn to confirmed in a bit.
You'll see here my name and email address. You'll also see we got tagged and the answers we mapped to our custom fields that we've added. There you have it. So that is how you connect your Riddle online quiz with your AWeber account.
If you have any questions, though, please use our support chat. My co founder, Boris and I, we love to race (and beat) our entire team of developers to be the fastest to respond.
What that means for you is that you'll get an answer back within about two minutes. We love being fast. So any questions about AWeber or online quizzes or how to create a quiz?
Anything, just give us a shout. Thanks so much. And Happy Riddling!