Are you a Qzzr customer who's migrated to Riddle? Good news – creating a quiz with Riddle's quiz maker is super easy and much more flexible and powerful.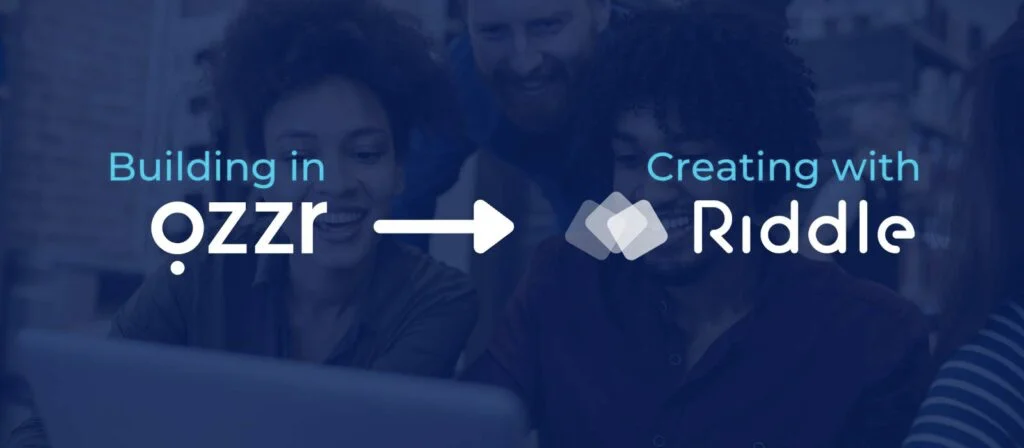 Read on for our 'how to' guide for Qzzr customers about making a quiz, poll, personality test, or other content with Riddle.
What happens to your existing Qzzr content (post-migration)?
Your existing quizzes or polls have been automatically converted to Riddle quizzes – with a similar look and feel as your Qzzr content.
Our dev team worked hard to map Qzzr's content and data to matching formats in Riddle.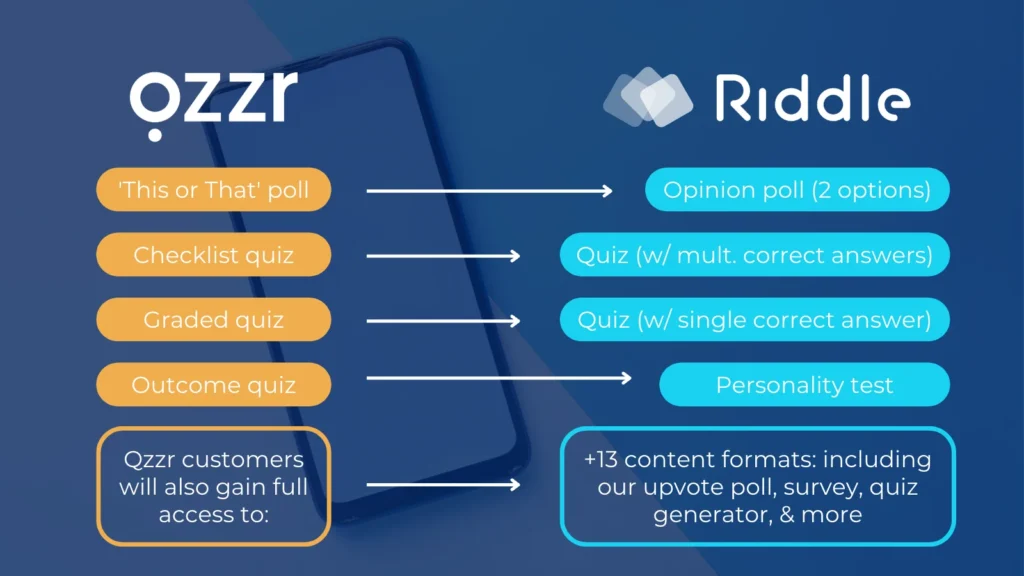 You can edit your Qzzr content from within Riddle.
Your embedded content is continuing to work – with

no need to re-embed your quizzes' codes

from Riddle. (Awesome, right?)
What type of Riddle content should you create?
We loved Qzzr's quiz maker – especially their unique look and feel.
However, you'll find that Riddle is a far more powerful and flexible quiz creator.
You now have access to a total of 15 different content formats – from surveys to polls, personality tests to branching logic 'journeys'.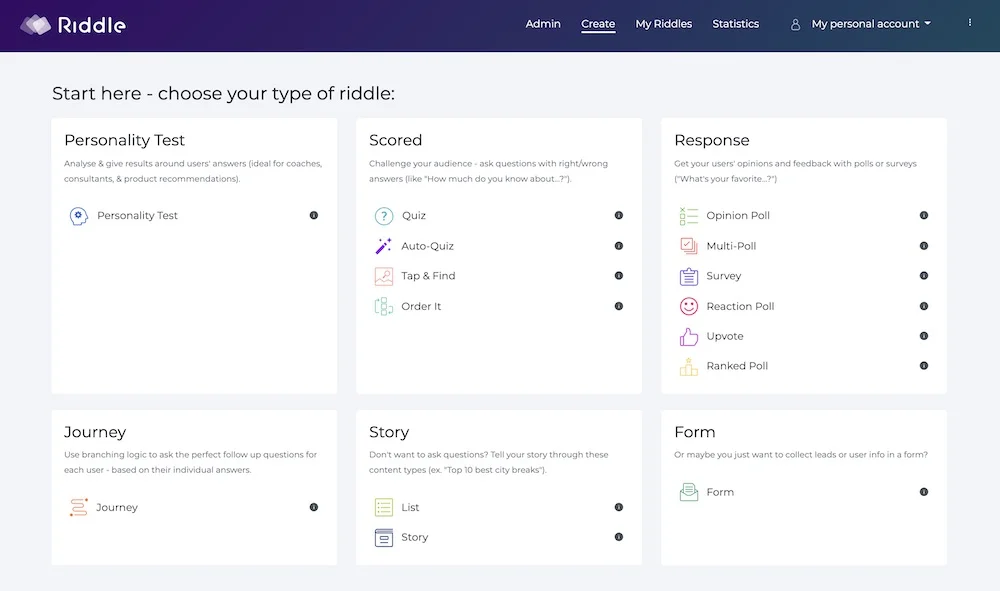 What type of Riddle quiz should you create?
Want help picking which of our 15 interactive formats are best for your use case?
We built this riddle format selector – "What type of Riddle quiz should I create?".
Powered by our branching logic 'journey' quiz type, it will recommend the right format based around your needs:
Can I add images, videos, GIFs, & audio?
The short answer? Heck, yes.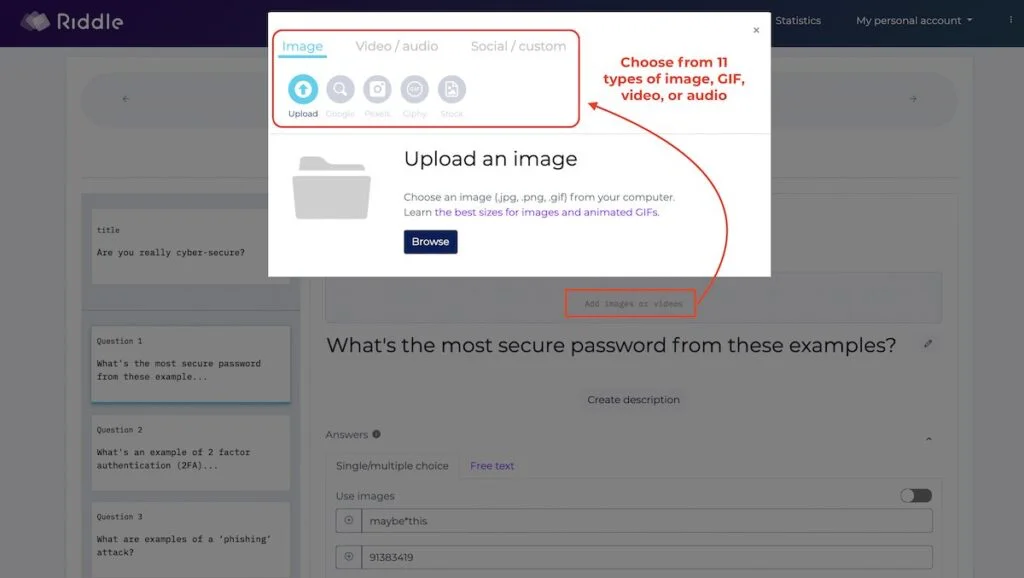 Riddle is used by thousands of top publishers and brands like the BBC, CNN, and Shopify to create high-end, immersive interactive content featuring:
Images: Upload your own, or find images using Google, our stock photos, or Pexels.
Animated GIFs: Insert GIFs into questions, answers, or results with Giphy – or add your own.
Audio (MP3) & background images: Go beyond images and text and add MP3 audio clips to your quiz, ideal for "Who said that?" or "Guess the sound" use cases.
[Video] Getting started creating with Riddle
You can watch this quick five minute video about using Riddle's online quiz maker:
Riddle's five steps quiz creation process
Riddle is based around a simple series of five steps for creating a quiz:

Creating a quiz on Riddle
From the create step, you can either:
Start from scratch
Or, copy any of 100 quiz, poll, or survey templates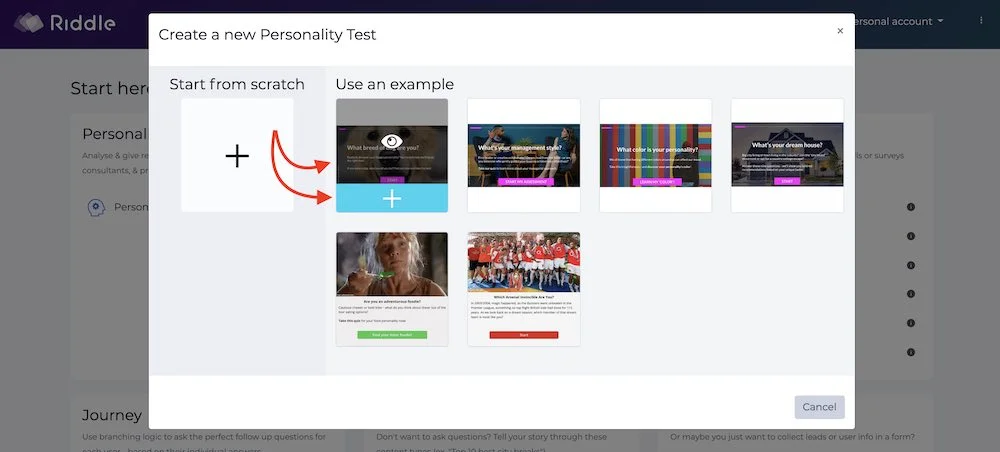 Creating a quiz: options & flexibility
Each of our 15 interactive content formats follows a similar structure: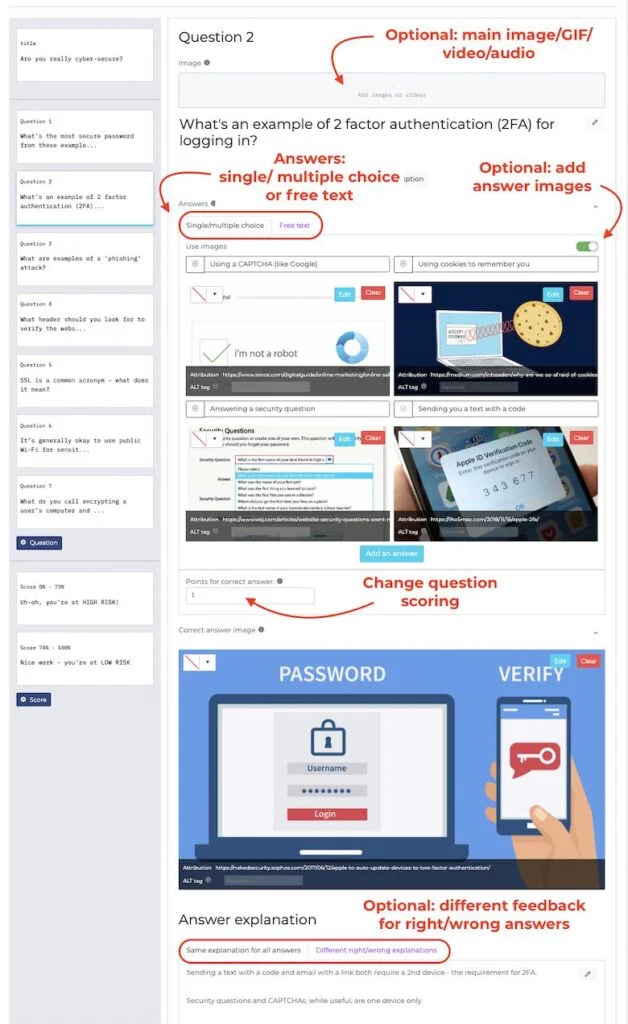 Main image
Main text (question, results, or title)
Description
Answers
Answer options (text or images/audio/video/GIFS)
Feedback or explanation
Collect emails (optional) with a lead form
Creating a quiz can be a powerful lead magnet for your marketing, especially for verticals like coaching or consultants.
Done well, up to 45% of quiz takers will choose to give their email and other details.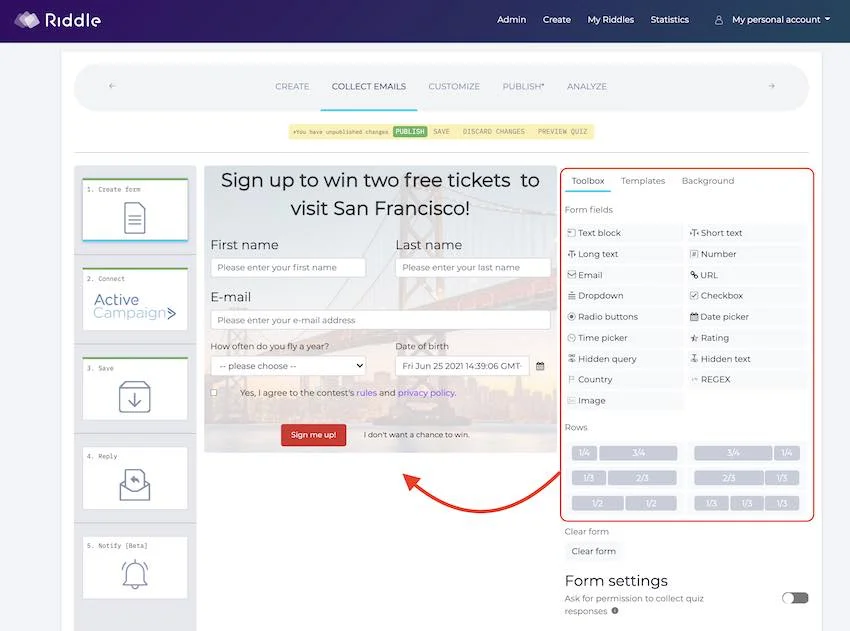 Riddles do not need to have a lead form – in fact, 68% of published riddles focus on pure engagement and don't include this step.
But if you want to grow your email list, a lead form in a quiz can be a powerful combination.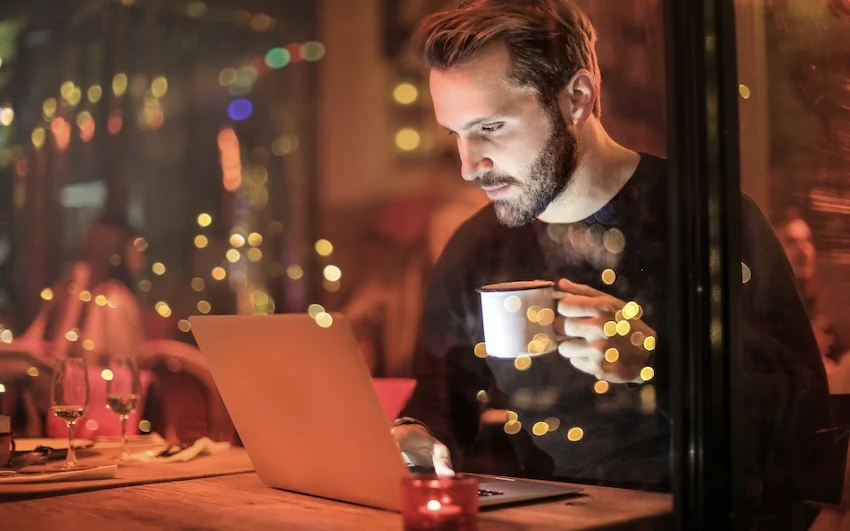 Use cases: Lead forms are excellent for quiz contests (e.g. "Get over 90% right for a chance to win!") or to convert customers ("Sign up for our free webinar!").
You can send all of these entries to your favorite CRM or marketing software to send follow up emails to convert them to happy customers.
Embedding or sharing your quiz
Once you're done creating a quiz, you'll want to share it with your audience.
The best way is to embed your riddle quiz on your site.
You can find your embed code – along with all sorts of options in the 'Publish' step.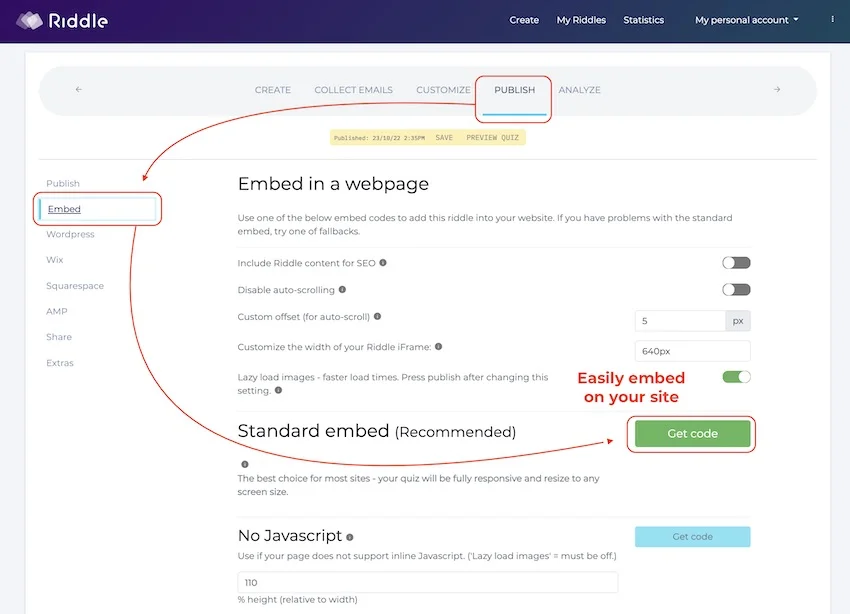 Any questions about creating a quiz on Riddle (vs. Qzzr)?
Ask us anything about creating a quiz from:
'On Qzzr, I could do XXXX – how do I do that on Riddle?' [Hint: We 99.57% sure Riddle can help.]
'Can you give me ideas for the best type of quiz for my use case?'
Or even… 'Can you give me some advice/feedback about my draft quiz?'
Seriously, we love to help.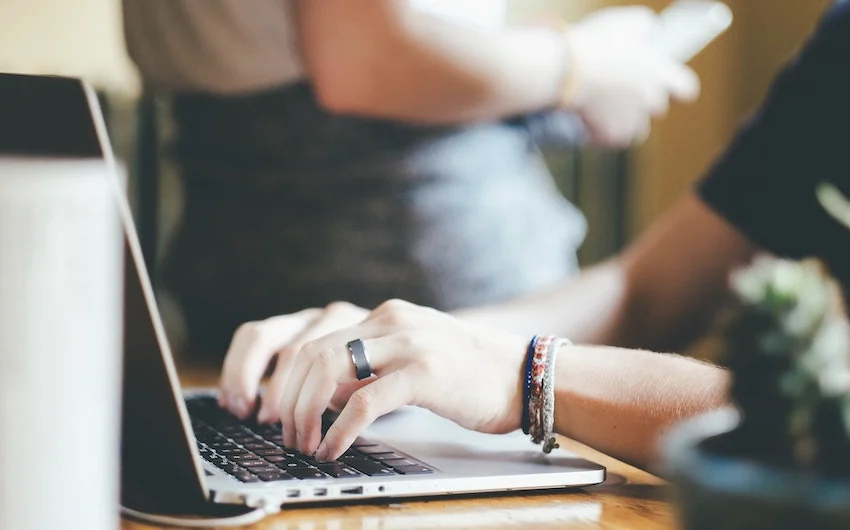 Our whole team at Riddle helps out with support – that means you'll get an enthusiastic answer… fast!
(We're a competitive bunch, and love to battle it out for the monthly beer prize for the Riddler who helps the most customers.)