Send quiz leads from Riddle's quiz maker to MailChimp
Quiz making and lead generation are an unbeatable combination.
People just love taking quizzes. They're irresistible content.
Did you know? Your audience is up to 20X more likely to complete a lead form than any other lead generation option.

We designed our online quiz creator from the start to easily connect to MailChimp (and over 1,500 other marketing tools) - no coding required.


MailChimp and Riddle's quiz maker - video overview
MailChimp & Riddle = GDPR-compliant quiz maker
Using MailChimp with Riddle's test maker is fully GDPR-compliant. As a sampling:
We're based in Germany.
All servers and quiz data stays within the EU.
Our quiz creator supports double opt-in email confirmation.
Plus unlimited checkboxes for "I agree to this privacy policy" and terms/conditions.
Riddle and MailChimp - a winning combination
Why do Riddle quizzes work so well for lead generation with MailChimp?
It's all about human psychology.
Auto-sync quiz leads and data with MailChimp
Riddle lets you send easily all this quiz data to MailChimp, which you can use to:
Add leads to different lists - based on their responses.
Send personalized follow ups - for better conversions.
For example, imagine you're running a travel site - and create a quiz called 'What's your dream holiday?':
Quiz takers who got 'You ❤ a good city break!' could get a special 'Save $75 on our Paris holidays' offer.
Sun lovers that scored 'You ❤ escaping to the beach!' would receive 'Save $100 on our Mexico getaways'.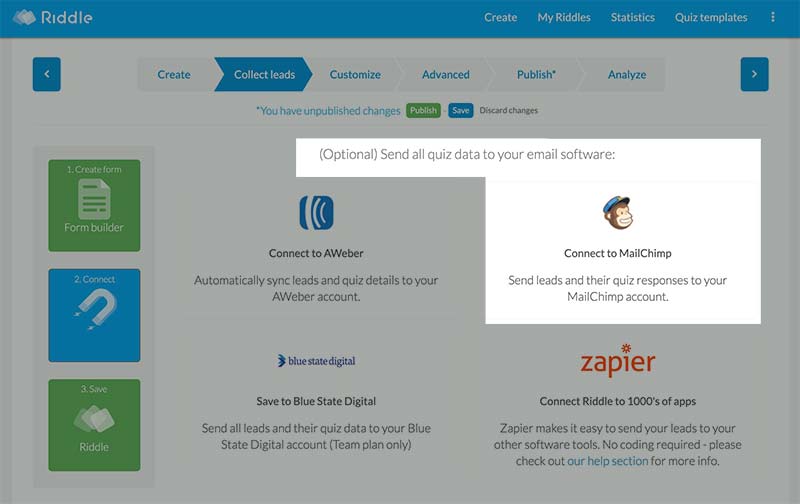 Connecting MailChimp with Riddle
Our native MailChimp integration make it easy to send all your leads and their quiz responses from our online quiz creator to your account.
Make a quiz
Use our drag/drop form builder (with 16 different fields to choose from) to create your form.
Your form can mandatory or optional.
Next, log-in to to MailChimp - and choose which list to add your quiz leads to.
Map your form fields to your MailChimp ones - (""First name"" in Riddle => ""First name"" in MC, ""Quiz result"" => QuizResult, etc.)
Press 'publish' - and voila! Your quiz is live.
For more details - take a look at our blog post: 'connecting MailChimp to Riddle'.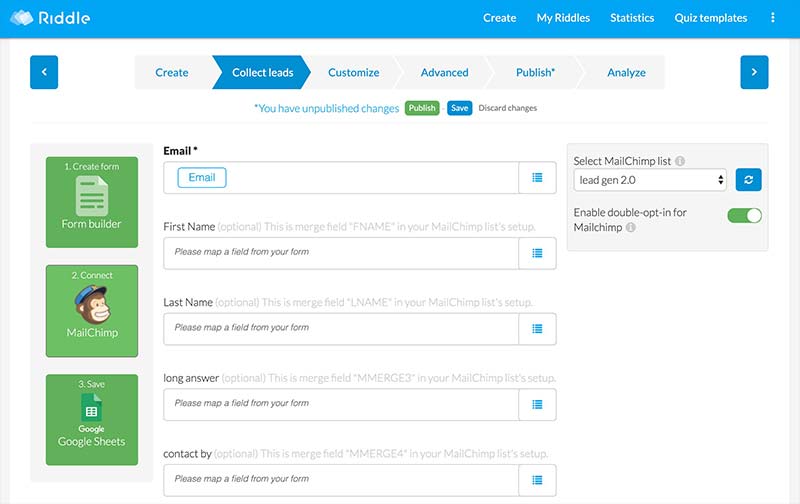 Save quiz leads online to Google Docs or XLS/CSV files
Sure, it's easy to sync our quiz maker with MailChimp.
But you might also want a spreadsheet of all your leads and quiz responses.
That's where our 'adding leads to Google Docs' option comes in.
Once you set up your MailChimp <=> Riddle connection, you can also instantly send quiz leads to any Google Sheet.
Here's how - no tricky coding required.
Don't like Google Sheets?
Download leads from our test maker as a CSV or Excel file.
Quiz leads to MailChimp - unlimited flexibility
Sure, MailChimp's native integration is great.
But Riddle's quiz maker also supports Zapier.
Now you can create a multi-step lead generation marketing funnel with over 1,500 apps.
For example, you could:
Connect quiz data from Riddle to MailChimp for your drip campaign
Sync all leads and quiz data to SalesForce
Send a personal welcome email from Gmail.
No coding - no muss, no fuss.
(Read more @ how our Zapier app works with MailChimp.)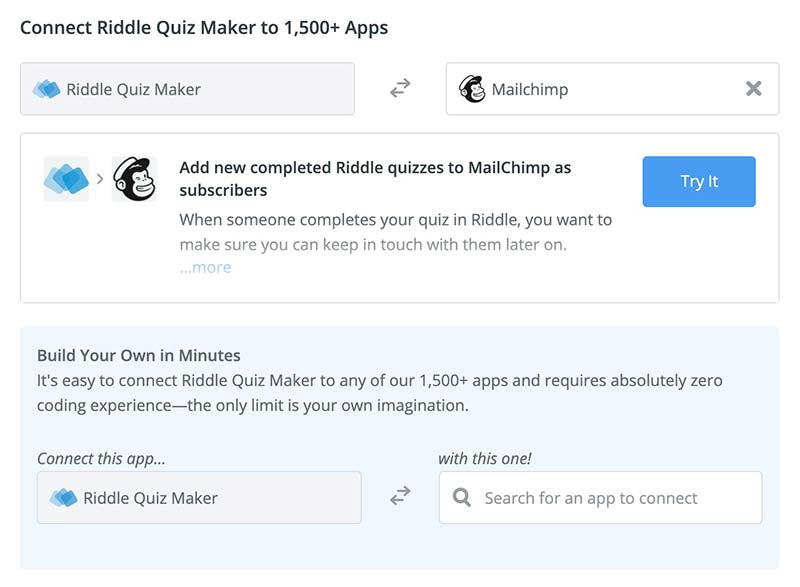 Questions @ MailChimp and Riddle's quiz maker?
We're love helping out about all things MailChimp and quiz-related.
Ask us anything - from setting up your quiz marketing funnel to tips to improve your quiz.
It's not just lip service - our entire team are huge customer support geeks.
Ask us anything via support chat or email - we all race each other (our CEO Boris included) to answer fast. Really fast.
Why quizzes rock for lead generation with MailChimp
Most folks get sign ups by showing all of their visitors a (rather annoying) pop-up asking them to sign up for their newsletter.
We're not big fans of this approach.
It's like rocking up to a party then asking the first person you meet out on a private date.
Unless you're George Clooney or Shakira - this probably won't work for you.
A slightly better approach is to offer something for signing up - like a free e-book or white paper.
That's still not ideal.
Sticking with our party analogy, that's akin to asking out that first person you met for a date - but at least offering to pay for dinner.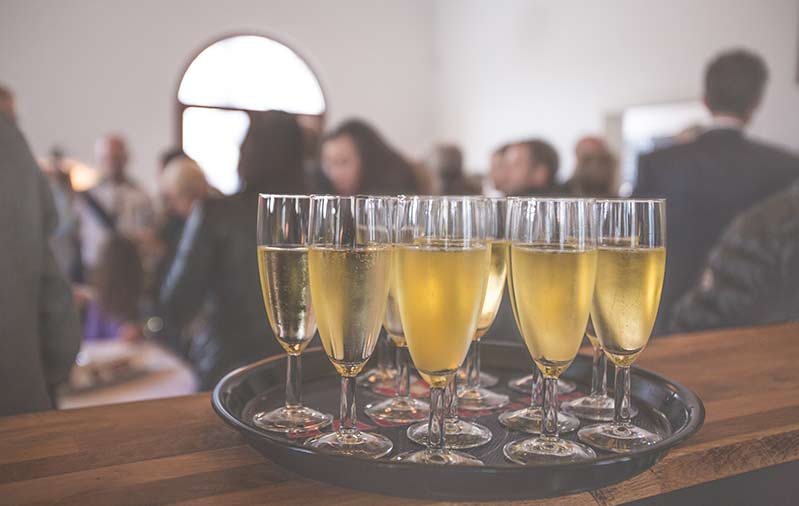 Why pop ups don't work for MailChimp lead generation
If you're like most of us, those approaches are irritating.
Enter quizzes, personality tests, and our 12 other interactive formats.
They work so well (up to 40% of quiz takers will fill in your form) - because they get the reader learning more about their most interesting topic: themselves.
Instead of a pop up, imagine you tried this:
You make an online quiz or personality test - based on each user discovering something about themselves.
You have 100% of their attention over the course of 8-12 questions over 3-5 minutes.
Then you show your lead generation form right before their results - asking for their name and email.
That's a much more natural process.
Wrapping up our party analogy - showing your lead form at the end of a quiz is like asking someone out only after having a deep, meaningful conversation.
Simple? Sure. But, hey, it works.
Create your own riddle - no credit card needed