How do nonprofits and NGOs leverage Riddle's quiz maker?
Life for nonprofits sure can be tricky.
You're passionate about your cause - the challenge is getting the word out in an increasingly crowded media landscape.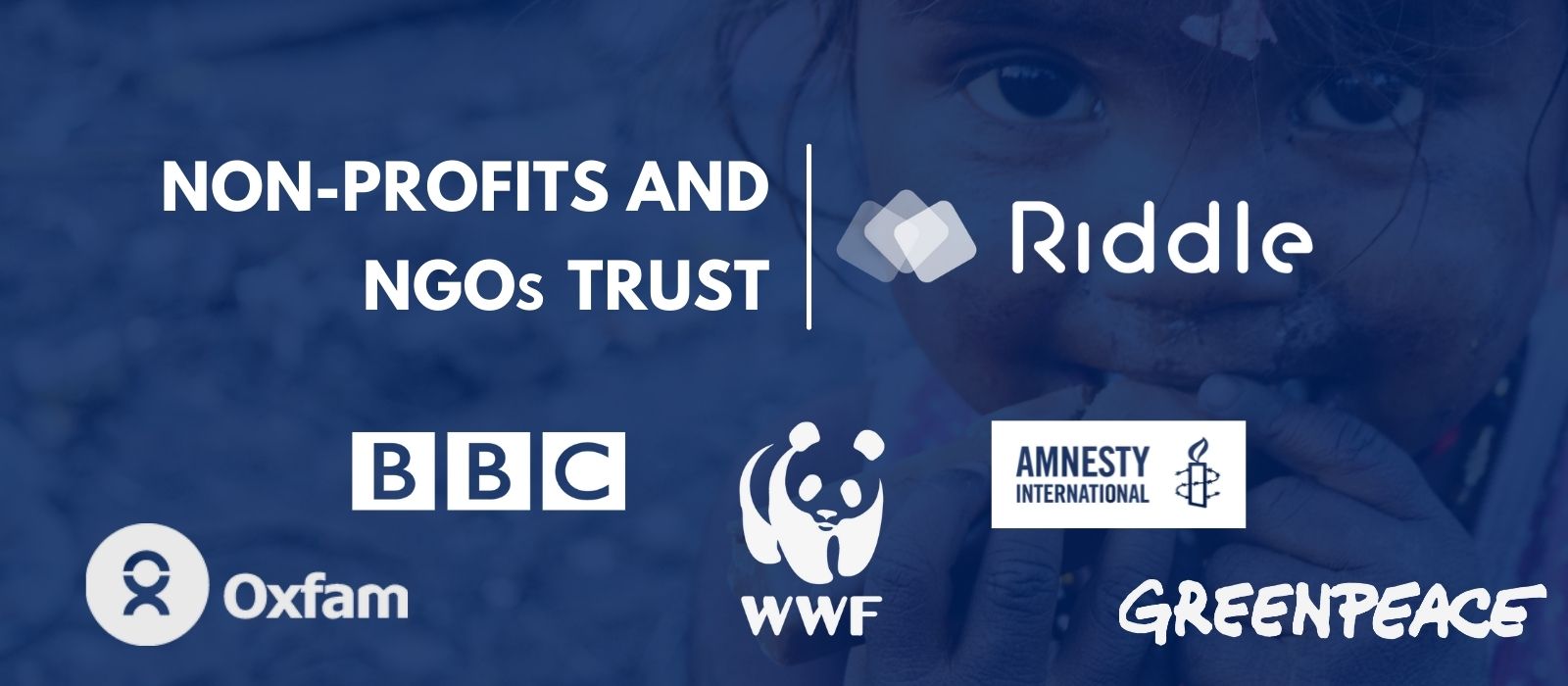 That's a big reason we designed Riddle - to help nonprofits as diverse as Oxfam, the BBC, and Amnesty International rapidly (and cost-effectively) create quizzes and other interactive content.
5 reasons your non-profit will love Riddle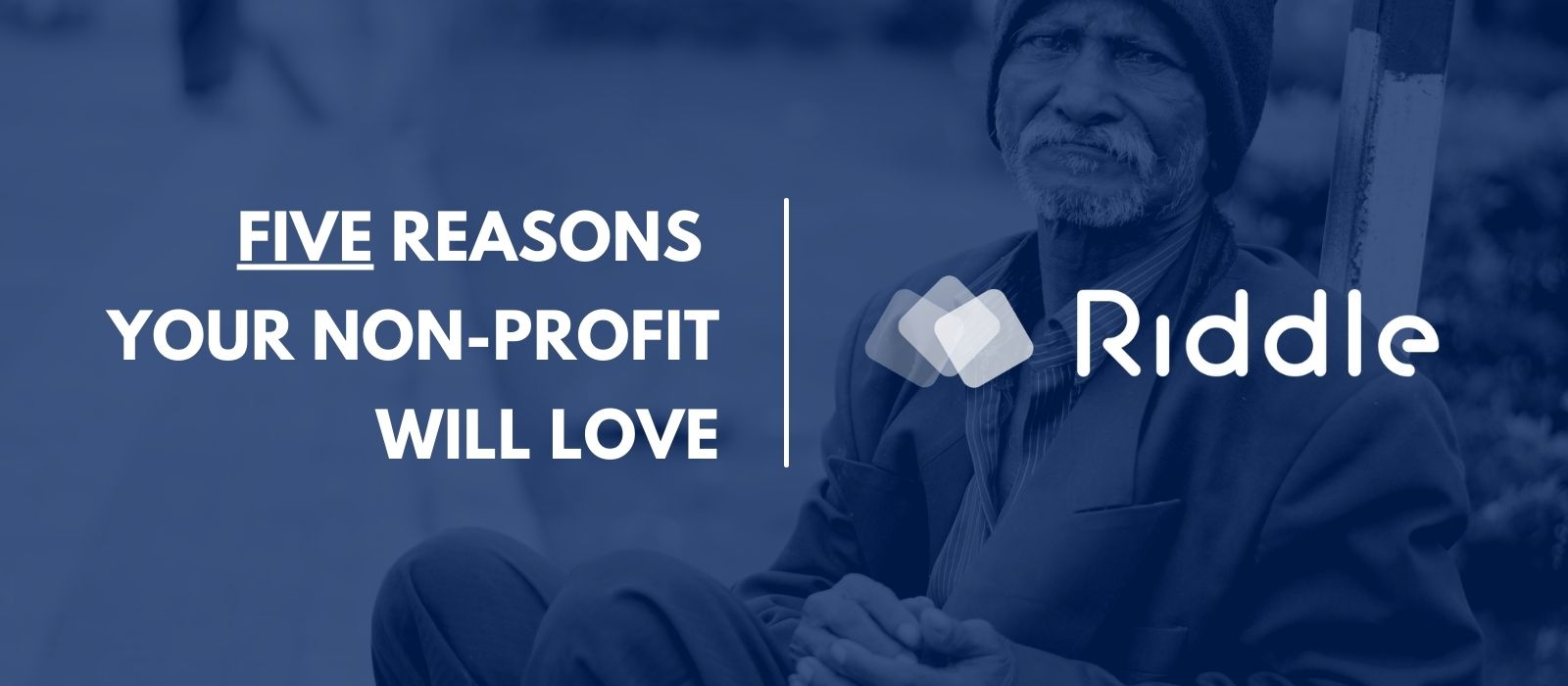 Fully GDPR/CCPA-compliant online quiz maker
Educate and inspire your audience through quizzes
Grow your donor or volunteer list with in-quiz lead generation
20% Discount for non-profits
Unlimited quizzes, leads, and traffic - from just $23 a month
Oxfam engages and educates with quizzes
Worldwide anti-poverty charity Oxfam uses quizzes to turn passive web visitors into active participants.
Check out their "How much do you know where your food comes from?" quiz - 100% white-labelled, and complete with "sign this petition" call to action button to turn interest into action.
Non-profits and educators save from 20% to 50% on any plan
We love helping out nonprofits.
We offer 20% off our BASIC, PRO and TEAM plans.
Save another 27-35% if you purchase one of our annual options (12 months, paid in advance).
Our list prices do not include VAT, make sure to have your EU VAT ID ready if you are buying as EU or GB entity!
Let's look an example:
Our white-labelled Pro plan would normally be 69€ a month.
Choosing the annual option:
-20€ (annual plan is 49€ a month)
-10€ (20% off for non-profit)
New price: 39€ a month - 43% savings!
Many non-profits and educators try our quiz maker out for a month or two, then switch to our annual option later. We're nice and flexible that way.
Just let us know by support chat which plan you'd like - we'll create a discount code for you to use during the purchase process.
The World Wildlife Federation engaged and educates with quizzes powered by Riddle
The WWF is a legendary conservation organization, with a global remit. They've turned to interactive content like quizzes and polls to build enthusiasm among their audience across multiple languages. We're big fans of their "How well do you know the oceans?" quiz:
Why should nonprofits and NGOs use Riddle's quiz maker?
We're biased of course - but think our quiz creator can help a lot:
15 types formats - choose from polls to personality tests, surveys to quizzes... and more
100% white-labelled - add your own logo so your quiz is completely brand-consistent
100% customizable - upload your own font and custom CSS to embed seamlessly in your site
Built-in virality - turn quiz takers into advocates, sharing your quizzes on Facebook, Twitter, LinkedIn, Messenger and WhatsApp
Smartphone-friendly - resize automatically to any size screen
Integrated email and data collection - collect emails and quiz results to grow your donor and volunteer database.
Send all data to any database - easily sync all quiz and lead data to any marketing software like MailChimp, Salesforce, and 1,500 other products.
The BBC inspires and informs with Riddle
The British Broadcasting Corporation has been a long-time partner with Riddle. Their teams constantly create interactive content for their programming - including CBBC, Sport, and News - to boost time on site and social sharing.
Check out this reaction poll on BBC Three (bottom of page)- getting 50,000 votes from their 18-34 audience around the controversial idea of giving non-smokers more vacation time:
"Riddle helps our Children's interactive team to quickly create engaging content that provide compelling data insights about our audience." - Derek Harvie, Executive Producer (CBeebies and CBBC)
The Tate Museums turn to Riddle
The world-famous Tate museums make art come alive with Riddle's interactive quizzes.
Take a look at this "Which art superhero are you?" from Tate Kids - they feature an entire section - built around Riddle quizzes and interactive content:
15 interactive formats - from quizzes to polls, surveys and more!
We totally get it.
Life as a nonprofit or NGO means you're always stretched. Stretched for time, resources, and funds - it makes it super difficult to help spread the word about your cause.
But... we've got good news.
You can use Riddle's quiz maker as your own flexible interactive marketing kit.
With 15 different content types, you can quickly create a quiz or whatever you need - no expensive agencies or developers required.
Right/wrong answers (trivia quizzes)
Quiz - our classic trivia quiz, you can ask questions with correct/incorrect answers. ("Test your climate change knowledge!")
Auto-quiz - keep your quizzes fresh. Upload a question bank, then automatically show new questions every hour/day/week/year. ("Take our weekly trivia quiz!")
Tap and Find - unleash the power of touch, where users tap the correct answers in each image.
Order it - challenge your audience to drag/drop cards in the right order.
Outcome quizzes
Personality test - ask questions then return the best result (or results) that match each user's answers. ("What kind of volunteer are you?")
Journey (branching logic) - ask each user different questions based their previous answer. Perfect for donation suggestions. ("Which cause should you donate to?")
Ask your audience
Polls - ask one question, or many ("What's our biggest crisis?")
Upvote list - a crowd-sourced listicle, each person upvotes their favorites ("Pick your three favorite charities")
Reaction poll - our slider poll, get up to 25% of page visitors to give their opinions ("The human rights bill is a good idea - agree/disagree?")
Ranked poll - ask your audience to rank their choices ("Which causes should we support?")
Surveys - collect opinions with single or multiple choice, free text, and more ("2019 donor survey")
Collect emails / run contests
Gather email addresses and personal information in all 14 of our quiz creator formats.
Want a lead form - but don't need a quiz? No problem: create your own standalone form for easy embedding on your site.
Flexible quiz maker for NGOs and nonprofits - no limits
We keep the pricing of our quiz creator flexible and transparent for nonprofits.
Simple pricing - no admin or set up costs
Cancel any time with our monthly plan
Or save an extra 20% with our yearly subscription
Create as much as you like. All our plans feature:
Unlimited quizzes
Unlimited quiz starts and finishes
Unlimited email collection
5 star customer service - we're lightning fast, responding in two minutes or less
Nonprofits engage through quizzes
Quizzes are almost irresistible. Check out these key stats:
More engagement: Each quiz taker will spend up to 57% longer on your site - which means more time to educate or inspire action for your nonprofit's cause.
More time on site: Visitors will average 2:47 each taking your nonprofit's quiz or other interactive format. This 'dwell time' is a big factor for increasing SEO and boosting your free organic search traffic.
More email addresses: Quizzes with integrated lead generation forms see up to a 40% opt-in for email collection - ideal for finding more donors or activists.
The Energy Saving Trust educates with quizzes
The Energy Saving Trust is dedicated to helping people save energy in the face of the global climate emergency.
They are big fans of turning to interactive content to make policy more 'real'. They will often create a quiz for campaigns like this "Climate emergency: what do you know?" example.
Get your cause social; super social.
Don't just take our word for it. AdWeek knows that "quizzes are the most shared content".
Integrated social sharing means you get to get your quiz takers to spread the word for your cause.
People love sharing interesting or compelling quiz results - you'll get more people to inspire and educate about your nonprofit's mission.
Our quiz maker features built-in social sharing for:
Twitter
Facebook
Facebook Messenger
WhatsApp
LinkedIn
Build your email list for your NGO or nonprofit
Easily collect email address with our quiz creator.
Make your own forms with our drag/drop form builder.
Qualify potential donors and volunteers - gather the names, emails, and other information - with 16 different fields like drop downs, dates, and checkboxes.
Display the form when your audience is most emotionally engaged - right in front of their quiz results.
Online quizzes and interactive content rock at lead generation - nonprofits get more than 40% of takers to provide their details. That's powerful - more than 20 times the 2% average for most online lead generation options.
Sync quiz leads easily with any software
Connect our quiz maker with over 1,500 marketing software tools - including MailChimp, Blue State Digital, SalesForce, and more.
Send each email address and their quiz results to your nonprofit's favorite software - and best of all? No coding required.
Segment and rate each lead around their quiz data.
Power your nonprofit's drip email campaigns with personalized messages. Convert more volunteers or donors - send the right messages to the right person... at the right time.
Your quiz, your nonprofit's brand - 100% white-labelled
Add your logo and create 100% white labelled quizzes.
Match your quiz to your site's branding - with our huge list of customization options.
Customize almost anything - you can tweak borders to buttons and styling with our CSS editor (and we can help!).
Use your font - easily add your nonprofit's font or any Typekit/Google/Fontdeck font.
Redirect based on quiz results
A quiz is just step one of the process. You've captured your audience's attention and shown them their results.
Now what?
Our online quiz creator lets nonprofits and NGOs continue the conversation. You can show each quiz taker additional content or direct them to a landing page - contextually targeted around their quiz results:
Call to action buttons - add a clickable CTA button to any quiz result. Include custom text and specify a different URL for each quiz results.
Quiz result landing pages - automatically send quiz takers to any URL, depending on how they answered your quiz.
Ideal for suggesting campaigns or actions best suited to their interests.
Imagine your climate action nonprofit created a "Measure your climate footprint" personality test.
For "You're super climate aware" results, you'd send them to your donor funnel.
For "You need to cut back", you would instead send them to the "climate change basics" section on your site.
Got a question how quizzes can help your nonprofit or NGO?
Just give us a shout - we all love to help out.
It's part of our Riddle culture; everyone from our CEO on down will race to be the first to respond to your question.
From quiz ideas to best practices about collecting donor information, let us know via our site's support chat or email (hello@riddle.com).
Riddle's online quiz maker is used by hundreds of nonprofit organizations around the world - including Oxfam, Greenpeace, WWF, Plan International, Tate Modern, Amnesty International, World Animal Protection, and the BBC.
See 23 of our favorite quiz examples - including the best non-profit quizzes and other interactive content.
Non-profit organizations leverage quizzes and other interactive content around two major goals - engaging and educating, or collecting data through lead generation.
Online quizzes are powerful educational tools. Quick to make and fun to take, non-profits can create online quizzes that challenge their audience's knowledge ("How much do you REALLY know about climate change?"). Each question can feature images, videos, or audio - as well as showing the correct answer explanations, such as "Actually, aviation only accounts for 2.5% of all CO2 emissions." Add in a question timer or leaderboard, and you have a super-engaging quiz that both educates - and entertains.
And non-profits can go beyond quizzes with traditional right or wrong questions. Personality tests are excellent for assessment (e.g. "How large is your CO2 footprint?"), while online polls and surveys can get the audience involved and voting (e.g. "Was COP26 a success or failure?").
Finally, every online quiz, poll, or other format is a chance to grow your nonprofit's email list. You can insert a voluntary email collection or lead generation form into any quiz. Gather the emails and other info from potential donors or volunteers, then send them to your donor email or marketing software (such as Constant Contact or MailChimp).
Online quizzes and polls, combined with an email collection form, are a powerful tool for non-profit organizations. The quiz or poll attracts people's attention and gets them clicking and interacting, while learning more about your nonprofit's mission.
Adding an optional in-quiz lead generation form turns their enthusiasm into action (e.g. "Volunteer now!" or "Contribute to our famine relief appeal"). As part of your quiz marketing funnel, the details of new donors or volunteers are seamlessly sent to your email marketing software (including MailChimp, Sendinblue, and Constant Contact), so you can automatically email personalized follow-up messages to keep them motivated and involved.