"Hey Riddle, what quiz should I make with your online quiz maker?"
We get this question a lot. The good news? We can help you choose from our 15 quiz, personality test, poll, and survey formats – so you can create the perfect interactive content for your needs.
Video introduction: What quiz type should you make?
Our co-founder Mike whipped up this handy video introduction to Riddle – it covers everything from creating a quiz to collecting leads and embedding on your site:
QUIZ: Take our "What type of Riddle quiz should I make?"
Now you might have questions – 15 formats are great, but which will be best for your specific use case?
Take our nifty branching logic 'journey' quiz – "What type of Riddle quiz should I create?" – it will recommend the right format, based around your requirements:

15 quiz formats – quiz, polls, and more
We divide our 15 types of content formats into these sections: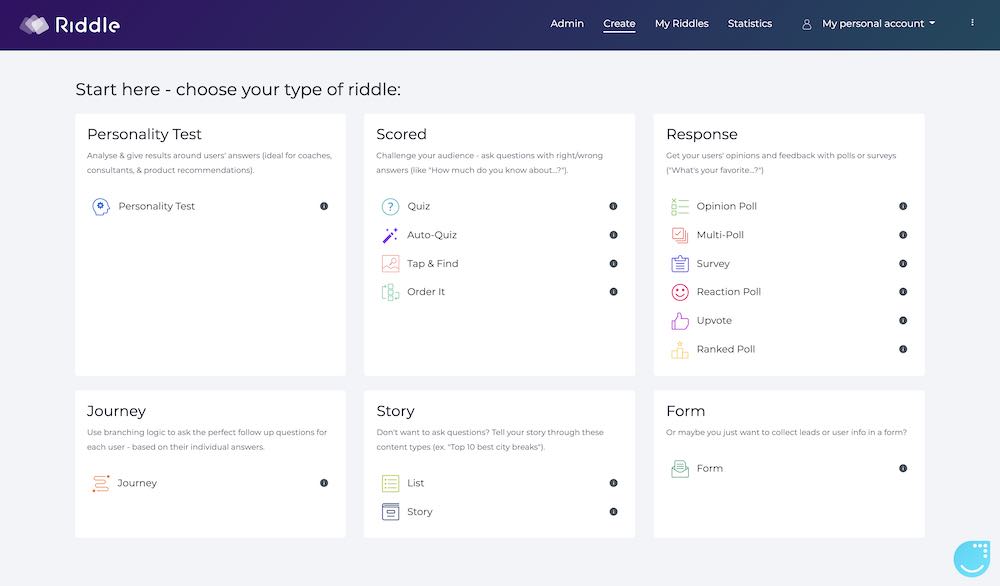 Personality test:
Personality test: No correct or incorrect answers – instead, each person gets an overall result, based on how they answered the questions. Ex. 'What's your travel style?' – 'Beach lover', 'City slicker'…)
Scored:
If you want to ask questions with correct/incorrect answers – these quizzes will help you out:
Quiz: A series of 'right/wrong' questions, your users will get a 'You got X out of Y correct… You're <result name>!' type result.
Tap and find: Get your audience to search, tap, and find answers in images. Two fun modes: 'image search' and 'spot the difference'.
Order it: Challenge your audience to arrange quiz items in correct order (ex. ("Arrange Star Wars movies by release date").
Quiz generator (auto-quiz): Upload a bank of questions by spreadsheet – and show new questions to your quiz takers, every hour/day/week (your choice)>
Response:
Want to get your audience's opinions? From polls to surveys, check these out:
Multi-poll: Our newest and most flexible opinion poll – we highly recommend this option for any voting/ranking type questions. Multiple questions, multiple formats – and lots of fun for your audience.
Opinion poll: Ask one question with our classic poll. Users can select their favorite answer – and see the overall results.
Reaction poll: Your audience gives their opinion using a slider to express 'Strongly agree' (or like) to 'Strongly agree' (or dislike).
Ranked poll: Our newest poll – get your users to drag/drop their favorite choices in order. (Ex. 'Rank these 80's movies')
Upvote list: a list meets poll, your audience will upvote their favorites ('Who played best in this week's game?')
Survey: Find out what people really think – with single, multiple choice, and free text downloadable answers.
Journey:
Journey: Our 'choose your own adventure' style quiz – the branching logic shows each user a question based on their previous answer. (Ex. 'What computer should I buy?')
Story:
List: the classic listicle is great for showing content in an easy-to read format ('9 cities to visit this year', '7 classic interview mistakes').
Story: Quiz meets blog post – create a rich long-form story. Embed social media, images, and other Riddle quizzes.
---
You copy also copy any of our quiz templates directly to your account – to try out and edit to make your own.
Click on any Riddle type
Mouse over a template
Click the 'eye' icon to preview and play the quiz.
Or use the '+' to copy this template to your account.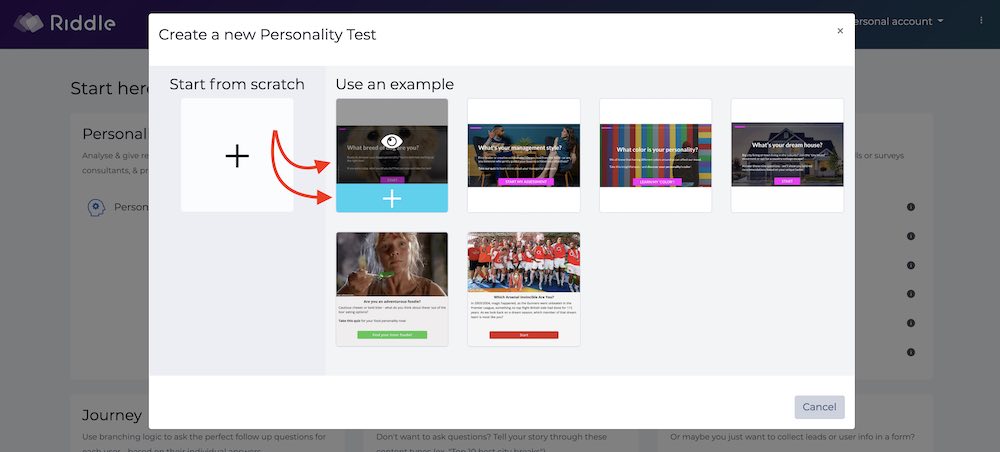 23 live example quizzes – CNN, Red Bull, and BBC
We've created this list of our 23 favorite quizzes – by partners like CNN, Red Bull, and the BBC. See them in action – and get inspired.
Next up? Create your own!
Riddle is super intuitive – the best thing to do is just get started: