AWeber
AWeber Email Marketing is one of the most used Email tools on the market. To make processing Riddle lead data as simple as possible we offer a native integration with AWeber.
Collect Leads Automatically
When you connect your AWeber account with Riddle, you can show a simple lead form right after the last question - before you show the results to the quiz, poll or personality test.
This is the ideal placement for a lead form, as the user by now has gotten into the habit of answering questions. From a psychological perspective this method works a lot better, than showing a "sign-up to our newsletter" pop up on your website.
By sending the user through a quiz or personality test first, you give him the chance to anser simple questions and ready him for a difficult task - giving up his name and email address.
Do more - tag and segment your leads
The combination of Riddle and AWeber lets you do a lot more beyond just collecting names.
Through your quiz or personality test you have gained unique insigths into your readers likes, his personality or his dislikes - all depending on how you phrased the questions.
Riddle allows you to combine the quiz or test result with the lead and tag the lead accordingly before submitting it to your AWeber account. In AWeber you can use these tags to segment your list and run automated marketing campaigns.
AWeber Lead Collection in action
Feature Overview
Connect your AWeber account to Riddle
Allow users to skip the form or force them to enter data before they get to their results
Select any of your AWeber lists - can be different for each Riddle Quiz
Apply tags to your leads based on Riddle Events (varies by Riddle type)
Apply a custom tag to all leads, independent of the Riddle results - can be used to identify the lead source for example if you run copies of your Riddle on multiple websites.
Check out the screenshot below to see the connection in action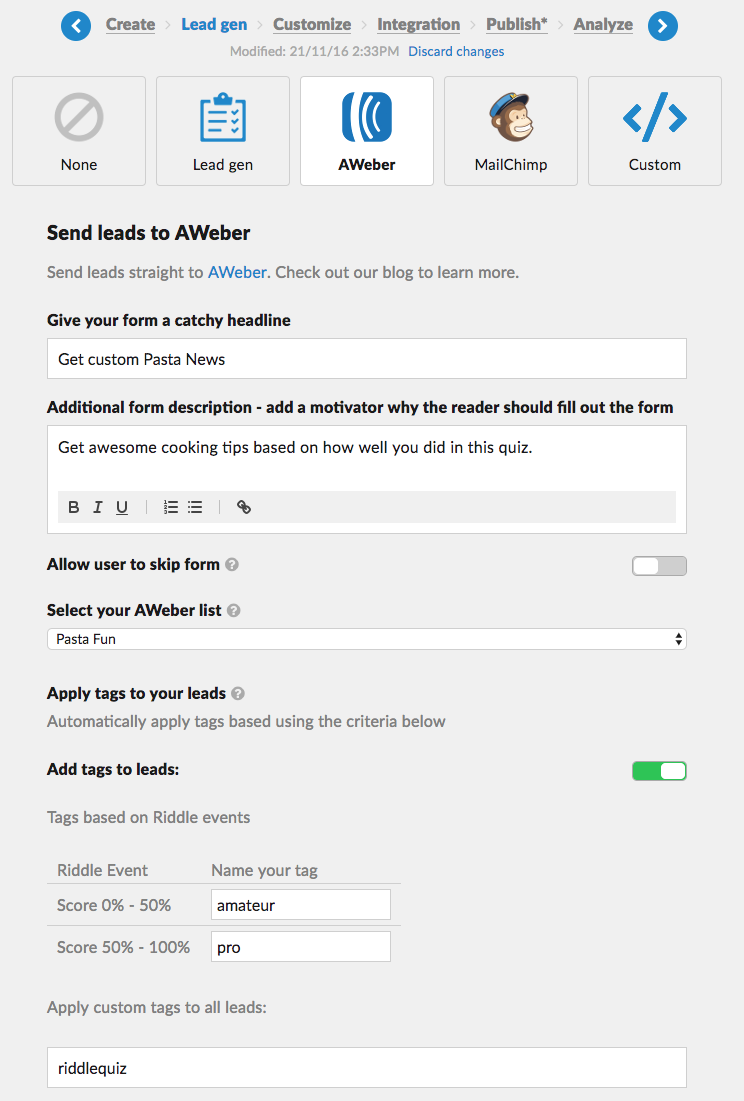 Use Case
Imagine you are signing up people for a recepie newsletter. Wouldn't it be great if you could first assess their cooking skills and then send them a newsletter with recepies that fit their curent skill level? Advanced cooks get very difficult recepies which beginners in the kitchen get some basic tips first.
If through this newsletter you are selling other products, you will see a clear rise in conversions if your content is perfectly suited for the target audience instead of sending a one size fits all newsletter to everyone.
Test Drive the integration
Check out a live example of how lead collection, tagging and automated email sending works on our PastaFun.com sample site.
Learn more
Check out our blog post on how to use tagging and build a perfect marketing automation funnel with AWeber and Riddle.

Video resources from AWeber
Check out these 2 short videos from AWeber giving you an overview of how the product works and walking you through Email Autoresponder setup.
How to create an Email Newsletter
Auto Responders

Sign up
Sign up now for your free trial (no credit card needed)