AWeber
AWeber is one of the most widely used email automation marketing tools on the market today. We have added a native integration between AWeber and Riddle to make the whole process of collecting leads and quiz responses an intuitive and quick process.
Automatically collect and sync leads
Connecting your AWeber account with Riddle takes just a second. You can then show a lead form right after the last question of your quiz - before you show the user's results.
Simple - yet powerfully effective, this is the ideal placement for a lead form. After answering questions, the user by now has gotten into the habit of answering questions.
From a psychological perspective, this method works is much less annoying than showing a "sign-up to our newsletter" pop up on your website.
Starting the user with a quiz or personality test, they become engaged answering questions - and are the most receptive for volunteering their name and email address for your future marketing offers.
Do more - tag and segment your leads
Leveraging AWeber with Riddle's quiz creator lets you do a lot more beyond just collecting names and email addresses.
Making a quiz or other interactive content with Riddle gains unique insights into each reader's personality from their likes/dislikes to their personality.
Using AWeber with Riddle allows you to combine each user's quiz or test result with their information. You can tag each lead by campaign, their result, or any other variable - then automatically send them to your AWeber account.
Once in AWeber, you can use these tags to segment your list and run personalized drip marketing campaigns - all based on how each lead responded to your quiz.
AWeber Lead Collection in action
Feature Overview
Connect your AWeber account to Riddle.
Make the lead form mandatory or optional - before each user gets to view their results.
Use any of your AWeber lists - choose different lists for each quiz you create.
Add tags to your leads based on their responses.
Apply a custom tag to all leads, in addition to the quiz results. Useful for identifying the source of each lead, especially if you embed one quiz across multiple websites.
Check out the screenshot below to see the connection in action: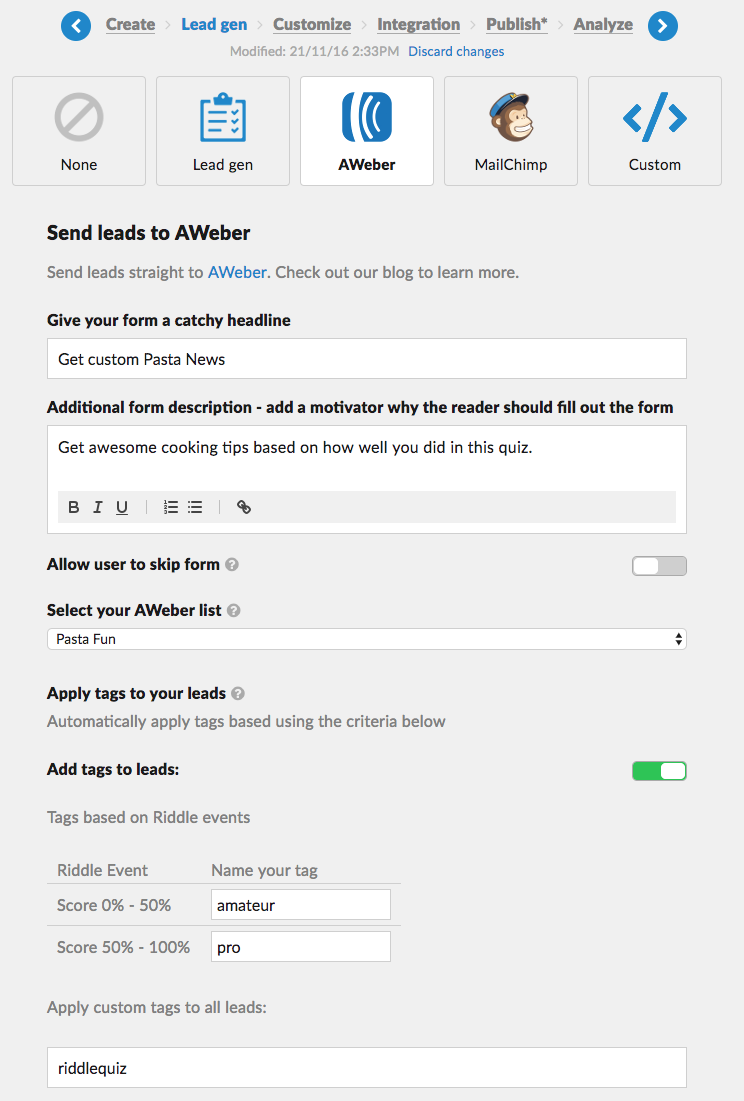 Use Case
Imagine you are signing up people for your newsletter full of the tastiest recipes.
Forget shipping a 'one size fits all' batch of recipes to every user.
Instead, suppose you could discover their cooking level with a quiz - then send a personal newsletter full of recipes that matched their skills in the kitchen. Basic users would start with simple stir fry while advanced chefs might try their hands at the perfect souffle or pie.
The marketing pay-off? By automatically personalizing each user's content, you'll have happier subscribers - plus you'll see a clear lift in conversions when promoting other products.
See AWeber and Riddle in action
Check out this live example showing how AWeber and Riddle's quiz creator combine for lead collection, tagging and automated email sending works on our PastaFun.com sample site.
Learn more
Check out our blog post on how to use tagging and build a perfect marketing automation funnel with AWeber and Riddle.

Create your own riddle - no credit card needed