Riddle's quiz maker gives you a number of options to share or publish your quiz.
Once you've created a Riddle head to the "Publish" section, the best way to get people to see your Riddles is to share it.
Video: How to share or publish
Our cofounder Mike created this quick 2 minute overview on how to best publish or share your Riddle quiz.
Option 1 – Embed on your site (Recommended):
Best option for most creators
Press 'Publish'
Copy our standard embed codes – and embed in any page or post on your site.
On your site, it will include all your branding for the best user experience.
More viral – as your quiz is discovered and shared (User A posts on FB, User B sees and shares on Pinterest, etc.), all of the viral traffic comes back to your site.
If you use option 1 and post the riddle.com URL, all new quiz takers will visit your quiz on Riddle, not on your site.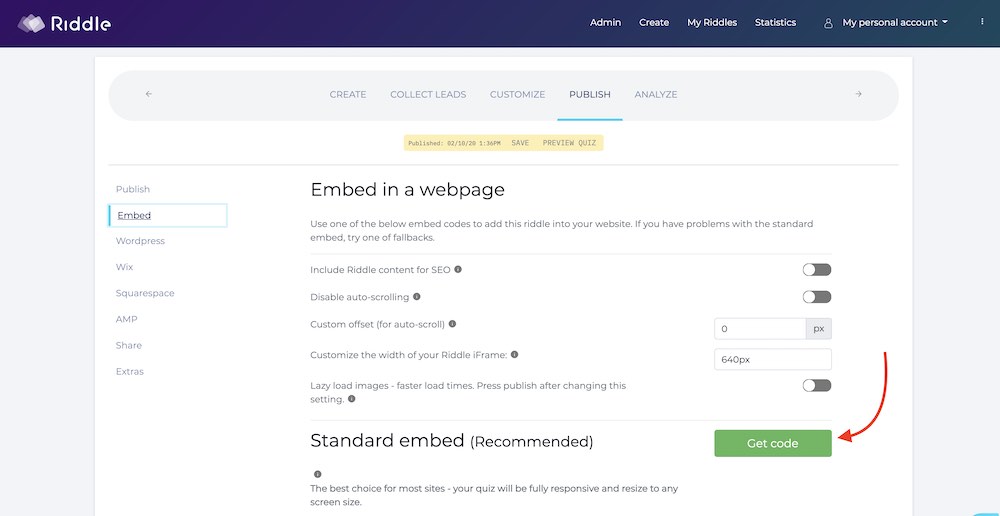 Option 2 – Share the quiz URL directly:
In the 'Publish' section, grab your quiz URL (ex. www.riddle.com/showcase/######/quiz ) and share on Facebook/Twitter. 
This is a Riddle-branded page – the name and numbers will change slightly based on your specific quiz.
All viral traffic are directed to your Riddle-branded page, and not your site.
Want to learn more? Read our more detailed description about how to share your Riddle quiz:
https://www.riddle.com/blog/embed-online-quizzes-site/
(Note: check out our 'lazy image loading' option – so your quizzes load faster for your site visitors: https://www.riddle.com/help/riddle-v1/creators/publish/lazy-loading-quiz-images/)
Best practice example
We absolutely love this quiz by Scottish pro soccer powerhouse Celtic FC – not only is it stunning, but the quiz also leverages our sharing in a compelling way.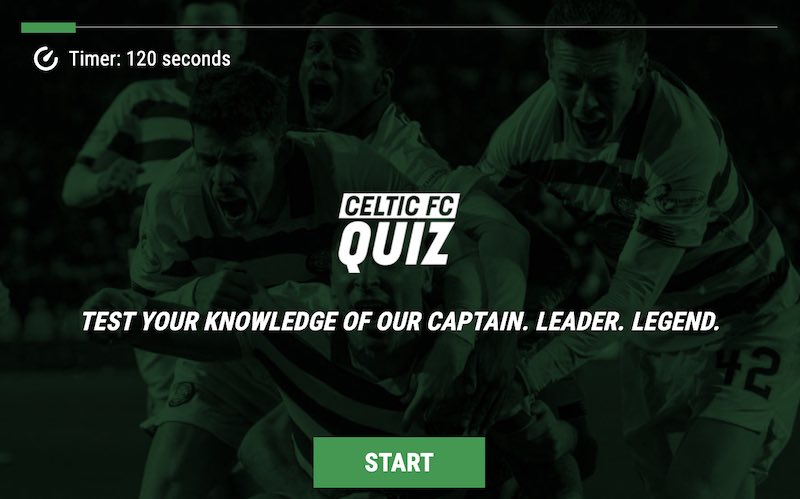 You can also check out this list of our 23 favorite quiz, personality test, and poll examples from our partners – they all use our embed codes to put their quizzes directly on their sites.
Take any of these examples – and test out the social sharing. You'll see why we recommend embedding on your site vs. just using our link on Riddle.
Video transcript: Share or publish – best practices
(We like to add transcripts of our video walkthroughs – in case people like to speed read vs. listen to a video.)
Hi there, my name's Mike and I'm one of the co-founders here at Riddle.
And in this short video, I'm just going to show you how you can easily share and publish your quiz with our quiz maker. So when you have created your quiz or poll or survey, the steps are all the same – no matter what type of format.
Now, I'm just going to go to our create step and I'm just going to copy a quiz template. And because I'm an 80s geek, I'm going to pick this 80s template that I created a while back.
What you do when you get to the published step, you have a couple options. So first, you'll need to press publish.
Once you do, we give you this link here – if you click it is a working link to your quiz, but it lives on Riddle. However, we recommend that you actually use our embed codes or our WordPress plug in WIX, Squarespace, things like that.
Because the idea is if you use our standard embed code, for example, and embed this in your site, any time someone takes your quiz shares their results on Facebook, Facebook will send all their friends who click on the post back to your site.
If you just share this link, Facebook's going to think "OK, these people obviously came from Riddle. So let's send them back to Riddle."
That might not be what you want. That's why we recommend using our standard embed code – it's responsive, so your quiz will resize.
However, if you need have some other options, you can also use our no JavaScript or no CSS/JavaScript options depending on your CMS requirements.
And again, we also support WIX and WordPress and Squarespace and all the other ones as well. But that's basically it.
If you have any questions on how to share or publish your quiz, just give us a shout on our support. Shat myself, my co-founder Boris, all our teams of ace devs.
We all love to help out and you'll get a response generally within under two minutes.
We're not bots, so we might be asleep. We're over in Europe – so if you hit us up from the west coast of the US during the evening your time, we might be asleep.
But that's basically how you share quizzes and everything on Riddle.
Any questions? Just let us know. Thank you, and Happy Riddling.