At Riddle, you can now use Vimeo to insert video clips into any of your quizzes, polls, or other Riddle content. Hurrah!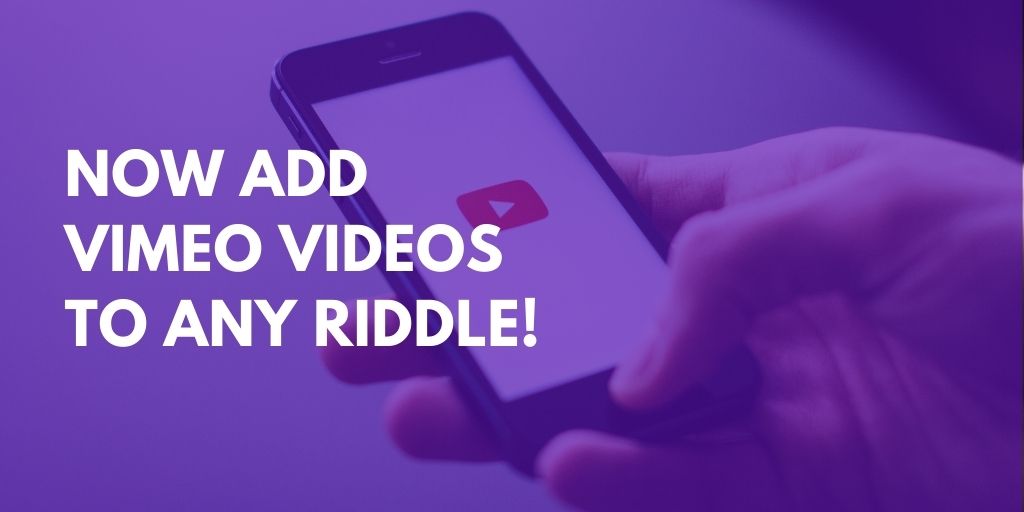 Video can be powerful – with sound and motion, it's infinitely better at conveying emotion and meaning than images and text.
We always believed that video is a huge level up for making any quiz or other interactive content more engaging – Riddle has supported YouTube and MP4 quiz video options.
Now with our Pro or Team plans, you can add Vimeo video clips – no coding required.
Here's how to add Vimeo videos to your quiz
Click 'add images or video' in any question or answer.
Then select Vimeo in the 'video/audio' section.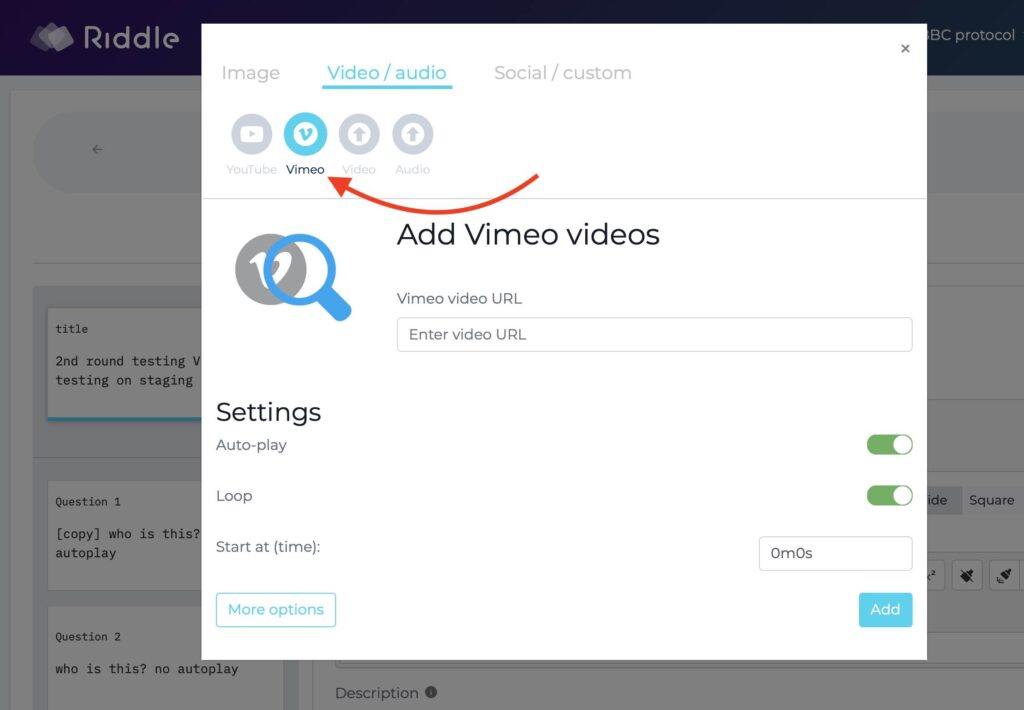 Next – add your Vimeo video URL (ex. https://vimeo.com/491066596)
Turn on (or leave off) these options:

Auto-play – the video automatically starts when loaded.
Loop – the video play will play over… and over… and over…
Start (time) – pick the start point, great for showing just part of a video vs. the whole clip.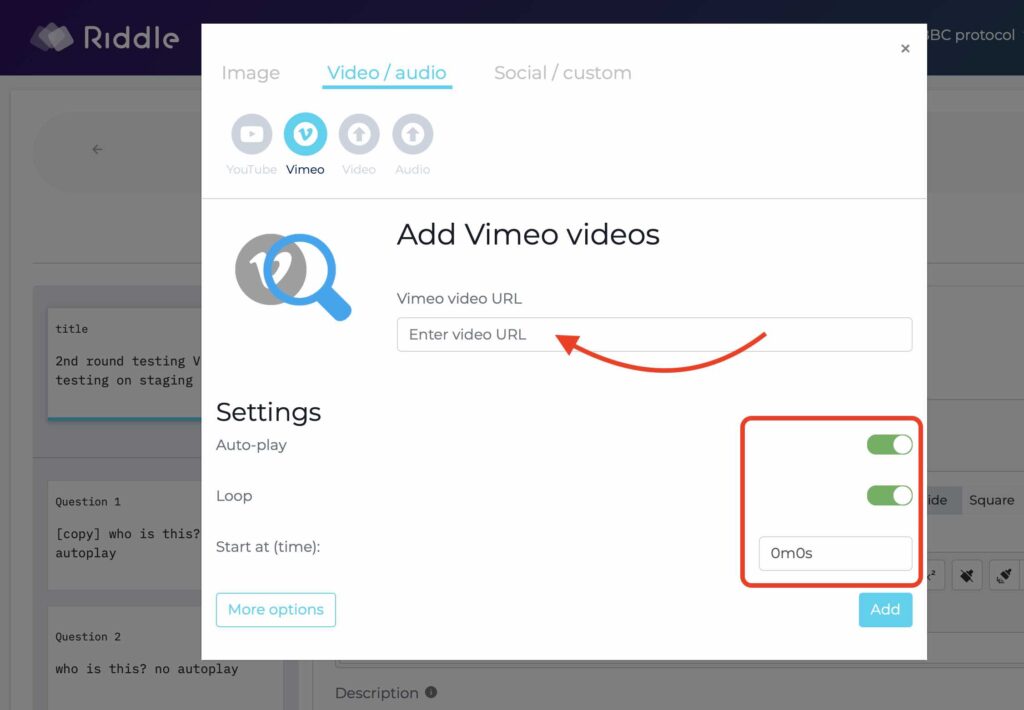 And click 'more options' for, well, more options!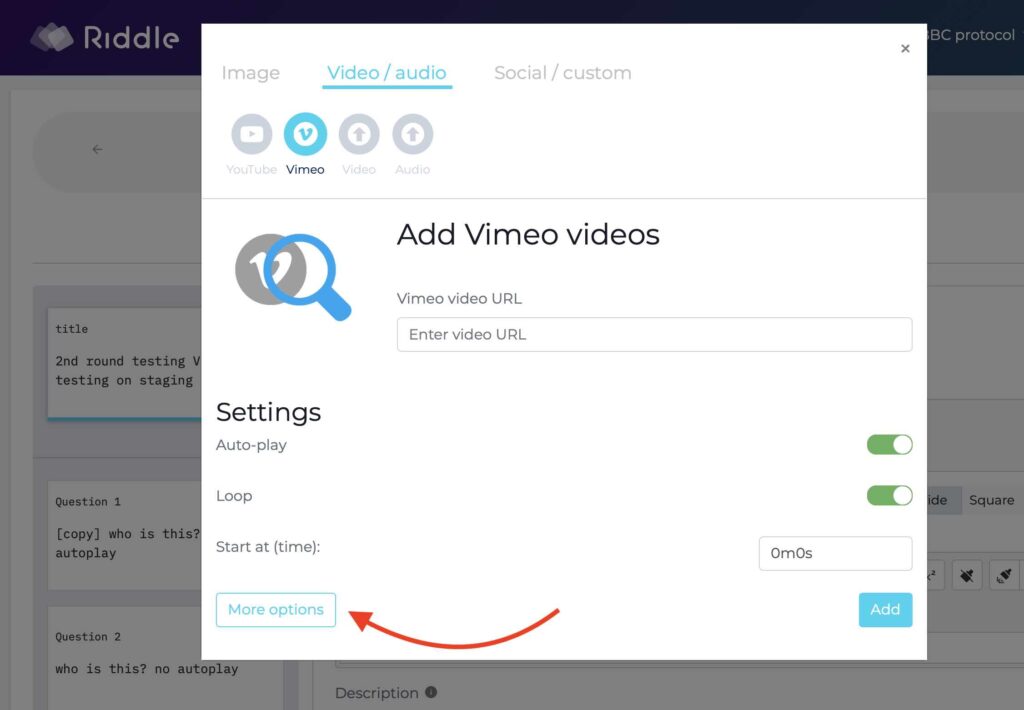 Extra Vimeo video quiz flexibility
Vimeo loves giving you flexibility – check out all these other options:
Byline (author info) – show the video creator
Author profile picture – display their picture
Video title – shows the video title (what a surprise, right?)
Speed controls – let users speed up or slow down the video
Hide funny error messages – Vimeo has a good sense of humor with funny error messages. This option turns them off.
Auto-pause – use when having more than one Vimeo video on a page
Hide all controls, set video to autoplay on mute (requires Vimeo Plus) – hides buttons like play, stop, etc.
Transparent (deactivate to show black background)
Play inline on mobile (vs. full-screen) – on mobile devices, most browsers open a video as a temporary separate window. This option plays the video directly inside the original window.
Mute on start – mutes audio when the video starts
Do not track (no Vimeo tracking) – we recommend turning this on. It turns off all the analytics and tracking by Vimeo for your video.