What is a poll?
We all love to give our opinion - that's why asking your audience a question is so powerful. Add your own poll to any page or post and get your audience thinking (and clicking).

Creating a Riddle opinion polls is easy - you can make and embed your poll in under 60 seconds.
Why build a Riddle opinion poll on my site?
Get your audience involved! Interactive content is king - turn passive readers into active participants.
Increase time on site - get your users emotionally invested. Users who vote in a poll stay 31% longer.
Collect data and qualify leads - add a Riddle lead generation form to your polls for a powerful marketing combination.
Gather emails and qualify leads based their responses.
Pro soccer powerhouse Manchester City are big fans - they constantly use polls to get their supporters' feedback.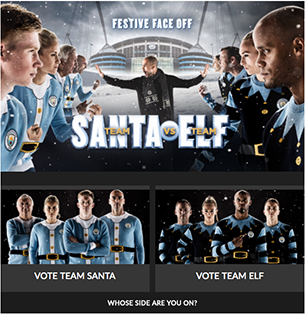 Click to see the live poll
How do I build an opinion poll?
It's simplicity itself. Seriously. Riddle's intuitive quiz builder lets anyone create a stunning poll - with no coding skills required.
Just ask a question, add images, and your poll will be ready to embed on your site in under 60 seconds.
Do you use Wordpress? You can make and publish your Riddle poll directly within Wordpress using our nifty plug-in.
Live poll in action
Take a short sample poll below, to see the Riddle Poll in action
What sort of images can I add?
Want to catch your audience's attention? With Riddle, we make it easy to find the perfect image, video, or animated GIF:
Getty Images
YouTube videos
Upload your own photos
Search Google for images or animated GIFs
Facebook
News articles
Instagram
Can I collect email addresses with a poll?
Absolutely! You can show a lead generation form after each user votes - and before they see the overall results.
They're emotionally invested - and the most likely to complete your form.
Use Riddle's own form builder - or use a form from your own CRM tool such as MailChimp or AWeber
Gather their name, email and other interesting data
Pop in forms from any other marketing tool with our In-Quiz iFrame
How can I customize my poll?
You bet - we've made it easy to customize almost every aspect of your poll, from colors to fonts and more.
Pick the perfect color scheme and select from a wide range of fonts to make sure your poll fits your site's style.
Riddle also speaks your language - we're a global team and support over 30 languages… from Dutch to Danish, Chinese to German. (Can't find yours? We're happy to add more, just ask us.)
You can also:
Control poll status: Choose between keeping voting open or closed. Open polls are good for constant user engagement - while closing a poll lets you capture opinions for a limited time.
Show or hide the poll results: Hiding the poll results builds suspense and serve as a great lead generation opportunity. You can run the poll - then offer to share the results once the poll closes.
Hide vote total: Our polls normally show both the percentage and number of votes for each choice. But with a new poll, hiding the votes makes sense - so your users won't know that it has only a few votes. When you have enough votes, you flick a switch to reveal the totals - and your embedded poll will automatically update.
Our PRO and ENTERPRISE take customization to the next level:
Add your logo: Hide the Riddle branding or add your own for a fully white labelled experience.
Custom footer: Add a text footer below each poll - useful for links to your privacy policy, contest rules, or call to actions.
Complete CSS control: Change any visual element of your poll, from button styling to text alignment and border. Easily match your embedded poll to your site's look and feel.
Advanced font support: Create a poll using your site's font. Use any font available on Google, Fonts.com, Fontdeck and Adobe TypeKit. (Note: some of these providers might require a paid subscription.)
You ask, they answer - now qualify each lead
Automatically send all responses and user data to your favorite marketing software
Connect each poll to your AWeber or MailChimp accounts with just a click
Use our Zapier or webhook options to connect Riddle to you any CRM - from SalesForce, ConstantContact, Marketo and more
Tag and segment every lead based on their poll responses
Auto-send individualized marketing messages to each lead from your marketing software - based on their poll answers
Take a look at our three favorite polls from our community:
Why do people love to take opinion polls?
Whatever the topic, opinion polls have always been popular. From politics to pop culture, it's human nature - people love to give their feedback.
So what?
You can use this to increase engagement and retention on your website. Just asking your audience to weigh in with their opinions pays big dividends. It could be "Choose our new logo" or "Which article did you like best?" - answering makes each user feel engaged with your site. This has a huge positive impact on how much time they spend on your site.
Add in the ability to collect emails and leads - and using polls is a no-brainer.
If you ask the right question, you can both engage your fans and also help qualify each respondent.
Let's go back to the productivity seminar example. Imagine that you publish a series of articles on your blog around how executives could make the most of their limited time.
Next, you start asking your community a poll question after each article.
It could be simple feedback ("How useful did you find this article?") or getting their thoughts about your next post ("Would you want learn more about meeting management or personal goals?").
You're gaining a valuable insight about each person who votes and fills out the lead form. Are they a potential customer? How likely are they to purchase? What products are they most concerned about?
Imagine you added a poll in your "Ten Ways to Save Time" productivity post. You ask "What stress you out at work?".
This is where Riddle and your CRM swing into action.
With Riddle, each user who answered 'I don't have enough time' or 'Too many meetings' could be tagged as a 'good lead'.
Your CRM takes over at this point - and you set up a series of messages centered around helping time-crunched managers. You include tips on avoiding unnecessary meetings, sticking to your daily to-do list, and best of all, a free personal 15 minute Skype consultation.
The bonus? All of this comes from simply asking your users what they think. You ask, they answer, and you're on your way to a natural conversation - with the best chance to convert them to a satisfied, paying customer.
Create your own opinion poll - no credit card needed