Storing leads from a quiz made with Riddle in a Google Spreadsheet
Google sheets is a great alternative to Excel. It provides similar functionality, but as Google Sheets run in the cloud, they can be accessed from everywhere and shared with co-workers. If you have never worked with Google Sheets, please check them out here. All you need is a free GMail account to create your first Google Sheet. According to Google, Google Sheets is GDPR compliant, which makes it a viable option to store your leads from Riddle. But please have your lawyers or data protection officers confirm this as usual.
Lead generation with quizzes and personality tests
Collecting leads with quizzes and personality tests is one of the highest converting lead generation methods. When your readers spend a few minutes answering questions that interest them, filling out a lead form shown just prior to revealing the test result is just another logical step.

Connecting MailChimp with Riddle
After you are done creating your quiz or personality test, move on to the lead gen tab in the Riddle creator. Select MailChimp there and connect MailChimp to Riddle by logging in to MailChimp and granting Riddle access to your MailChimp lists.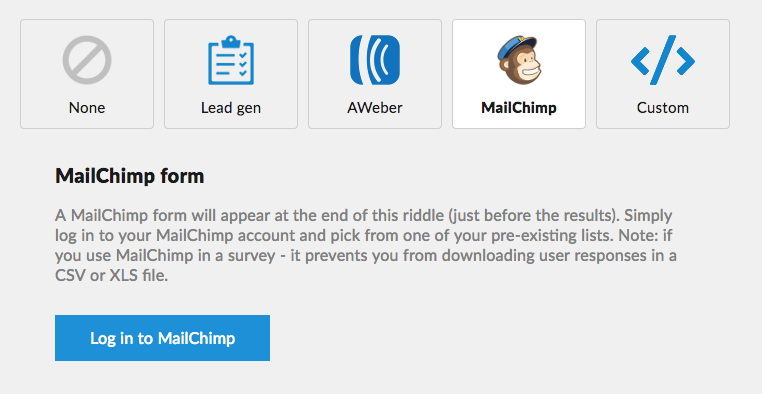 Riddle will then allow you to display a standard MailChimp lead form with fields for Email, first and last name inside your Riddle.
You can freely select the MailChimp list to which Riddle will send your leads and you can also disallow skipping the form, making the lead gen form a mandatory step before getting to the test results.
Advanced MailChimp integration
The basic integration for MailChimp only covers the tip of the iceberg and is ideal for everyday use. You don't need any technical skills or further tools to just get this integration going.
However, if you want to do more, like add your leads to different lists depending on the quiz results or add further information from the quiz answers given to your leads, you need to take a slightly different approach.
If you choose to use the standard, built-in Riddle lead form, you can send all the quiz and lead data to zapier.com. With Zapier you can grab all the leads, process them and then send them on to MailChimp with additional information collected through the quiz.
Check out the Riddle Blog for more information on how this works.
Why quizzes are great for leads
Your typical way to get your site visitors to sign up for your mailing list is to show a (rather annoying) pop-up or slider asking them to sign up to your newsletter. This is like storming into a party and asking the first person you meet out on a private date. Your chances for success with this approach are actually rather small. I can see this work at a party if you are Shakira or George Cloney, though.
A slightly better approach is to offer something in return. Like a free eBook, an infographic or a piece of useful software. To use our party analogy, you would still storm in and ask the first best person for a data, but at least you would offer to pay for the dinner.
If you are like most people, though, both of these approaches will probably turn you off. After all, who wants to go out with a stranger or just give up their email to a pop up (free eBook or not).
Quizzes and personality tests on the other hand work much different from this approach. They first engage the reader in a conversation about the most interesting topic you can engage someone in: him/her self. Your personality test or quiz will ask the reader 8 to 12 questions (which is the ideal length for a quiz or test) and get him or her really engaged. If the questions are phrased well, they will make the reader think about himself. Then after engaging the user with good questions, before you show the result, you are free to ask for a name and an email. Our customers tell us that in general 20% of the people taking the quiz will fill out the form. I am not sure how well your current lead generation methods work, but I am willing to bet they perform much worse.
Sticking to the party analogy - putting your lead gen form at the end of a quiz is like engaging in a deep conversation with someone before asking them out for dinner.
Create your own riddle - no credit card needed