Are you a Qzzr quiz maker new to Riddle? Now that Qzzr is part of Riddle, you'll find that collecting leads is easier than ever.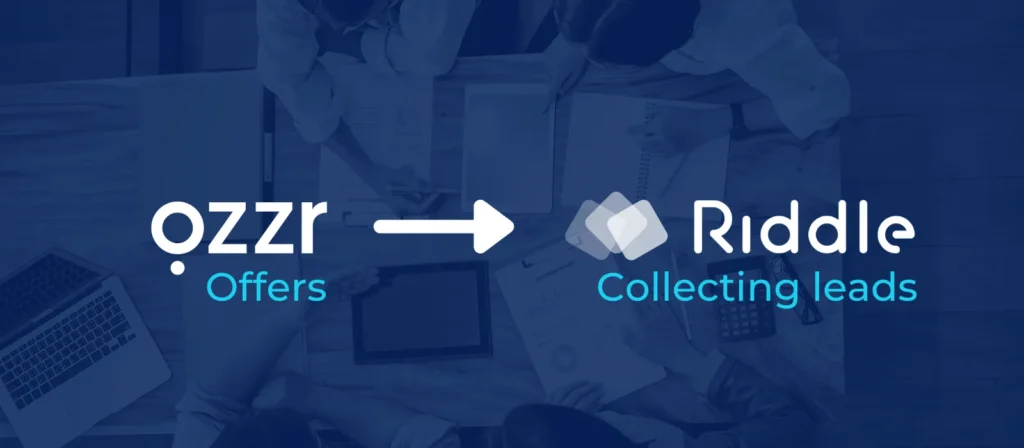 We created this handy guide to help you transition your quiz lead generation from Qzzr to Riddle.
Plus, you'll gain access to:
We whipped up this 'getting started' guide to help Qzzr users get started.)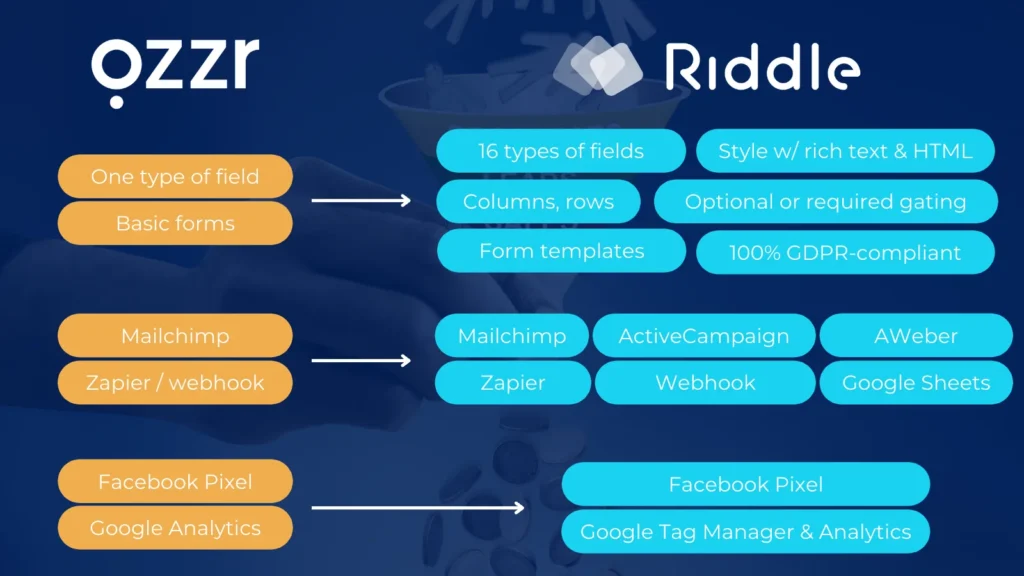 Lead generation with Qzzr: gated (mandatory) forms
Qzzr created a simple, elegant quiz lead generation platform. Their main product focus was helping companies present offers to interested quiz takers.
On the plus side, it was incredibly easy to make a form for collecting leads (Qzzr called them 'offers').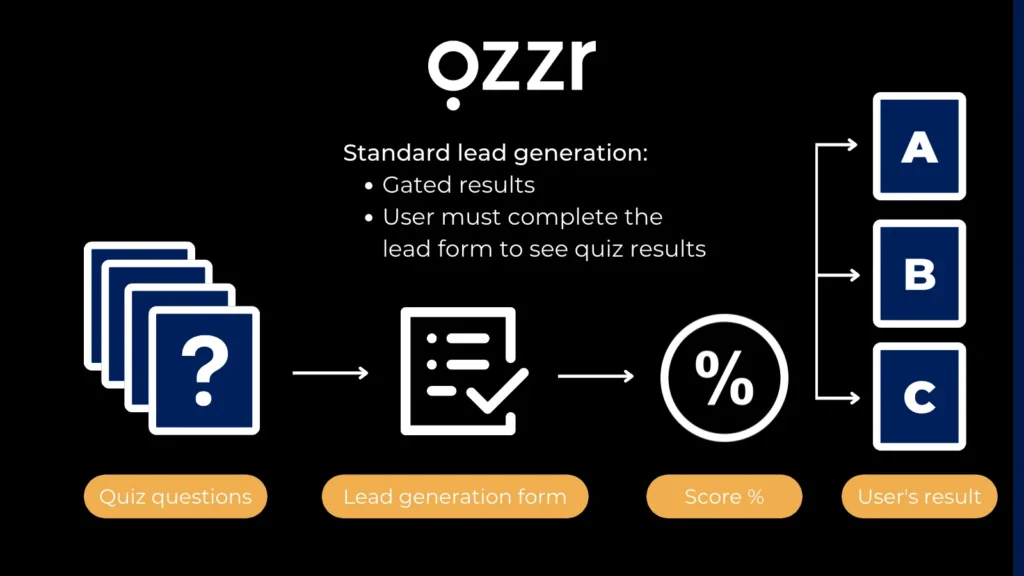 However, Qzzr required all quiz takers to complete the lead generation form before seeing their results.
That works for some use cases.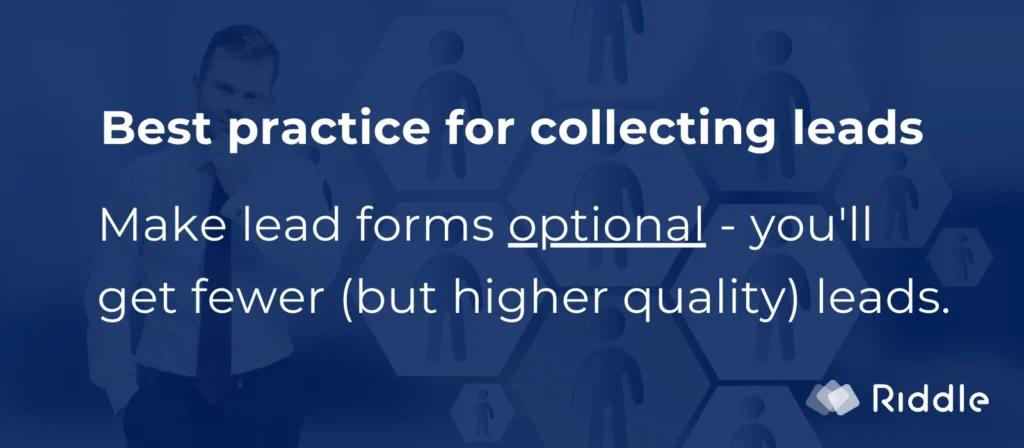 But we've found that collecting leads works better when you make your lead forms optional.
This avoids people giving you fake data just to see their results. You'll get fewer (but much higher quality) leads.
Outcome-specific offers
We're big fans of Qzzr's 'outcome-specific offer' feature.
Simple in concept, you showed quiz takers different forms based on their quiz results.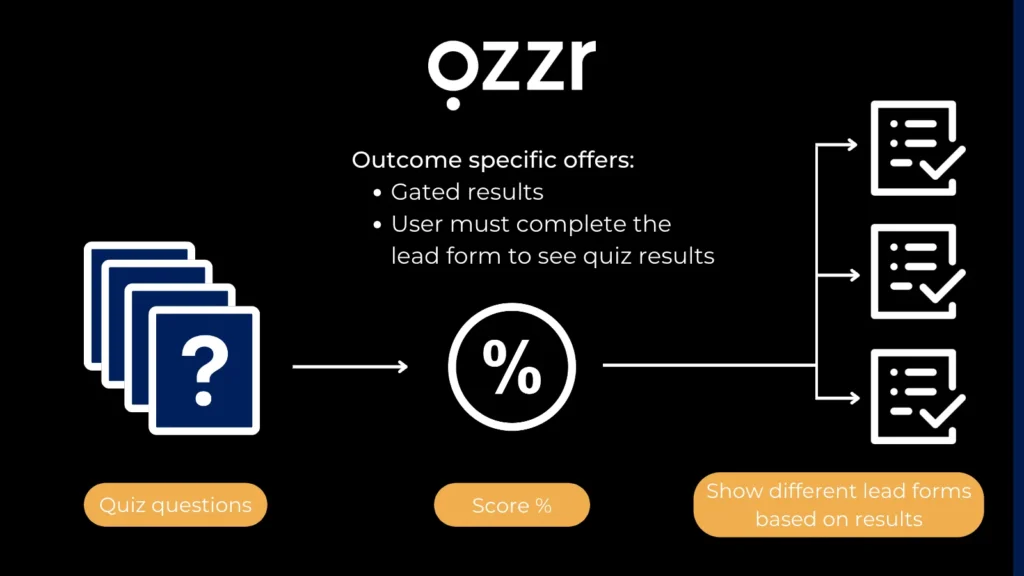 For example, if you created a personality test around 'What shoes match my summer style?', each user might get a different form like these:
Form A ('Save 25% on sandals') – all quiz takers who got 'Casual but classy'.
Form B ('Save 25% on sneakers') – everyone scoring 'Sporty summer-philes!'
Form C – 'Save 25% on hiking boots' – nature lovers with the 'Get away from it all!'
We love this idea.
True, Riddle doesn't support this (yet!), but stay tuned. Our branching logic in Riddle 2 should make this a relatively easy feature to add.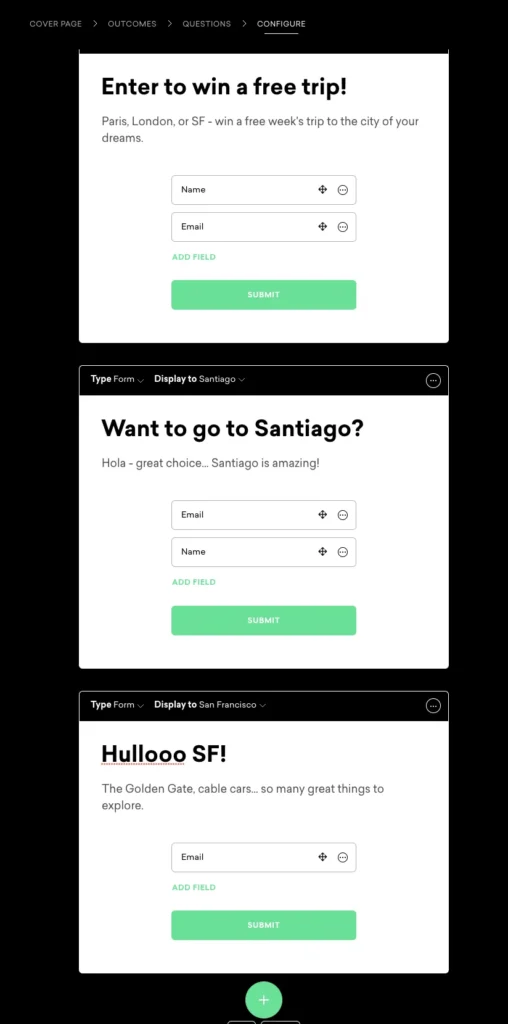 Collecting leads with Riddle's lead generation tools
Riddle's been helping brands and publishers like CNN and Shopify collect leads and quiz responses since 2014.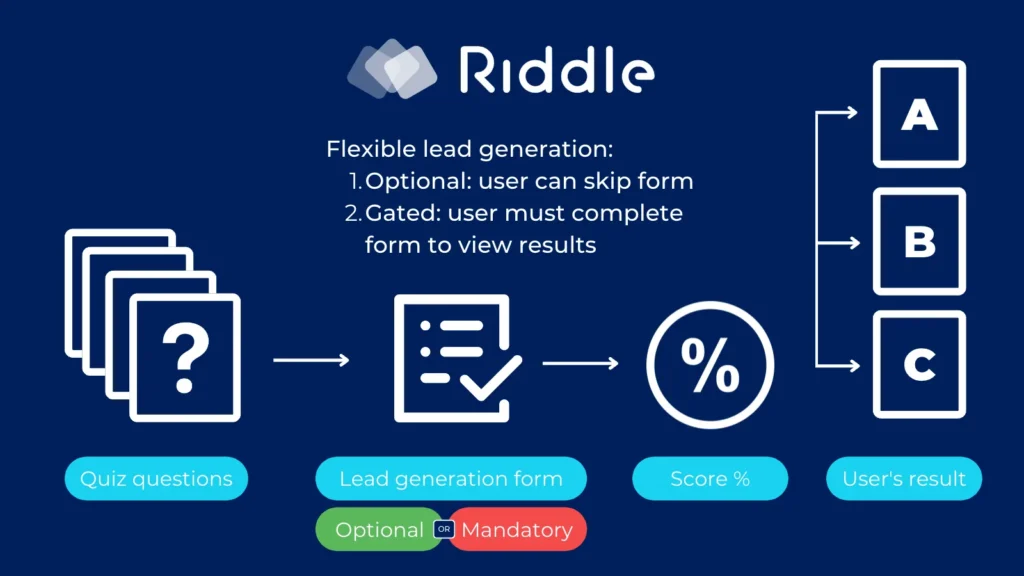 You can use our drag and drop form builder in our 'collect emails' step – to quickly make your own lead generation forms.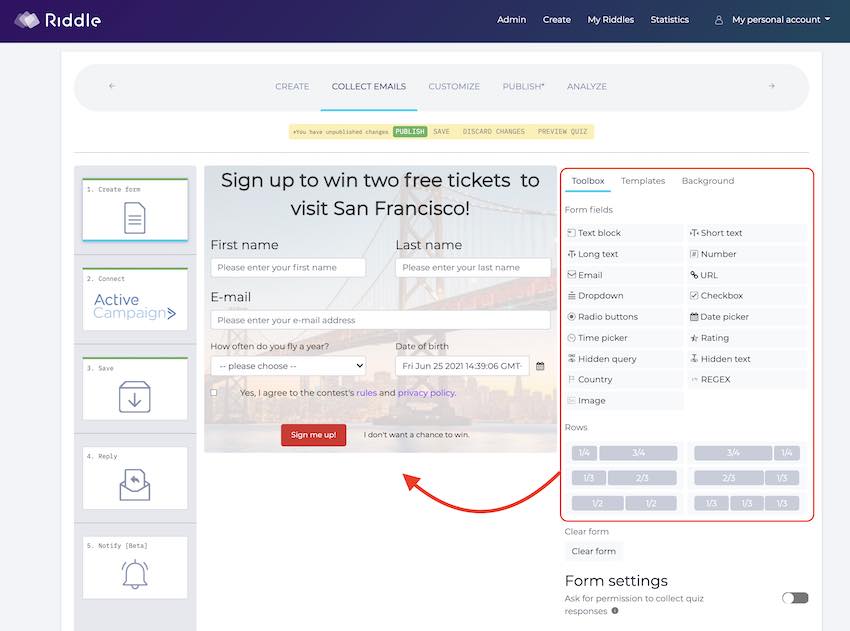 (Our forms are especially powerful for quiz contests and giveaways – especially with our enhanced security features to discourage cheating.)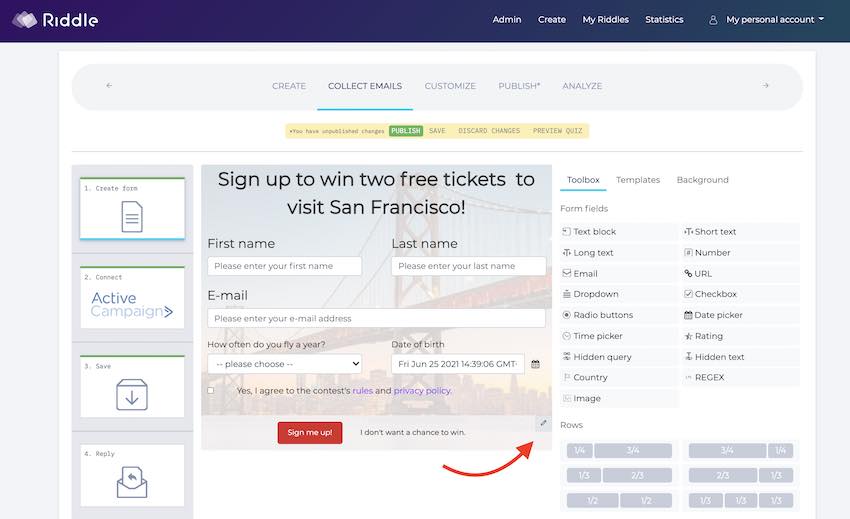 Collecting leads – then sending to your CRM
Riddle is built around easy connectivity.
You can gather audience responses and personal data, then send them to your favorite marketing software or database.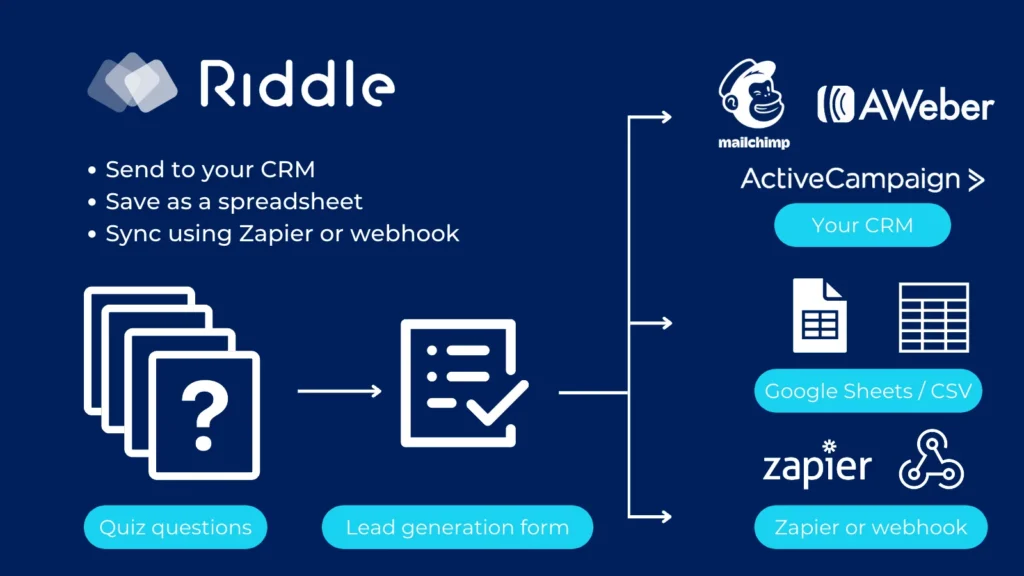 A key bonus? Riddle is 100% compliant with global data privacy software – including the EU's GDPR, California's CCPA , and Canada's PIPEDA.
Collecting leads and personal data can be a legal minefield.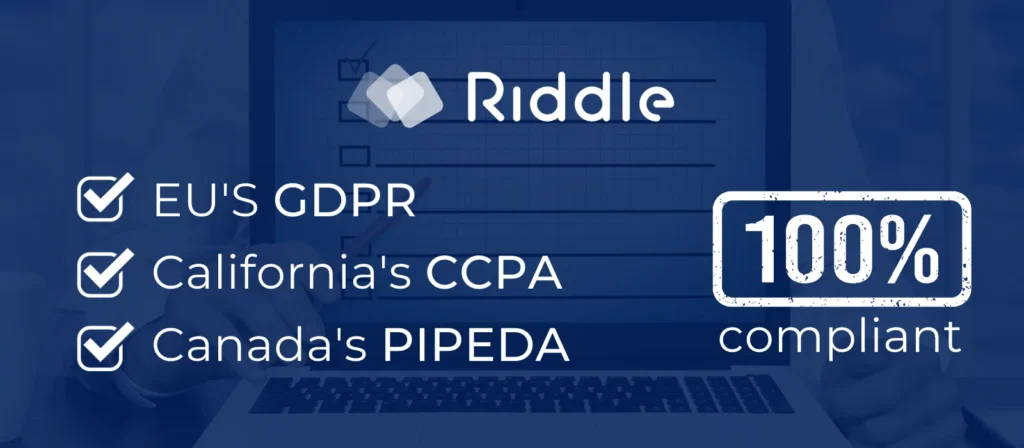 We designed Riddle so that in 99% of use cases – all of your leads' personal data will never even touch Riddle's servers. (That makes life easier for your hard-working privacy lawyers.)
Option 1: Native integrations with Riddle
Riddle currently supports:
Mailchimp
ActiveCampaign
AWeber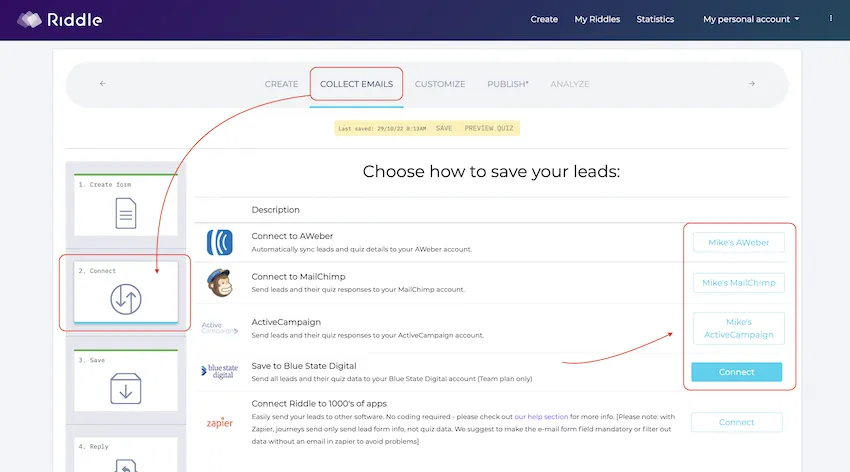 We're also hard at work at adding more native integrations.
Expect to see Salesforce, Eloqua, and other enterprise-grade software platforms added soon.
Option 2a: Zapier
With thousands of software tools out there, it's impossible for any company to create native integrations for them all.
That's where Zapier comes in.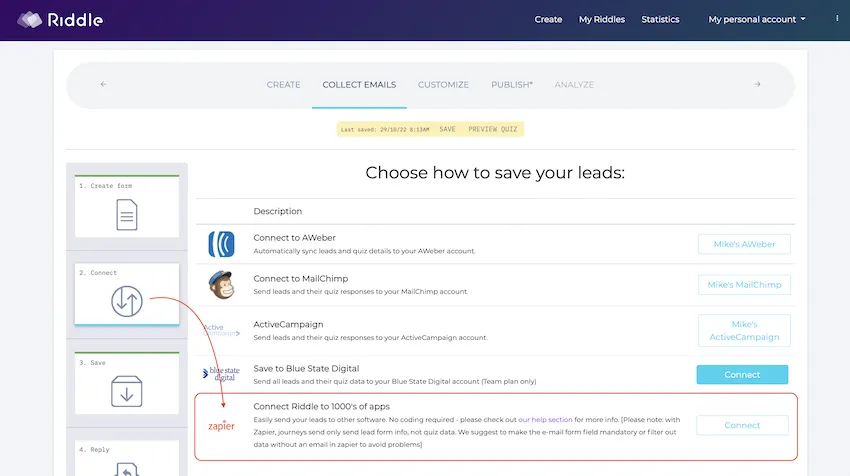 They make it easy to link your lead forms in Riddle to 5,000 apps (and counting) – with zero coding.
Check out our blog post on how to get started with Zapier.
It's as simple as a few mouse clicks – and all that valuable lead data will flow seamlessly into your marketing software.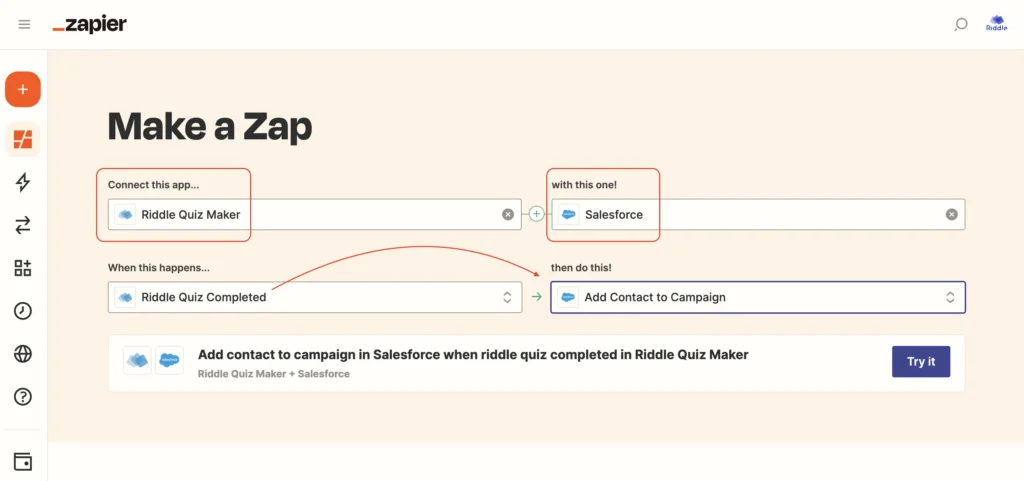 Option 2b: Try our webhook
Consider using our webhook if you have your own coding resources (or you can find a PHP freelance coder using Upwork).
A webhook is like a one-way API.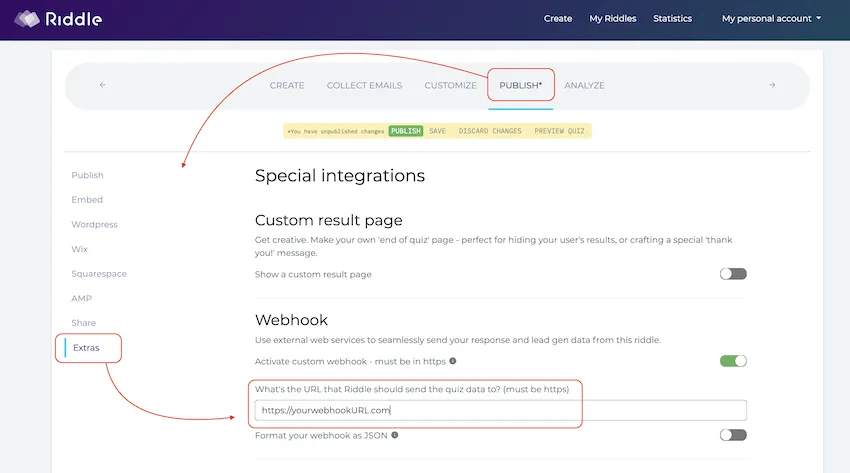 It does the same thing as Zapier, but without the need to pay for a monthly subscription.
It should take a coder about 20-30 minutes to modify our sample webhook code for use with your tools.
Option 3: Google Sheets or download as .CSV or .XLS file
Collecting leads and sending to a CRM is great. But sometimes, nothing beats a good ol' fashioned spreadsheet.
Saving your leads to a spreadsheet is a great way to easily view, sort, and manage the data in one format.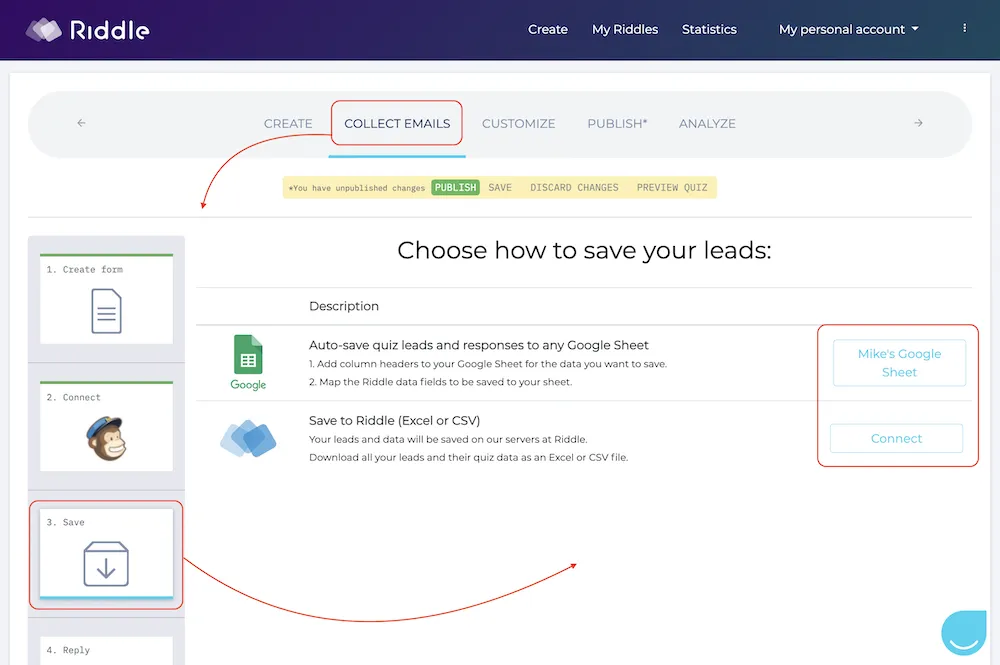 Riddle offers two options:
Google Sheets (recommended): Saving your leads to Google Sheets is the most convenient for most users.

Every time a lead fills in your form, their data as well as their quiz responses, will be automatically added to your Google Sheet.
No need to download files periodically, then re-upload to your favorite software.

Save to Riddle: The first of our 'save' options, this is designed for users who need the simplest solution possible.

All your quiz leads' responses will be saved with Riddle – and you can download as a .CSV or .XLS file.
Please note: for GDPR/CCPA-compliance, this is the one time your leads' personal data will be stored on our servers.
[VIDEO] Collecting leads with Riddle
Do you have five minutes?
Check out our quick overview of collecting emails and quiz responses with Riddle:
Any questions @ collecting leads with Riddle?
We're ready (and excited) to help everyone from Qzzr get the most out of Riddle.
Use our support chat to ask us anything quiz-related – from collecting leads to crafting the perfect quiz.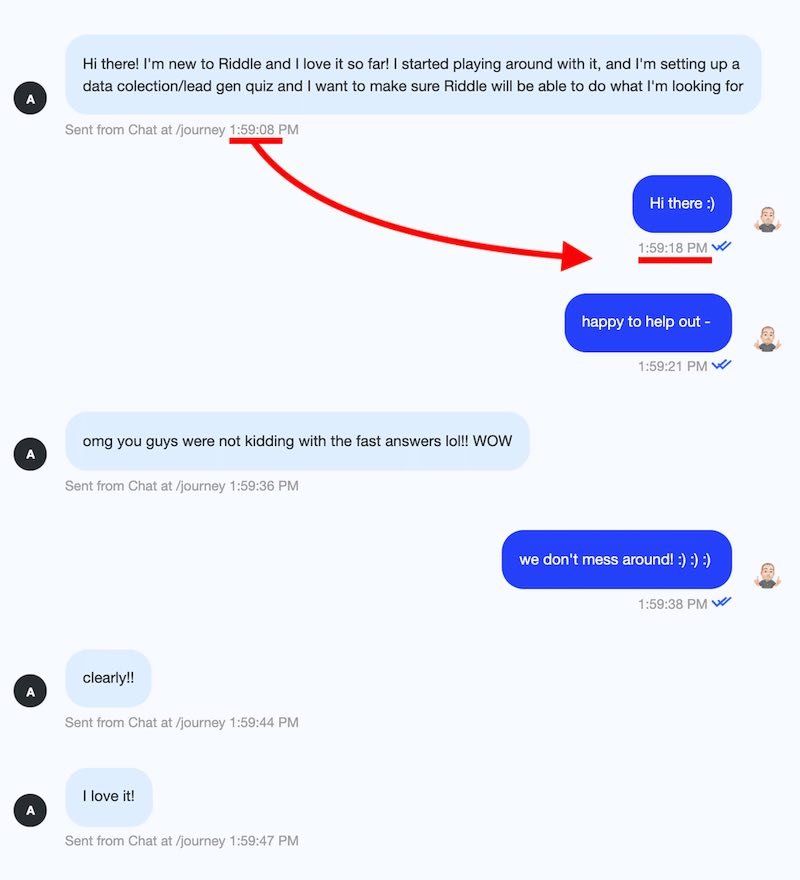 Riddle is a team of dedicated quiz (and customer support) geeks. We often respond to questions so quickly that sometimes folks think we're bots.
We're not – we like being really, really fast.
It's part of our founder Boris' belief that everyone at Riddle helps out with support.
Welcome to Riddle – and chat with you soon!