Once you've created a Riddle head to the "Publish" section, you're ready to share or publish your quiz, list, or other Riddle format.
We make it easy to do that – no coding required.
Video walkthrough: Publish your quiz
To help you out, our co-founder Mike whipped up this handy two minute overview on how to share and publish your quiz.
How to share or publish your quiz
Option 1 – Embedded on your site (Highly recommended!):
Best option for most creators
Press 'Publish'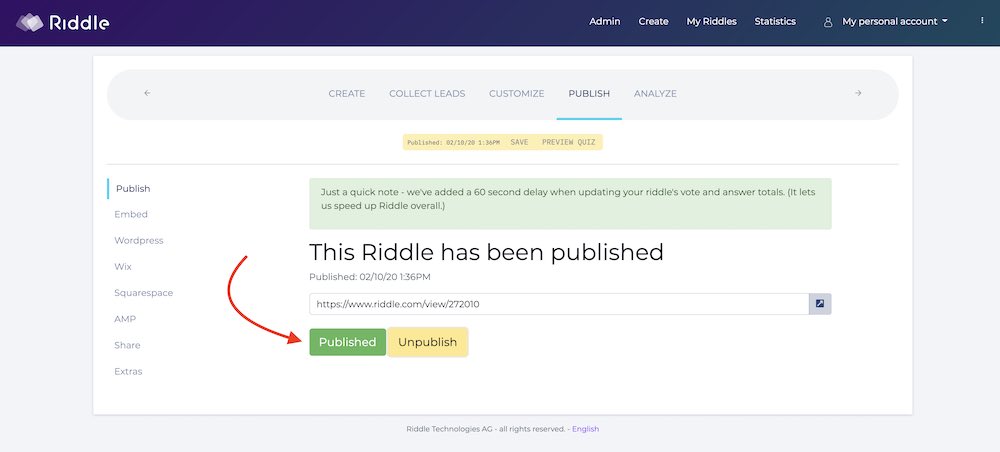 Copy our standard embed codes – and embed in any page or post on your site.
On your site, it will include all your branding for the best user experience.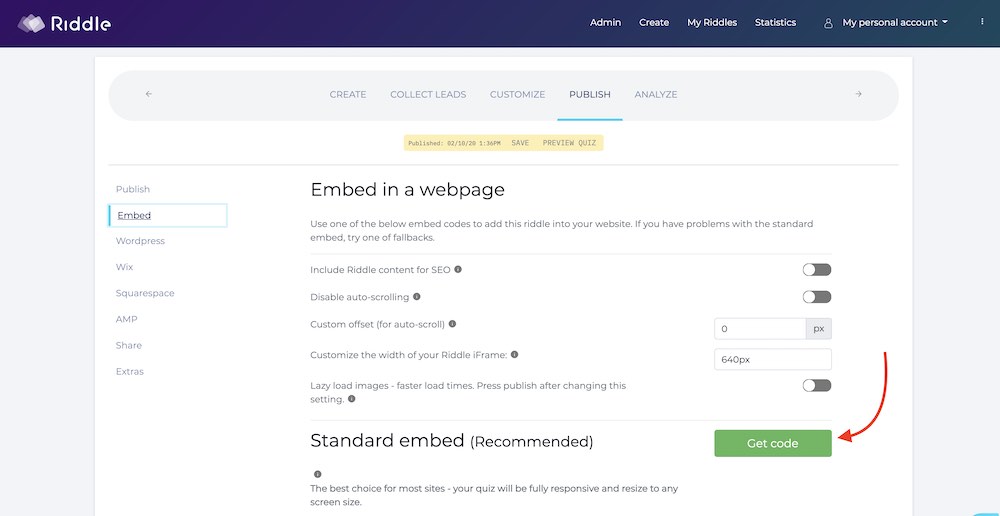 More viral – as your quiz is discovered and shared (User A posts on FB, User B sees and shares on Pinterest, etc.), all of the viral traffic comes back to your site.
If you use option 1 and post the riddle.com URL, everyone comes back to us.
Option 2 – Sharing the URL directly:
In the 'Publish' section, grab your quiz URL:
ex. https://www.riddle.com/view/####
This is a Riddle-branded page – the name and numbers will change slightly based on your specific quiz.
All viral traffic are directed to your Riddle-branded page, and not your site.
Want to learn more? Read our more detailed description about how to share your Riddle quiz:
https://www.riddle.com/blog/embed-online-quizzes-site/
Video: Our 9 secrets to creating an awesome quiz
Don't forget these 9 tips and best practices to make and publish highly successful quizzes – that engage your audience and collect the most leads:
We cover everything the best number of questions (from 6-10) to crafting quiz results that will get your quiz shared on social networks.
Plus, choosing the best images, GIFs, and video to boost your quiz completion rates.
And of course – we talk about the best ways to publish your quiz on your site, WordPress blog (with our plug-in), or on social networks like WhatsApp, Facebook, and LinkedIn.
Any questions @ sharing or publishing your quiz?
And of course – we're big, big customer support geeks at Riddle. Just give us a shout if we can ever answer any questions – we love to help out1