Now you can embed your own MP4 videos into your online quiz or any other format with our online quiz maker, as part of our Business and Enterprise plans.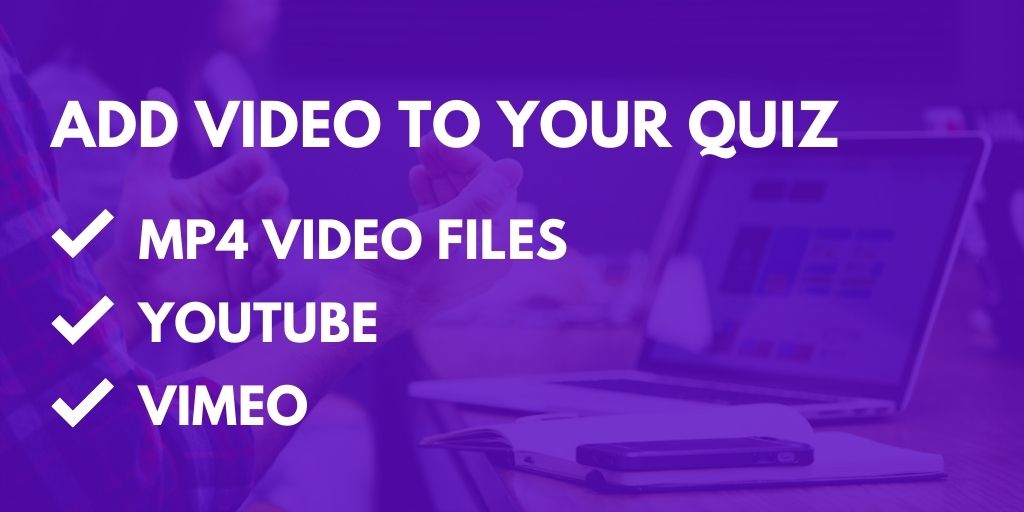 Embedding your own MP4 videos to your quiz can make them powerful, multi-media experiences. The right video can add energy, motion, and sound – turning a two-dimensional quiz into a fully interactive, immersive experience.
Sure, with Riddle, you've always been able to search and add a wide range of images, GIFs, and even Tweets from any Twitter user. We also offer a flexible integration with YouTube and one with Vimeo – just pop in a URL, and set the start/end points.
Now, with Riddle's Team plan, you can ditch the middleman – leave out YouTube and upload your own MP4 video clips.
Add MP4 video or ad as an interstitial – no coding required
Updated: May 21, 2020 – now you can add a MP4 video or ad as an interstitial in any quiz, with no coding required. Set the start/endpoints you want to display – just like our YouTube feature.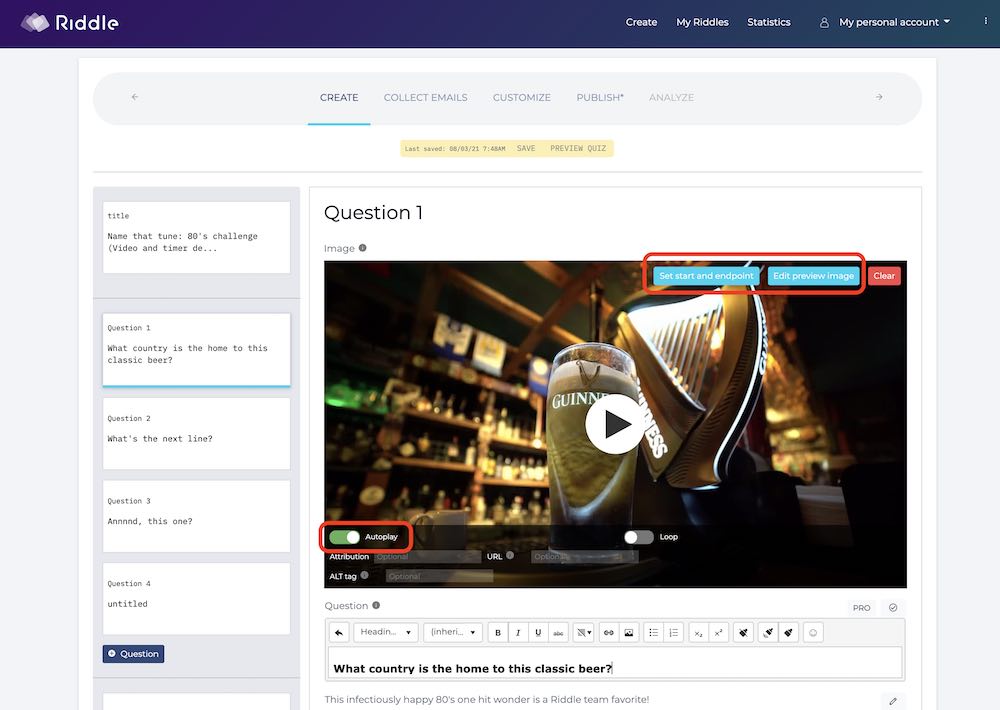 (You might notice this post is full of cats. Our founder Boris isn't really a cat person – so we like to tease him by adding them in our help docs.)
Example quiz with MP4 video clips
Our team also loves to travel – so did a bit of armchair (or desk chair?) tourism with this quick three question quiz:
Uploading MP4 videos vs. YouTube and Vimeo: advantages
YouTube is a great platform for finding and embedding videos. However – they add a lot of extra 'stuff' that can distract users from your quiz experience.
Adding your own MP4 video – the benefits:
No YouTube branding, controls, or ads
More organic experience
Autoplay – for better engagement
Run your own video ads – in our in-quiz iFrrame (update with no coding example)
Avoid licensing issues with adding videos to YouTube.
All videos you add are only available to you – NOT to other Riddle creators.
How to add your video:
You can insert MP4 videos almost anywhere in Riddle.
Title card
Questions
Descriptions
Answers
Answer explanations
Click on the media picker – then the 'video' tab.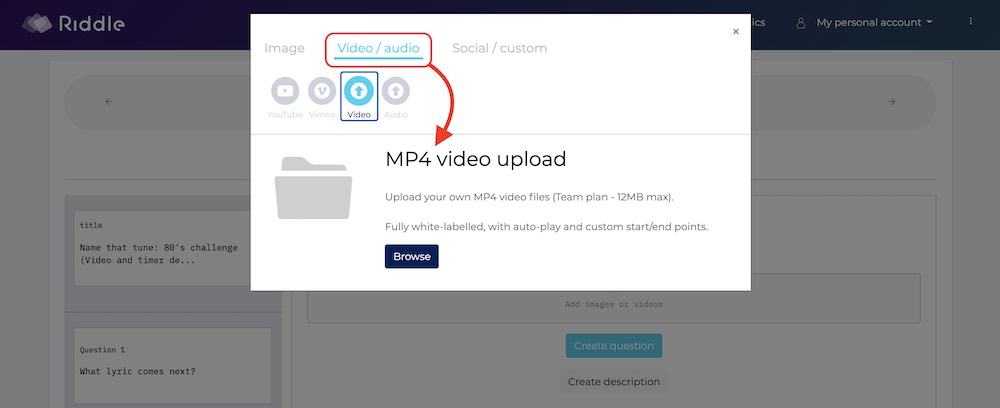 Set start/end points for your MP4 video
Decide if you want to set custom start/end points for your MP4 clip.
Your video will only play that snippet.
This is useful if you want to reveal the correct answer – after the user guesses.
No need to create multiple video files – just set the start/end times for the question, and for the 'correct answer'.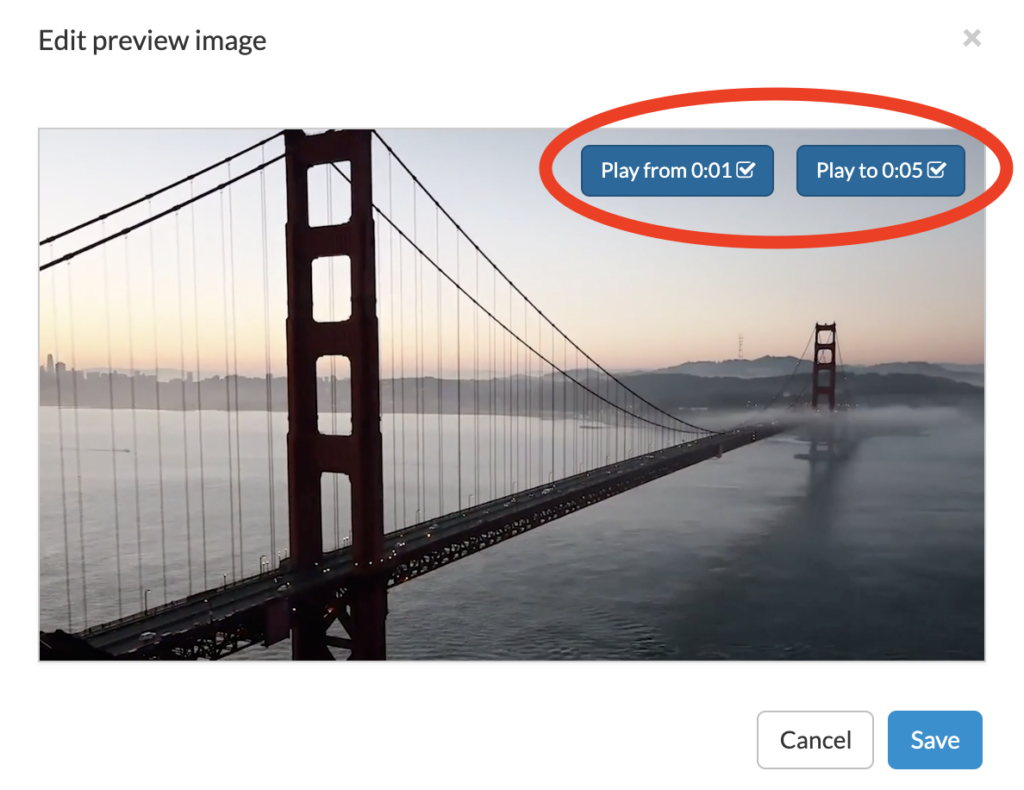 Possible use cases:
Sports: 'What happened next?' or 'Penalty or no penalty' – show one part of your MP4 video, users guess, and you then reveal the following Y seconds.
Music/movies/TV: 'Name this song' or 'guess the quote' – stop the video right before a key line, users try to guess what is said next, and then they find out when you show the next few seconds.
Set up auto-play or loop
Choose if:
you want to have your MP4 video autoplay or require the user to click a play button
and if you want the video to continually loop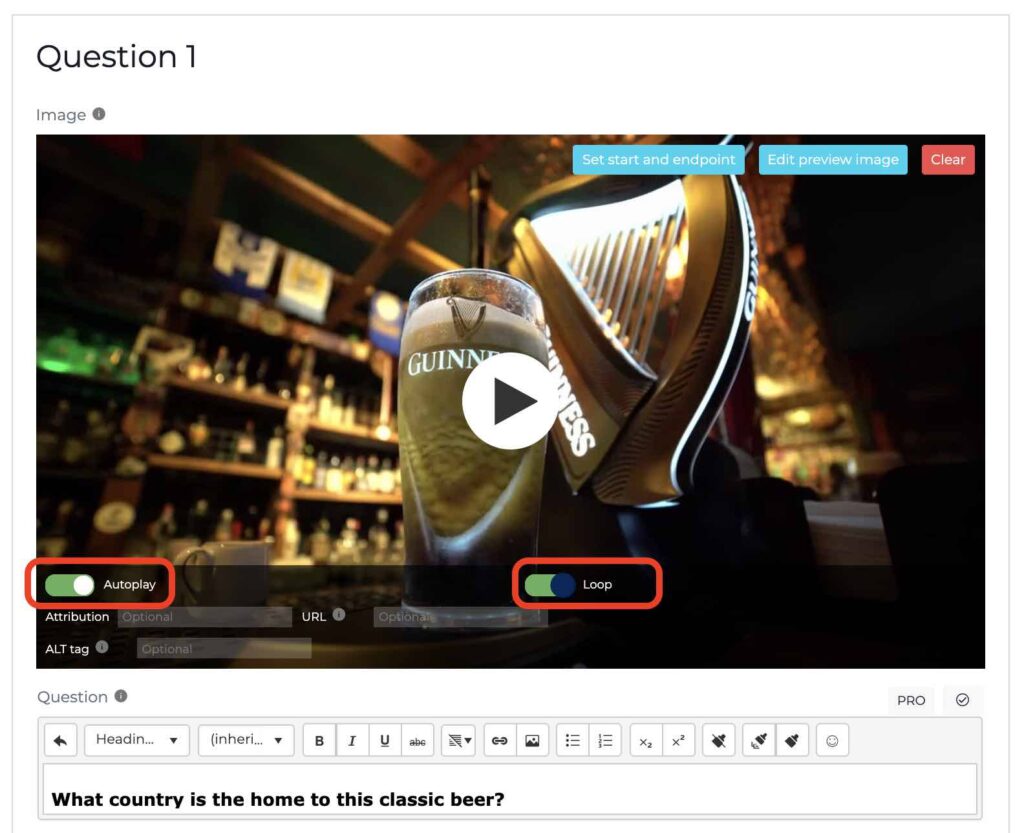 (Note: autoplay won't work if your video is in the title card. Today's browsers like Chrome and Safari won't allow videos to autoplay in content.)
Here's how your MP4 video will look to your users – the video player options will only appear when the user mouses over the quiz.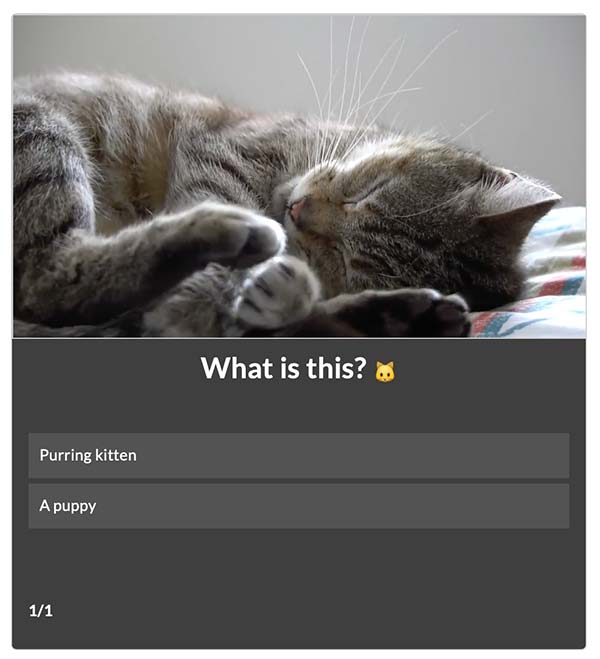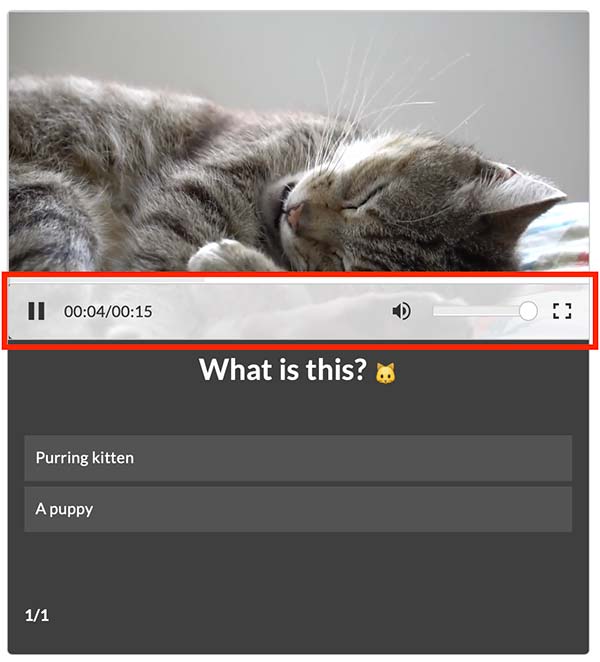 Add your own MP4 videos – technical details:
Sounds good? Let's take a look at the type and size of videos that you can use with Riddle's quiz maker:
Format: MP4 videos only – they're nice and compressed, and play well across a huge range of devices and browsers.
Size: 12MB maximum – videos work best as 'quick hit' content. Keep them short – and keep your audience engaged.
Check out this free tool to convert your videos to MP4 and make your files smaller.
We're also big fans of Handbrake – a free open-source tool.
Any questions – just ask us
Can we help you with any questions about using your MP4 videos in your Riddle interactive content?
Just ask away – you can reach us quickly on support chat (we try to respond in under two minutes). Or you can go old school – and send us an email (hello@riddle.com).