5
min read
Introducing our new quiz format – the Quiz Generator (a.k.a. Auto-Quiz), an always new, always fresh quiz experience for your audience. Instead of just one set of 6-10 questions, your quiz generator will automatically show a random new mix of questions every hour/day/week.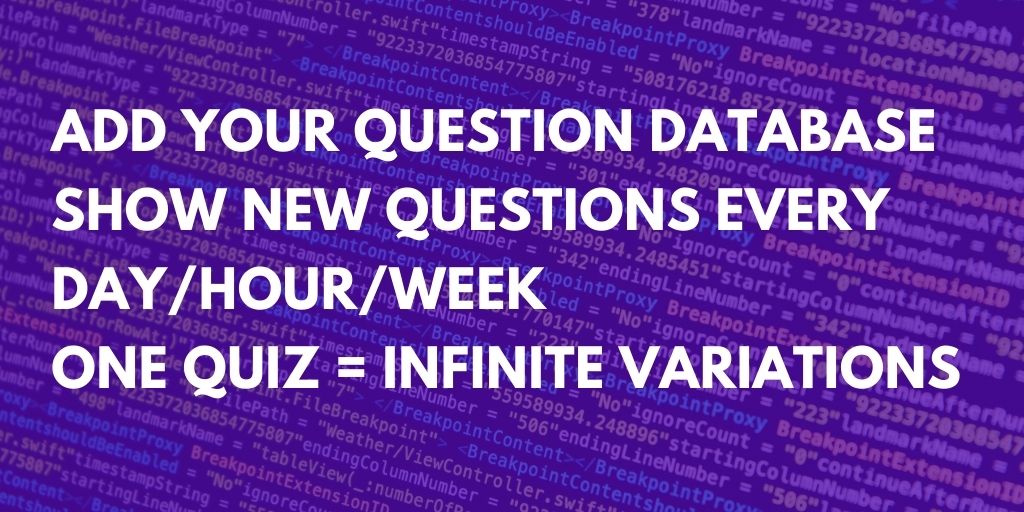 Your online quiz will always look and feel new to your audience, with no extra effort by you or your team.
Simply upload your questions by spreadsheet – or using Riddle's pre-loaded question banks covering 132,000 questions in 11 languages.
Even better, you can choose the perfect mix of questions every time. For example, "Show a mix of four entertainment, three history, two math, and six sports questions to each quiz taker."
One spreadsheet = unlimited quizzes
Completely unique to Riddle's quiz maker, the quiz generator (auto-quiz) is very different from 'traditional' online quizzes.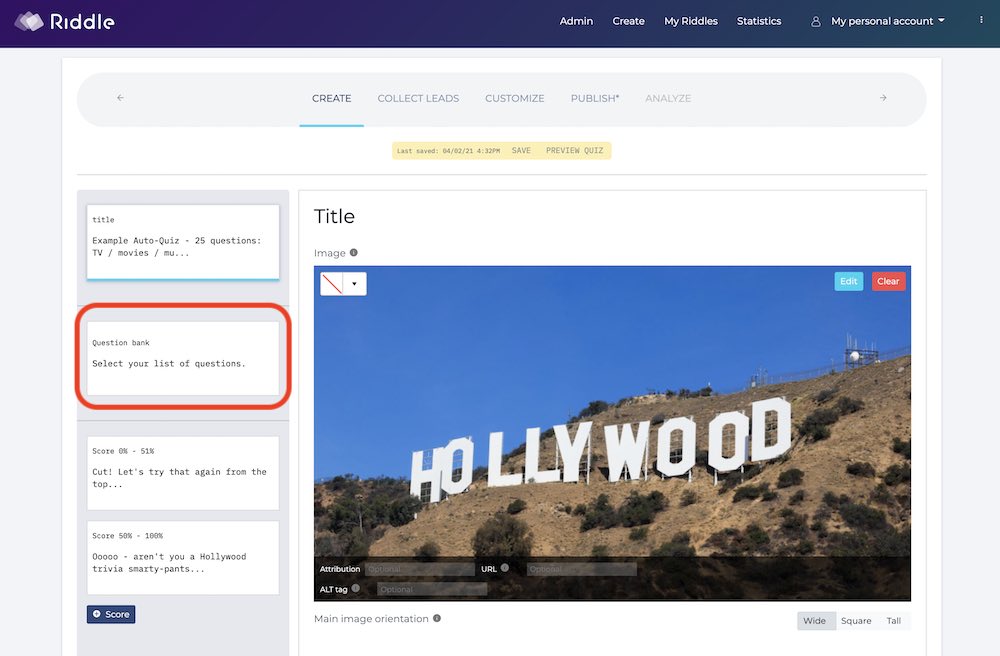 Forget showing the same set of questions to every user.
Nope – our quiz generator (auto-quiz) lets you randomly display a new set of questions to each quiz taker, from a question bank of 10-10,000 questions.
You can either use:
Riddle's pre-loaded question banks – covering 11 languages and totalling 132,000 questions (all plans)
Your own questions (CSV or XLS file) – Upload your own questions from any spreadsheet for maximum flexibility (Pro/Team plans)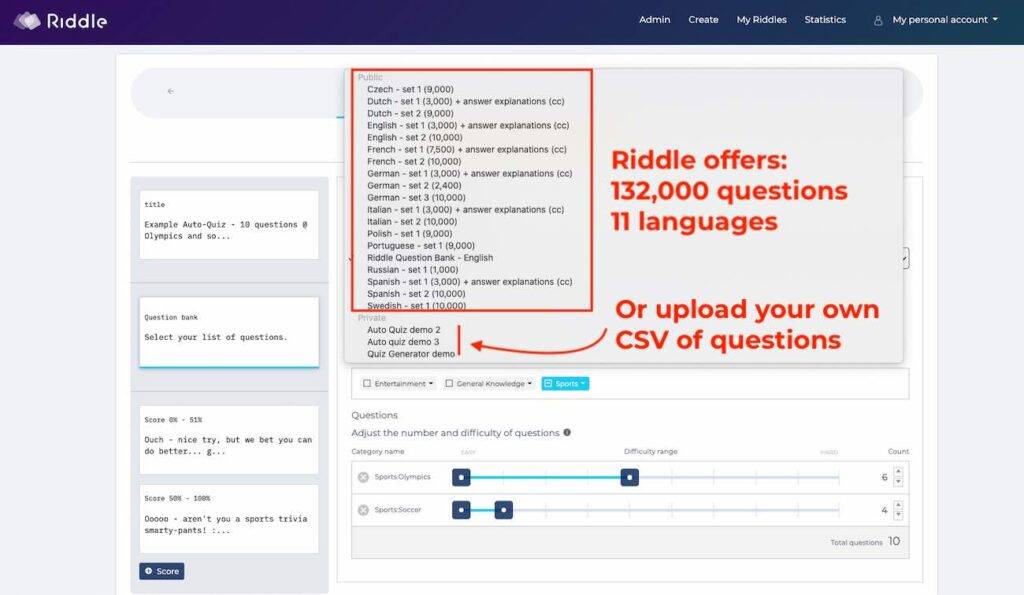 (At Riddle, we're big believers in giving you a wide variety of content choices. Our quiz maker now features 15 distinct interactive formats – from the auto-quiz to personality tests and polls, plus surveys, listicles, and more.)
Why add a quiz generator (auto-quiz) to your site?
Each auto-quiz will be an 'evergreen' piece of content.
Now, instead of your editorial teams having to create a series of quizzes to engage your audience – the auto-quiz is a 'one and done' project.
Simply create a quiz generator (auto-quiz).

Add questions – either from our public set of 10,000 or uploading your own.

Select how many questions (and from which categories) to show each time.

Set the refresh time – choose how often your quiz displays a new set of questions (every hour/day/week/month).

Or activate the 'Play again = display new questions' options – and show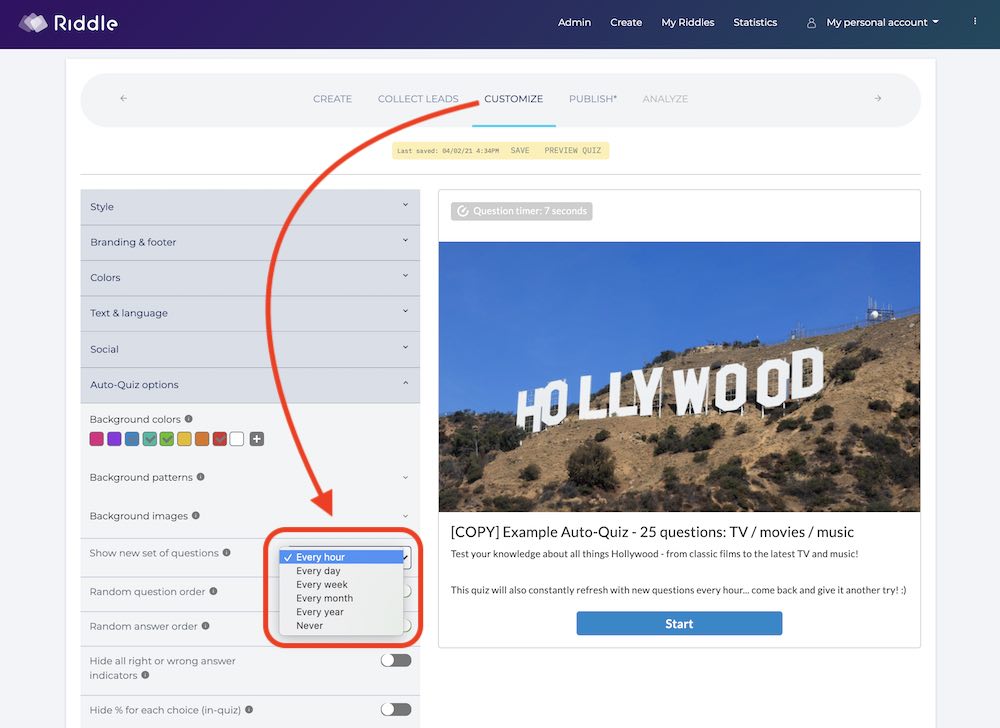 Show quiz takers new questions every time they click 'play again'
Our auto-quiz / quiz generators are brilliant tools for engaging your users – one quiz, forever showing new sets of questions to your audience.
Our standard refresh tools are good – but you might want to let your users keep taking your quiz as often as they want, without having to wait until the next hour/day/week.
Now you can, with our useful feature – 'Play again' = show new questions.
Every time a user clicks 'play again', the quiz generator will display a new set of questions.
We'll also show these questions to every other person who clicks play again.
Riddle's servers will make up to 20 of these alternate sets.
All your users will see these – until your quiz's refresh period (hourly/daily/weekly) is up.
Then, your auto-quiz will generate a new 'master' set of questions, and your quiz process will begin all over again.
Video: showing new sets of questions with 'play again'
Create your own trivia quiz portal
What's better than one quiz generator? A whole page (or site) of quizzes using our quiz generator!
Now you can easily auto-create a whole series of fully interactive online quizzes – each automatically updated every hour/day/week. And you don't even have to write the questions – you can use Riddle's 132,000 questions, covering 52 subjects in 11 languages.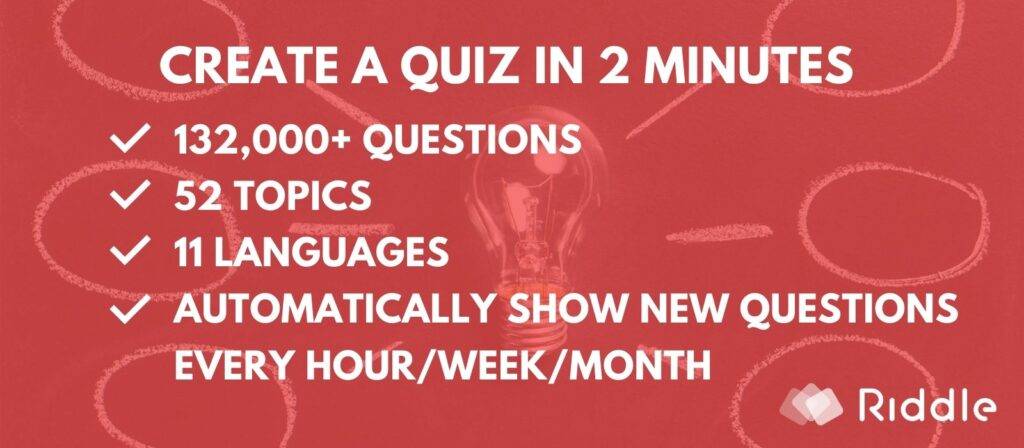 Case study – Red Bull
Who hasn't heard of Red Bull these days?
Red Bull has moved far beyond just making energy drinks – now they're behind some of the most well-known extreme sporting events on the planet.
One of their secrets? They're really, really good at hooking their fans with compelling experiences – both online and off.
In this case, they used our quiz generator to power this online quiz contest about their race in Singapore.
Let's break down why this quiz generator-powered contest worked so well:
Red Bull first uploaded a spreadsheet of questions to their quiz generator.
Next up – they set up their quiz generator so it showed a new set of 25 random questions for each contestant.
This means a person couldn't take a quiz – find out the answers, then retake. It was nearly impossible to 'game' the competition.
We also loved their clever use of our quiz timer:

They set a question time limit of 3 seconds – super difficult, and no time to Google answers.
There was also a quiz-long time limit of 20 seconds – adding a burst of adrenaline as people tried to answer 25 questions as quickly as possible.

Last, Red Bull popped in a contest entry form – contestants needed to add a receipt showing they had purchased a can of Red Bull.
Fan engagement AND boosting sales = that's a great combination.
Quiz generator: live example
Check out this live quiz generator (auto-quiz), built in two minutes using our question bank of 10,000 questions across 26 subjects.
There you have it – your quiz will be a living, breathing interactive experience on your site.
The benefits?
Encourage repeat visitors – people simply love taking quizzes. Give your audience a reason to keep coming back – highlight that the quiz will show new questions at regular intervals.
Boost time on site – quizzes are powerful tools for increasing your 'average time on site'. Quizzes average 3-5 minutes per visitor – from 50-150% better than the

internet average of 120 seconds

.

Improving this key metric enhances your SEO with Google – so you'll get more free traffic.

Free up your content teams – instead of constant quiz creation, create one 'always fresh' quiz to engage your visitors.
Run contests – an auto-quiz is a great opportunity for giveaways.

Create a daily quiz and add a lead generation form to collect emails – refresh the questions daily, and track the points in a Google Sheet, with the highest score(s) earning prizes (read our post @ quiz contests and leaderboards).
Quiz generator – video walkthrough
Watch our co-founder Mike as he gives a short overview of how and why you should use an auto-quiz on your site:
Creating your quiz generator (auto-quiz):
Let's take a deeper look at how to make your own quiz generator (auto-quiz) with our quiz creator.
(Want more details? Check our detailed step by step guide in our knowledge base.)
Step 1: Choose your questions
Making an auto-quiz is very similar to our other quiz formats – the main difference lies in how you add/select which questions to show.
We give you two options:
Use our public question bank of over 10,000 general knowledge questions (featuring a range of categories and included in all plans)
Upload your own (Pro and Team plans only) – you can easily add your own questions.

Copy/paste from Excel or any spreadsheet program.

Manually enter each question directly.

Or upload your own CSV file of questions.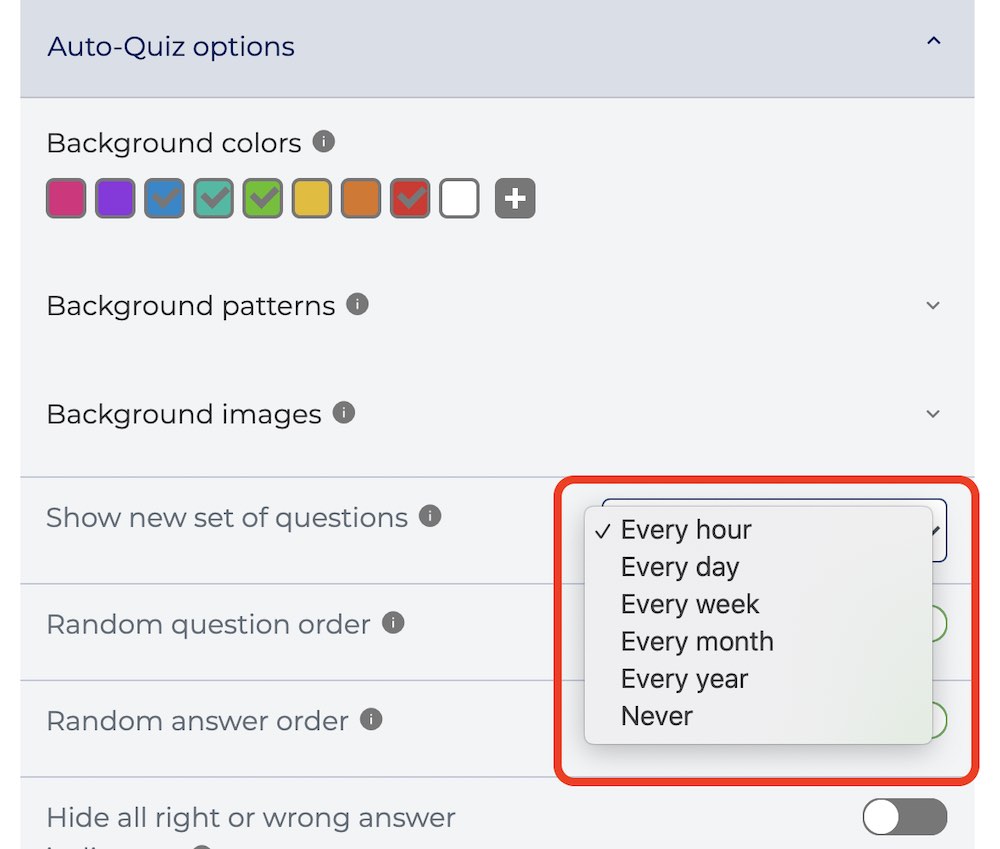 Making your quiz generator / auto-quiz:
In Riddle's quiz creator, select 'auto-quiz', then tap on the 'Question Bank' under the 'create'.

Pick your question bank – either Riddle's public one or one of your own.

Select the subcategories and categories of questions you'd like to include for this auto-quiz.

Customize the difficulty (from 1-10, simple to super hard) and the number of questions from each category/subcategory to show each quiz taker.
World-class, geeky customer support
At Riddle, we're unabashed quiz and customer service geeks. Instead of outsourcing, our entire team – from our CEO to engineers – take pride in helping our partners.
So put us to the test – if you have any questions about our quiz generator/auto-quiz, ask on support chat or at hello@riddle.com.
If we're awake (7am to 10pm UK time), we try to answer every message in under two minutes flat. Boom!