3
min read
Introducing our new quiz format – the Auto-Quiz, an always new, always fresh quiz experience for your audience. Powered by a spreadsheet of questions – you can easily upload and customize the right mix of questions for different audiences. One spreadsheet = unlimited quizzes.
Completely unique to Riddle's quiz maker, the auto-quiz is very different from 'traditional' online quizzes.
Forget showing the same set of questions to every user.
Nope – our auto-quiz lets you randomly display a new set of questions to each quiz taker, from a question bank of 10-10,000 questions.
Most importantly, you can upload your questions directly from any spreadsheet – for an easy to create, powerfully flexible bank of questions.
(At Riddle, we're big believers in giving you a wide variety of content choices. Our quiz maker now features 15 distinct interactive formats – from the auto-quiz to personality tests and polls, plus surveys, listicles, and more.)
Why add an auto-quiz to your site?
Each auto-quiz will be an 'evergreen' piece of content. Now, instead of your editorial teams having to create a series of quizzes to engage your audience – the auto-quiz is a 'one and done' project.
Simply create an auto-quiz.

Add questions – either from our public set of 10,000 or uploading your own.

Select how many questions (and from which categories) to show each time.

Set the refresh time – choose how often your quiz displays a new set of questions (every hour/day/week/month).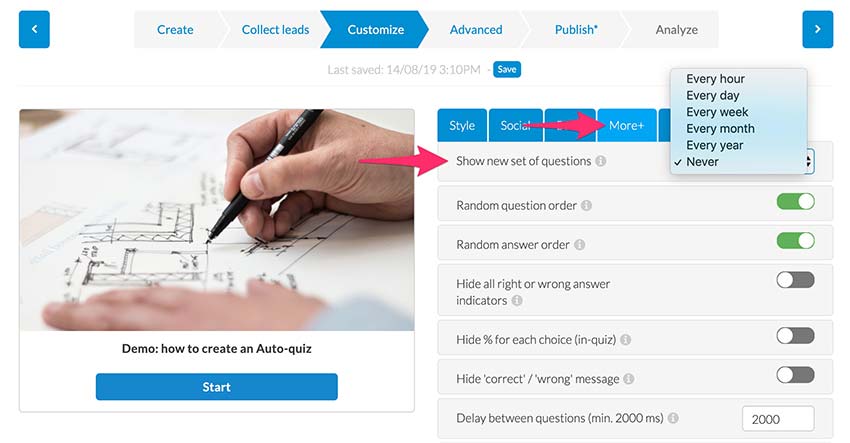 Auto-quiz: live example
Check out this live auto-quiz, built in two minutes using our question bank of 10,000 questions across 26 subjects.
There you have it – your quiz will be a living, breathing interactive experience on your site.
The benefits?
Encourage repeat visitors – people simply love taking quizzes. Give your audience a reason to keep coming back – highlight that the quiz will show new questions at regular intervals.
Boost time on site – quizzes are powerful tools for increasing your 'average time on site'. Quizzes average 3-5 minutes per visitor – from 50-150% better than the

internet average of 120 seconds

.

Improving this key metric enhances your SEO with Google – so you'll get more free traffic.

Free up your content teams – instead of constant quiz creation, create one 'always fresh' quiz to engage your visitors.
Run contests – an auto-quiz is a great opportunity for giveaways.

Create a daily quiz and add a lead generation form to collect emails – refresh the questions daily, and track the points in a Google Sheet, with the highest score(s) earning prizes (read our post @ quiz contests and leaderboards).
Auto-quiz – video walkthrough
Watch our co-founder Mike as he gives a short overview of how and why you should use an auto-quiz on your site:
Creating an auto-quiz:
Let's take a deeper look at how to make your own auto-quiz with our quiz creator.
(Want more details? Check our detailed step by step guide in our knowledge base.)
Step 1: Choose your questions
Making an auto-quiz is very similar to our other quiz formats – the main difference lies in how you add/select which questions to show.
We give you two options:
Use our public question bank of over 10,000 general knowledge questions (featuring a range of categories and included in all plans)
Upload your own (Pro and Team plans only) – you can easily add your own questions.

Copy/paste from Excel or any spreadsheet program.

Manually enter each question directly.

Or upload your own CSV file of questions.
Making your auto-quiz:
In Riddle's quiz creator, select 'auto-quiz', then tap on the 'Question Bank' under the 'create'.

Pick your question bank – either Riddle's public one or one of your own.

Select the subcategories and categories of questions you'd like to include for this auto-quiz.

Customize the difficulty (from 1-10, simple to super hard) and the number of questions from each category/subcategory to show each quiz taker.
World-class, geeky customer support
At Riddle, we're unabashed quiz and customer service geeks. Instead of outsourcing, our entire team – from our CEO to engineers – take pride in helping our partners.
So put us to the test – if you have any questions about our auto-quiz, ask on support chat or at hello@riddle.com.
If we're awake (7am to 10pm UK time), we try to answer every message in under two minutes flat. Boom!