6
min read
Want an easy (and fast) way to add more interaction to your site? Create your own trivia quiz portal on your site – all powered by Riddle's quiz generator.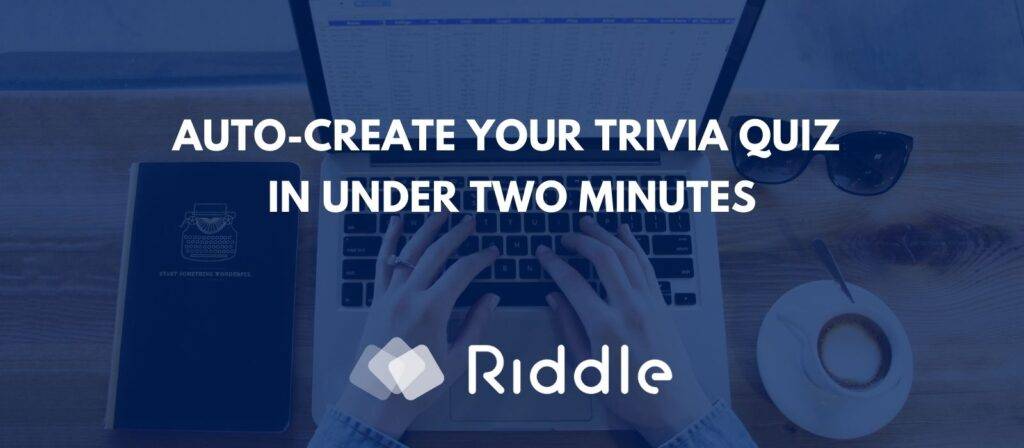 Forget having to create your own questions for each and every quiz – Riddle takes care of that for you, in under 120 seconds.
Unlike normal quizzes, our auto-quiz / quiz generator automatically shows news sets of questions – refreshed every hour, day, or week.
You can show questions in two ways:
Use our pre-loaded question banks covering 132,000 questions across 11 languages (all plans)
Or upload your own spreadsheet or CSV file (Pro/Team plans)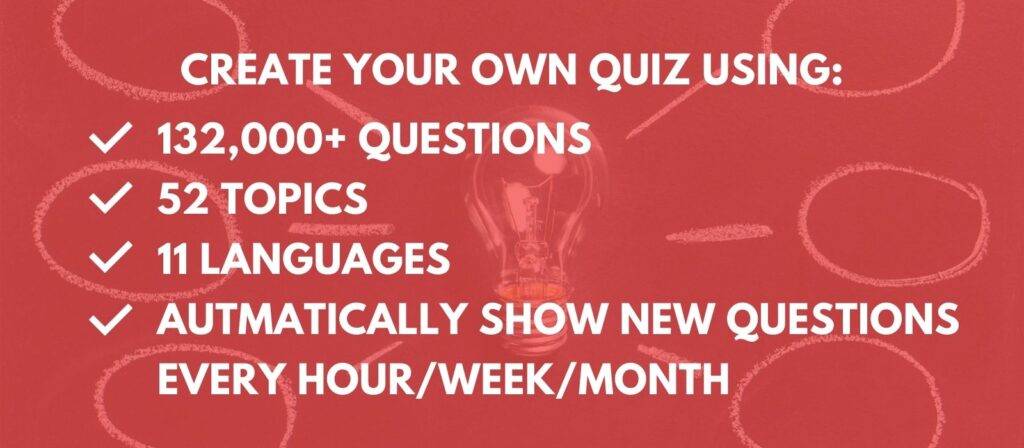 And of course, you can use our quiz lead generation module in every trivia quiz – to collect quiz takers' emails and other info as part of a quiz marketing funnel.
Then, easily send that to your favorite marketing software, like MailChimp or Salesforce – to automatically send personalized follow-up messages.
Done right, you'll get up to 35-45% of your quiz takers to opt-in and fill in your quiz lead generation form. That's more than 20X what those boring 'sign up for our newsletter' pop-ups get. Neat, right?
Trivia quiz portal examples – BBC, NY Giants, and SF 49ers
Global brands and publishers ranging from the BBC to pro sports teams know the value of using Riddle to create trivia quiz portals.
Happy quiz takers = happy visitors, each spending more time engaged and interacting with their site.
BBC – check out the quiz portals created by their Children's group and their BBC Archives team.
San Francisco 49ers – the 49ers' quiz portal been a huge hit, engaging their fans at the start of COVID – and is now a permanent fixture on their site.
New York Giants and New England Patriots – not to be left behind, the Giants and Patriots were inspired to make their own Riddle-powered trivia portals (click to visit the Giants' and the Patriots' trivia pages)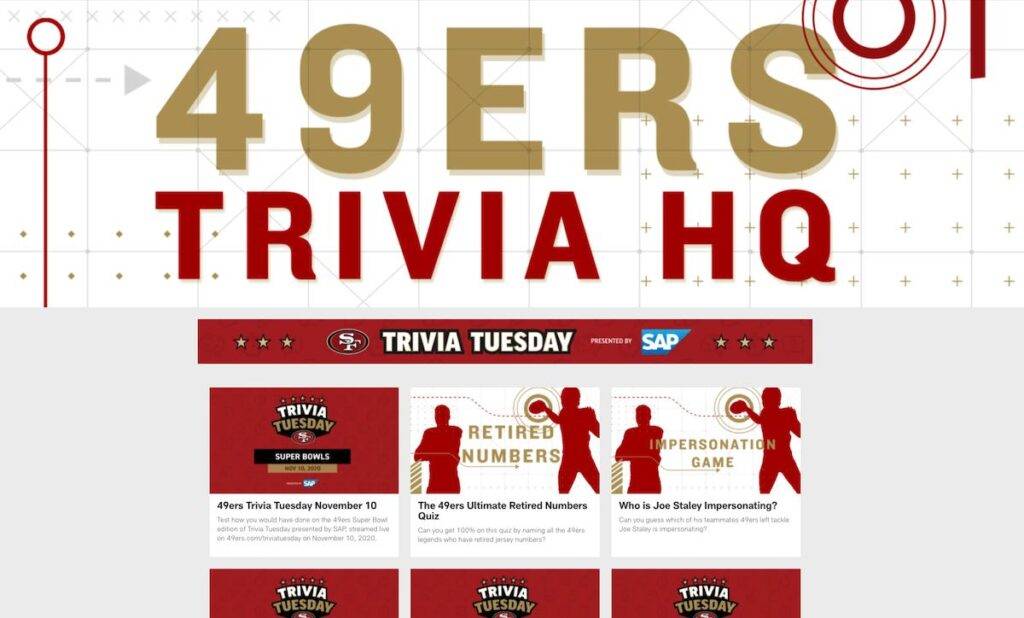 One trivia quiz – but many levels of difficulty
Check out how we added levels of difficulty to each of these quiz generator examples – you can either:
Adjust the question difficulty level, choosing to show questions from 1 (easy) all the way up to 10 (hard).
Or, use our question timer – and give users less and less time to give the answer.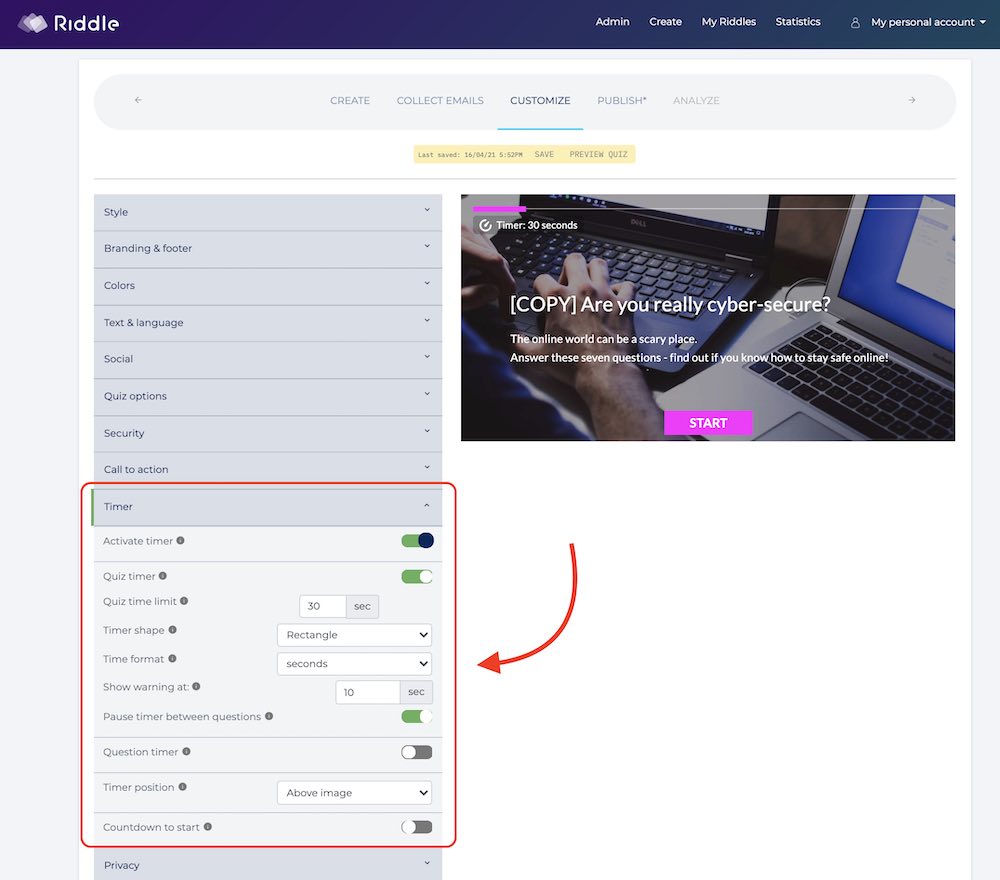 In this case, we've created three quizzes across three levels.
To get to the next level:
Quiz takers must answer 80% or better correctly.
When they do, the're shown a special call to action button – that leads to the next level.
The best part? Every trivia quiz is pulling questions from the same question bank – you just need to copy a quiz, change the difficulty level, and repeat.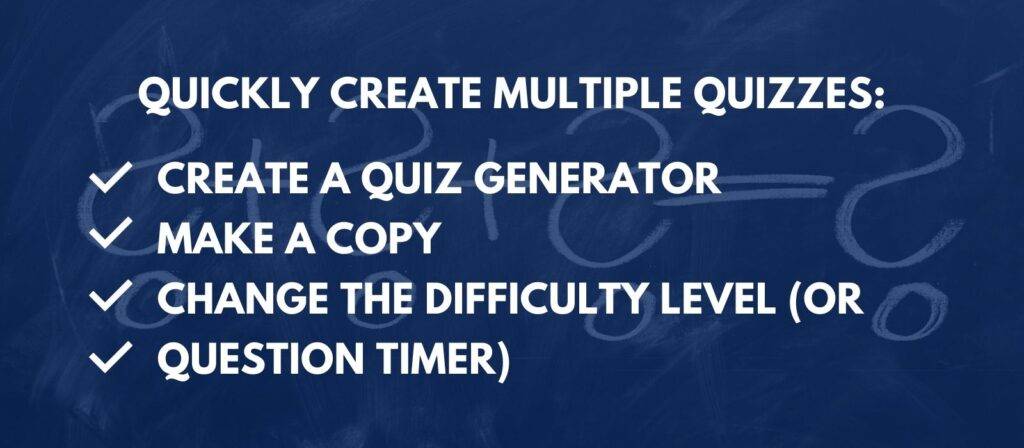 History & geography – three quizzes, three levels
Test yourselves on these three quizzes – they automatically show new questions every hour, drawn from one of our pre-stocked question banks in our quiz generator. Your quizzes will be forever refreshed –
Questions are refreshed once per day (but you can choose hourly/daily/weekly).
You can either show all three levels at once – or use our call to action buttons, and only show the next levels to users who get above 80%.
Total time to create and embed these three 'always fresh' quiz generators? Just ten minutes – how's that for fast?
---
Entertainment & celebrities – 3 quizzes, 3 levels
And here are three more quizzes – using the same question bank, and just choosing new categories to focus on entertainment and celebrity questions.
We just used our copy quiz feature with our history & geography questions – swapped out the title image, and chose different categories in the same question bank.
Science & nature – 3 quizzes, 3 levels
And rounding out the list – we did the same thing for these science & nature online quizzes.
Video: Create your trivia quiz portal – in under two minutes
A reporter challenged our co-founder Mike about our statement about our online trivia quiz portals – "Under two minutes, really? Prove it!"
So we did.
Watch our short video that outlines how to easily make your trivia quiz – Mike does it in 1 minute and 55 seconds, which includes him chatting to the audience all the while.
Can we help with any questions?
We hope you found this post helpful – creating one quiz generator can power your entire trivia quiz portal.
But if you have any questions (or suggestions how we can make our quiz generator even better) – please just give us a shout by email or using our support chat. We're especially fast using chat – you'll often find our co-founders Mike and Boris racing the rest of the Riddle team to be first to respond.
That means you'll get an answer in under two minutes. That's fast – just like making your own trivia quiz with Riddle. 😉
Video transcript: Making your own trivia quiz portal
(It might seem a bit old-fashioned, but we like to also add text transcripts of our video walkthroughs – they help our online quiz maker community members who use accessibility software such as Dragon Speech to Text or screen readers.)
Hi there. My name is Mike, and I'm one of the co-founders here at Riddle. And in this short video, I'm going to show you how you can use our quiz generator to automatically create an always live, always refreshed triva quiz with no effort.
Well, to be accurate, just a very little effort.
It's going to take you about 120 seconds to create your first trivia quiz generator. I'm going to show you how to do that. And I'm going to put myself to the test time-wise so you can see it.
However, first let me just show you why you might want to use quiz generators on your site. Now, if you go to teams like the 40 Niners who have these are all Riddle generated content.
Or if you go to the BBC, they have a whole trivia quiz portal. These are Riddle customers, and they know that online quizzes and interactive content are great at engaging their fans. So we've made our quiz generator to make that even easier. So you don't even have to write the questions. We provide them for you.
So here we go. I'm first going to set my timer. We have it at zero; I'm going to set my timer.
We're going to go over to Riddle and we're going to click on Quiz Generator. Here we go. I'm going to click start. Now, in this case, I'm going to start from scratch and I'm just going to type in a title. So I'm going to say something like, "Mike's, great trivia quiz generator."
(And I should say that I can never type if people are watching. So excuse any of the spelling errors.)
Next, I'm just going to go in and look for an image – maybe a quiz, something like that. So I've grabbed an image so it'll be part of our trivia quiz title. But now, most importantly, let's dive into the quiz generator part.
So in this case, we have existing question banks that include 132,000 questions. So you'll see here, these are all the questions that we provide for you. They cover eleven languages and you can just choose from there. In this case, I'm just going to choose one of our standard question banks. And in this case, you'll then see what categories and subcategories there are.
I'm just going to pick all of the entertainment options, maybe I'll pick a couple of these subcategories for sports, and maybe we'll throw one here. Now I have my auto-quiz with 25 questions. I'm going to narrow this down a little bit, maybe have only 15 questions here, and maybe I'll make them all easy to start. So we'll do that.
So this is going to be a more easy question bank, and that's pretty much it. The last step you can do is in the customized step. Go down to the quiz generator options and see how often do you want to refresh? I'm going to say show new questions every hour. So when your quiz is happily on your site, will it then pull up questions every hour.
That's about it. I'm going to click publish, and we are good to go.
All right, so that was 1 minute, 55 seconds. That actually included me talking a lot.
So you can do it a lot faster. But look what happens here. This is now a 15 question quiz, and it will just kind of take you to all the different options, some other things you might want to do.
You can also make your trivia quiz a little more difficult with our quiz timer. So you can add a quiz timer here. And maybe instead of a quiz-long timer ("Hey, you get 30 seconds."), I'm going to use our question timer to say "No, you get 10 seconds per question."
Now, once you created this quiz generator, what you can also do is then go back in here and make copies of it. So in this case, you might say, well, this is level one. I'm going to make a copy of this, and I'm using the same categories. However, I'm now going to make this more difficult by making sure that the timer is at maybe 7 seconds. So same questions, but just less time.
So it becomes more difficult.
And you can see here, this is an example of what your trivia quiz portal might look like. So imagine you wanted to create your own trivia quiz portal using our quiz generators.
This is three of the same quizzes – level one, level two, level three. And you'll see here they go from 15 seconds a question to 10 seconds, and so on.
I've just created a whole bunch of these quizzes and now have a quiz portal just like the 49ers and the BBC.
Okay, that's the quiz generator. That's how you can use it to automatically create content for your quiz portal.
Any questions? Of course, just ask us down on support chat. You'll catch me or my cofounder Boris, plus the rest of our team, most likely in under two minutes.
All right. Thanks so much. And Happy Riddling!