5
min read
We're beyond excited to announce that Riddle 2.0 is coming in August, 2021!
We first launched Riddle in 2014 – which seems like an eternity ago. Thanks to our passionate community of quiz creators, we've constantly been adding new quiz formats, features, and flexibility.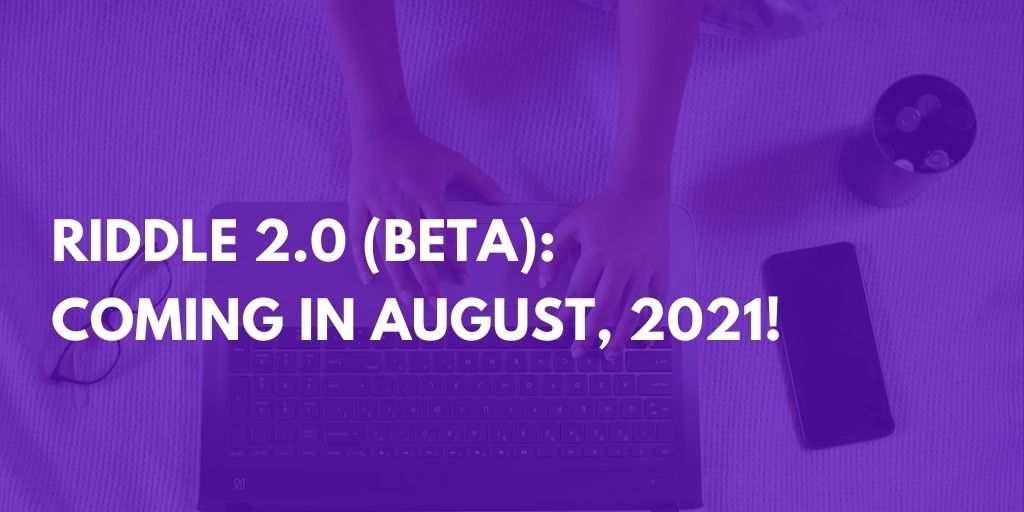 Riddle 2.0 – video walkthrough
Okay – let's dive in.
Here's a sneak peek video walkthrough of Riddle 2.0, including this (and more):
Mix/match different quiz and poll types in a single riddle
Branching logic to all formats
Much more flexible lead generation – place your form anywhere in the quiz
Completely redesigned layouts and styles
We're super excited – but if we missed anything, please let us know… most of these new ideas have come directly from our Riddle community.
Riddle: the journey from 1.0 to 2.0
Let's take a quick look at how Riddle's quiz maker has evolved over the years.
Riddle in 2014:
4 quiz types: quiz, personality test, list, survey
Images only
No lead generation
No data capture or marketing software integrations
Riddle in 2021:
That's just scratching the surface – Riddle has grown faster and more advanced than we could have imagined back when we started.
Why launch Riddle 2.0?
All of these new features, capabilities, and quiz types were added bit by bit over the past seven years.
The result?
We like to think we've got the most flexible, most customizable quiz maker and marketing platform on the planet.
However, sometimes the best way to move forward tech-wise is to start over from scratch. It lets you take a clear look at what's working – and what we could do better.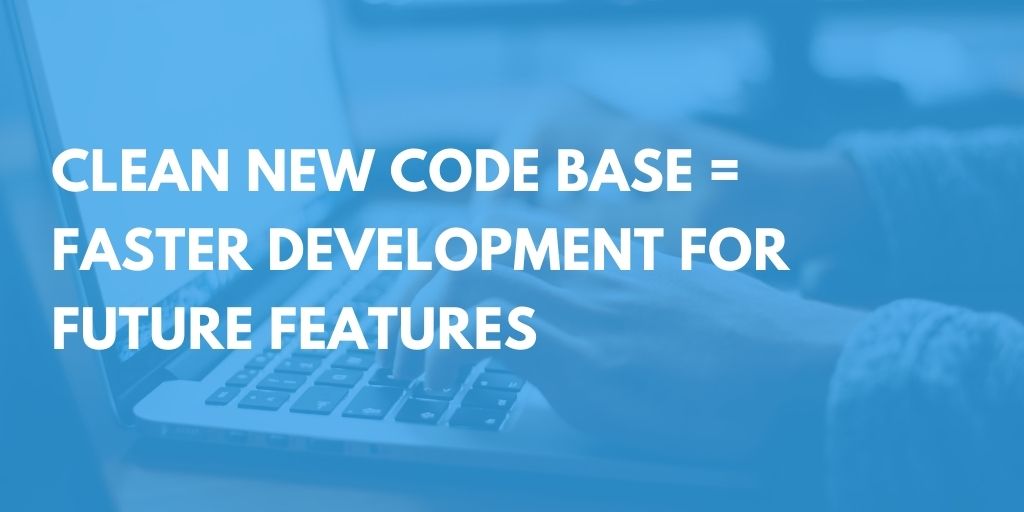 Plus, a simpler, cleaner code base means we'll be able evolve much faster – adding more quiz types and features at lightning-speed.
We have been working on this since mid-2020 – check out our status updates below to see all the juicy quiz capabilities we're adding!
March 30 – introducing the form builder and 'My Riddles' sections
We're pretty pumped to see all the progress on Riddle 2.0 – the dev team today showed us us:
New 'My Riddles' section: Designed to make it easier for you to find and work with the right Riddle content. We've added list or card views, plus icons that show which riddles have quiz lead generation, CTA buttons, and more.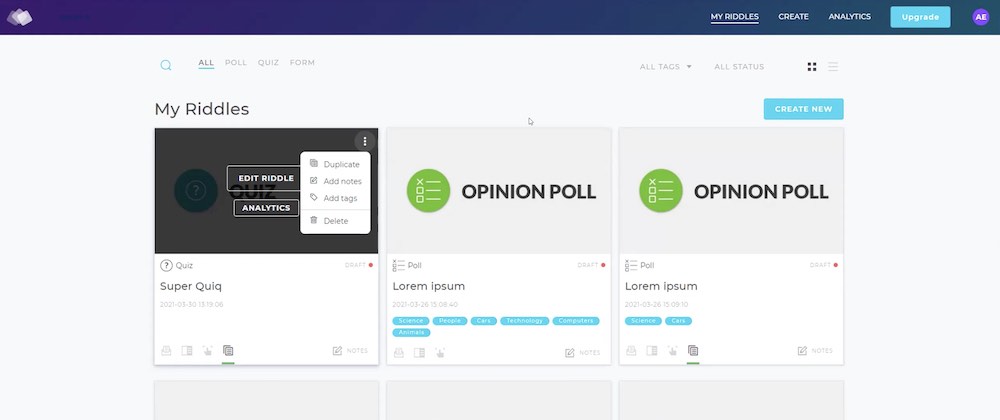 Improved start page: We've streamlined 15 types of Riddle formats into just five – so you can mix/match different question types in the same riddle unit.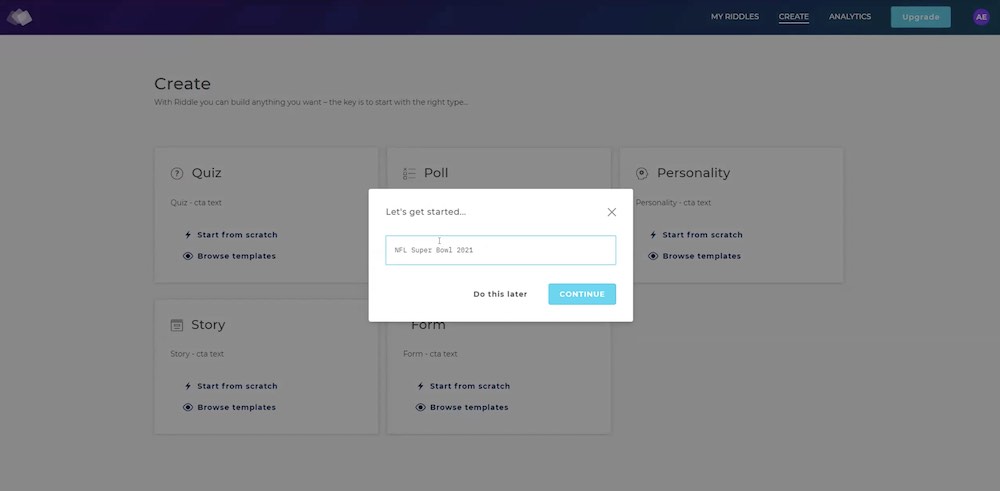 New lead generation form builder: Now, it's still early days – but our lead generation module is coming along nicely. You'll be able to choose between:
Traditional: add a lead form and ask for everything like name, email, etc. in one go.
Bit by bit: ask lead generation questions throughout your quiz. For example, block #1 of your quiz could be "Before we start, what's your name?" That's a nice easy way to personalize the quiz, plus you'll boost opt-in rates compared to the 'all in one' lead form.
Plus – both modes will let you place the lead generation elements anywhere you want, compared to the fixed 'after the last question' location of Riddle 1.0.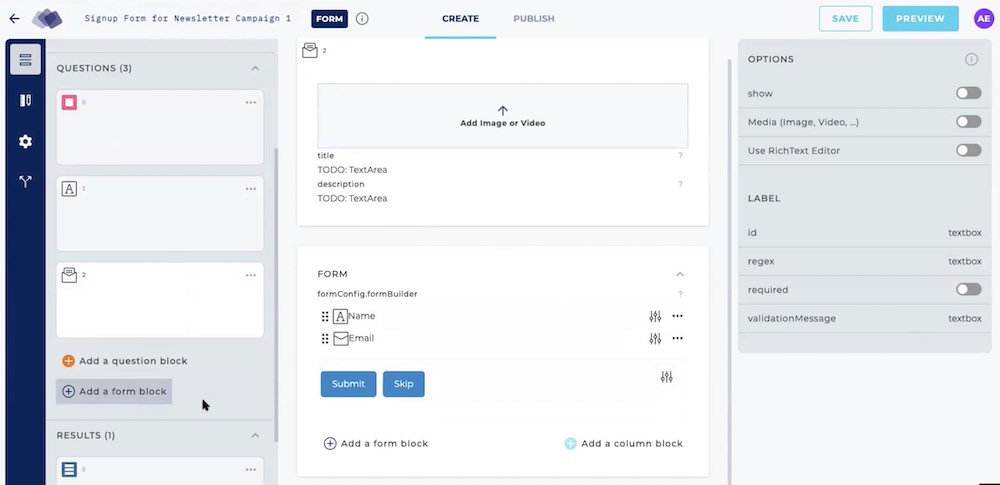 February 21 – new 'Publish' step
Another big milestone this month – we're working on our new publish functionality.
We're simplifying the layout – but also adding logic checks, to make sure that your quiz is complete before publishing.
For example, currently it's possible to add a lead form, but forget to choose a way to save the leads. We have a huge warning label – but folks still miss it.
In 2.0, we're adding logic checks – our system will deactivate the publish option if it notices lead forms aren't configured correctly, or any of several other key checks. Plus, it will guide you in how to easily fix them.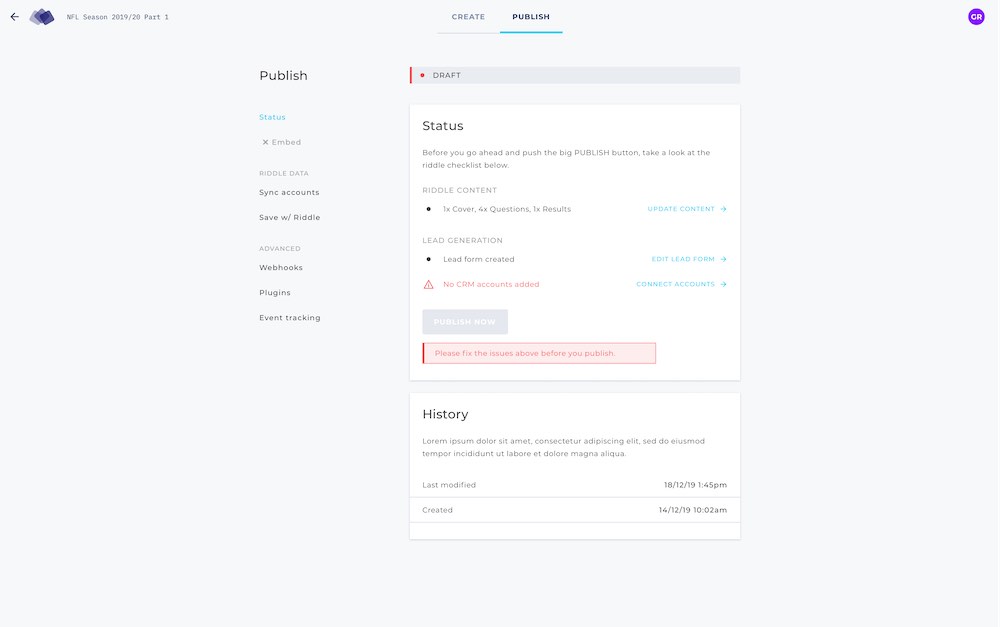 Neat, right?
January 31 – introducing the new 'My Riddles'
First update for 2021 – boom!
This update took a bit longer due to the holiday period, and our devs eating far too much delicious food. Food comas do NOT help when it comes to coding.
This month we tackled the 'My Riddles' section – ground zero for our quiz creators to quickly see, edit, and manage all their Riddle content.
Take a look – you can spot we now have a tab or list view, plus with more descriptive thumbnails – showing if you have lead generation, call to action buttons, and more turned on.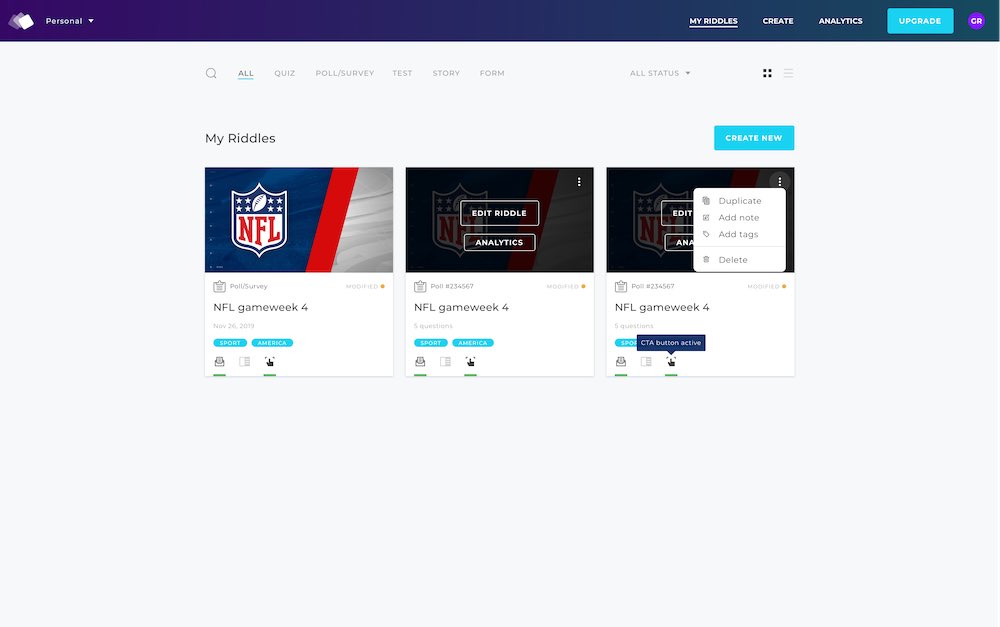 We like it – what do you think?
December 17 – new sign up flow
Riddle 2.0 is a complete redesign and reimagining) of everything we do.
And one of the key areas we've always wanted to improve is the new user experience.
Simpler, cleaner – we'll also be able to give you targeted advice, based on your quiz experience level. This will let you unlock more of Riddle's capabilities for your unique needs.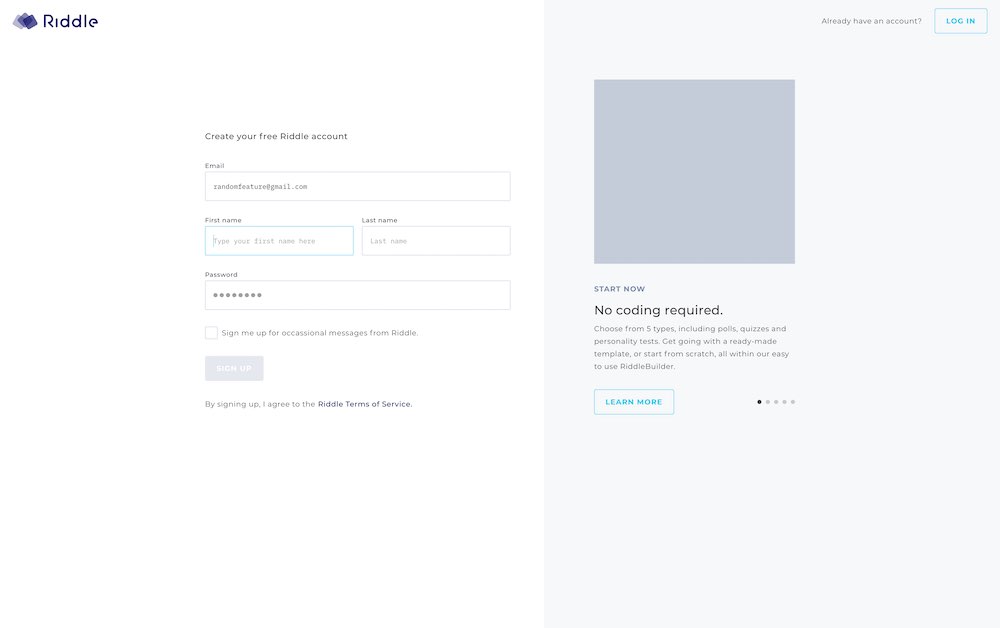 November 21 – new creator interface
(We're EU-based, but Happy Thanksgiving all to our American members!)
These past few weeks, we've been busy building the overall framework for our creator. One of the most common questions we get about 1.0 is "Where do I find <feature>?"
We know that we offer lots (and lots!) of flexibility to our creators. But sometimes it can be hard to find what you're looking for.
With Riddle 2.0, we're changing our current five or six step 'bread crumb' approach for editing/creating a riddle where questions, customization, and lead generation features are spread over multiple steps.
Riddle 1.0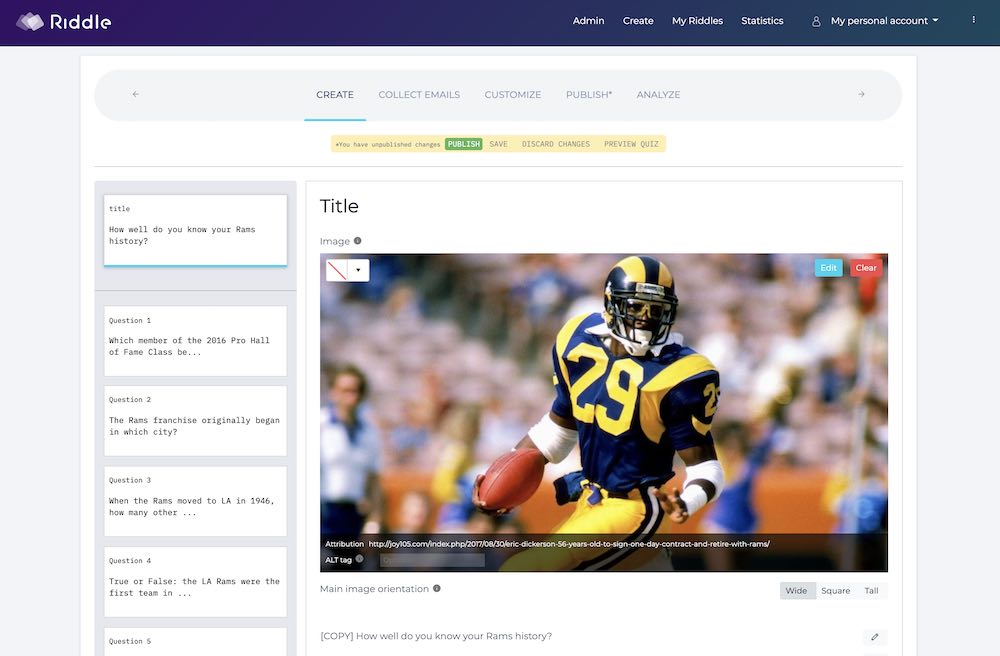 Instead, we'll have a much more intuitive 'create' and 'publish' approach – where all these features are in one step, and everything else 'post-quiz creation' will be in our publish area.
Riddle 2.0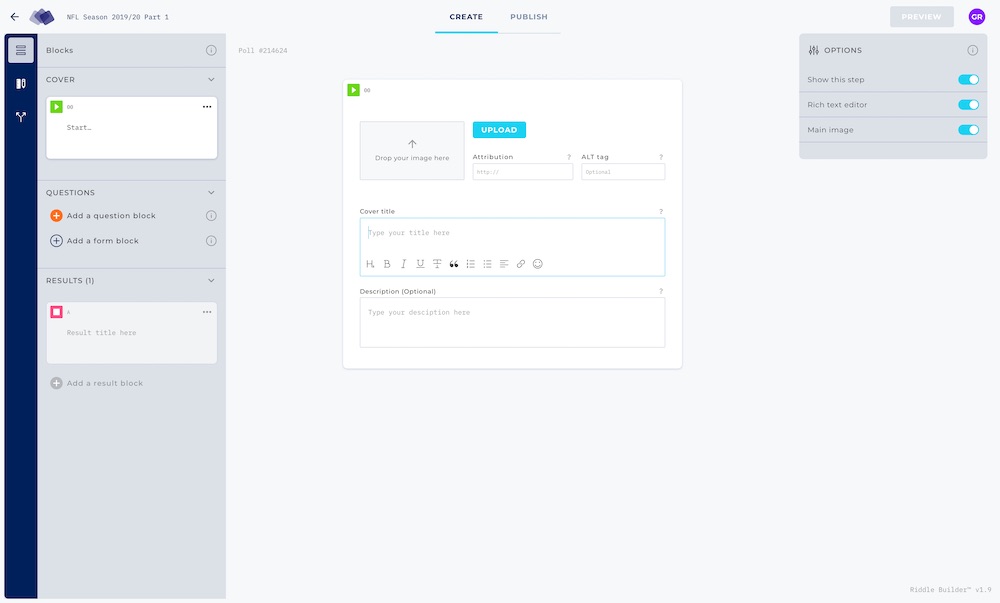 October 27 – content consolidation
Welcome to the Super Quiz! One of the challenges of Riddle 1.0 was that we offered too many choices – with 15 types of content. We've decided to consolidate these down to six broad categories – and let our creators mix/match question types within each format.
For example, in Riddle 1.0, you have six different types of quiz all centered around right/wrong questions.
But in 2.0, we're introducing the 'Super Quiz' – where you can mix/match all these formats in one great quiz.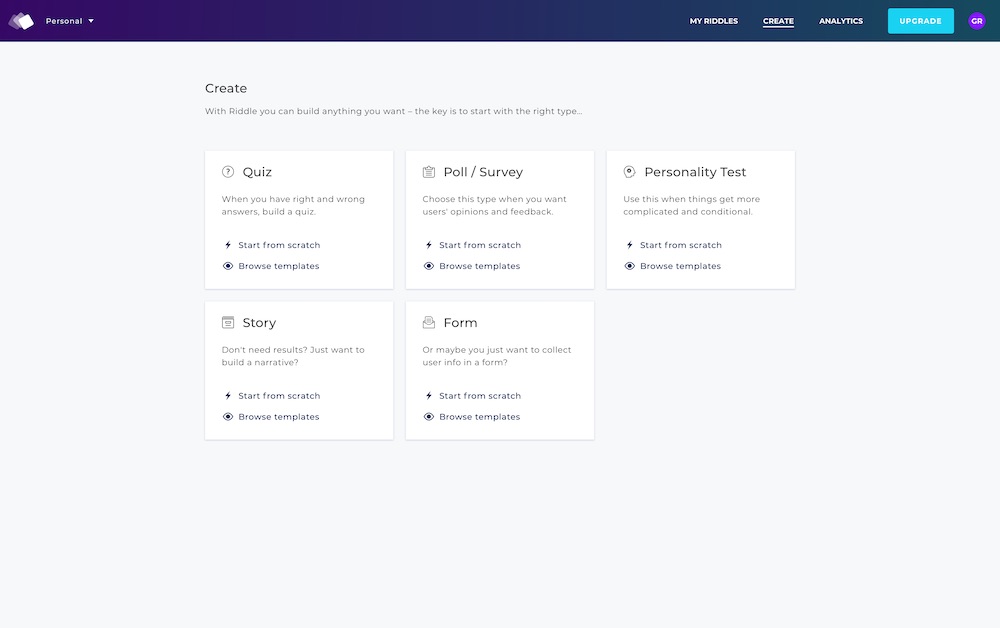 Want to ask a multiple choice question, followed by an 'Order it', two true/false, then a Tap/Find, and a 'fill in the blank'? With 2.0, you'll have near-total flexibility for a huge range of use cases.
September 10 – coding started
Coding on Riddle 2.0 has started. It's going to be a huge project – keeping all the features and capabilities of Riddle 1.0's quiz maker, while making it even more flexible.
First up?
We're switching to web sockets and microservices – so our architecture is more scalable than ever.
This will mean it will be super fast and easy to add changes and features in the future!
August 17 – design finalized for Riddle 2.0!
Big day for the team!
We've just finalized the design of our Riddle 2.0 quiz creator.
We've been working with the legendary designer Graeme Rutherford, who's helped us think through everything from our sign-up flow to a much faster, intuitive quiz maker process.
The bottom line?
You'll be able to create flexible quizzes, polls, and other interactive content – faster than ever!
Stay tuned – it's going to be awesome…
(As a cheeky sneak peek, here's the style guide we're going to be used – all the fonts, colors, and styles that contribute to a crisp and clean modern quiz maker.)