Dang straight! We make it easy to add images to your quiz – upload your own pictures or use our Google and Pexels options.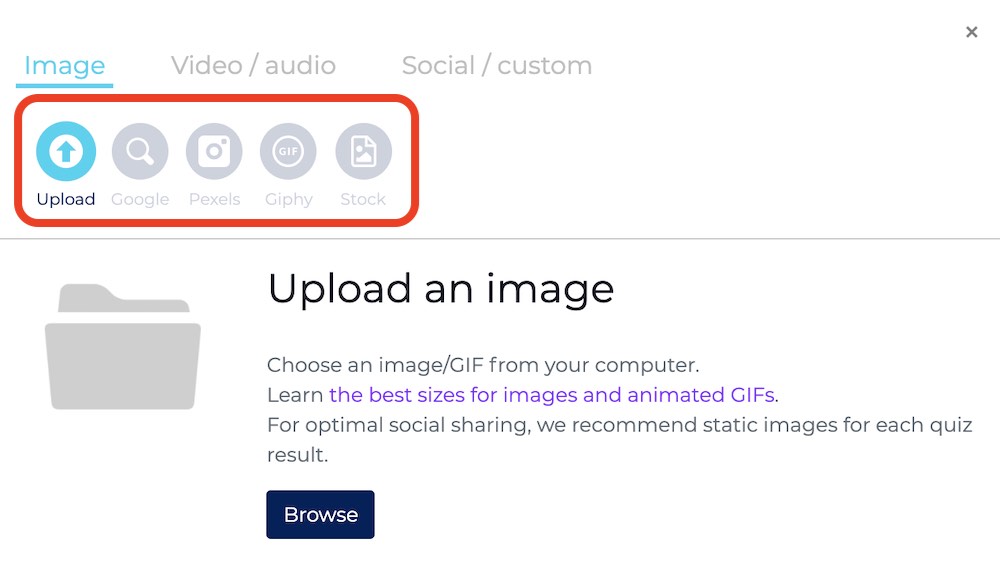 Did you know? Quizzes with images get 56% more quiz completions than text-only quizzes. People might be inspired to start a quiz by a good quiz title, but they're more likely to finish it if it's visually compelling.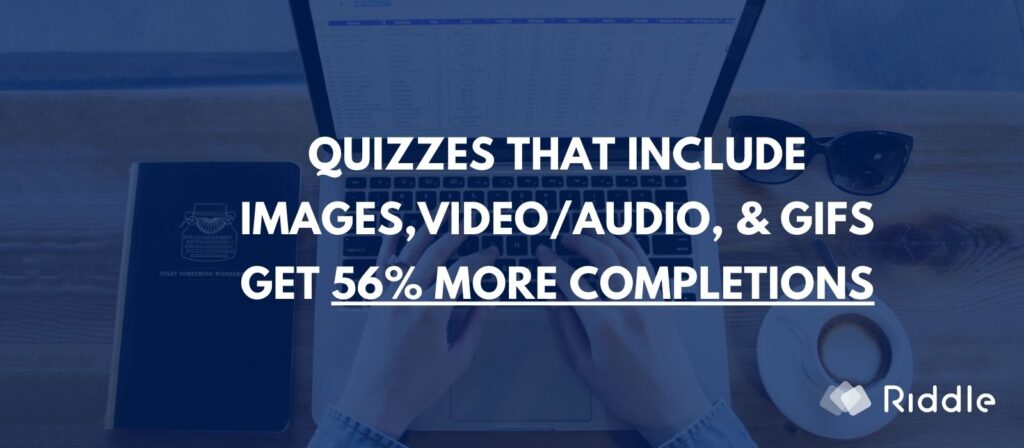 And we don't stop with pictures – you can add your own videos, audio clips, and animated GIFs using our YouTube, Vimeo, and Giphy integrations.
But if you want to upload your own quiz images:
Click on our media selector when creating any question or answer – then 'upload'.
Next, select 'choose file' – and pick the right image.
Or, even easier – drag and drop a file right into the media window itself.
What file size for your quiz images?
We wrote a whole post about the ideal image sizes for your quiz images – but here are some of the highlights:
Widescreen: 960 x 540
Square: 720×720
Tall: 720×960
File size: 250KB is a good target.
Format: .jpg or .png
Adding videos and audio
You can also make your online quiz, poll, or survey a rich, multimedia experience – by adding: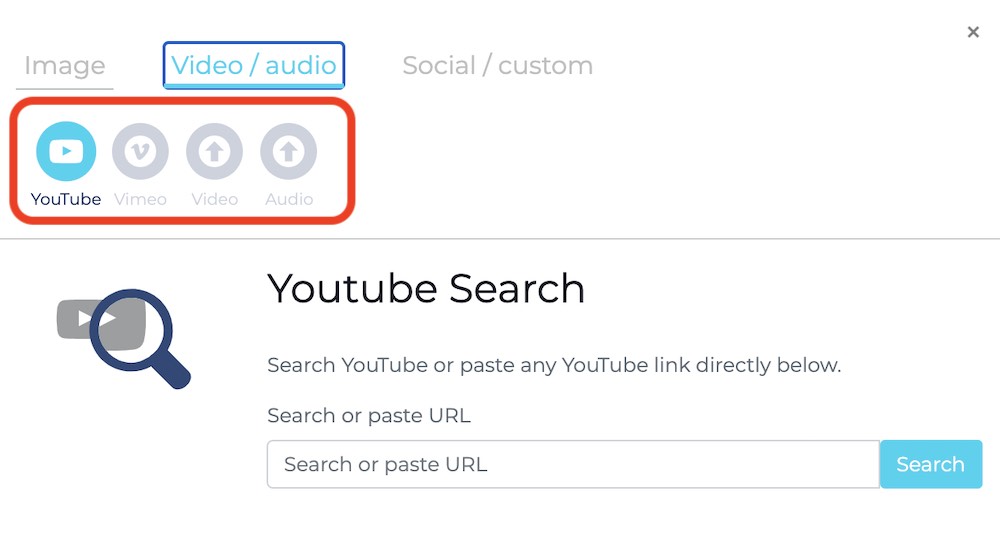 Video: How to upload your own images?
Video transcript – how to add your own images
(We love adding videos for our help articles – but also add these transcripts, to give our community more options. You can either watch – or just skim read the transcript. These also help folks on screen readers or using accessibility software.)
Hi there, my name's Mike and I'm one of the co-founders here at Riddle. In this video, I wanted to give you a quick walkthrough about how you can upload your own images, animated GIFs, but also videos and audio clips to any of our 15 quiz formats.
What you want to do is in this image section, whether it's a question or a title or a result, you can just click here and you'll see we have lots and lots of options for you.
So first, let's run through the image choices.
You can easily just go through and browse and upload your own images or animated GIFs. You can also use and just search on Google. And we also include the attribution for each image so you don't have to worry about that.
You can also use our Pixel stock photography integration. And then, of course, you can use our animated GIF connection using Giphy, which is a great way to add some energy and emotion to your quiz.
In terms of videos and audio, we also have both a YouTube and a Vimeo connection. We also let you upload your own MP4 for video clips and you can upload MP3 audio files. So there are many ways to ask questions and use multimedia to engage your fans.
As a good rule of thumb, if you're looking at around six to ten questions in a typical quiz, we recommend about half to two thirds should be images. And then, you want to have a couple of animated GIFs and maybe one or two video clips – the key is to mix things up and keep your keep your folks interested.
But that's basically how you can add some multimedia to any Riddle quiz.
You can also see we give you these tips on what the best image sizes are, and we include all the pixel dimensions here.
We also automatically lower the resolution of your images by 80% so your quizzes will load quickly. So if you upload a two-megabit image, which is much too big, we will downgrade it automatically to a good fast loading image size.
You can also just click over here on the image tool and you'll see here we have all of our image suggestions as well.
Any questions about uploading images, finding the perfect video clip, cropping, all sorts of stuff?
Just ask us down on support chat. You'll see me, my co-founder Boris and our entire dev team – we're all on support.
We don't outsource that – so you'll get us all racing to answer your questions.