Have you set up a data connection to MailChimp or any other of our natively integrated apps in our lead generation 2.0 form builder – and now want to change it?
No problem – it couldn't be easier:
Go to 'collect emails'
Select the 'Connect' option in the form builder
Click on the garbage can in the top corner (in the example below – it's AWeber)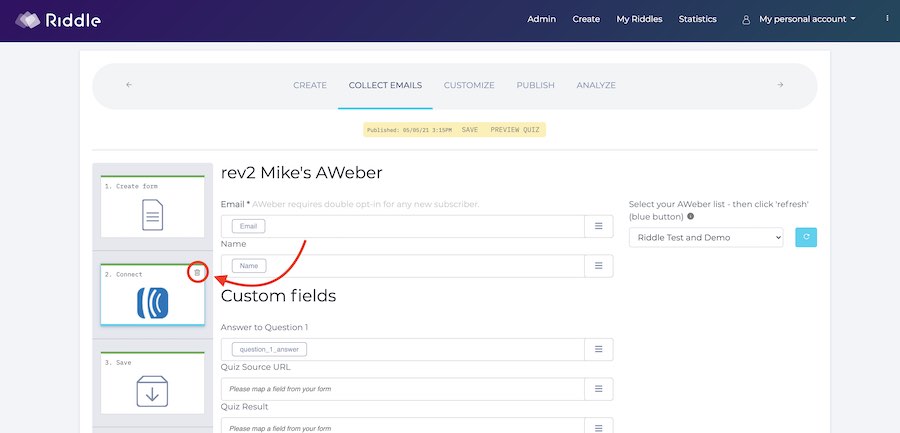 That will terminate the data connection – and you can choose a new one:
Connect: In our 'connect' step of our form builder, you can choose our native integrations.
The first time around, you might need to go to Integrations > Accounts – so your CRM tool can talk to Riddle.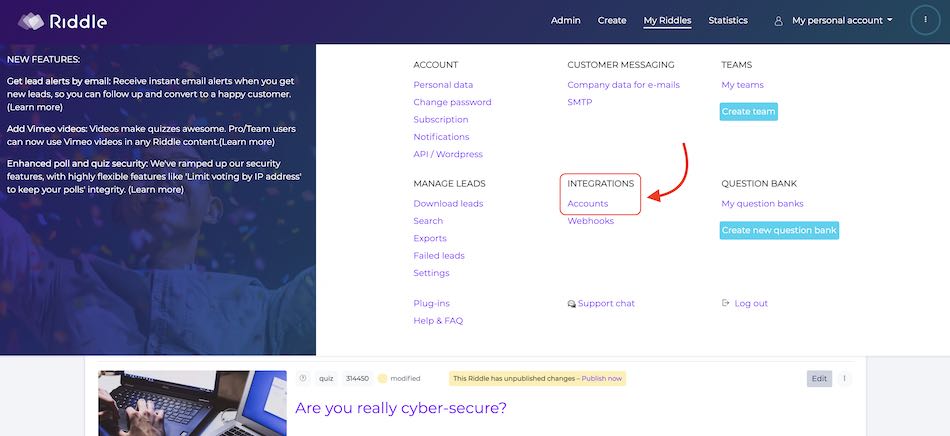 Create a data connection to another app?
Want to send your data to another app?
Our Zapier app makes this easy – no coding required. (Zapier is free for most uses as well – so it's a very good alternative.)
Video overview: Riddle's data options
Here's a quick video showing these data connection options in action:
Video transcript:
In this video, I'm going to show you how you can easily set up and then disconnect your data connection.
So connect… then disconnect your Riddle quiz to over 3,000 email marketing tools like MailChimp, AWeber, HubSpot, Salesforce, lots 3000.
(Oh, and in case I didn't mention my name is Mike. I'm one of the co-founders here, so I love helping folks out.)
What you want to do first, you want to set up your integrations. Now when you pop over to integration and you'll click on accounts, and this is where you will have, you can set up your data connection – MailChimp, AWeber, things like that.
If you want to use Zapier, you'll actually need to go to Zapier directly. We have a shortcut in our app, but you don't need to use that directly. You can just go to Zapier directly and set up your integration.
It's a little bit more complicated; I'm going to go set up a sample quiz that I've already created. And when you go into the collect emails spot, this is where you set up your lead generation form.
So in this case, we have first name, last name, email, but you'll also bundle in all of the lead's quiz responses.
Next you'll want to use our connect step.
And this is where you will actually, you can enable the connections I've already set up and integration. So in this case, I'm going to use my AWeber connection, but the principle is the same throughout.
And then what you'll do is just go through and map the fields from your Riddle quiz lead generation form to the fields from your AWeber account. Basically, it's just a pairing process.
So I'm going to match first name to name. And then maybe for question one, I'm going to go down to here and say, well, I want the question one answer. What did the user select?
And so on, just keep going all the way down.
Once you're done, you're going to click publish. And as the Brits would say (although I have a really rubbish British accent, "Bob's your uncle" and you're away to the races.
So I think I'm mixing my metaphors…
Right, if you have any questions about using our data connection options, please use our support chat down here. You'll see myself, my co-founder Boris, or all our devs – we race each other to respond first.
Your wait time rather is generally under two minutes. And normally we're even faster. People think we're bots for that reason, but we're not – we're just really fast.
Thanks so much and happy riddling.