Our quiz maker plans at Riddle are changing – for the better!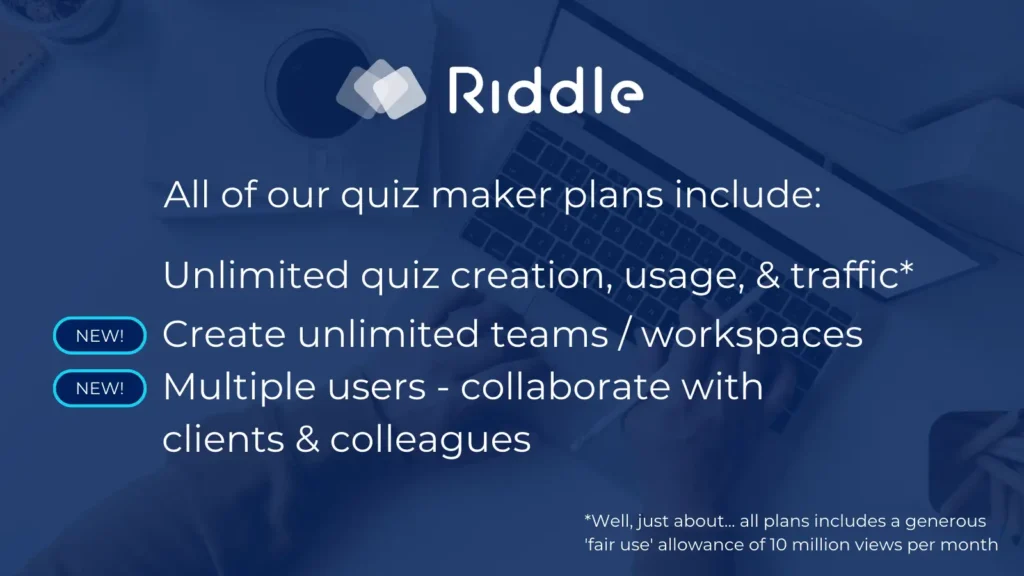 In addition to unlimited usage and traffic, all of our new quiz maker plans will let you add multiple users and teams – previously available only on our top two plans.
Introducing our new quiz maker plans & pricing
Riddle is a flexible, powerful creative platform.
We designed it for publishers, brands, and sports teams to engage their audiences with quizzes, polls, and other interactive content.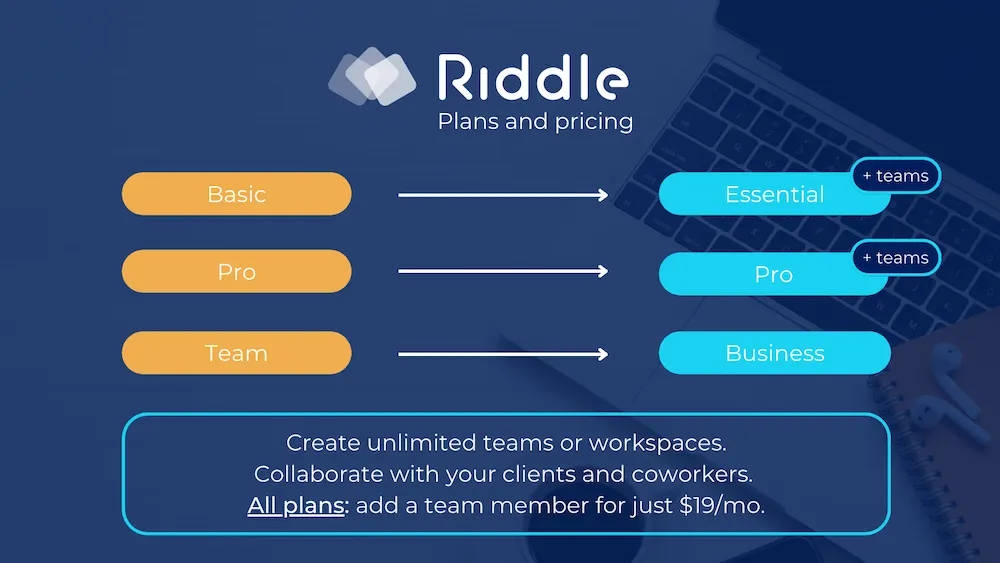 We changed our quiz maker plans from Basic / Pro / Team to three plans more aligned with this focus:
Essential – all of our content formats and 100+ customization options, with limited Riddle branding.
Pro – 100% white-labelled, all Riddle-branding is removed.
Business – full brand customization, with CSS editing, custom fonts, MP4 video uploads, and more.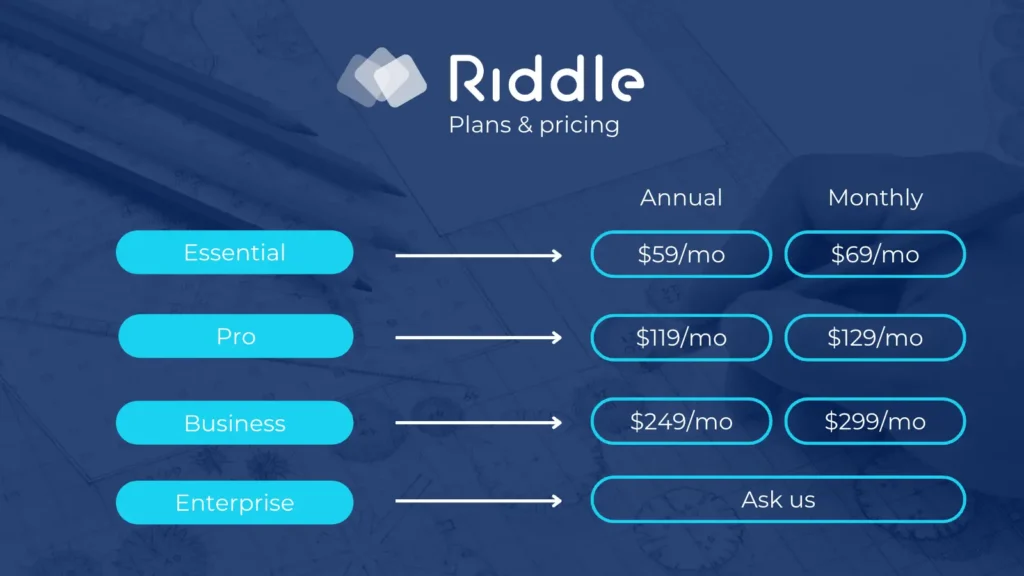 Unlimited free workspaces (teams) – Stay organized. Create content in separate workspaces – by project, department, or client.
Extra user licenses – want to collaborate with your colleagues or clients?

You can invite extra users for $19/month.
Users can belong to any number of teams for no extra cost.

Extra domains – all of our quiz maker plans let you easily embed your content on blogs or websites.

Essential lets you embed unlimited content on pages on a single domain (e.g. 'www.yoursite.com')
Need more domains for your other websites or clients?

Try our other plans – our Pro, Business, or Enterprise plans include more domains.

Need an extra domain but don't want to upgrade?

Individual domains can be added for just $39 a month.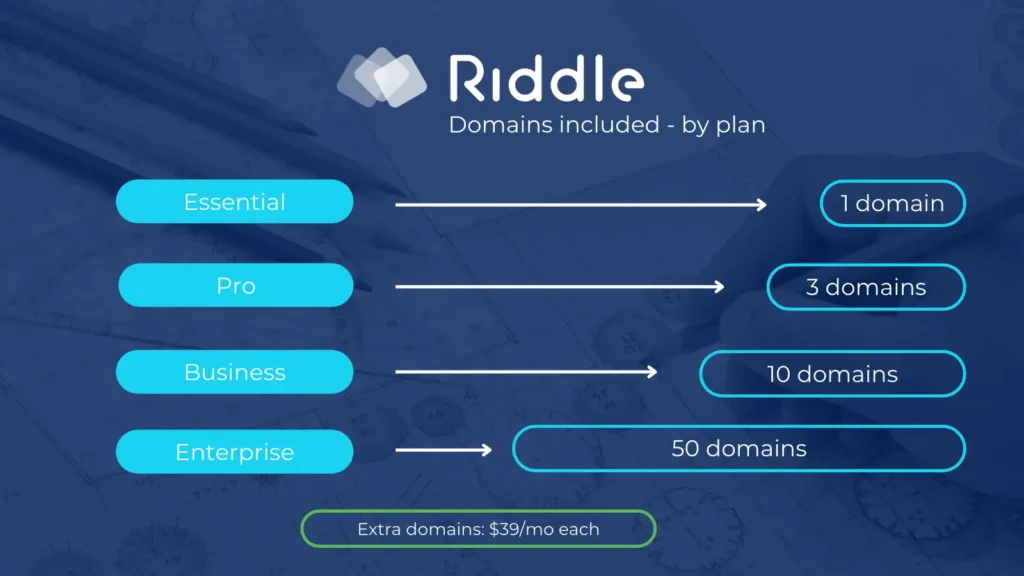 What happens to our existing customers' quiz maker plans?
If you're an existing Riddle (or Qzzr) customer, your plan will be migrated to these new quiz maker plans.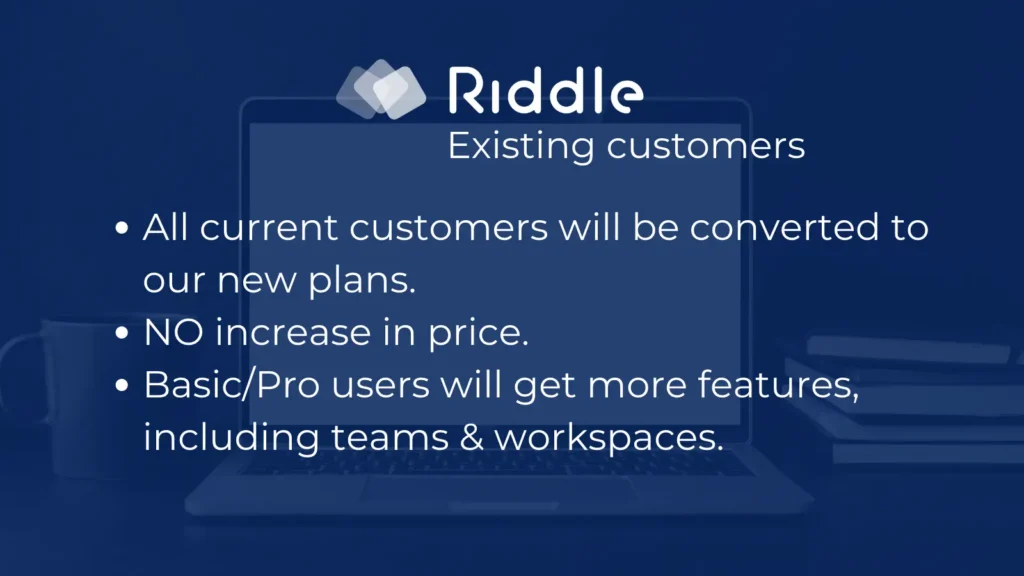 Don't worry – your pricing won't change.
In fact, if you're a current Riddle Basic or Pro user, you'll gain more functionality.
You'll be able to invite colleagues or clients to your account in all of our plans. Each user license you add will be $19/month.
Don't see what you need? Try Enterprise.
Larger organizations often need more flexibility than our standard quiz maker plans.
For them, we offer our our turn-key, full-support Enterprise option – with supporting Single Sign-On (SSO), custom documentation, media library integrations, and more.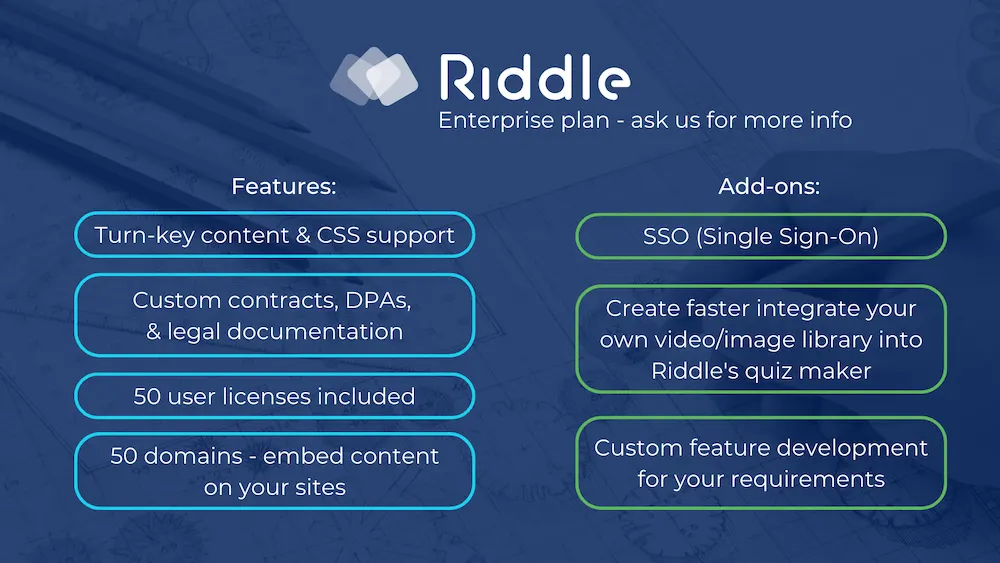 Turn-key content & CSS support: Our Team plan is a self-service option, including our CSS editor.

Don't have your own CSS coders? With Enterprise, we'll help you create a perfect look and feel to match your brand.

Custom InfoSec, contracts, DPAs, or other documentation: Team is priced 'as is'. But larger organizations often require vendors complete their own (very!) detailed documents. Enterprise is priced to include:

The review of any custom documentation and negotiation for suggested changes by our lawyers.
The time and effort for completing detailed requirements by our InfoSec and product teams.

50 users and 50 domains: You'll also get 50 user licenses with your plan, as well as the ability to embed your content in up to 50 of your domains.
Ask us on support chat for more info our Enterprise plan – we can arrange a quick call to discuss your unique requirements.
White labelling – which plan do I need?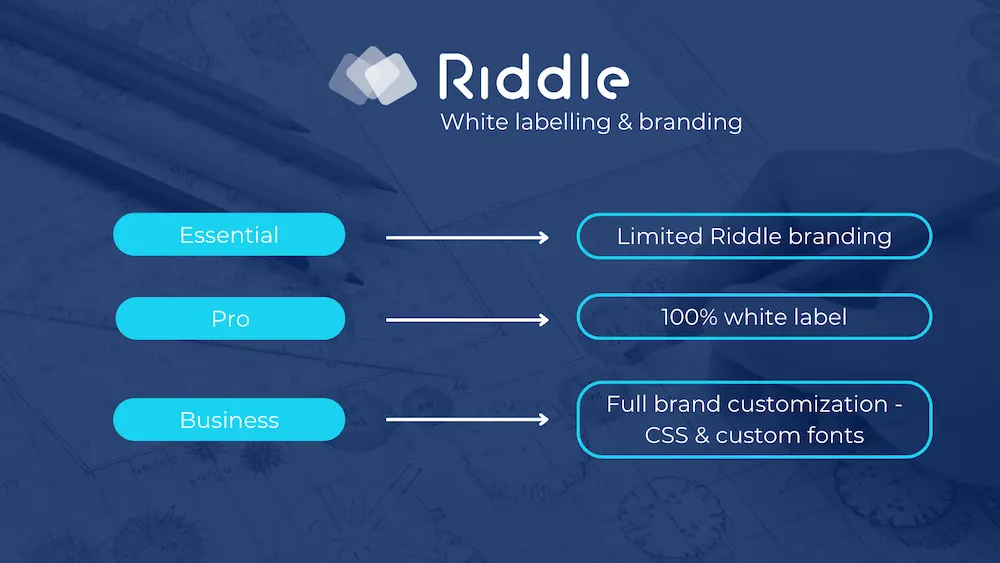 We get asked this a lot.
I want to create a white-labelled quiz for my site – which one of Riddle's quiz maker plans is right for me?
Essential (limited Riddle branding):
Add your own logo + we include a small text link to Riddle below your quiz.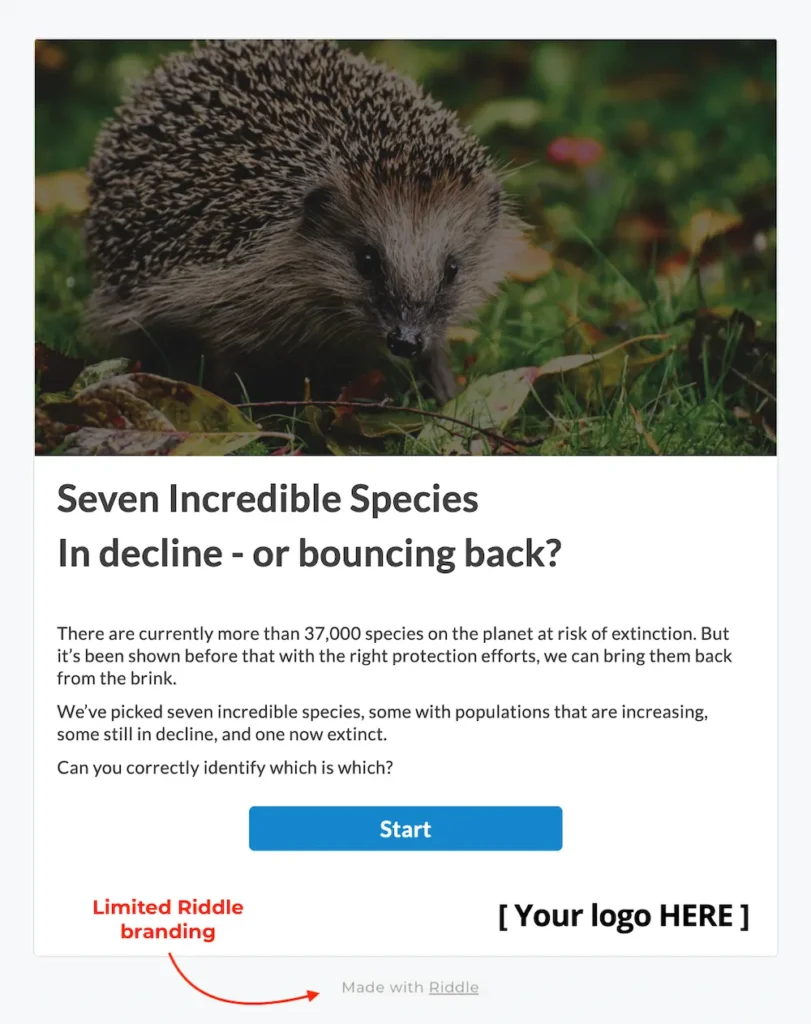 Pro: 100% white-labelled (no Riddle branding)
If you need a completely white-labelled option, check out Pro from our quiz maker plans.
You can add your logo – or hide the logo section altogether.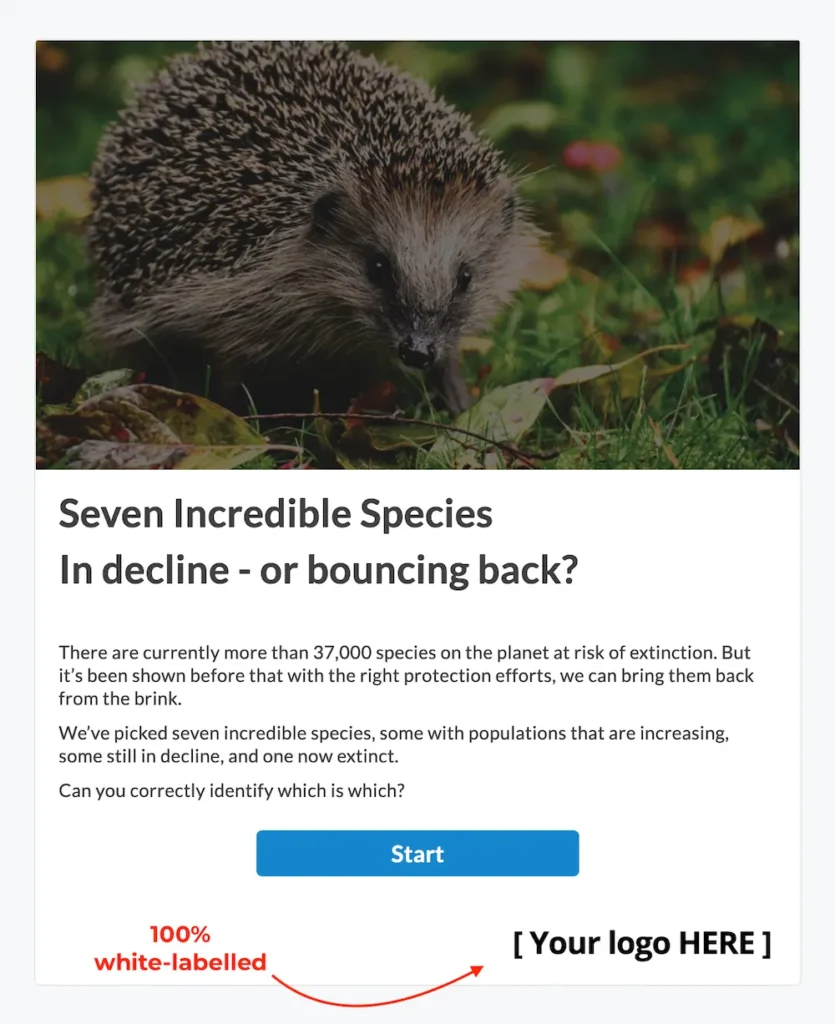 Business: full brand customization
Want full control over every aspect of your content's look and feel?
Try Business – it's 100% white-labelled, plus you can edit CSS & upload your own fonts to seamlessly match your brand's look and feel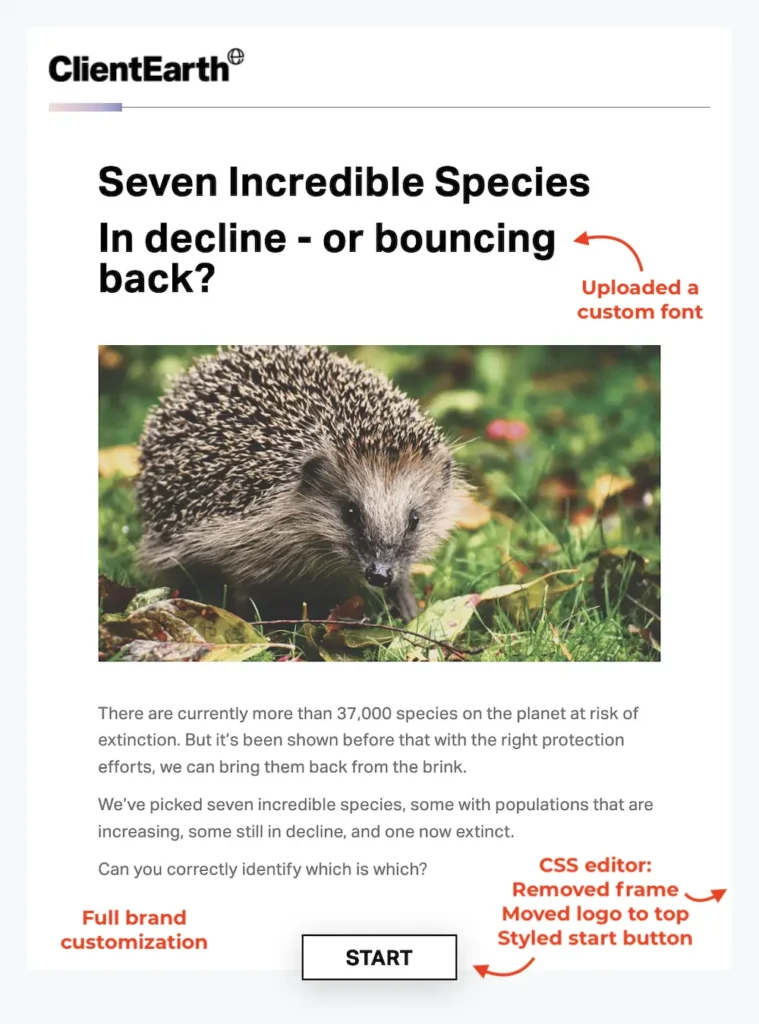 View our detailed quiz maker pricing and features
You can view our dedicated pricing page – it lists the key differences for each plan, so you can decide which best suits your use case.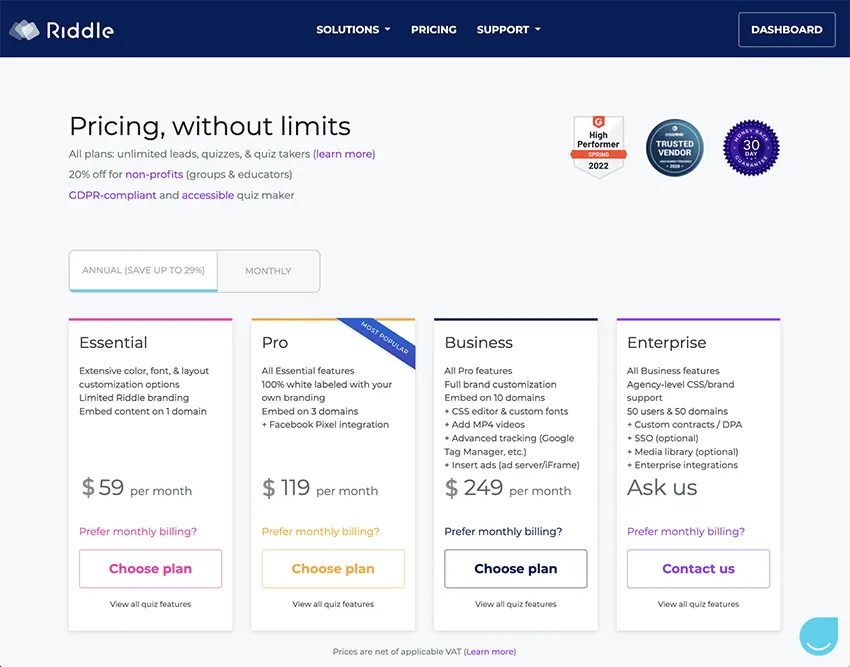 Any questions @ our new quiz maker plans?
We're pretty excited about these new quiz maker plans – it's the culmination of a big evolution in our online quiz maker's focus.
If you have any questions about which plan would best suit your needs, just let us know. You can email us (hello@riddle.com) or find us on support chat.
You'll get our founders or our product team – often in under two minutes.
We love being super responsive for our quiz creator community!