All of our new online quiz maker plans are multi-user.
Invite your colleagues and clients by email. Add project workspaces then create quizzes and interactive content together.
Key features: Multi-user features
Add unlimited numbers of projects – by client or by department – 'editorial', 'marketing', etc. All of our plans start with one user license but you can add unlimited additional users for $19 a month each.
Individual log-ins – everyone gets their own log-in, and can collaborate and create quizzes together.
Different access levels – control editing and publishing with three levels of permissions – admins, editors, and authors. Everyone can create, but only approved people can actually publish content.
Project style templates ('Palettes')– keep branding consistent. Save your own combinations of your custom fonts, CSS, and other styling. Apply with just a click – saving time and keeping your quizzes brand-consistent.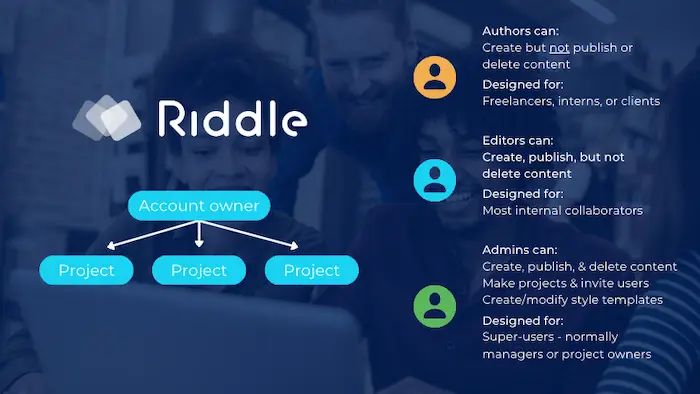 Is there a limit to the number of projects?
Riddle is a powerful collaborative quiz maker – you can create any number of projects.
We've seen publishers set up projects by:
Function – editorial, marketing, etc.
Client – quizzes for client A, B, C
Division or sites – site A, B, C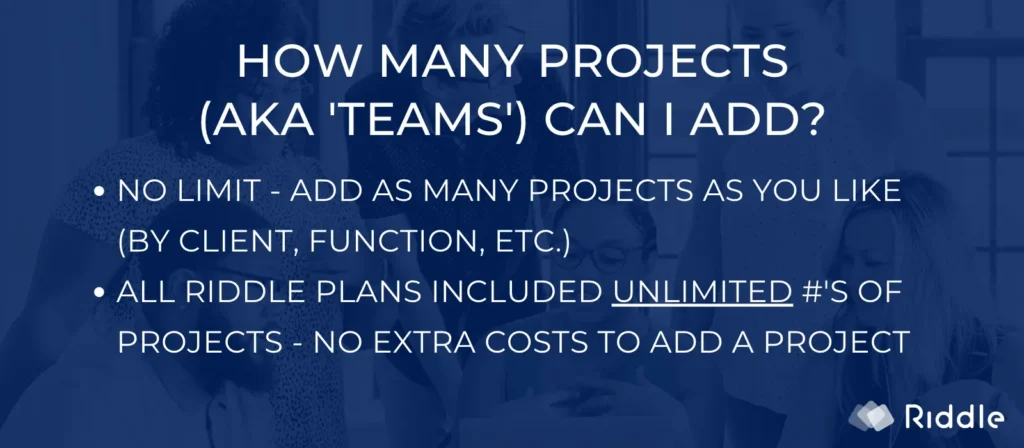 Our multi-user 'Projects' feature is great for publishers, brands, and agencies – you can set up a separate team workspace for each department or client.
The account owner can then view all projects – and they can invite colleagues to any (or all) projects.
Only people invited to a workspace can view it – everyone else will be limited to their own workspace.
Invite the right people to each project – and let their creativity run wild.
How to add a new project/team to your account?
Simply click on the top right menu
Then 'Create project' (Projects used to be called 'teams'.)
Name your project, then invite your colleagues (you can see the details about the admin/editor/author access levels here)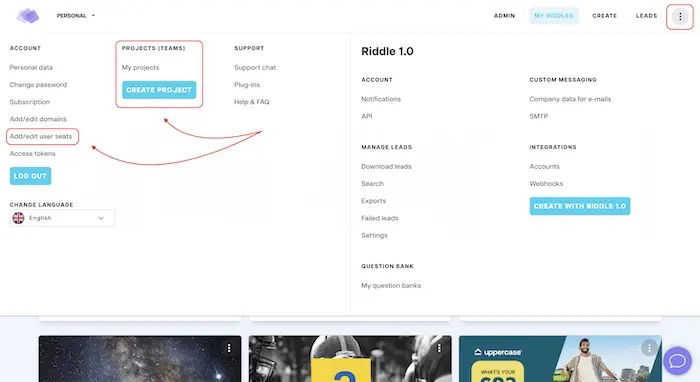 How many people can I invite?
There is no limit. We have global publishers using Riddle, each with hundreds of user licenses.
Simple invite the people you want to collaborate with – each user license is just $19 a month.
To purchase additional licenses, you need to be logged in as the account owner (the person who purchased the initial Riddle license).
How (& when) will I be charged for extra user seats?
We'll immediately invoice you whenever you add new user seats:
If you add additional team members, you'll be charged a prorated amount for the remaining time in your billing cycle.
If you remove team members, the change will be reflected in your next invoice when your monthly or annual subscription renews.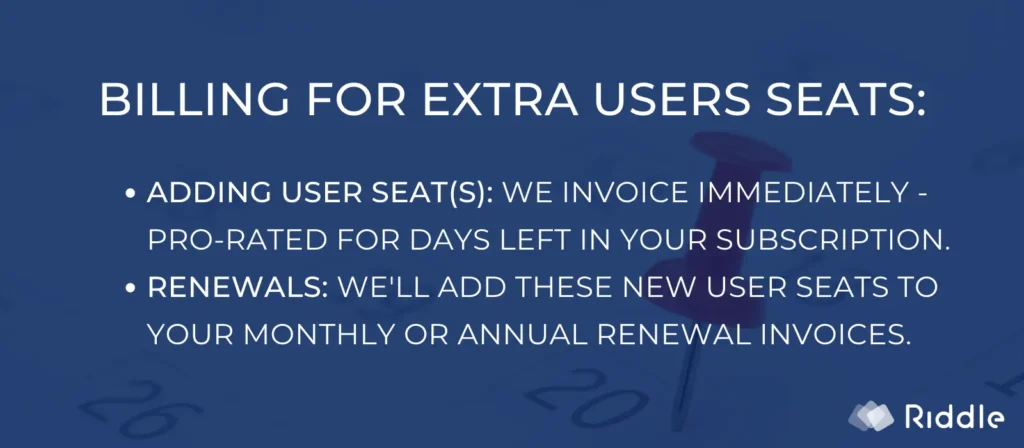 Monthly users: We'll invoice you every month.
Annual users: We'll invoice you for the cost of your user seat(s) for the entire year.
Example: annual billing for user seats
Let's what through an example for an annual subscriber who adds user seats in the middle of the year.
Imagine your annual subscription renews on July 1st.
On February 1st, you have 10 users.
You'd like to add Bob to one of your projects/teams.
You add a user seat (new total = 11 users) – then add Bob as a member of a project.
You have 150 days left in your account (five months)
We would bill you 19 x 12 months x 150/365 = 93.69 (representing the pro-rated remainder of your annual subscription)
On July 1st (your subscription renewal date) and going forward, we would bill you:
Your annual subscription
1 user seat x 19 x 12 = 228
Any questions about Riddle's multi-user feature & user seats?
Hope that helps – but any questions about adding or managing user seats or inviting team members, please let us know on support chat.
We'd be happy (and fast!) to look at your account and walk through things with you.