At Riddle, we believe it should be easy to customize your quiz fonts so any interactive content you make blends seamlessly into your site's look and feel.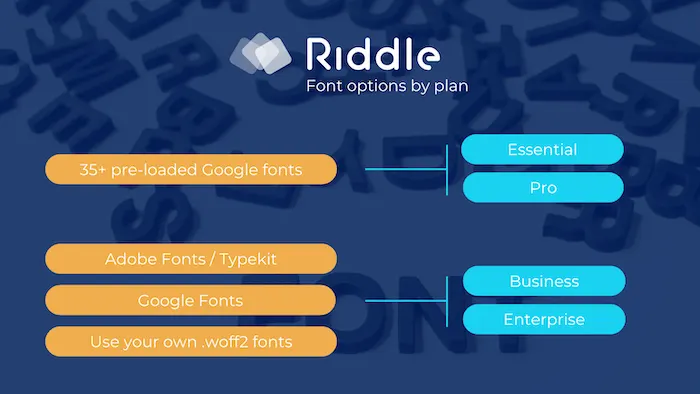 That's why we give you lots of options to find the perfect quiz fonts – including Google Fonts, Adobe TypeKit (now called Adobe Fonts), and more.
Riddle 1.0: customize your quiz fonts
If you're still creating or editing quizzes with our original quiz builder, you can upload your fonts as well.
We've included the steps and a walkthrough video below.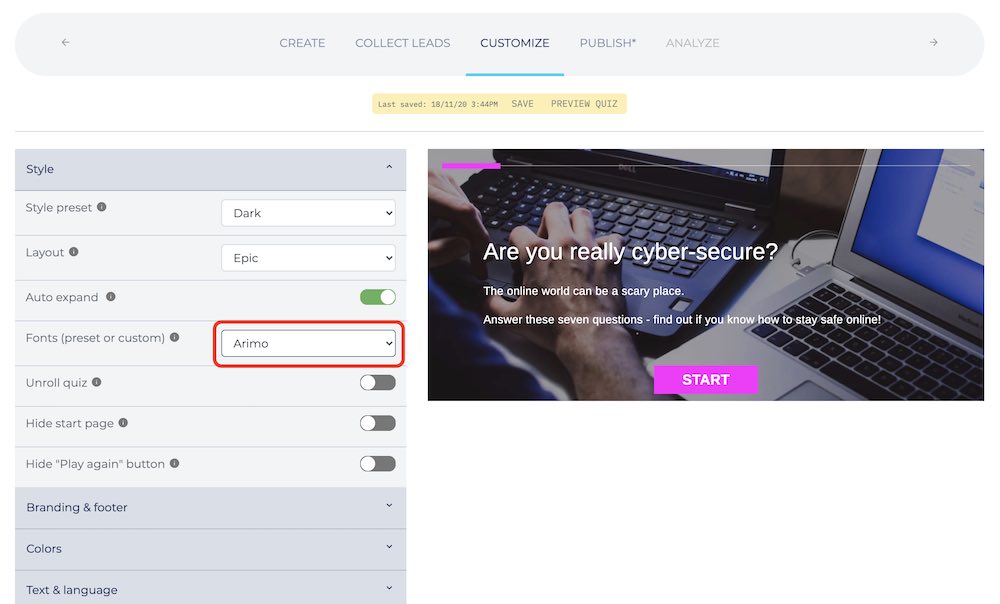 Choose from 35 quiz fonts (all plans)
Create or edit your quiz
Click on the 'Customize' step
In the 'Style' tab, select the 'Font' option – and choose any of our 35 fonts for your quiz.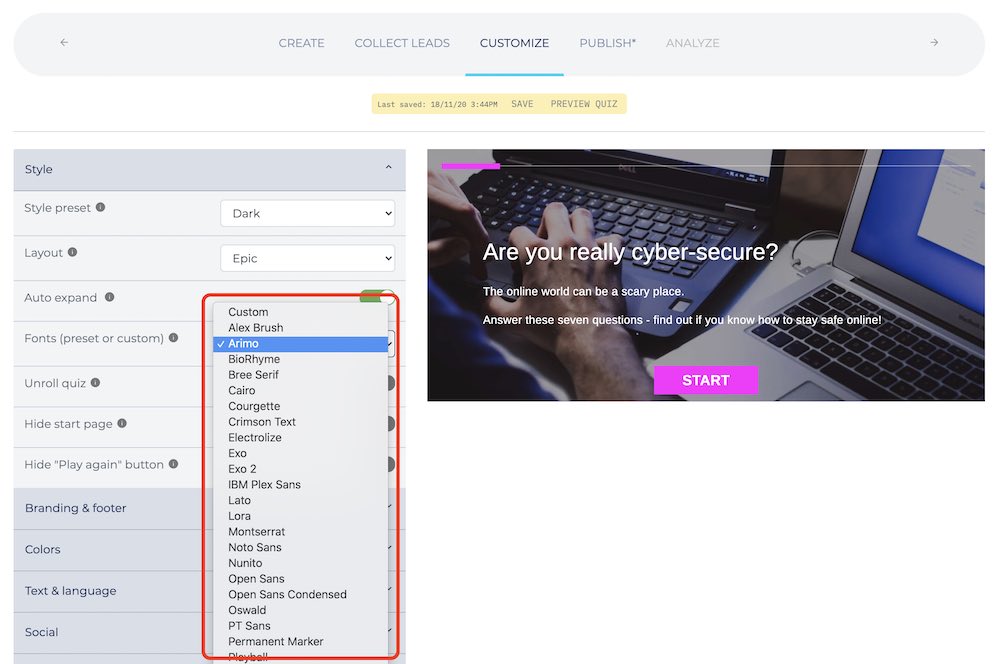 Are you concerned about data privacy – such as the EU's GDPR?
So are we.
We use Google's fonts – but self-host them on our servers. That means your quizzes won't include any tracker from Google (learn more about our GDPR-compliant online quiz maker).
Custom quiz fonts (Business/Enterprise plans):
Want to use your own quiz fonts? As part of our Team plan, you can use any font – to perfectly match your site's styling.
Choose from Adobe TypeKit, Google Fonts, or your own private font. Click here to read our blog post about custom fonts.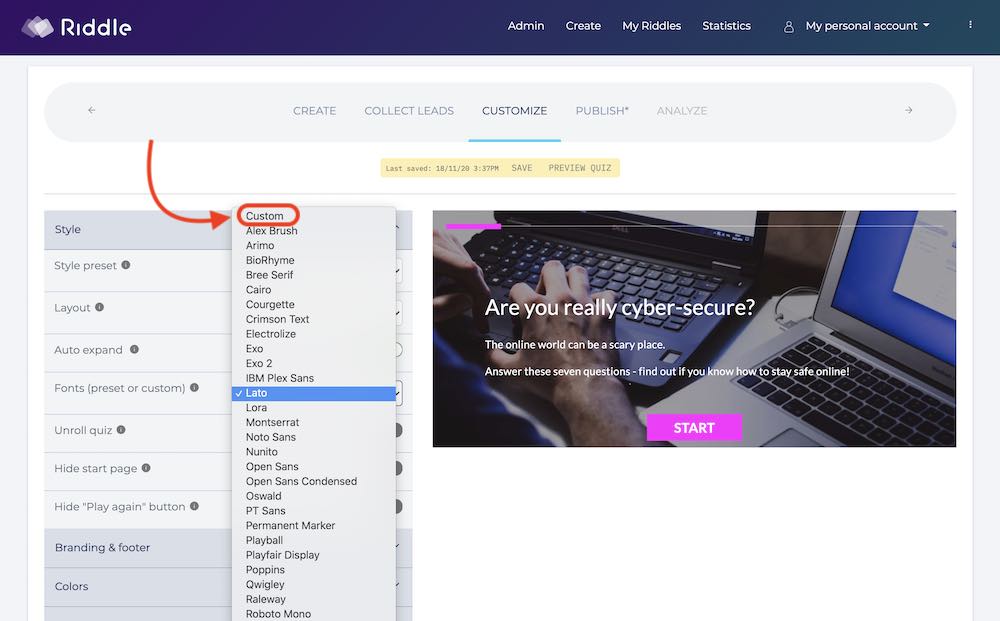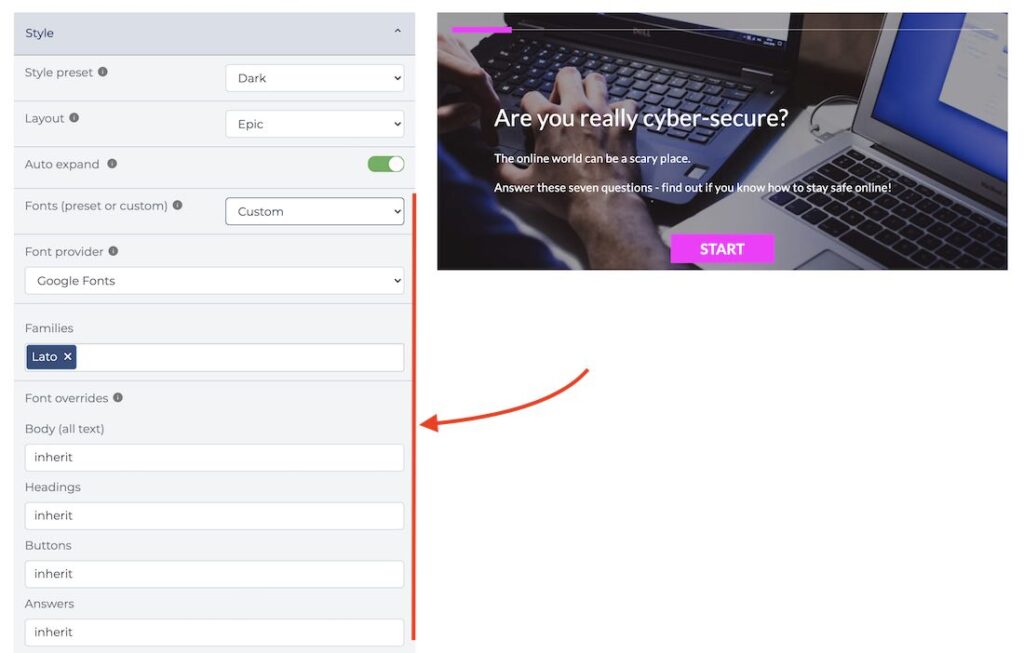 We just updated our Google Font feature as well – you used to have to go to Google Fonts and find the right name for your font.
Now, it's much easier – just click Google Fonts under the 'Font provider' options, then click 'Families' to choose your font from the dropdown list. Easy-peasy.
Video overview: choosing quiz fonts with Riddle 1.0
Want a quick video rundown about all the options about quiz fonts with our online quiz creator?
Our co-founder Mike whipped up this quick walkthrough of Riddle 1.0 to help out:
*********************
Video transcript
(We try to always add transcripts of our help videos. They help the members of our quiz maker community who might be using screen readers or text-to-speech devices. After all, we designed Riddle as an accessible online quiz creator – it's only fair that our blog is accessible as well.)
Hi there, my name is Mike and I'm one of the co-founders here at Riddle.
In this quick help video, I'm going to show you how you can customize your online quiz fonts with Riddle's quiz maker. It's super easy. What you want to do is once you have created your online quiz, personality test or poll, you'll go to the customize step.
Now, there are two ways to do it. One way is to use our selection of, I think, 30 or so standard fonts. They work for most users and this will work for our Basic or Pro quiz maker plans.
However, if you just need that extra bit of customization, you can also select our custom quiz fonts option. And in that case, we give you loads of choices.
You can use Adobe Typekit, Google Fonts, Fontdeck, Fonts.com, and you can also just upload your own font. In this case, you could send the WOFF2 font to us. Just let us know on support and we'll just upload it to our server and then give you a custom URL.
The best part about this method? Your font will live on Riddle's servers and being served in Riddle's quizzes. A lot of browsers like that a bit better for security reasons.
However, the Adobe Typekit and the other options work really well as well. You just link to the various quiz fonts.
You can see here we have lots of different options, and in this blog post, you can find out really specific details on how to do that.
OK? Any questions on how to change your fonts?
Please let us know. You can use our support chat down here.
(And if you've heard any of these help videos that I've done, you'll know that I'm going to say this.)
We are super fast to respond. And we everyone from our CEO Boris on down, we all race each other to respond. And that means you'll get an answer in under two minutes.
All right. That's quiz fonts with Riddle. Any questions? Just let us know. Thanks so much!