We're pretty proud of our 'unlimited' pricing model – all of our plans (Basic, Pro, and Team) include:
Unlimited quizzes – create as many riddles as you like.
Unlimited leads – collect as many emails and quiz responses as you want.
Unlimited views – no caps on how many people take, share, and enjoy your quizzes, polls, or surveys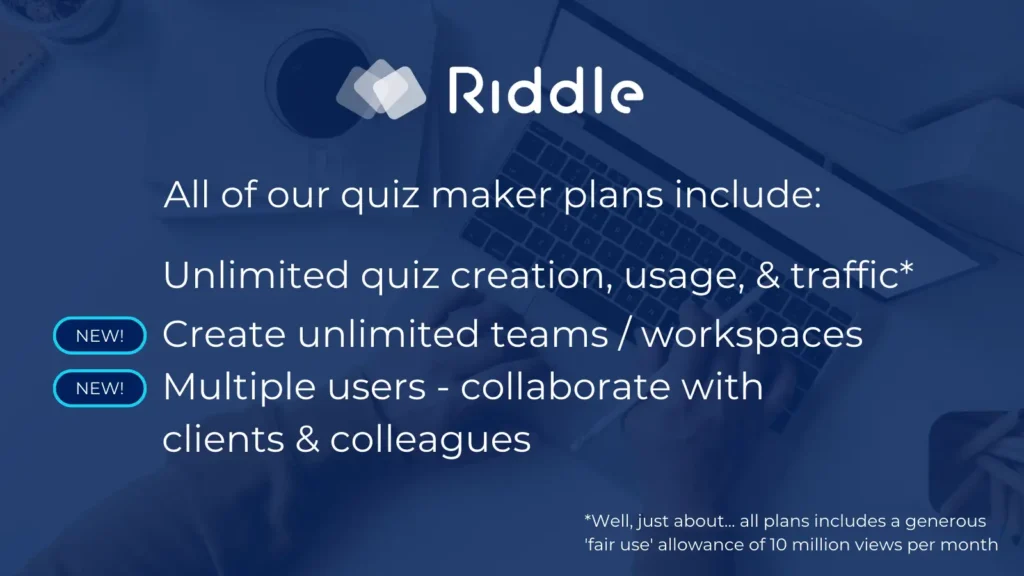 Seriously – the only small print is that we have a limit of 10 million (yup, that's ten million) views per month.
That's a LOT of traffic; only 0.23% of our customers ever get close.
And we know anyone can have a surprise viral hit – so the first time around, we'll just contact you and give you a heads up.
And the next time, we'd just ask you to help cover our server costs for all that traffic – at $125 for each additional group of 10 million views.
Need a custom contract, data processing agreement, or storage solution?
But no matter how generous our plans are, we know that brands or publishers can have their own special requirements.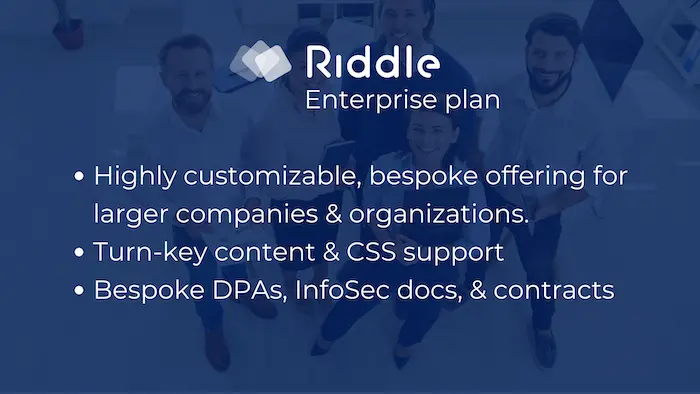 Our Team plan is an 'as is' product – our pricing model and business processes are built around self-service, automated payments (credit card, PayPal, invoicing).
Who should choose Riddle's Enterprise plan?
If you require any sort of special features, contracts, or other changes, you'll need to use our Enterprise plan.
Single sign-on (SSO) – we can integrate your SSO system into Riddle, so your quiz creators won't need to create an additional log-in and password.
Integrating your video or image library – our devs can add an option to add video, images, and other assets directly from your media servers.
Custom contract – We've been around since 2014, and our standard agreement has been used 'as is' by many of the biggest brands on the planet. We're happy to look at very minor changes – but for anything major, we'll need to get our lawyers involved.
Special data storage or InfoSec documentation – Riddle is a fully GDPR-compliant quiz maker.

All our data is stored on our own EU-based servers (no cloud-based storage) in Germany and Luxembourg.
General GDPR & data security overview: we've created this overview @ Riddle's information security set up, including the most common questions we get from InfoSec and data privacy teams.
However, if you need something unique – please talk to us about our custom data solutions.

Custom data processing agreement (DPA) – Just like our contract, our standard DPA works for almost every company. Needs to use your company's DPA or require substantial changes to ours? We'll need to get our own legal folks involved.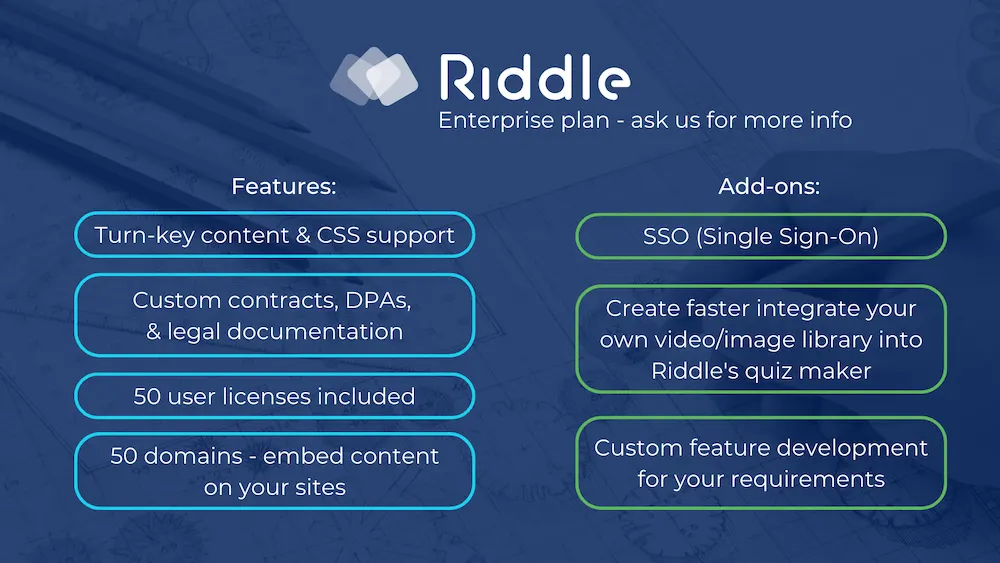 What's included with Enterprise?
Your plan will include:
50 user licenses for colleagues or clients
Embed riddles on 50 of your domains
Custom documentation – such as InfoSec, legal, or contracts
Turn-key content creation & advanced CSS support:

Our CSS editor is a powerful tool for customizing virtually any aspect of your riddles.
In Riddle's Team plan, the CSS editor is self-service – you'll need to change the CSS yourself.
With Enterprise, our CSS gurus work for you. We'll create the CSS to give your riddles a perfect look/feel to match your brand.
Additional options & add-ons
You can also choose to customize your Enterprise plan, based on your organization's unique requirements.
Single sign-on (SSO) – InfoSec teams love this; we'll work to integrate your SSO system so your users can securely use their corporate log-in with Riddle.
Integrating your video or image library – want to use your own images, videos, or other assets directly in Riddle? We'll link your media server into Riddle, letting your creators seamlessly access and use your company's assets with just a click.
Custom feature development – need a new type of quiz or other content? Or, maybe you want to send your quiz takers' data directly to your data warehouse.
Any questions about our Enterprise or other pricing plans?
We're always happy to help – just ask us on support chat.
(We're fast – really fast – to respond; you'll get our entire product team and founders answering in under two minutes.)
Just talk to us if you need a more tailored solution – we have a proven track record of adapting to our clients' requirements..
*