12
min read
Quiz titles are the key to a successful quiz marketing funnel. Think of your quiz title like the cover of a book. The right title can catch your audience's attention and inspire (or challenge) them to learn more.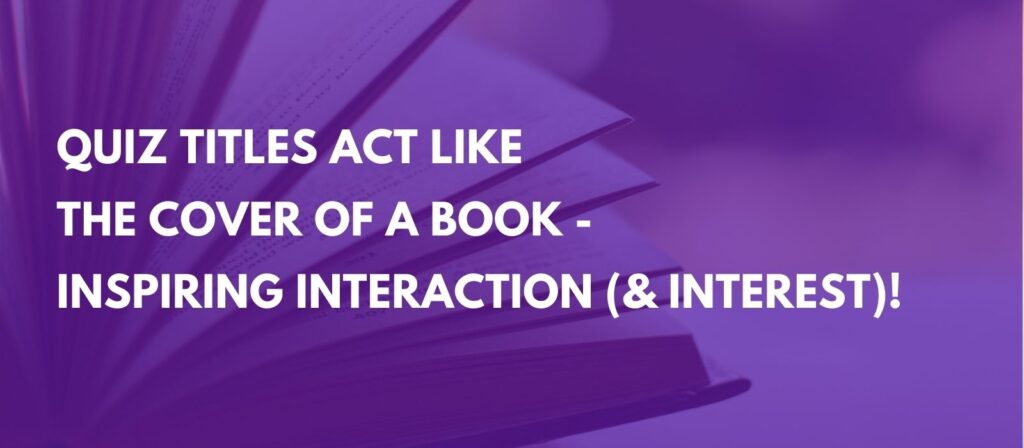 But what quiz titles work the best?
We'll share 143 of our favorite quiz titles (click to jump ahead to this section), as well as the secrets behind the most successful quiz titles – from length, to style and tone.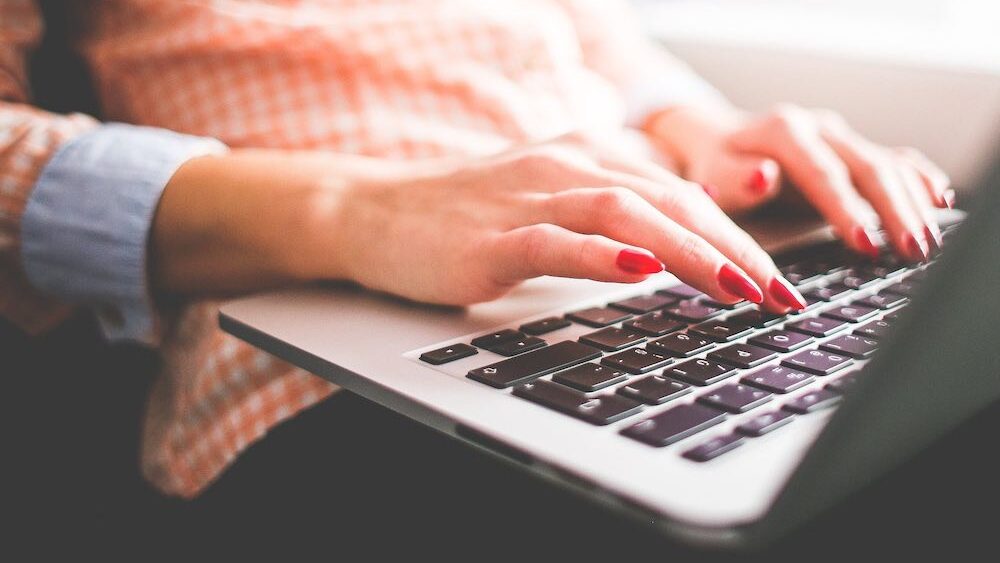 Plus, we'll dive deeper and explain how quiz titles work behind the 17 most common types of quizzes – from personality tests to product recommendations and trivia quizzes.
And we'll also share our favorite our tips and best practices for your quiz – that will turn an average quiz into an unstoppable lead generation magnet.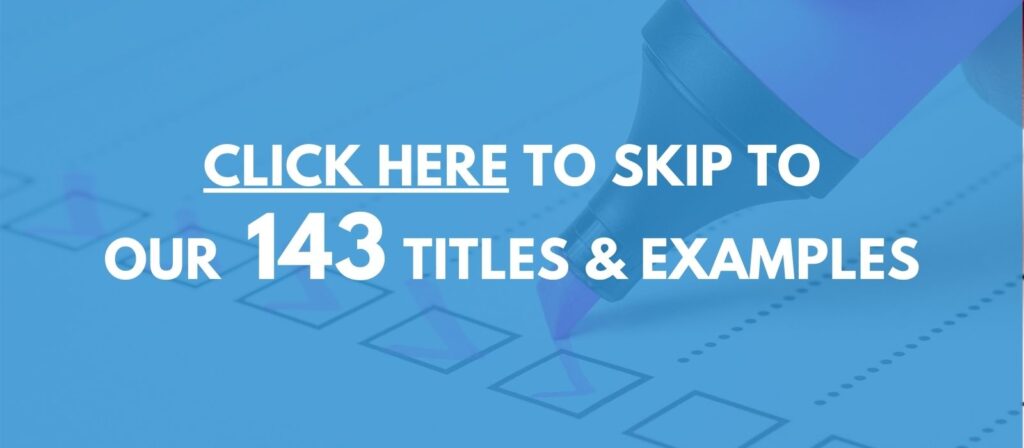 Types of Quiz Titles
It's amazing to us – the quiz title is probably the most important of your quiz. Seriously… the most important.
And most folks seem to just use the first title idea they have – and then publish their quiz.
That's a mistake.
Here's our handy guideline:
Take as much time on your title as you do creating your quiz.
We wrote a whole blog post about crafting the perfect quiz title, but here are the highlights.
Embrace the power of "YOU" or "YOUR": Personalize your quiz title by adding these two words and get up to a 50% improvement in start rates. We've seen quizzes like "What's your IQ?", "How much do you actually know about <any topic>?" outperform more boring titles like "Take the IQ test".
Odd numbers are better than even: We don't why this is true, but it works… quiz titles that include odd numbers (5, 7, 9, etc) get up to 20% more quiz engagements.

"7 Star Wars questions you can't answer"
"9 questions to find your dream career"

Provoke and challenge your quiz takers: We love this one. Simply adding 'actually' or other challenging words get 47% more clicks:

Bland: "What job should you do?"
Bold!: "What job should you actually do?" (See the difference?)

Keep quiz titles short: Short titles perform better – research shows that the sweet spot is eight words (around 60 characters); they have a 21% higher click-through rate. It makes sense – punchy titles are easier to read and catch readers' attention, especially on smartphones.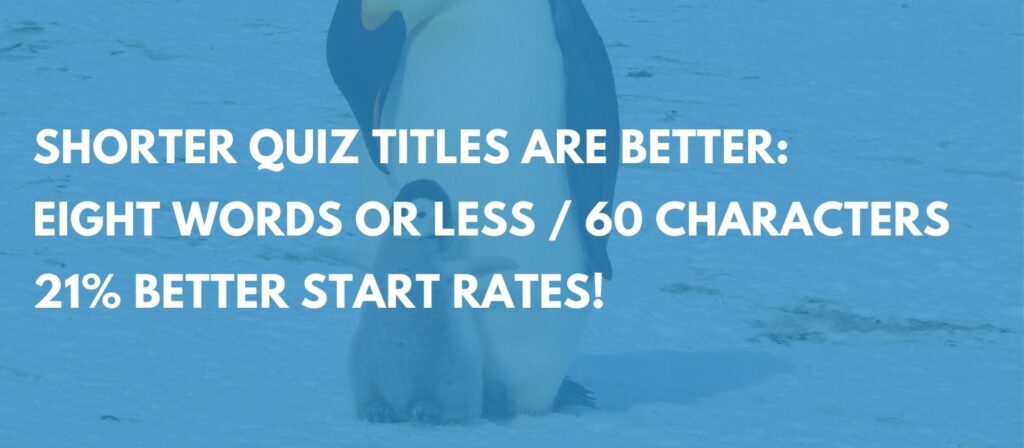 Resources for crafting killer quiz titles
The good news is that are a number of really good (and free!) tools out there to help you automatically analyze your quiz titles.
Here are some of our favorites:
Emotional Marketing Value analyzer: this free tool from the Advanced Marketing institute rocks. Just copy and paste your quiz title – and it gives you a score about how compelling it is.

BTW, we tested our bland vs. bold quiz titles –

see the improvement one word makes

?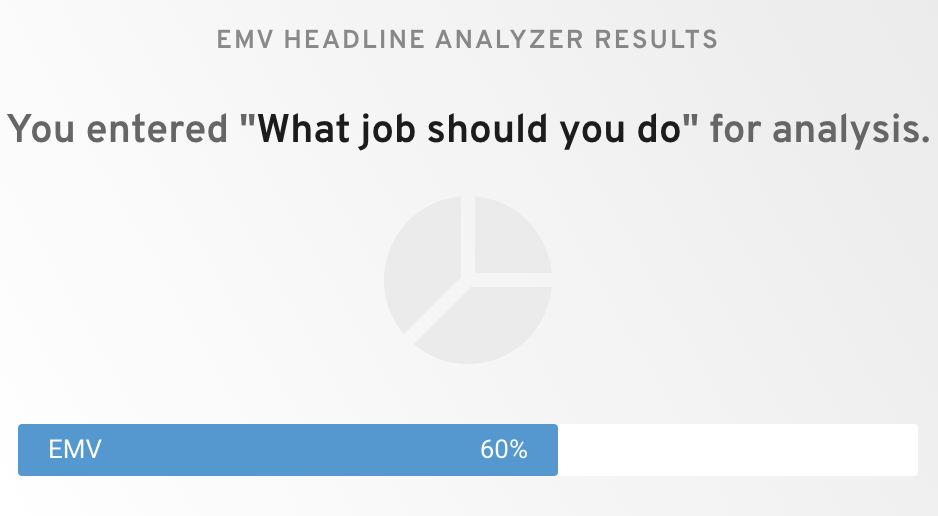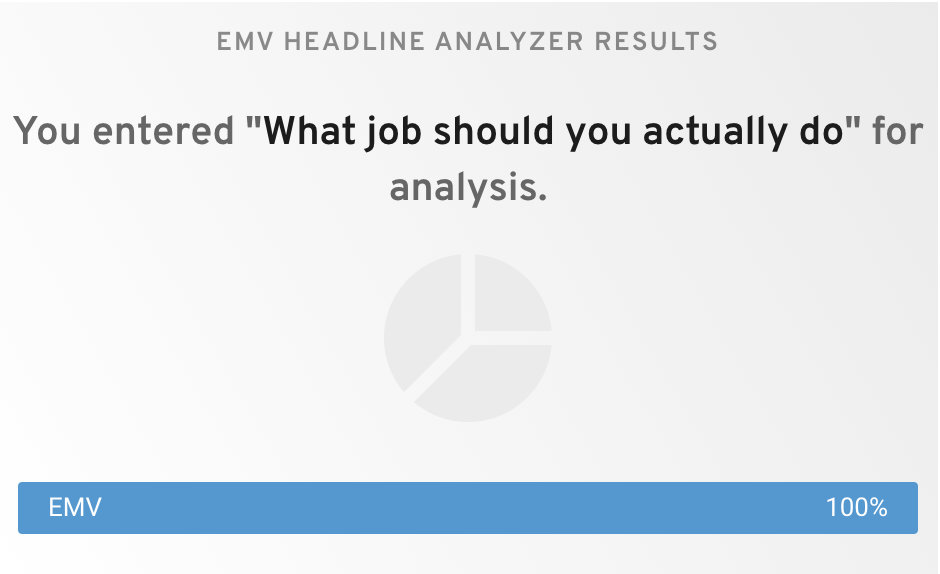 What are the different types of quizzes?
We all tend to use 'quiz' as a catchall term – generally to describe online interactive formats with questions (and answers). But that's just the start – these days, there's a wide range of quiz types, each designed for its own set of use cases.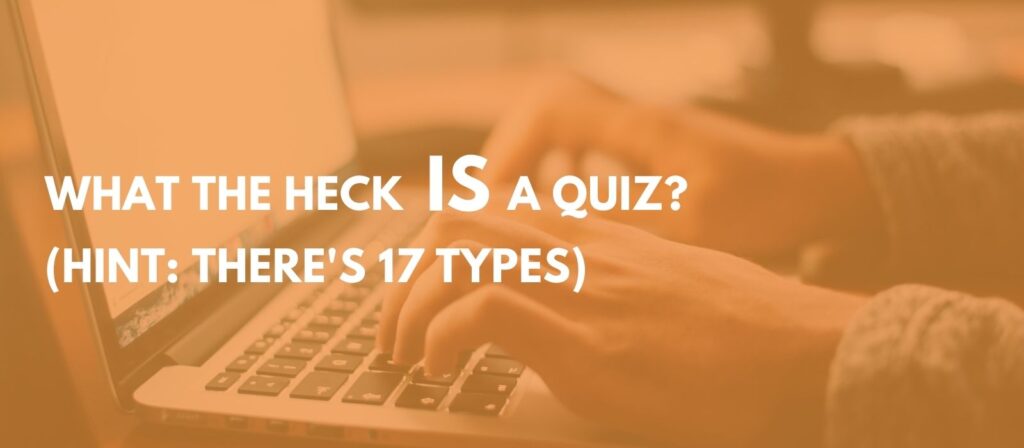 Which works best? They all do – each in their own way.
Think of different quiz formats like different types of music. There's no 'one' best music, right?
Some are good for studying, others for quiet chats with a cocktail, while still others (helloooo AC/DC!) can't be beat for getting people fired up.
Personality tests
Personality tests are probably the most famous quiz type for marketers, inspired by Buzzfeed and thousands of 'What type of X are you?' quizzes.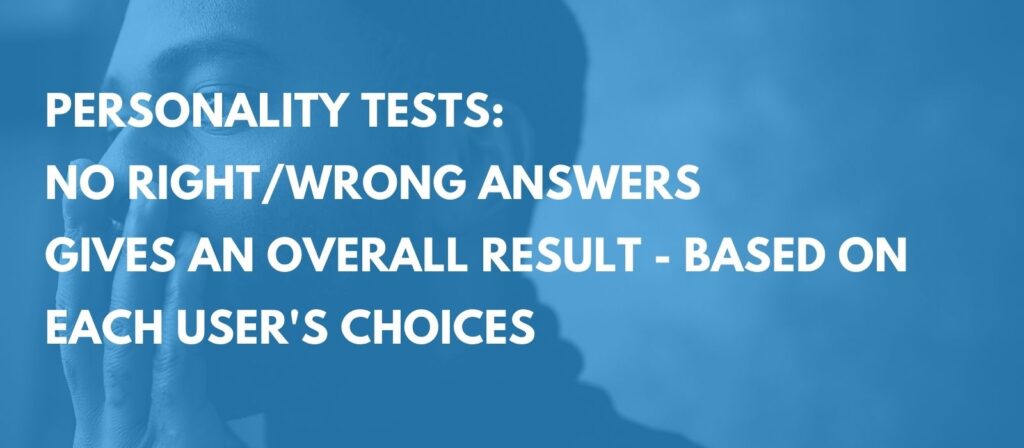 They don't have right or wrong answers – instead, personality tests use flexible, subtle scoring to assign points based on each answer. The user then gets an overall result – based on how they answered all the questions.
Our team of quiz experts wrote a fairly geeky post about creating your own personality test – including how to set up scoring and different result types.
We recommend personality tests for lead magnets – they're irresistible for users, who love discovering new things about themselves. They typically convert at 35-45% (Riddle user Merilyn Beretta got a stunning 68%), plus you can convert more leads with personalized follow ups based around their results.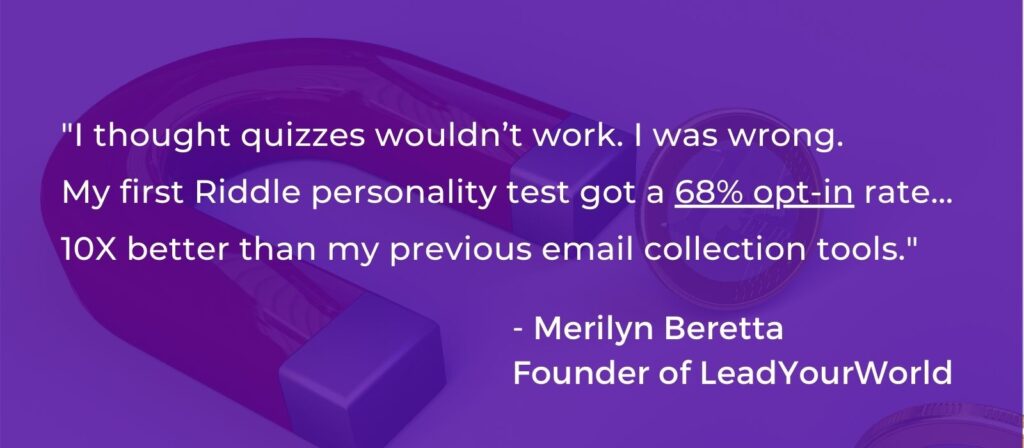 Personality test use cases
Product recommendations: We've seen many brands and businesses use personality tests for this – after they answer your questions, you can recommend the product(s) that best match their needs. This quiz type works especially well when you give each user a targeted discount ("Save 25% on product X") with our call to action buttons.
Therapists: More and more counsellors are moving their practices online, and using personality tests to find their potential clients. Quizzes like "Are you really suffering from anxiety?" or "Why is my partner driving me crazy?" are great at catching people's attention.
Not ever quiz taker will be a client – smart therapists use personality tests to filter out people who don't need their services, and only send follow up emails to the best matches.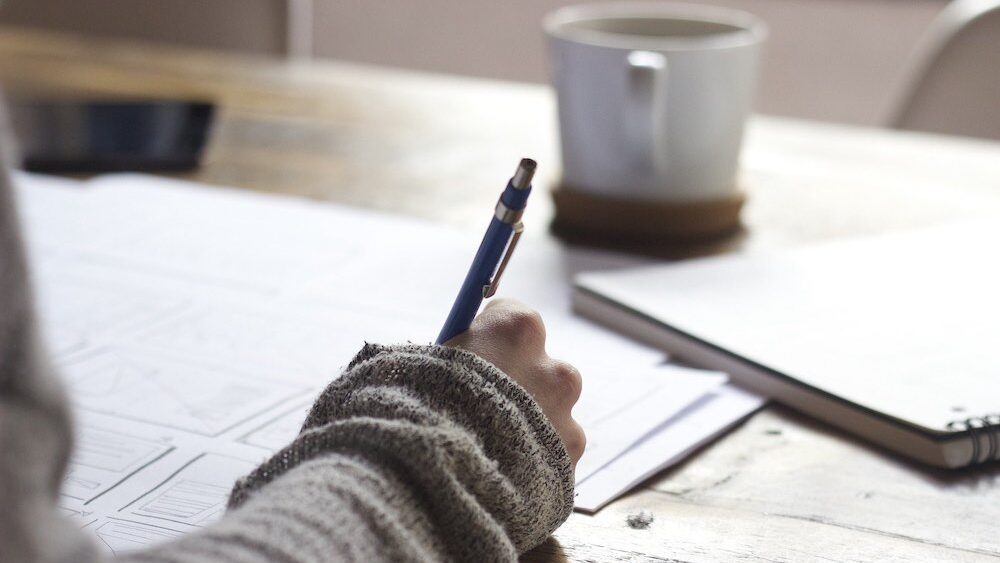 Career or life coaches: This is a similar use case – coaches will craft personality tests that explore each user's career and life goals. They can focus on the best matches – but also use their personality test responses to guide their initial consultations or sessions.
Health assessment: Another popular option, personality tests are ideal for health-related questions – they can work almost like a symptom checker (e.g. "Am I depressed?" or "How healthy am I… really?".
Health quizzes are a good example where it's okay to ignore our '6-10 question' best practice. People who engage with your quiz will be keenly interested to discover their health result – so you can ask up to 25-35 questions with no drop-off in completion rates.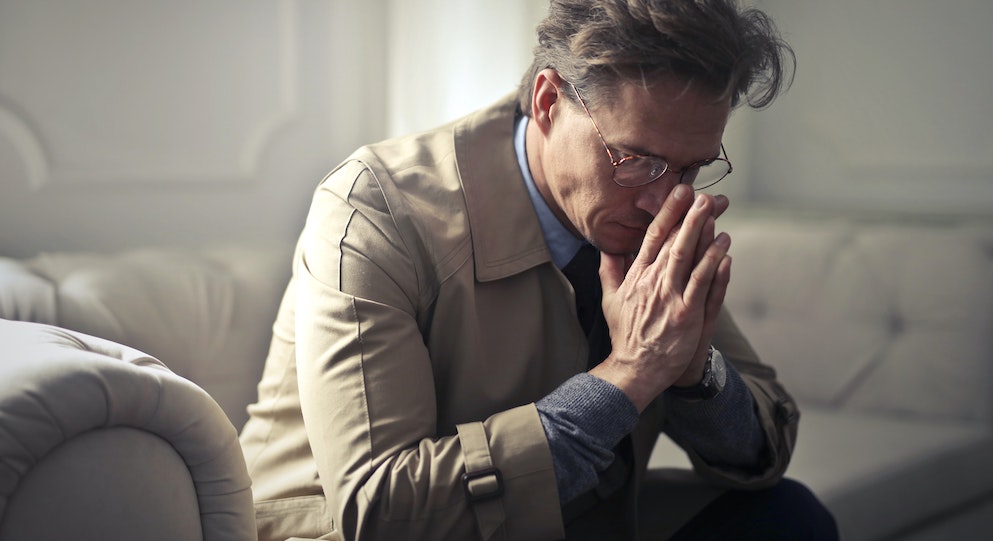 Pop culture / entertainment: Changing gear a bit, never underestimate the power of a personality test for light, fun entertainment. This is how Buzzfeed made their mark asking things like "What Friends character are you?".
We love their work, but their software is 100% consumer-focused, so Buzzfeed isn't designed for marketers.
Politics: What's more personal than your political beliefs? We've seen a number of political parties and news organizations leverage personality tests around use cases like "Who should you vote for?" or "What party really matches your beliefs?"
Education/colleges: Another interesting vertical, personality tests have helped schools guide and assess their students. For example, Aston University used their 'What master's course is right for you?' quiz to suggest the right program tailored for each quiz taker's individual interests.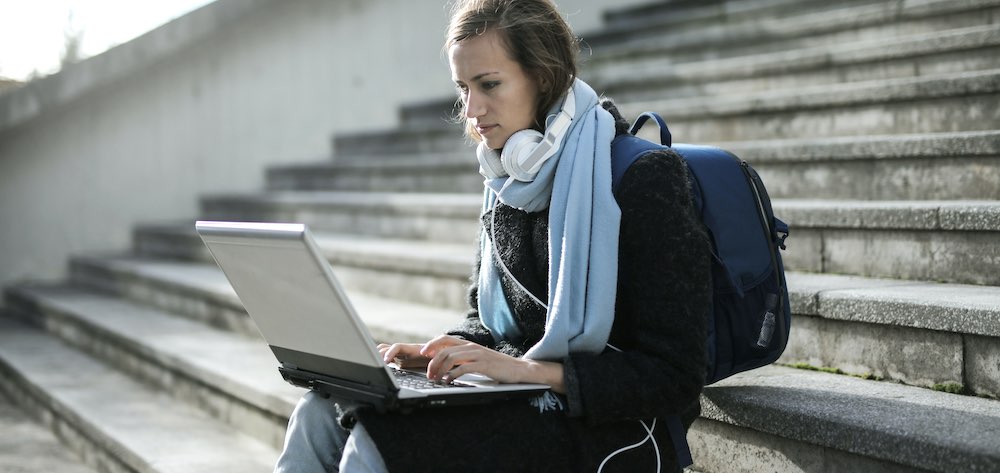 Quizzes
The main difference between a personality test and a quiz?
Quizzes ask questions with right or wrong answers – and give each user a score based on how well they did.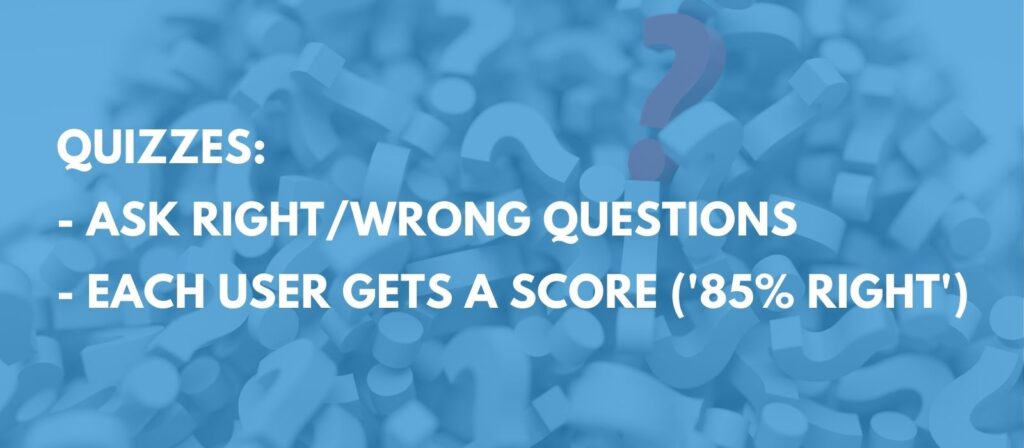 Of course, there are lots of ways you can take this concept – let's dive into some of the most popular variants and use cases.
Trivia or IQ quiz: The classic 'how much do you know?' quiz, these types of quizzes can be used for almost any subject, and feature multiple choice and free text entry questions (often with a quiz timer). You can check these out with our quizzes 'Are you really cyber-secure?' (I.T.) and 'San Francisco: are you a local or tourist?' (tourism).
True/false quiz: This is a close cousin to the trivia contest, but with just two answer choices (you guess it – true/false). The simplicity of the concept is irresistible to users – plus lends itself to rapid-fire quizzes, with more (but shorter) questions.
Assessment/class quiz: Teachers love using quizzes – but marketers can use them as well. You can ask a series of questions to test the user's knowledge and show them the right answer explanation. Then post-quiz, you can send follow up messages based on their level.
We love how the marketing folks at the UK College of English use their "What English level are you?" quiz as a top of funnel lead magnet – to assess potential students and guide them to the right course.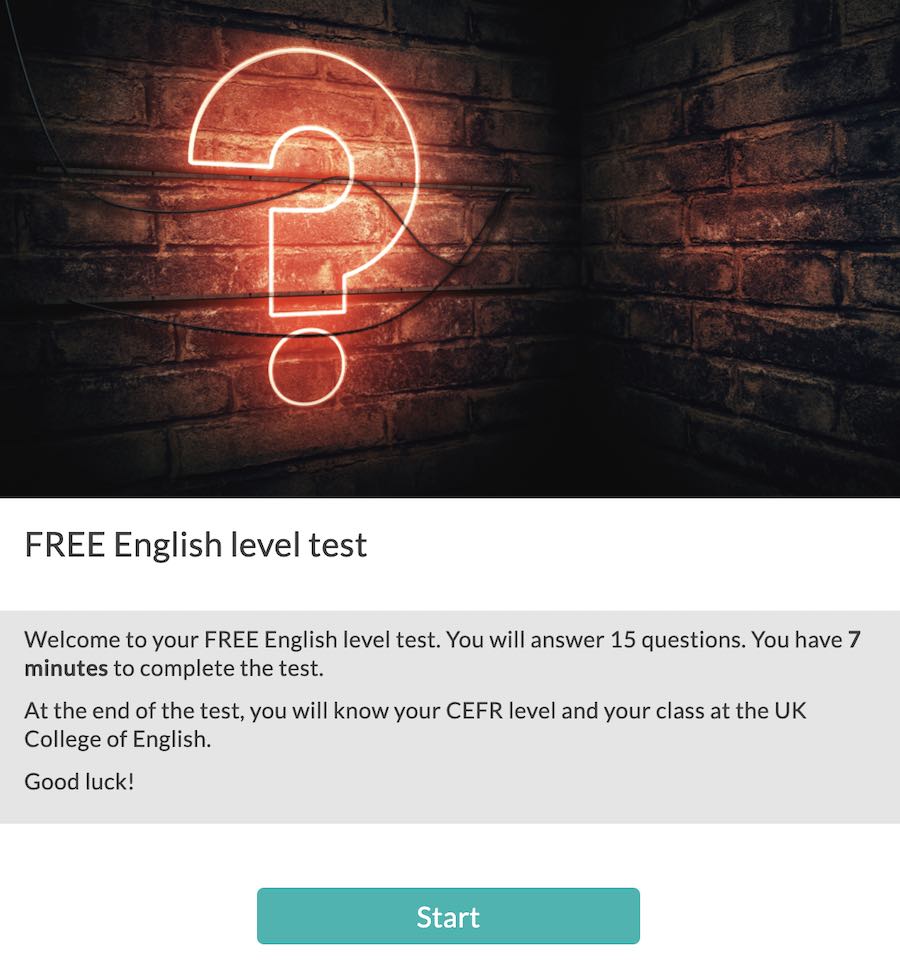 Order it quiz: Sometimes, you want to challenge your audience with sequence-type questions. It could be something like 'Arrange the Star Wars movies by release date' or 'What are the steps for CPR?' (clear airway > tilt head > then give breaths).
An order it quiz is an interesting alternative to the classic multiple choice quiz format – we highly recommend adding it to your quiz tool kit.
Tap and find quiz: Sure, asking quiz questions with answer buttons are great – but there are times where the answers are IN the image. Try a tap and find quiz when you want to have your quiz takers tap and find the correct answers (hence the name) in each question image. Far more interactive than a classic quiz, you'll get higher engagement rates – as users tend to love the unusual format (like this "How much do you know about Queen?" quiz).
Timed quiz: Adding a quiz timer is perfect if you're creating a quiz contest or promotion. Timers add a game show element of adrenaline – plus giving users 10 seconds or so per question limits the temptation to Google the answer. You'll get a more accurate sense of what each quiz taker actually knows.
Quiz generator: One last option – you could create a quiz generator to continually show a new set of questions to every quiz taker. Standard quizzes include a fixed set of questions – but a quiz generator quiz randomly shows new questions to each quiz taker.
The upside? You have an 'always new' quiz on your site – to keep engaging your audience.
Other best practices besides crafting killer quiz titles?
Our team of quiz geeks can go on and on about crafting a killer quiz – we've been doing this off and on since 2003.
(In fact, we did just that with our free ebook "Quizmaster: Growth hack your marketing through quizzes and personality tests" – download the free .pdf, no email required.)
But beyond coming up with great quiz titles, read on for our favorite quiz-making tips.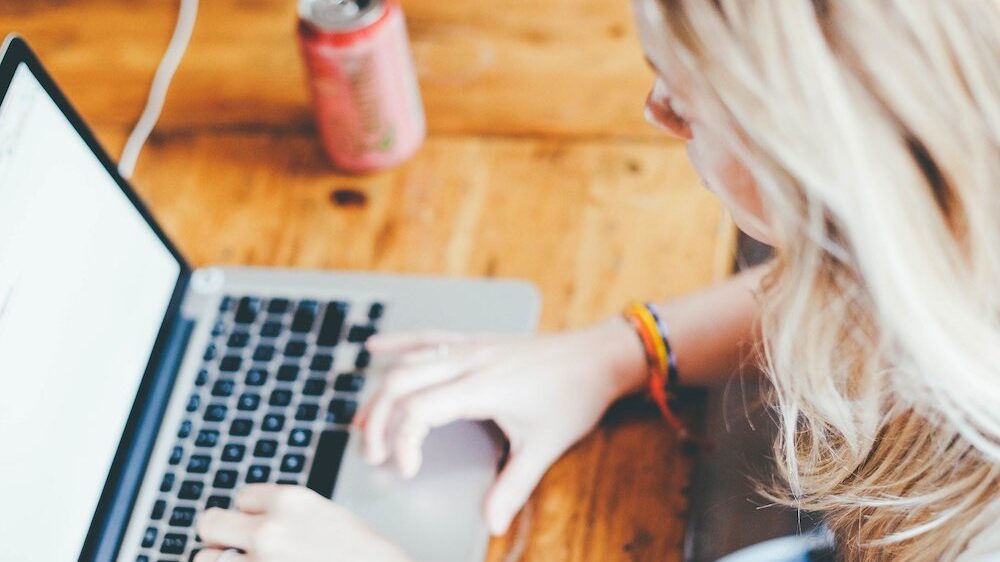 Short quizzes are (almost always) better
Keep it short – we recommend quizzes follow the

'Three minute rule'

for today's short attention spans. That means 6-10 questions for most subjects – which people can finish in those short breaks during the day like waiting in line or catching a bus.
The only caveat? Health assessment or similar 'serious' personality tests

can last longer

. People are naturally more invested in finding out about their health – you'll find people willing to answer 30+ questions around topics that matter to them like "Are you depressed?" or "Do you suffer from anxiety?"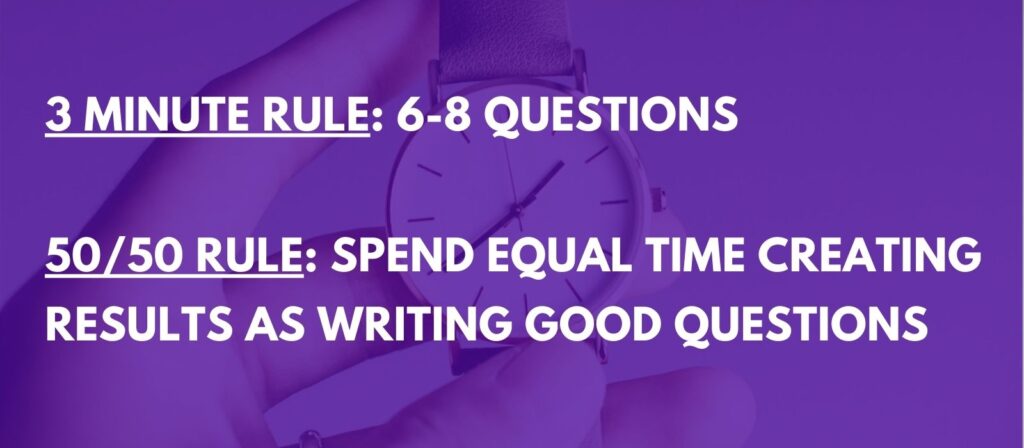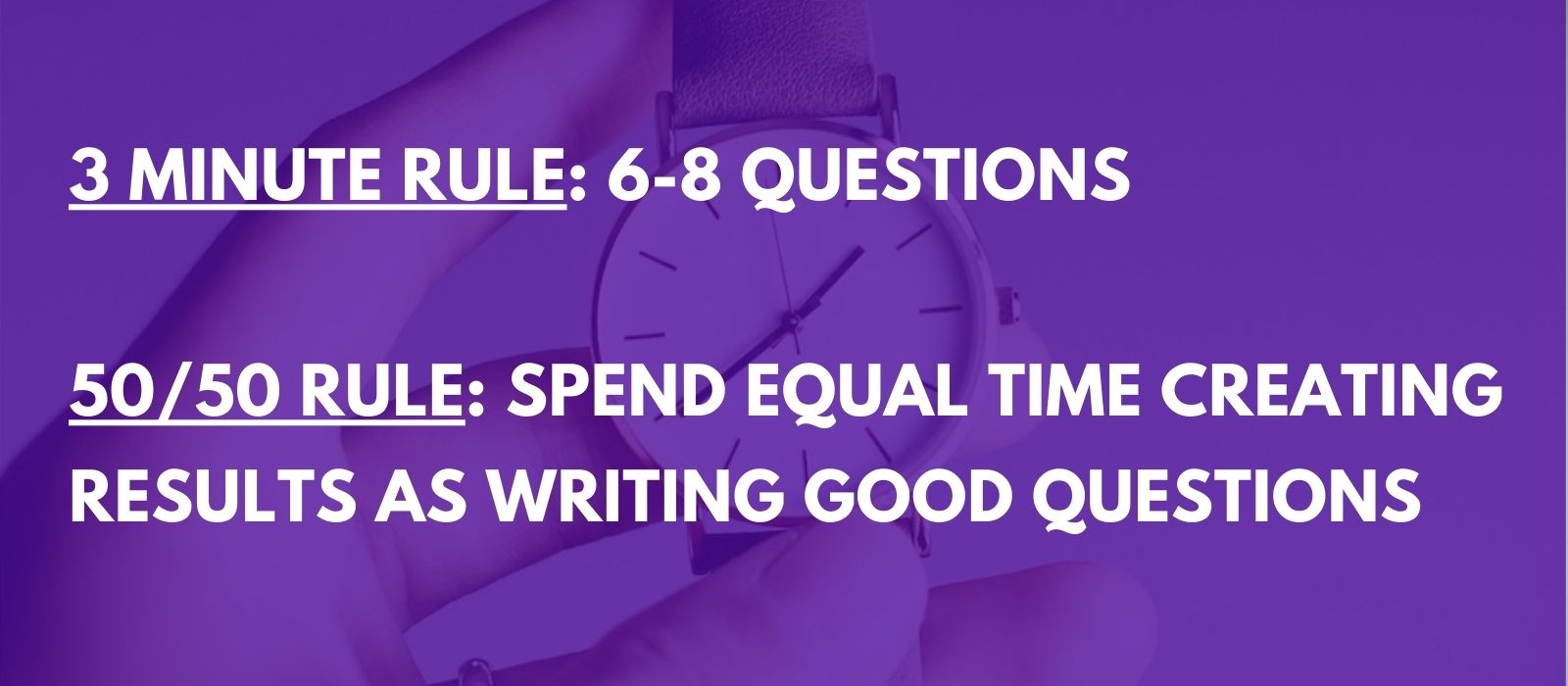 Spend equal time creating quiz questions and results
This is probably the other key issue new quiz makers fall victim to.
Invest equal effort and creativity on your quiz results as your questions and quiz titles.
It's understandable – you spend your energy and creativity with quiz titles and great questions. By the time you get to the quiz results section, it's often tempting to just jot something quick and short ("Nice work – you're <quiz result>!") without any explanation.
That's a big mistake – for a few key reasons.
First, the quiz results are your last chance to make an impression – demonstrating your expertise and insight into the quiz taker's responses.
Check out the results in our classic "What kind of dog are you?" personality test – each is carefully crafted to balance positives like "you're super loyal" with things to work on ("You can be too generous").
The other is a marketing issue – people only share quiz results that make them look good to their friends.
Your challenge? Try to write funny and wise quiz results that people will really want to share with their friends.
Check out our results for 'You're a collie' from our "What dog are you quiz?":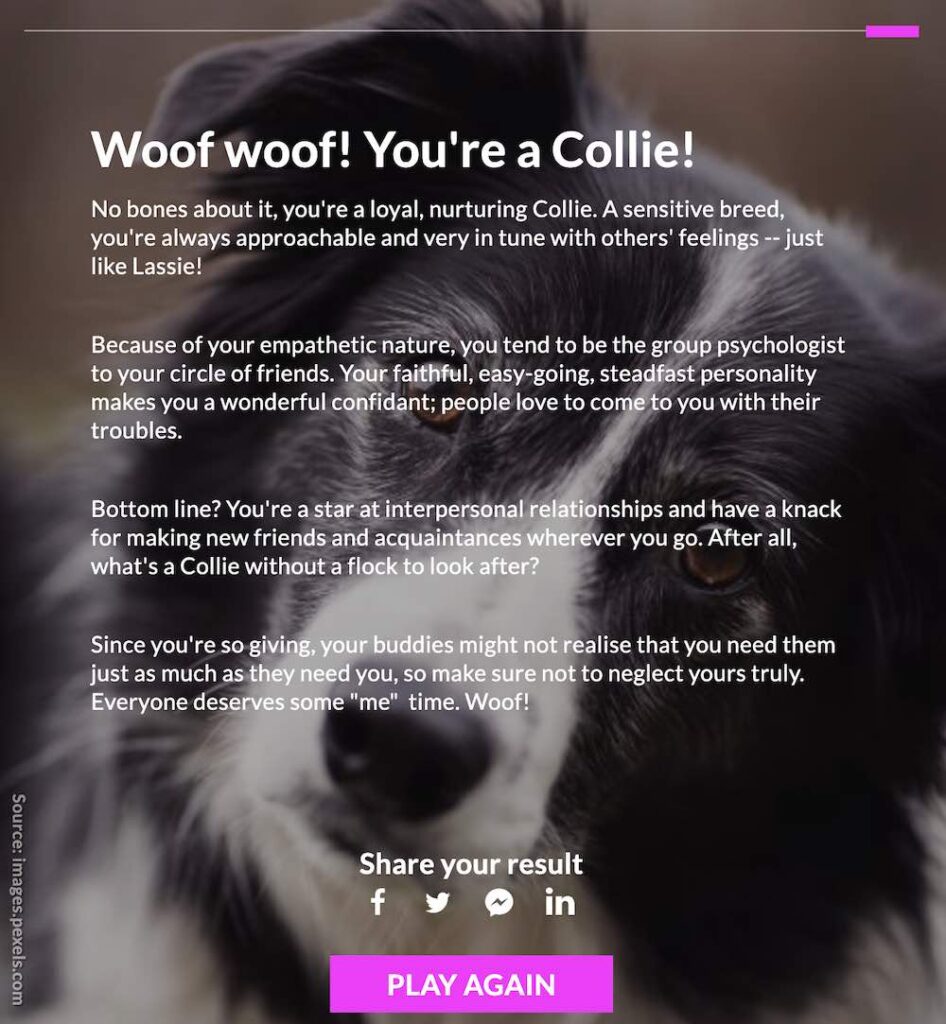 See how much time and effort we put in to make the quiz taker feel good about their result?
The payoff? Word of mouth marketing and free viral traffic.
143 quiz titles (and examples) we love- by topic and industry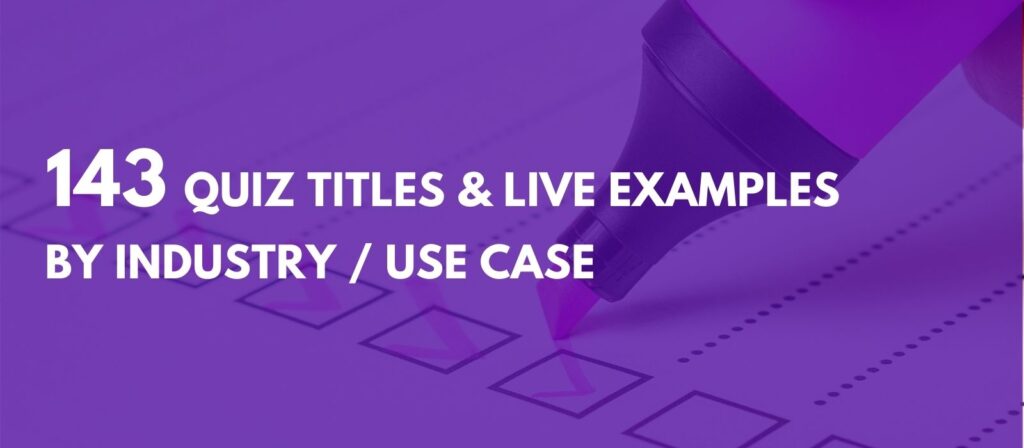 Okay let's dive in – our team of quiz experts had a lot of fun putting our list of great quiz titles together – with links to live examples.
By the way, all these quizzes are powered by Riddle's quiz maker – using our quiz, personality test, order it, or tap and find quiz formats.
If you're new to Riddle, you can create your own quiz in just minutes – no coding required.
Try our free 14 day trial now! – no credit credit, with full access to all our features!
General personality quizzes
What's your OCEAN personality? (Learn more)
What's your Enneagram personality? (Learn more)
What color is your personality? (Take the quiz)
What dog are you? (Take the quiz)
Introvert or extrovert – what's your true personality?
Career quizzes
What's your dream career?
Which Marketing or Media Job Is Right for You? (AdWeek – take the quiz)
Are you really in the right job?
Are you a good <any job title works – coder, manager, marketer, etc.>… really?
Do you have what it takes to be a leader?
QUIZ: We know what job you should have based on your TV and film opinions (PopBuzz – take the quiz)
What fictional entrepreneur are you most like? (Shopify – take the quiz)
What's your management style? (Take the quiz)
Are you REALLY a good boss?
What job should I do? (Give a grad a go – take the quiz)
Can you spot a fake resume?
What kind of Nandoca are you? (Nando's – take the quiz)
Can you answer these 9 killer interview questions?
Product recommendation quizzes
What hair oil are you? (The Hair Fuel – take the quiz)
Which gin should you drink tonight? (Olive magazine – take the quiz)
Mac or PC – which laptop should you buy?
What's the best streaming device for 2020? (HelloTech – take the quiz)
How much do you know about smartphones? (uSwitch – take the quiz)
Could an electric van work for you? (Energy Savings Trust – take the quiz)
Which AVA Grace varietal should I try? (The Wine Group – take the quiz)
What type of art collector are you?
Coaching and mentoring quizzes
What's your true purpose?
What's your WoW Archetype? (Merilynn Beretta – take the quiz)
Are you a mover, creator, or connector?
What's your emotional IQ?
What kind of healer are you? (Jennifer Maclean – take the quiz)
Money, love, or fame – which actually makes YOU the happiest?
Do you know your Spirit Leader design type? (Women of Woo – take the quiz)
Is your current job your TRUE calling?
Marketing & business quizzes
Are you an online marketing master?
Which start up marketing type are you? (David Berkowitz / the Serial Marketer – take the quiz)
What's your marketing superpower?
Put your Facebook marketing skills to the test!
Which personalization tool is right for your store? (Shopify – take quiz)
How much do you actually know about Google SEO?
What's your ideal brand voice?
Does your brand match your personality?
Which font describes your personality? (Creative Market – take the quiz)
Should you start your own business?
Is your business truly GDPR-compliant?
What kind of negotiator are you?
Travel quizzes
Which U.S. city should you travel to next? (Choice Hotels – take the quiz)
QUIZ: These five questions will reveal where your next holiday should be… (Heart FM – take the quiz)
Can you avoid these travel scams?
Which Backstreet Boy is your perfect roommate? (Backstreet Boys – take the quiz)
How much do you know about Europe?
Can you order a beer (or find the loo) in these 9 languages?
What classic road trip should you take?
Which celeb is your best travel buddy?
How well do you know Manchester? (Manchester Confidentials – take the quiz)
What's your travel style?
Could you handle backpacking around the world?
Are you ready to travel (gulp) as a couple?
School & education quizzes
Should you even go to college?
Which master's program is right for you? (Aston University – take the quiz)
What kind of learner are you?
Tool or rock? (British Academy – take the quiz)
What major is actually right for you?
Which university is your dream school?
Classical music term or Harry Potter spell? (Classic FM – take the quiz)
What's your English speaking level? (UK College of English – take the quiz)
Which artist should design your bedroom? (Tate Museum – take the quiz)
What STEM career is best for you?
Are you actually a good teacher?
Can you spot the fake art?
The ultimate history quiz – how much do you know?
Entertainment quizzes
Can you guess the Agatha Christie story by emojis? (Agatha Christie.com – take the quiz)
Which Star Wars character would be your BFF?
What Hogwarts school is right for you?
Can you ace the easiest music quiz we've ever put together? (Australian Broadcasting Corporation – take the quiz)
Can you name these unmasked musicians? (BBC Music – take the quiz)
QUIZ: Bet we can tell if you're British or American based on your fashion preferences? (PopBuzz – take the quiz)
Sport quizzes
Fair or foul? The great baseball quiz!
Can you beat the ref? Take our video referee quiz!
Do You Know Your Miami Tennis History? (ATP Tour – take the quiz)
Can you pass the world's hardest football rules quiz?
Who's your soccer superhero?
Can you speak rugby? (BBC Sport – take the quiz)
What English football team should you support?
AUDIO QUIZ: Which player is this? (NFL's San Francisco 49ers – take the quiz)
Can you match the jersey with the team?
Can you identify these iconic stadiums? (Betway – take the quiz)
NFL's New England Patriots' "Trivia by the Decade" (New England Patriots – take their quizzes)
Video sports quiz: What happened next?
HIDDEN FACE: Can you guess these Wimbledon champions? (Wimbeldon / LTA – take the quiz)
Can you rank these F1 tracks by length? (Formula One – take the quiz)
Finance quizzes
Are you a 'savvy saver' or a 'splash the cash' showboat?
What kind of investor are you? (Motley Fool – take the quiz)
Can you pick the right mortgage?
Are you even ready to buy a house?
Which streaming platforms should I subscribe to? (uSwitch – take the quiz)
How ready are you for retirement?
What's your family's spending style?
Do you know these IRS tax secrets?
Can you discern insurance fact from fiction? (Which.co.uk – take the quiz)
Do you save like a Boomer or spend like a Millennial?
Can you spot these online frauds?
Automotive quizzes
What's your dream car?
Can you match the footballer to the car? (BBC Sport – take the quiz)
Buy or lease – what's right for you?
Are you actually a good car negotiator?
Should I buy an extended car warranty?
Can you fix these top 10 common car issues?
Can you beat the salesman?
Which cars are the most reliable – really?
Can you guess the car by the launch event? (Formula 1 – take the quiz)
Shotgun! Who gets the passenger seat in these situations?
Classic car quiz – how much do you know?
AUDIO quiz: What does this car noise mean?
Real estate quizzes
Where's your dream house?
Can you make it in a 'Tiny House'?
Got what it takes to sell your own house?
Should you sell or renovate? (Zillow – take the quiz)
Where should you relocate?
Could you really handle 'Van life'?
Are you a good negotiator?
Real estate role play – can you beat the agent?
Are you a city slicker or country living?
Test yourself on the top 9 myths about home ownership
Relationship quizzes
Are you marriage material?
What's your celeb relationship match?
Where should you begin your breakup recovery?
Are you seriously ready for a relationship?
Do you attract the right type of partner?
"The Power of Discord": relationship quiz – (Hachette Book Group – take the quiz)
DTR? FWB? IRL? How much do you know about online dating?
Which online dating app matches your personality?
Are you an awesome boyfriend/girlfriend… really?
Health and Fitness Quizzes
How healthy is your lifestyle?
Which City Should You Live In Based On Your Healthy Lifestyle? (Grubhub – take the quiz)
What's your fitness style?
Are you actually depressed?
Is your workout actually helping you lose weight?
What kind of dad will you be?
Do you REALLY know how to sleep like a baby? (DigitalHealthStrategies.com – take the quiz)
What stay at home workout is right for you?
Are you ready for yoga?
What's your health IQ?
What's your parenting style?
What's your best 'quit smoking' secret?