6
min read
We designed Riddle's quiz maker with quiz lead generation in mind. You can easily collect users' emails in all of our quiz types – no coding required.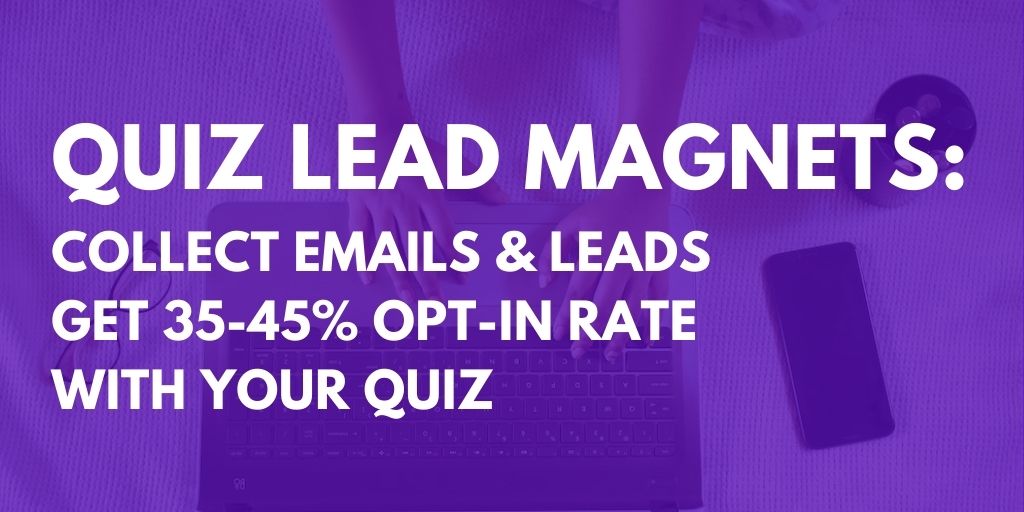 Why quizzes and lead generation?
Quiz lead generation rocks – our quiz community sees opt-in rates from 35-45%.
(That's more than 20X the average rate for other lead generation tools, according to the marketing gurus at Sumo.)
Here's a good infographic showing how quizzes are powerful lead generation magnets.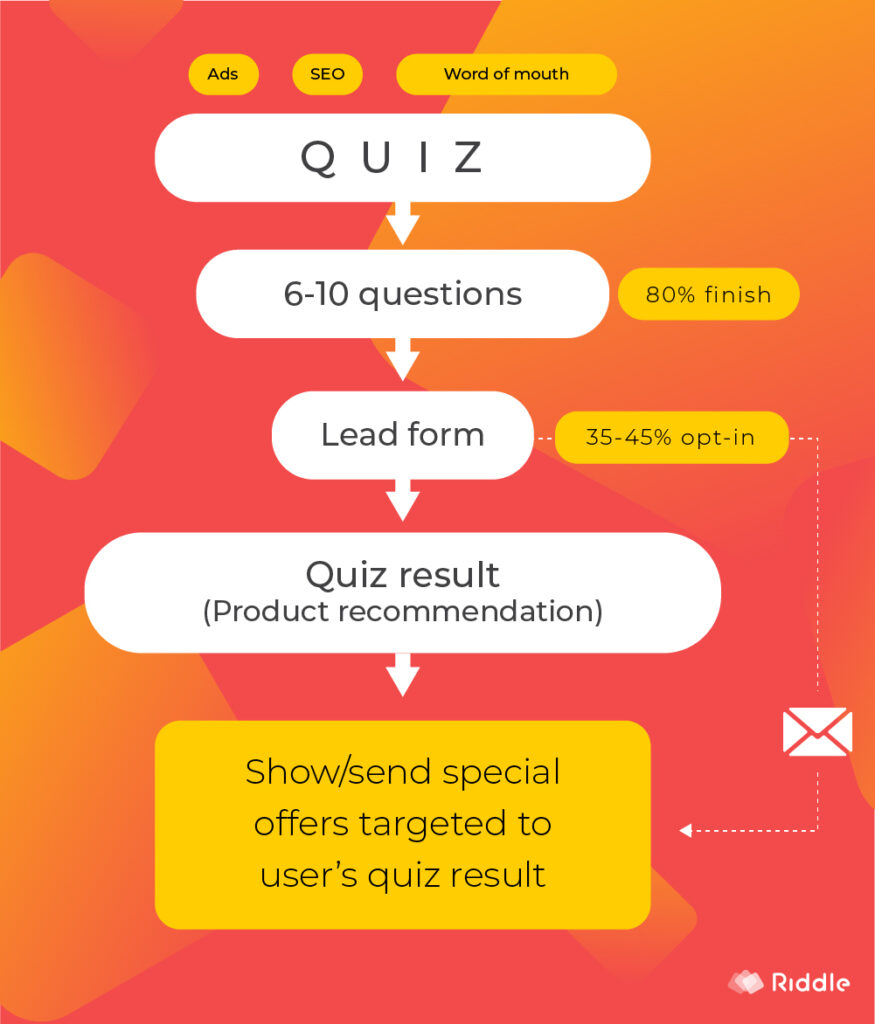 Video: Collecting leads with Riddle's quiz maker
You can quickly add a lead form, collect emails and quiz responses, and send all this juicy marketing data to your favorite marketing software.
Riddle can send quiz leads to over 3,000 different email and marketing tools – including ActiveCampaign, AWeber, MailChimp, Zapier, or our custom in-quiz iFrame:
Quiz lead generation – how it works
We created a hands on guide including videos. Please check it out in the Quiz Maker Documentation here.
For experienced users, here is a summary of what you need to do, to add a lead collection form to Riddle:
You add a lead generation form in the 'lead gen' step of the creation process.
It can be mandatory or optional.
Each user sees the form after their last question and before the results – the best location for engagement, as they are emotionally committed to seeing 'what happens next'.
All leads (and their quiz/poll responses) can be downloaded as a XLS/CSV file, or automatically sent to any marketing software you use – so you can automatically follow up with email messages around their quiz results.
You can also email detailed quiz reports to each user – around their quiz results.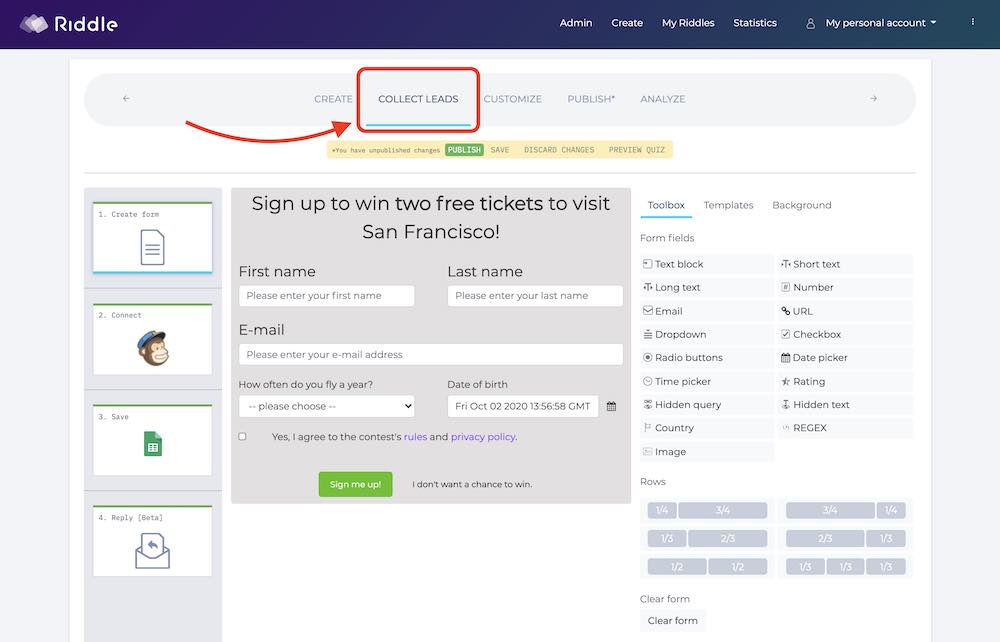 Why does quiz lead generation work?
It's no secret – smart marketers like Jeff Bullas know that quizzes rock at lead generation.
A quiz can catch your audience's attention (who can resist a quiz?)… and turn passive browsers into active, clicking participants.
When you create a quiz with 6-10 questions, you've got a 3-5 minute experience for each user.
Sample quiz – with lead generation
The added benefit? Quiz takers provide honest feedback and information because they want to find out what their true quiz results.
With a Riddle quiz, your lead generation form is shown right before showing their quiz results – when your audience is the most emotionally engaged and eager to see their results.
Presenting them with a compelling offer by lead form will translate into that 35-45% opt-in rate. It could be a special discount, a chance to win a prize, or a personalized quiz report sent by email.
FREE e-book @ quiz marketing
For additional information on lead generation, we recommend downloading our free e-book called "Quizmaster: Growth hack your marketing through quizzes and personality tests".
No email required – we like sharing what we've learned as quiz marketing geeks, no strings attached.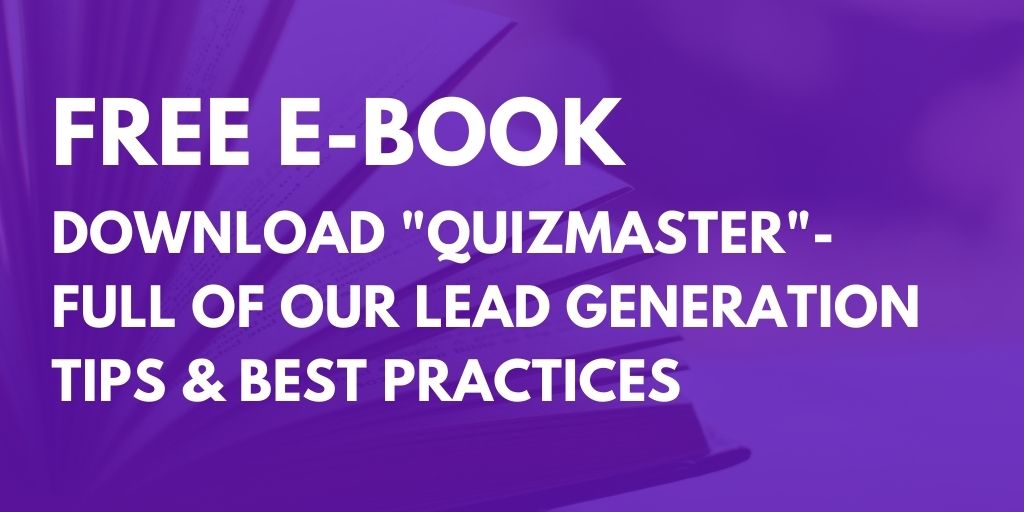 Chock full of our teams' tips and best practices, you'll learn how to write awesome quizzes – as well as use lead generation to gather emails and user responses.
Our top five tips @ quiz lead generation
We've been doing this for awhile – since 2003 as part of various quiz maker companies.
Our top five tips for successful lead generation using quizzes?
We recommend making lead forms optional.
Mandatory forms just encourage people to give fake details so they can proceed to their results.
Instead, give a compelling reason for each user to give their information – beyond seeing results.
We've seen successful examples such as 'Sign up for a free 15 minute Skype consultation of your results' or 'Enter your details to get 25% off your first three months'.
The fewer fields, the better – we've found 3-5 fields work best. With each field, you will see a drop in people filling it out. Typing on smartphones in particular can be a pain, so only ask for the most important information you need.
Any questions?
Anyways – I'll keep this short… we're big quiz geeks here and love to share ways to make your quizzes awesomely successful.
Hope that helps – but give us a shout at hello@riddle.com if we can answer any questions…. we love to quickly respond to every message.
******

Video transcript
(Our community love our walkthrough videos – but we're often asked to include a written version, in case people just want to read quickly. So we try to include a transcript to make that easier.)
Hi there, my name is Mike and I'm one of the co-founders here at Riddle.com. In this video, I'm going to give you a quick walkthrough on how you can quickly collect leads with any of our quiz, personality test, poll or other content types.
So in the create step, once you have finished adding all of your results and questions, you'll want to go to the collect leads step. However, you don't have to have a form in your little quiz.
In this case, we want to have one. So I'm going to use this as an example. Now, I have saved lead form templates, so this is my template I've already created.
Our lead generation form builder is really simple to use. You just drag and drop the fields you want and you can also say, "Do I want different columns and things like that?"
Each field can be customized, like names and options and all sorts of good stuff like that.
And so once your form is all set and it's ready to go, you need to decide, do you want to make this field or form mandatory or optional?
Right now, there is an option here, so people do not need to fill in their lead form if they just want to see their quiz results. You can make your quiz lead generation form optional.
But you can always customize that. And in this field, I'm going to turn off my skip button options. If I turn this off, I'm now requiring people to fill this lead for men before they move on to the quiz results.
We tend not to recommend this. We like the option because we found that if you require people to give their details just to get their quiz results, a certain percentage are going to give you fake information like Mickey and Mickey Mouse.com or Donald@DonaldDuck.com.
You'll see how easy this drag and drop form builder is. In this case, we've given a really compelling call to action saying get a free coaching session. So that is useful. And that's something that has some value that people are going to want to do.
Now, once you have your form set, you're going to then decide "How do I want to send in my information?"
So in this case, we have an AWeber, MailChimp, ActiveCampaign, and lots of other different connections. You can also connect directly to Zapier if you're using one of three thousand other email marketing software tools.
But in this case, I'm just going to use MailChimp as an example. So I'm going to set up my MailChimp connection and I'm going to log in. And once that is authorized, you'll see here that I'm going to go back to My Riddles and go back into this quiz and now in the next step, I can select MailChimp.
And once MailChimp is set up (and this works the same way for ActiveCampaign or any other connection), you're just going to map the different fields to all the different options. So maybe for quiz results, I'm going to scroll down here and get the actual result type and so on. This is how you do it.
You can also turn on double opt-in.
Now, one other thing you can at the same time is decide – "Do I want to send my leads also to Google Sheets or do I want to save them as an Excel file, as well as MailChimp and these other options?"
You can do both.
And the last step you can do is send personalized quiz reports directly to each user. Now, this is really powerful because you can send to each quiz taker an email saying, "Hey, here's your results and you can have the user's answers for question. Plus, you can add some explanation so you can really build a customizable email builder.
What you'll need to do the last step is publish and test. So once I'm set and I'm going to go to my riddle quiz here – I'm going to go through and take this quiz and give my email, just to make sure everything works.
Because when you're dealing with different types of software, it's really smart just to go back and double check that. Let's use this one as an example.
And I click submit, and there we go. So that is the lead flow, we have our quiz. We have our lead form. We have our results. And now if I went to MailChimp, we would find our data.
If you have any questions about lead generation using quizzes, use our support chat down here.
You'll see that my our CEO, Boris and the rest of our team, we all race each other to be first to respond. So we try and get to people within under two minutes.
That's Riddle and quiz lead generation. Any questions? Of course, just give us a shout.
Thanks – and 'Happy Riddling'!