6
min read
Making an online personality quiz seems so easy when you take one. It's writing your own using a quiz maker like Riddle that can seem more difficult!
But fear not – there's a science to creating a personality test that makes them much easier to write – and more accurate to boot.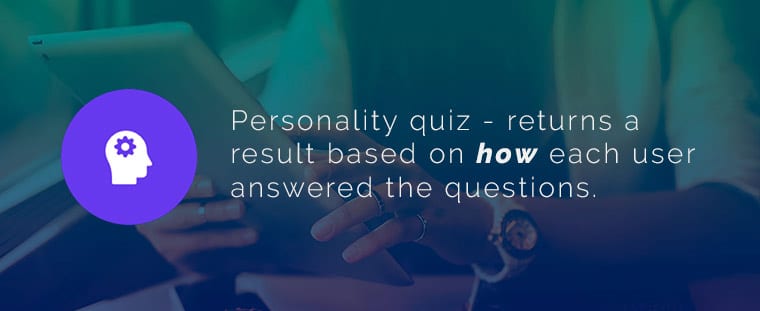 Step1 : Create the perfect title for your online personality quiz
Choosing the overall quiz concept is the first (and most important) step. Everything else flows from here.
Be sure it has a clearly defined subject and that it follows the most important rule – "It's all about ME."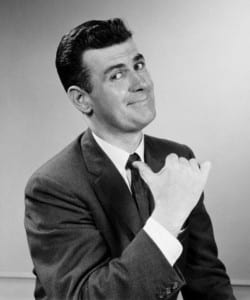 Nope, that's not 'me' as the author – it's all about the people who will be taking your online personality quiz!
(We're all pretty vain as humans – that's why personality tests are so viral. We love to see how we compare to everybody else.)
But… people have to really, really want to know where they stand. It could be what breed of dog or what type of millennial they are – your users will enjoy finding out (and sharing with their friends) if you create your quiz using all these steps.
So your title needs to sum up your concept in an intriguing way to get users to click.
Brainstorm a few quiz titles – short and punchy work better than long and wordy.
Check out this great article about titles that work best.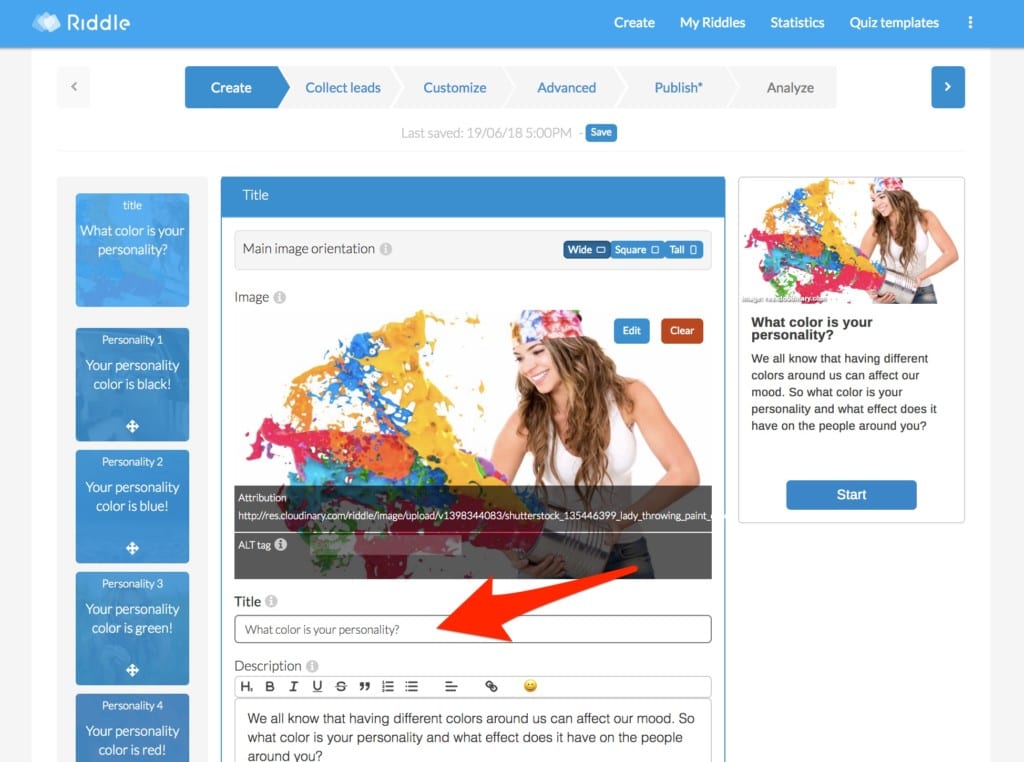 Step 2: Create your result types
Once you have your quiz title, you'll next want to come up with the result types for your users. This will make it easier to know what questions to ask.
How many result types? At least three, and hopefully four or more.
Make sure each quiz taker who will take your online personality quiz will fit one of these types.
Result explanations matter – a lot. It's not enough to for someone to discover they are a 'Dog-tormenting cat', they will want to know WHY they got that.
Spend as much creativity on your result explanations as on your questions.
This is the end of your user's quiz experience – they're far more likely to share a funny/insightful explanation with their friends, which means more viral traffic to your site.
Next, split the results into different personality traits – they could be: a leader, a rebel, a creative, a dreamer, an extrovert, a traveller, a home-body.
The list is endless but the ones you choose should be different to each other.
So here's our result for 'Dog-tormenting cat':
Is a wolf the king of the jungle? Not likely! You're a supreme tiger, whatever your size. It's your job to distress, frustrate and scare any dog unwise enough to come near you.

Successful tactics include the disdainful stare from the safety of the top of a fence, the application of sharp claws to tender noses to bully them, eating their food just to annoy them, or even the simple stinky fart approach. The dog (or boyfriend) always gets the blame!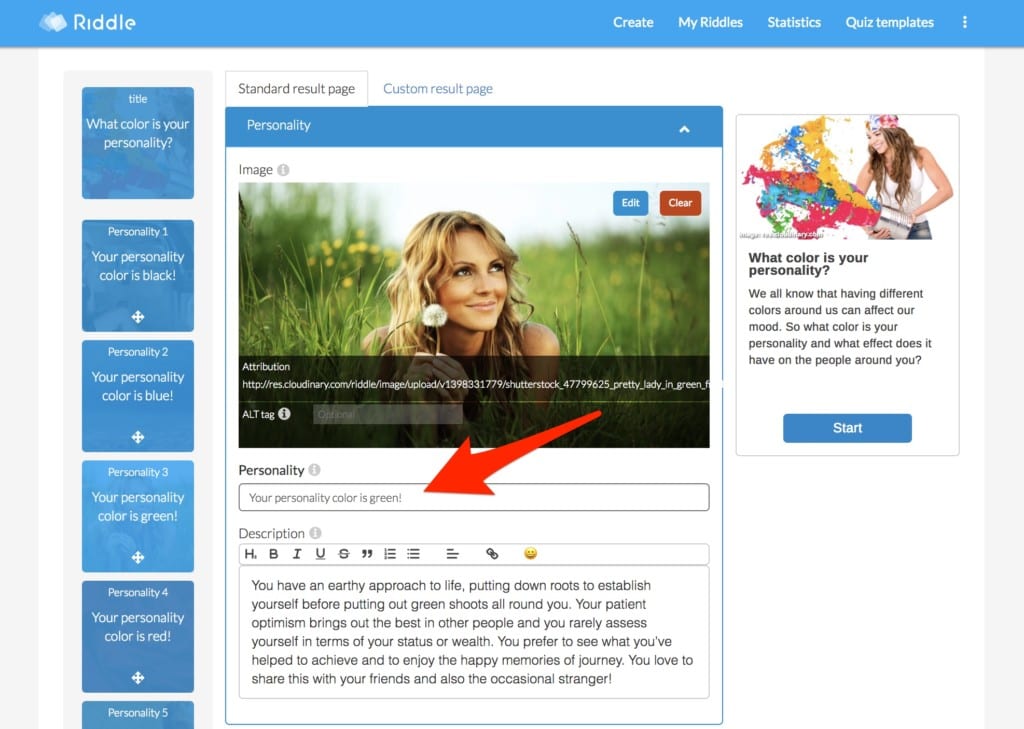 Choose the type of online personality quiz
There are two basic families of online personality quizzes.
You can either ask:
'Are you a …?' (ex. 'Are you a crazy cat lady?')
'What type of … are you?' (ex. 'What breed of cat are you?')
The 'Are you a …?' version gives you a range of three or four main types along the lines of 'Definitely, slightly, not really, definitely not!' You then create compelling titles for each these results based on your topic.
The 'What type of…?' gives more specific result titles, such as our 'You're a Siamese/Tabby/Persian' example.
Don't be too specific in result types
This is a common mistake. Remember – each result needs to apply to a wide range of users.
Bad: Don't say 'You're the perfect line manager because you understand how people think' – because the user might not be a manager.
Better: 'You're an empathetic leader' – that's more general, and can describe people both in and out of the workplace.
Be positive
People don't mind a bit of sass in their results, but no quiz taker likes to hear they're a bad person. (And they're definitely not going to share their results of your online personality quiz if you're rude!)
Focus on positive traits that they will recognise in themselves.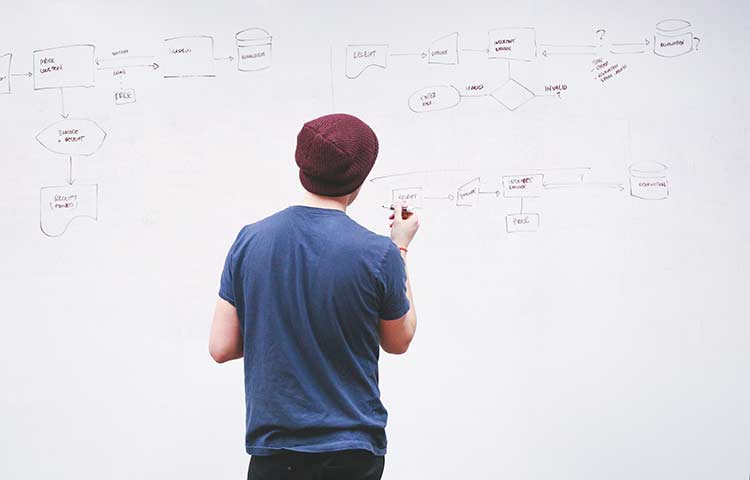 Choosing the questions
This is where you get to be sneaky.
Your quiz questions will be multiple choice questons and need to link in some way to the result types. However, don't make them too close. If you ask 'How quickly do you make friends?' – a user who answers 'I'm comfortable on my own' is not going to be surprised to find they are a Siamese.
You want your users to be impressed about the accuracy of their results – but amazed how the quiz figured them out. Obvious questions are too, well, obvious!
Try and craft most of your questions around social behaviour.
Here are some examples:
How do you respond in a particular social situation?
How do you prefer to socialise? In large groups, small groups, one-on-one?
Your boss shouts at you in the office, how do you react? Shout back, say nothing but get revenge later or cry?
If you can't think of questions, we're big fans of sitting in a bar or cafe. Some quality people-watching (and a beer) always gets the creative juices flowing.
(Note – we can't vouch for what happens after one or two beers… always proofread when you're sober!) 😉
How many questions?
Eight to ten questions tends to be the ideal length.
Each question should have 3-5 answer options.
That's long enough for the scoring system to work well, without users (especially those playing on their smartphones) getting bored.
Four answers per question are best – so they appear on a smartphone without scrolling.
Don't be afraid to switch to three choices or five for variety.
Step 3: Scoring the questions
Riddle's quiz maker tools let you give different weights to each answer (none, weak, normal, and strong) for maximum flexibility.
Think of them as points – the more strongly you associate an answer with a particular result of your online personality quiz, the more likely the user will get that at the end.
Our tip?
In general, except in special cases, use an 'all or nothing' score for each answer type. Otherwise, you run the risk of skewing the results as some types have more possible points than others.
Don't be afraid to have a question associated with no result types. It's good for keeping users guessing.
Now, some questions don't naturally go with all the result types. It sometimes helps to have a friend in mind who fits the result type.
Chances are you:
either know someone similar
have seen someone showing this particular behaviour
watched a character with this trait in a movie.
Get out of your head and into theirs!
Step 4: Make the perfect personality quiz – optimize and improve!
Awesome – so you've finished your quiz masterpiece. Now what?
Riddle's quiz maker has powerful statistic tools so you can see what's working – and what's not.
Check out the 'Analyze' step of your Riddle:
How many of your 'views' (all people who've seen your quiz embedded on a page) actually 'start'?
If that ratio is low, you should try a different title or main image – to better catch their attention.
What about completions? If your quiz is below 65-70%, check out the 'drop off' graph. If you find one question is causing users to leave, try editing or removing it.
Best of all? Every time you make an edit, then press 'Publish' – your embedded quiz automatically updates.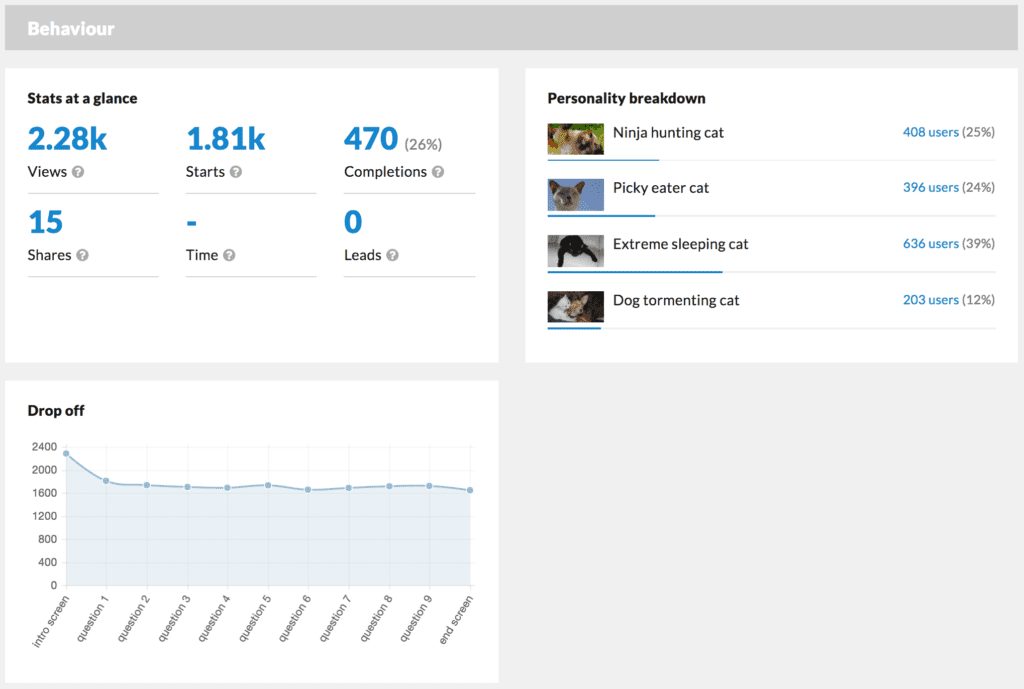 Want to see an example personality quiz?
Our partners are constantly creating awesome personality tests. And sometimes it's great to be inspired by the works of others. So, without further ado – here are some of our favorite personality tests:
How to publish your personality quiz?
This is the easy part. You can use Riddle's quiz maker to easily create and publish your content.
Any questions?
That's about it – the only thing left is to just get out there and starting building your own online personality quiz!
Have a question about how to write the perfect personality test?
Just let give us a shout at hello@riddle.com – our team of quiz maker experts race each other to respond to every message. (Seriously – there's a beer prize involved every month.) 😉
Want to make a test with right and wrong answers? Check out our tips on creating effective and engaging quizzes.
Oh, and finally, and most importantly…
…have fun. 🙂
– Mike
Riddle Co-founder
Explore more about making your perfect personality quiz:
Writing a personality quiz in 10 easy slides
No time to read our 100+ page eBook on quiz making? Check out our SlideShare presentation with the highlights of what it takes to make an online personality test work for your goals.
Reading time: less than 5 minutes
Download our free e-book "Quizmaster"
Learn how to use quizzes for your marketing -
capture more leads and grow your business!
Our book on Quiz Making
This article just gives you a highlight overview of what it takes to write the perfect online personality quiz. But there is so much more science behind this.
That is why the founders of Riddle have written an eBook on how to growth hack your marketing through quizzes and personality tests. Check out the free eBook on how to make quizzes and tests work for you.
By reading our book on quiz making, you will learn:
What the OCEAN personality types are and how you can use them to your advantage
How to come up with non scoring questions that make your test so much better
How to make money from your quiz (there are more than just one way to do that.. you might be surprised)
You can just download the PDF – no need to give up your email or sign up for anything. We just want to share our experience of over a decade in the quiz making business with you. While the book uses Riddle for many examples, it will work with just about any other quiz maker out there as well. If you like the book, we would love you to share a link to it on Social Media or on your website or blog.