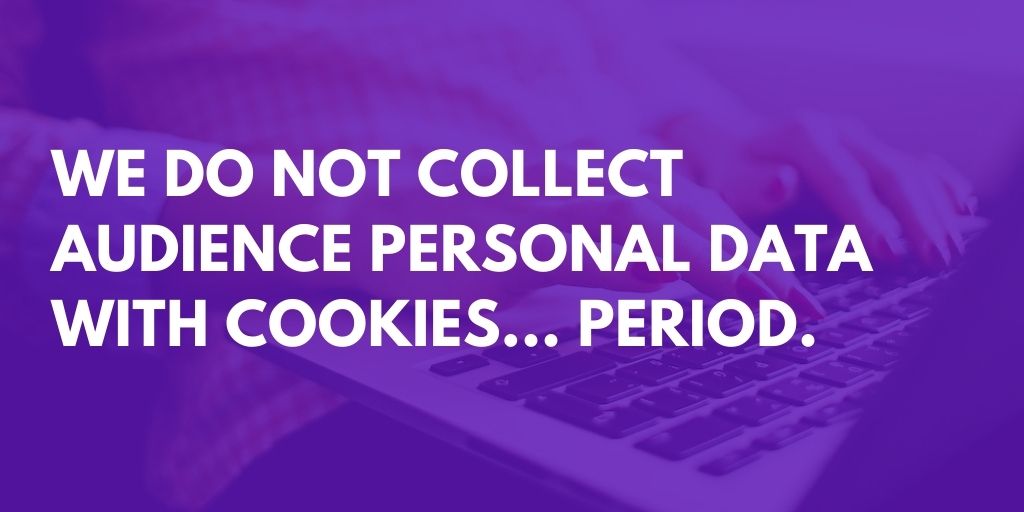 With the EU's privacy data regulation the GDPR now part of the regulatory landscape, we're often asked about how our quiz maker cookies and tracking.
The short answer?
For your audience-facing quizzes, we place zero scripts and just one cookie – it's an anonymous session cookie.
Unlike many quiz maker tools, our cookie does not collect any personal information from your quiz takers.
For people using our quiz creation tools, we do add a few – but purely in the interests of security (like a Google Captcha).
Check out this page where we list all our cookies, plus keep an archive of any past changes we make to our cookies.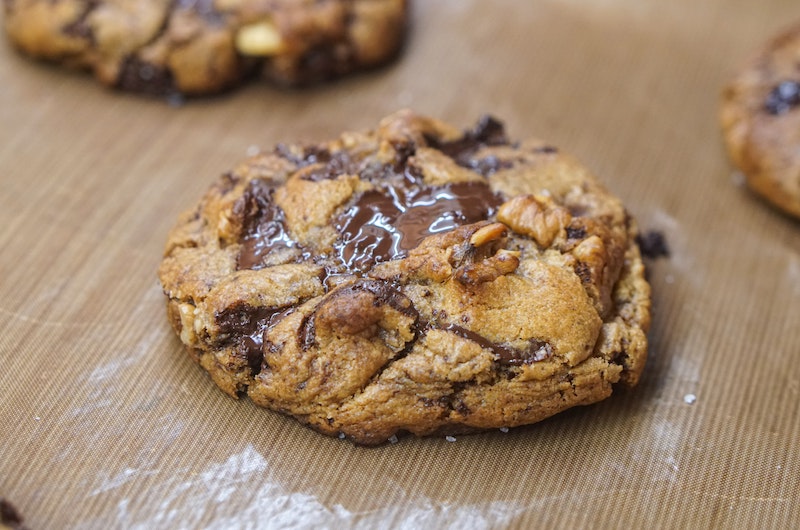 The info below gives more in depth explanation into the cookies but does not for example list any of the local storage data that we utilize. The above mentioned list is what you should refer to when creating your own privacy policy related to using Riddle on your website.
We're a fully GDPR-compliant quiz maker (plus California's CCPA) – but we also wanted to provide more information here.
Cookies and Riddle's quiz maker embed:
When you embed a Riddle on your website, you can rest assured that Riddle will not track any information about your website users.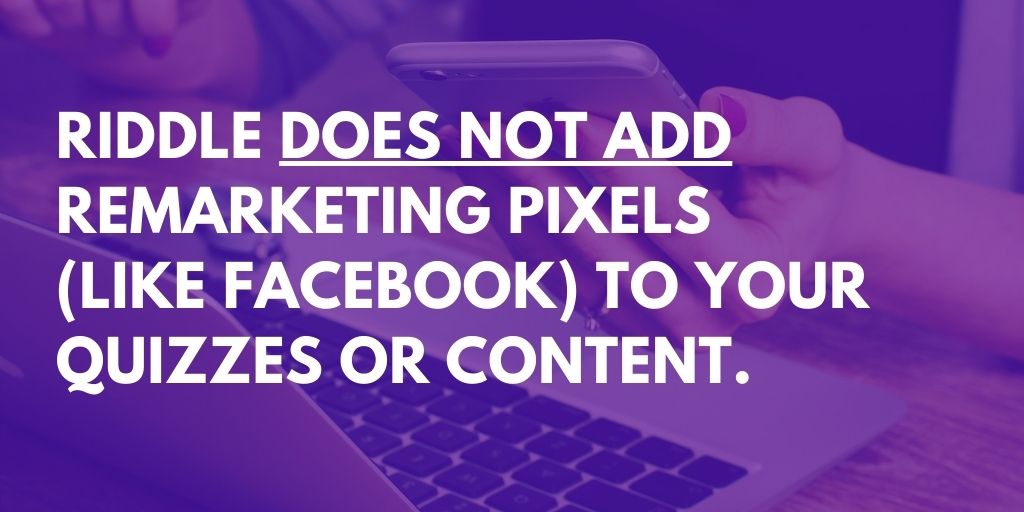 We also will not place any Facebook-, Google- or any other remarketing cookies. The only cookie we will need to place through our embed is a simple session cookie, which is needed to track the progress through the quiz.
List of Riddle cookies
We

only use one cookie

– called "SID". This is only a session cookie to track the current progress through a Riddle quiz.
The cookie itself is critical to our tech stack and applies to all users (both quiz creators and your quiz audience). Without it, the quizzes won't work at all.
However, the cookie is just a string (like 'mgnh8c593o07fobl392sfphl46') – with

no personal information is being collected at all

– not even IP addresses.
The cookie expires in an hour – and we're actually moving away from needing to use this type of cookie in your embedded quizzes.
Sample Riddle embed code – test our cookies policy
Sure, that sounds great – but we encourage you… put our quiz maker to the (cookie) test!
IMPORTANT NOTE: if you add YouTube, Giphy, or Twitter content to the quiz, you are also going to add cookies and trackers from these services.
This is unrelated to the Riddle embed. We do allow you to get user consent and show additional privacy information before showing these types of content. We also allow you to add your Facebook Pixel for tracking. When adding a Facebook Pixel we highly recommend using our consent tools, which prevent the FB Pixel from loading until the user has agreed to it.
To stay compliant with GDPR we recommend you do NOT add any of these content types. We provide a fully-compliant MP4 video upload feature to serve videos from our servers in our Team Plan if you need an alternative for YouTube.
Riddle tracking for quiz creators:
To provide quiz creators with a statistics dashboard, we collect anonymous, aggregate information about your audience.
However, if the quiz takers choose to fill in a quiz lead generation form, we store the form data in a storage location chosen by you the quiz creator.
These storage options could be an email marketing tool, Google Docs, or a secure encrypted file space on the Riddle servers, only accessible by the quiz creator to download the data in CSV or Excel format. You have the option to only store the quiz data along with the form data after getting the quiz takers' consent.
We highly recommend to use this option along with our double-opt-in feature to stay compliant with GDPR.
Creator side (the folks who actually make Riddle quizzes)

Riddle collects and tracks internally:

User name of each person who creates an account
IP address is saved for 10 days in the server logs, but in no way connected to the user account. By law we have to generate and keep this log for 10 days.
Email address and Facebook or Twitter ID for each creator (if they sign in via social network)
Creator's name
Number and types of Riddle they've created

Player side (people who take or interact with finished Riddles)

Riddle stats are 100% anonymous (i.e. only count number of views without reference to a specific user)
No unique identifiers – as there's no login before playing a particular quiz
Anonymous collecting of interaction with each Riddle (see stats section below)

Quiz lead generation forms

Creators can insert a form between last questions and the user's results asking for their name and email (intended for newsletter sign ups, contest entries etc.)
They can ask for any information (using customisable fields), but generally include name and email, as well geographic information.
Creators can allow quiz users to opt-in to allow their answers to a particular Riddle to be submitted along with their details.
Quiz creators can set a form as mandatory or optional.

When optional, quiz takers can always say 'no, thanks' and skip the form to move directly to the user results.
Mandatory forms must be completed before the user can see their results. But the quiz user can always opt out by not completing the quiz experience and viewing their results.

Riddle has no access to data collected with these forms. All form data is stored encrypted in the creators personal space on our server.
Cookies from other integrations
We also utilize integrations from UserEngage to provide customer support via email and chat.
We also use Matomo Analytics with our creation tools so we can improve our quiz maker. Both services save their own cookies – and you can see their respective cookie policies here:
sendinblue.com
Matomo Analytics
We are using a self hosted version of the Matomo Analytics tool on our homepage and while you are using the Riddle creator.
We are anonymizing all IP addresses and are not storing any personal data.
The data is hosted on our own servers in a secure German data center in Frankfurt/Main.
Any questions about quiz tracking?
We hope that's helpful – just drop us a line if we can answer any other questions about cookies or tracking (at hello@riddle.com or through our support chat inside Riddle's quiz maker).
Riddle is already used by top publishers worldwide like the BBC – all passionate about protecting their audience's privacy.