Want to subscribe or upgrade to Riddle's online quiz creator? It's easy – and remember, you just pick the plan with the features you need.
Every one of our quiz builder plans features unlimited usage. That means you won't have any caps or limits on how many quizzes you create, leads you collect, or people take your quiz.
Log in, then click on the '…' menu in the top right corner
Select 'upgrade now' and choose your new plan.
Payment: we accept all major credit cards, direct debit, PayPal. (You can also pay by invoice with our annual Team plan.)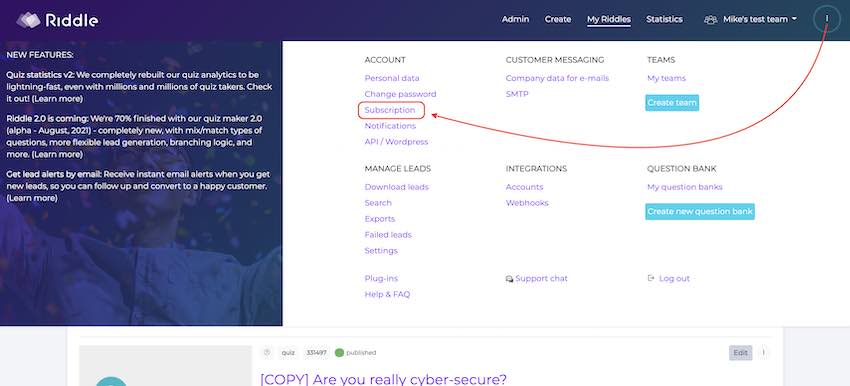 Annual or monthly plans – what's the difference?
Like most SaaS software services, we provide a 'pay by month' or a 'pay in advance' annual option.
Our monthly plans are very flexible – you can cancel at any time.
Our annual plans include up to a 29% discount – but you'll pay for 12 months at the start of your subscription.
Our recommendation? New customers should start with one of our monthly options for a few months, then upgrade to the annual plan once they're happy that Riddle is a great fit for their needs.
This lets you lock in the nice discount once you're absolutely comfortable that Riddle's engagement tools have become a key part of your quiz marketing funnel.
Video: How to upgrade your Riddle account
Check out this handy three-minute overview of the upgrade process with Riddle's online quiz maker.
Which Riddle plan you should get?
If you're not quite sure which of our online quiz maker plans is best for your use case, check out this overview of the differences between our quiz maker plans.
Or you can always ask us on support chat – we're super fast at responding, and happy to help talk through the various options.
(And that's not just an empty promise*. Our whole team at Riddle helps with support – you'll talk to everyone from our CEO Boris Pfeiffer on down.)

*We should mention that we have a monthly beer competition around this – the person who helps the most customers wins tasty beers for the next 30 days. 🙂