You can change languages for your Riddle quiz, list, or other content with just a click.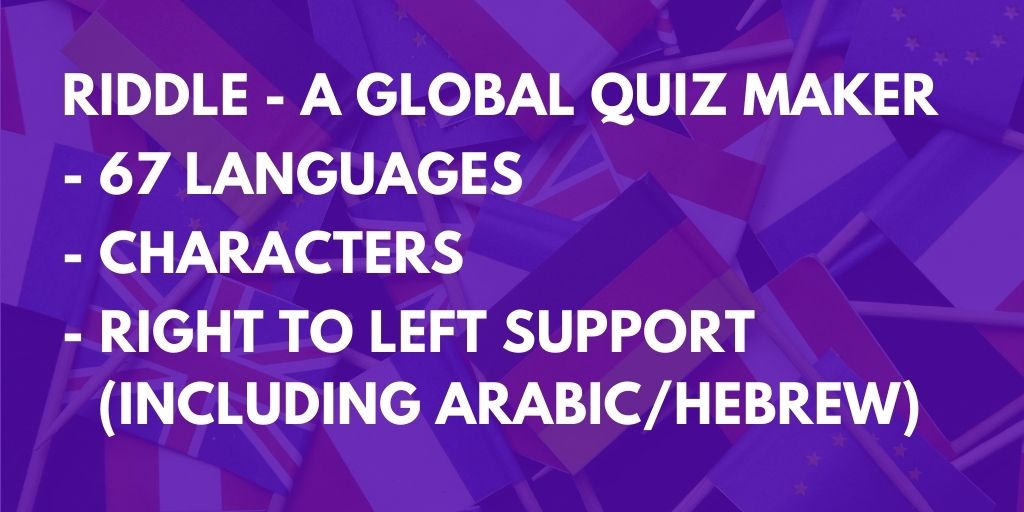 Our quiz maker is fully localized in 67 languages – from Swahili to Swedish, and including right to left languages like Arabic, Farsi, and Hebrew.
Change languages for your audience
Riddle's quizzes and other formats have been localised 67 languages – (and counting).
To change languages for any quiz, your audience will see on your site:
Click on 'Customize'
Then the 'Text and language' tab
Select the language
Go to 'Publish' and press the green publish button to push the changes live.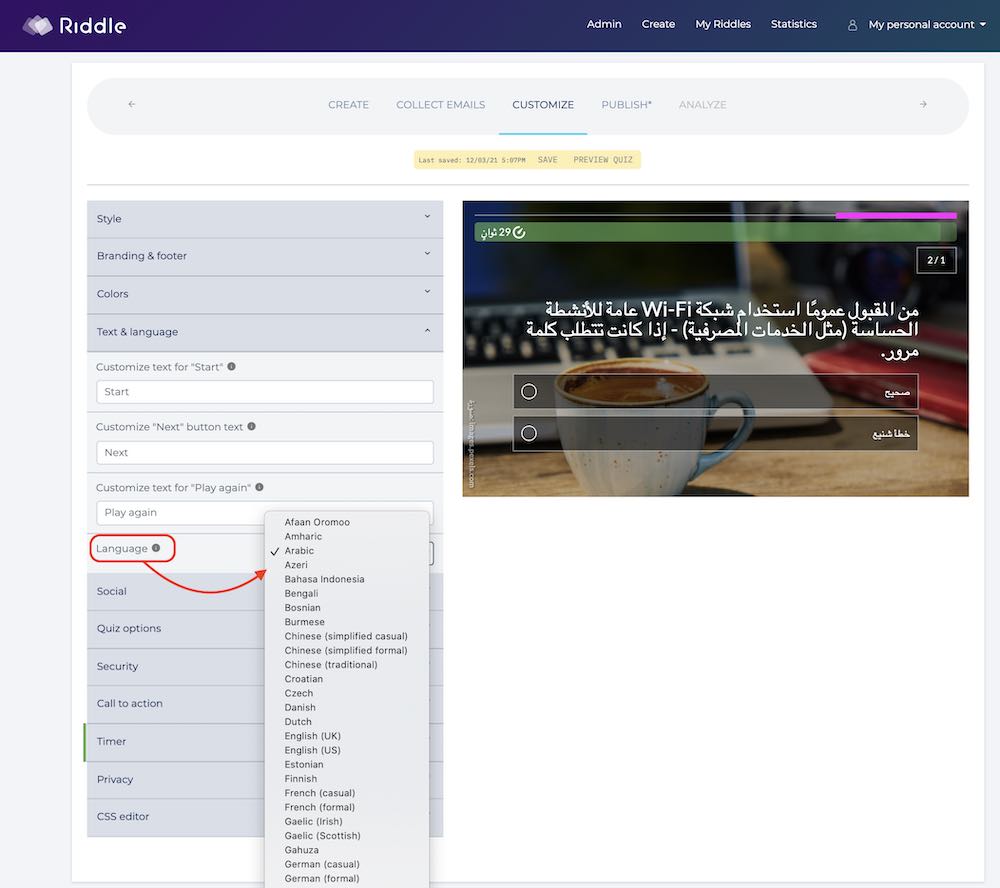 Change languages – fixed strings only
Please note – our translations only include 'fixed' parts of each quiz, like the 'start' or 'next' buttons, lead fields, and social sharing messages ("I got <score> on this great <quiz>!").
We're not Google or Deepl – so we don't have our own super-powerful translation tool (yet!). 
For now, you'll need to translate your questions, answers, and result explanations. 
But we're looking at adding translation to our new 2 quiz maker – stay tuned.
Right to left language support
We support the major right to left languages, like Arabic and Hebrew. 
Simply select the language – you'll need to add your text for your questions and answers, of course.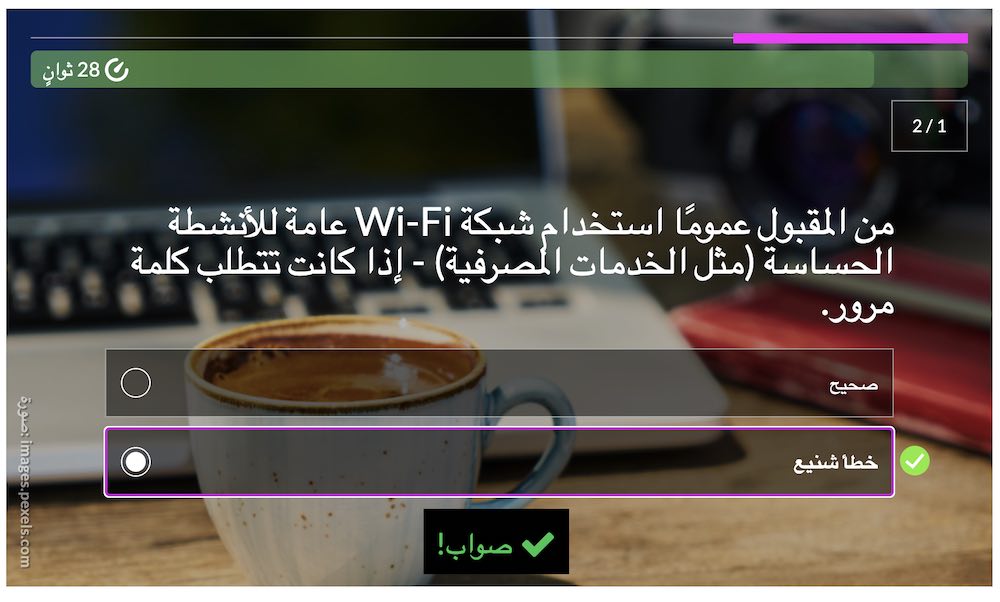 Change languages for your quiz creators
When making quizzes on Riddle.com, our site should automatically display in those languages (based on your default browser language).
You can also select it manually – you can choose between: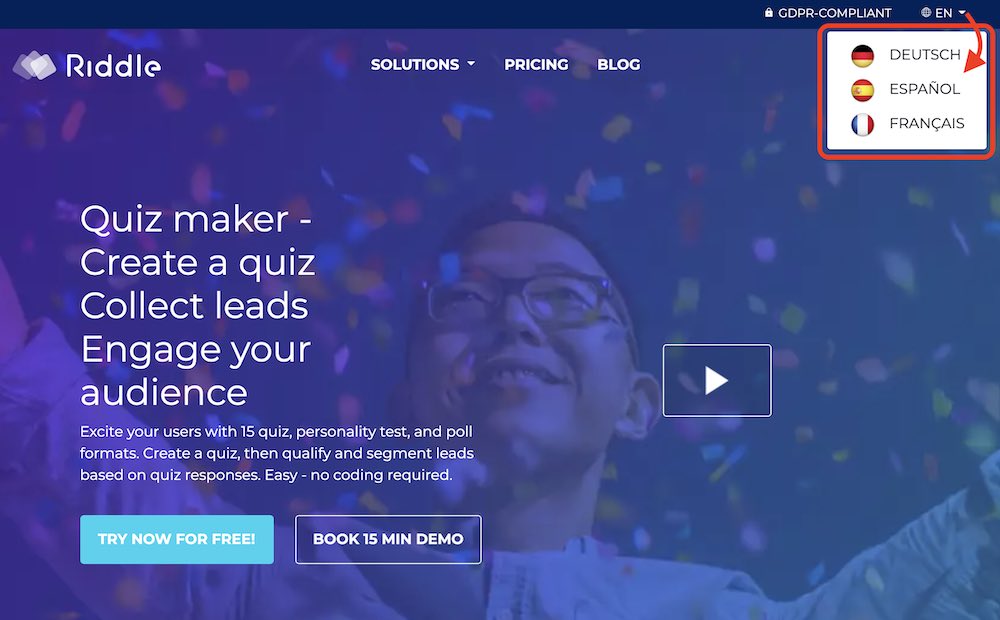 But if not, you quickly can change it at the bottom of the Riddle.com quiz maker – when you are creating a quiz.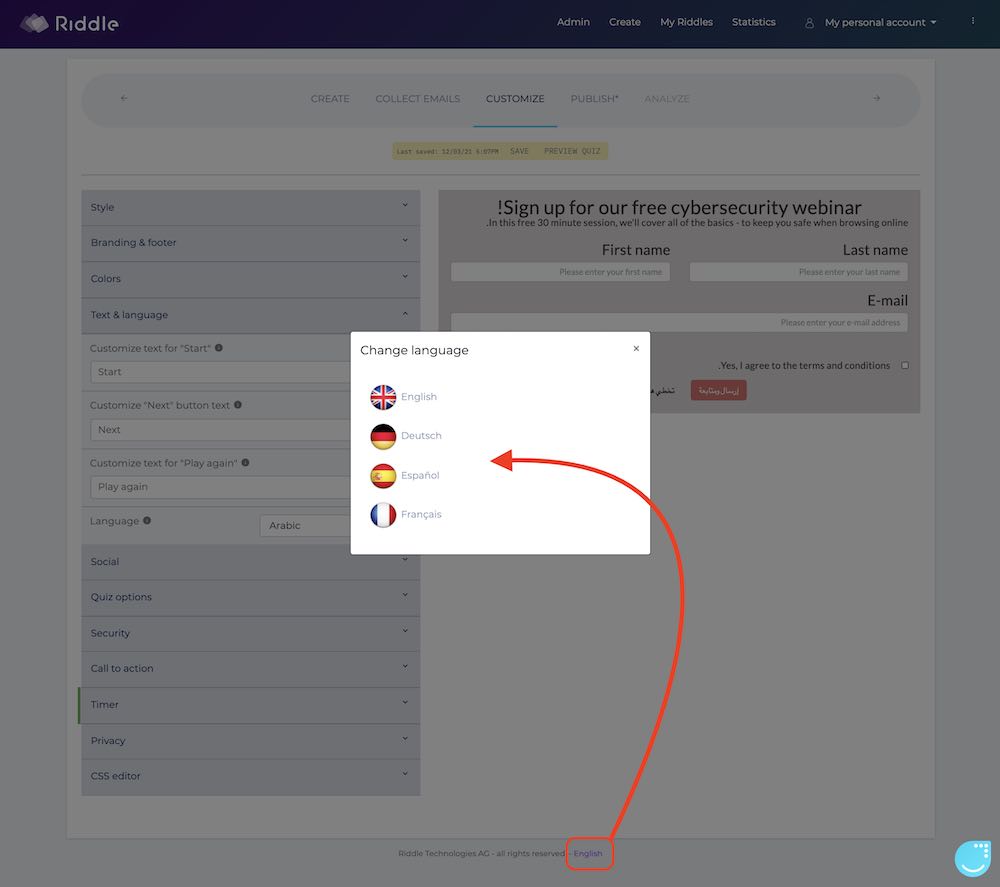 Riddle's full list of languages
As we mentioned at the top, you can change languages for your audience's quizzes (or any of our 15 types of interactive content like surveys and polls) in 67 languages.
(The list keeps growing. Want to change languages but yours is not listed? Please ask us on support chat.)
Afaan Oromoo
Amharic
Arabic
Azeri
Bengali
Bosnian
Burmese
Croatian
Chinese – simplified casual
Chinese – simplified formal
Chinese – tradition
Czech
Danish
Dutch
Estonian
Finnish
French – formal
French – casual
Gaelic (Irish)
Gaelic (Scottish)
Gahuza
Gujarti
German casual
German formal
Greek
Hausa
Hebrew
Hindi
Hungarian
Igbo
Indonesian
Italian
Japanese
Korean
Kyrgyz
Latvian
Lithuanian
Malay
Marathi
Nepali
Norwegian
Pashto
Persian
Pidgin
Polish
Portuguese (European)
Portuguese (Brazlian)
Punjabi
Russian
Serbian (Latin)
Sinhala
Slovenian
Somali
Spanish
Swahili
Swedish
Tamul
Telugu
Thai
Tigrinya
Turkish
Ukrainian
Urdu
Uzbek
Vietnamese
Welsh
Yoruba