Quizzes are powerful lead generation tools – capturing up to 50% of all quiz takers as leads. Now you can instantly act on each lead with our email alerts for new leads and also receive notifications for any leads that failed to be sent to your marketing software.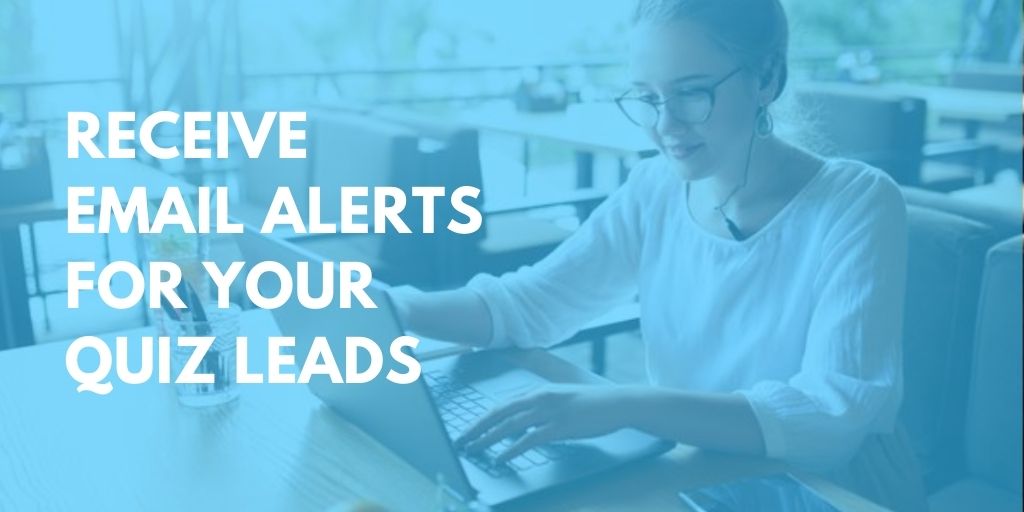 (You can of course automatically also send leads to your email marketing software like MailChimp, ActiveCampaign, or AWeber – to start personalized drip campaigns.)
Setting up email alerts for new and failed leads
You'll need to create a riddle with our quiz creator – it could be a quiz, poll, survey, or any of our 15 types.
Next, you'll want to add a lead form in our collect email step. Drag and drop the fields you want to include like email or short text blocks for things like first and last name.
(Optional) With our 'Connect' step, you can also sync and sends leads directly to your email marketing software.
(Optional) In our 'Save' step, store your quiz leads and quiz responses in a spreadsheet – either as a Google Spreadsheet or as a XLS/CSV file.
(Optional) You can email personalized quiz reports to each quiz taker – with our 'Reply' step.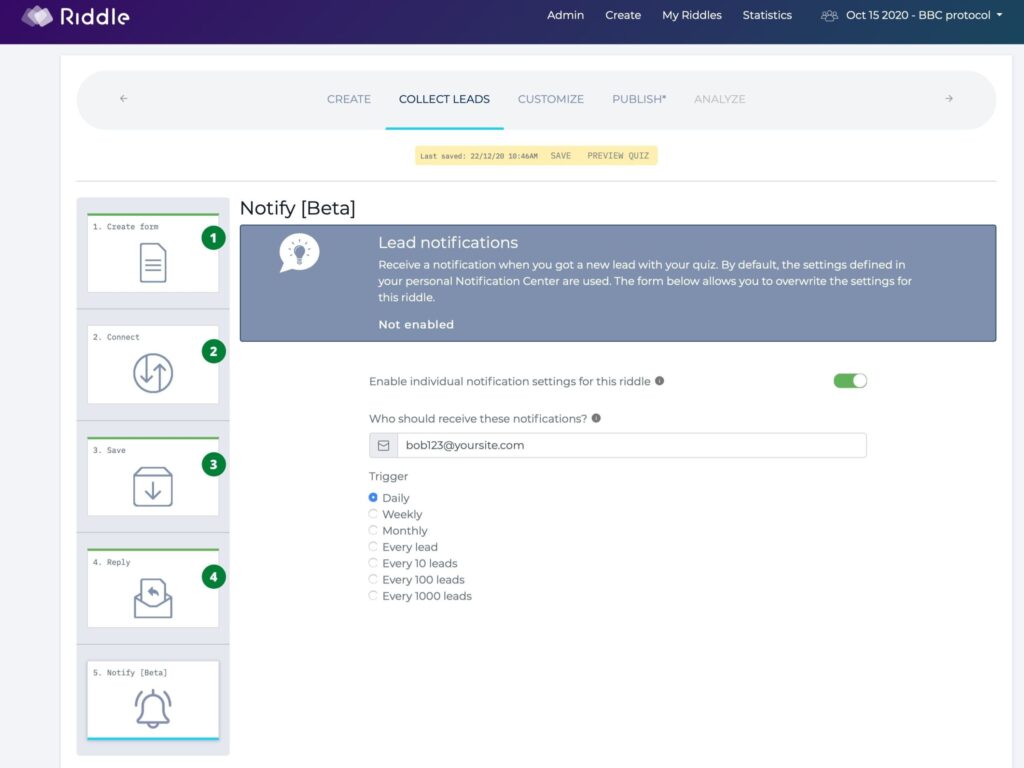 Email alerts – account-wide settings
You can set up your default settings for email alerts for new leads in the account settings.
Click on the "…" menu in the top right corner.
Then 'Notifications'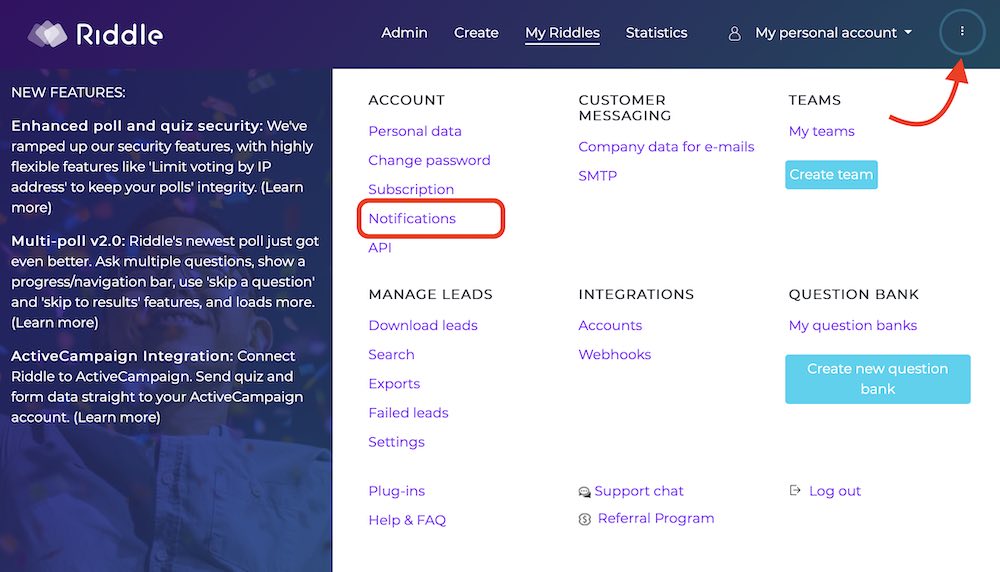 Select 'Lead notification settings'

IMPORTANT – Failed Leads Deletion
If you turn off notifications for leads, you will also not be notified if a lead failed to be sent to your marketing tool. Failed leads are deleted every 90 days, so please make sure to set a reminder to check and process failed leads frequently.
Now the fun part – choose who gets notified (and how often) when people fill in your riddle's lead form:
Turn on lead notifications
Add email addresses (separated by a comma)
Pick the frequency – either:

Time (every day, week, or month)
# of leads (get email alerts every 1, 10, 100, or 1000 leads)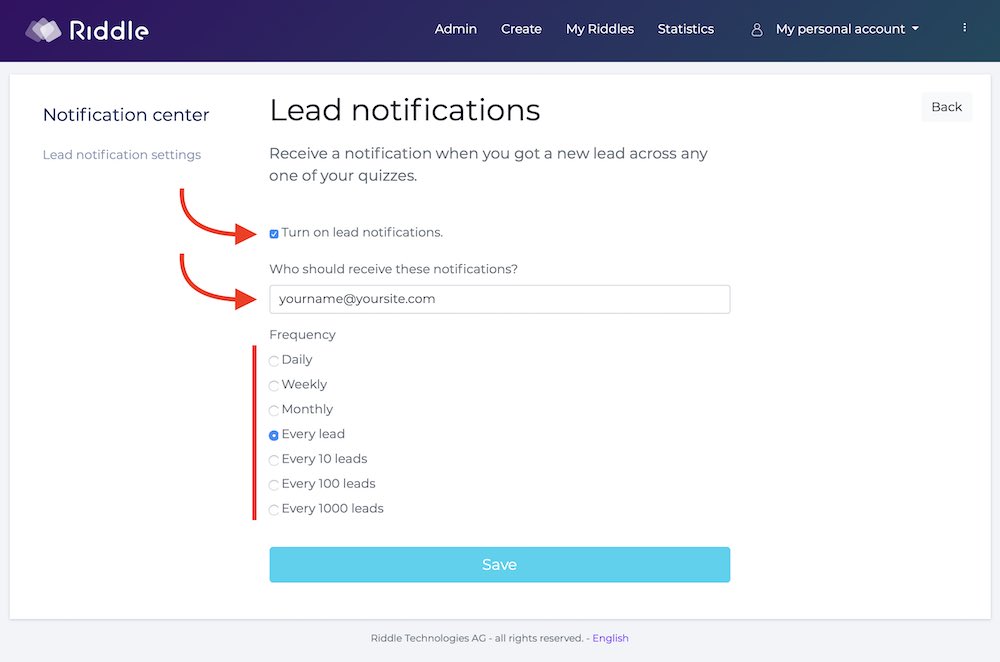 Best practice: Select 'Every lead' if you want an alert with every lead. This is ideal if you want to immediately contact each new lead.
Notification frequencies
Every x leads: E-Mail is sent immediately when the set number of leads is reached
Daily: Every morning at 09:00 UTC
Weekly: Every Monday at 09:00 UTC
Monthly: First day of the month at 09:00 UTC
You can convert UTC times to your time zone on this site.
Email alerts – individual riddle settings
Sometimes you might want to change your email alerts settings for a particular Riddle quiz or other content.
We make it easy – with our 'Notify' step in each quiz.
If you change these settings, these will override the 'account-wide' settings we covered above.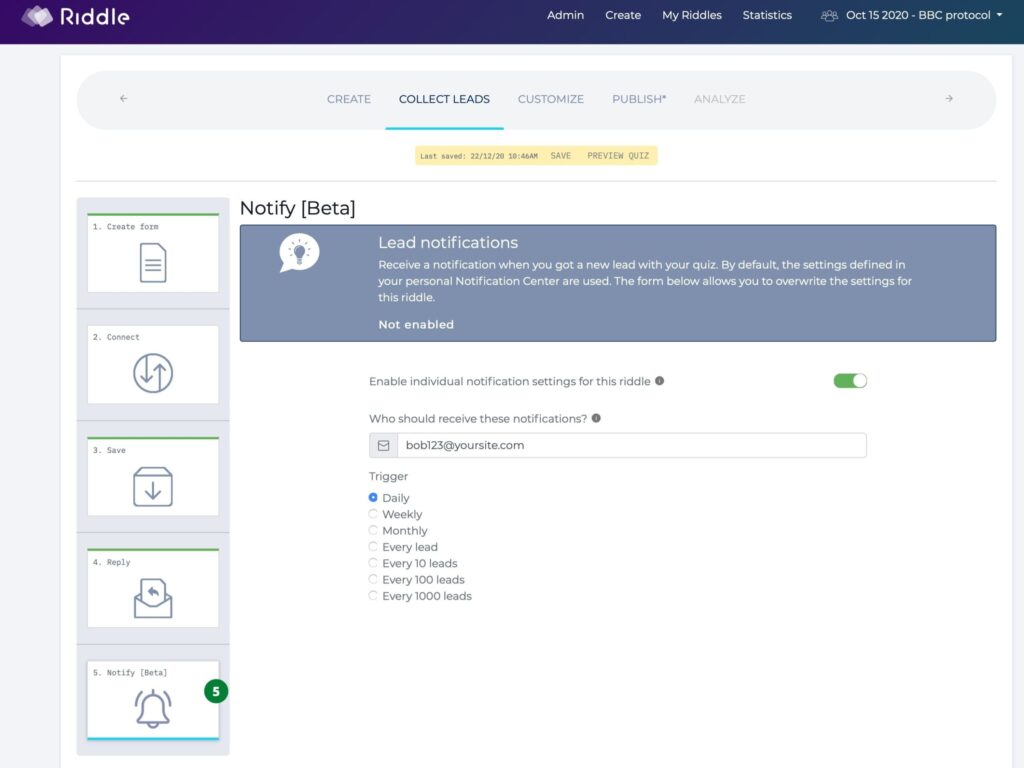 Email alerts – any questions?
We hope that was helpful – but if you have any questions, please ask away. You can reach us on support chat or email (hello@riddle.com).
We bet we surprise you at how fast we respond – when we're awake (7am to 10pm UK time / 2am to 5pm EST), we average around 2 minutes.
Boom!