3
min read
Want to remove our logo or use your own (or your client's) in your quizzes?
It's super easy – Riddle is a fully white-labeled quiz maker, so you can add your own branding to any interactive content you create.
Video: How to add your logo (or hide our Riddle branding)
You can see how you can swap out our Riddle branding for your own, as part of our Pro and Team plans.
Our co-founder Mike whipped up this help video to show you the steps:
​How to add your logo to your quiz
First up? You'll want to go to our 'Customize' step.
Then select 'Branding & footer'.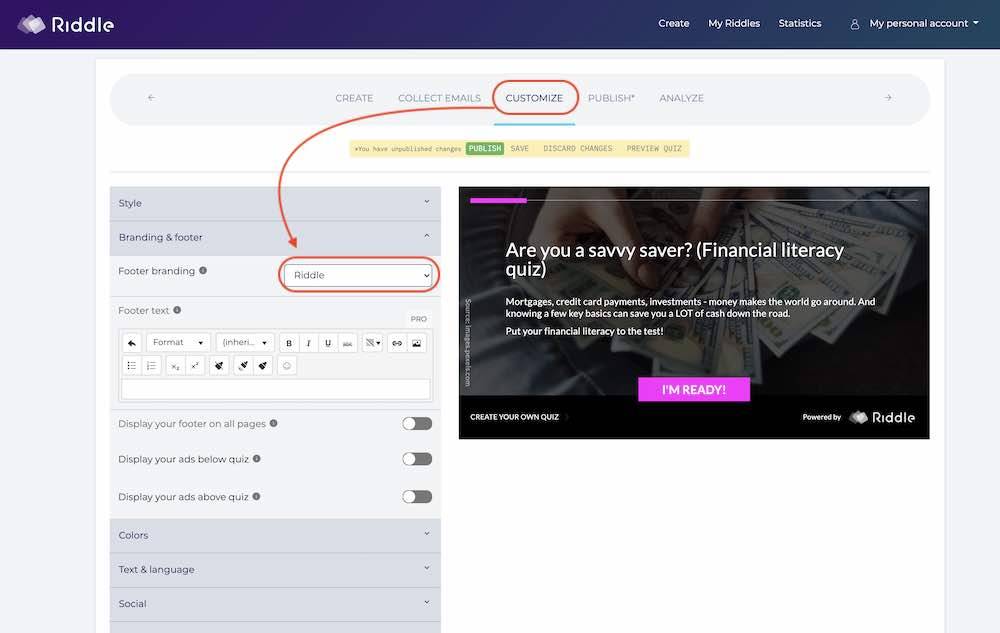 Next – choose either:
No footer – this hides the logo section altogether.
Custom logo – you can upload your logo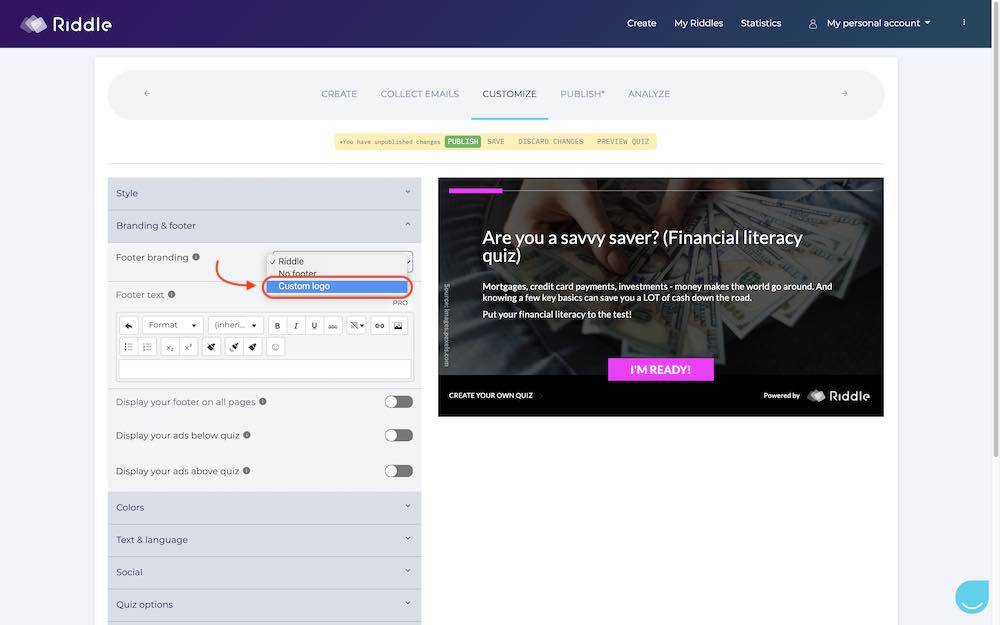 If you've chosen to upload your logo, now it's time to customize how it will appear in your online quiz.
Logo width: Want a big logo? Or small and discreet? Just set the width (240 pixels is our default starting point). No need to enter a height – your logo will be resized automatically, using the width parameter.
Logo link: You can make your logo clickable, in case you want interested users to visit your site (or your sponsor's) directly.
Logo position: Decide if you want the logo to display in the left, center, or right areas of the logo section.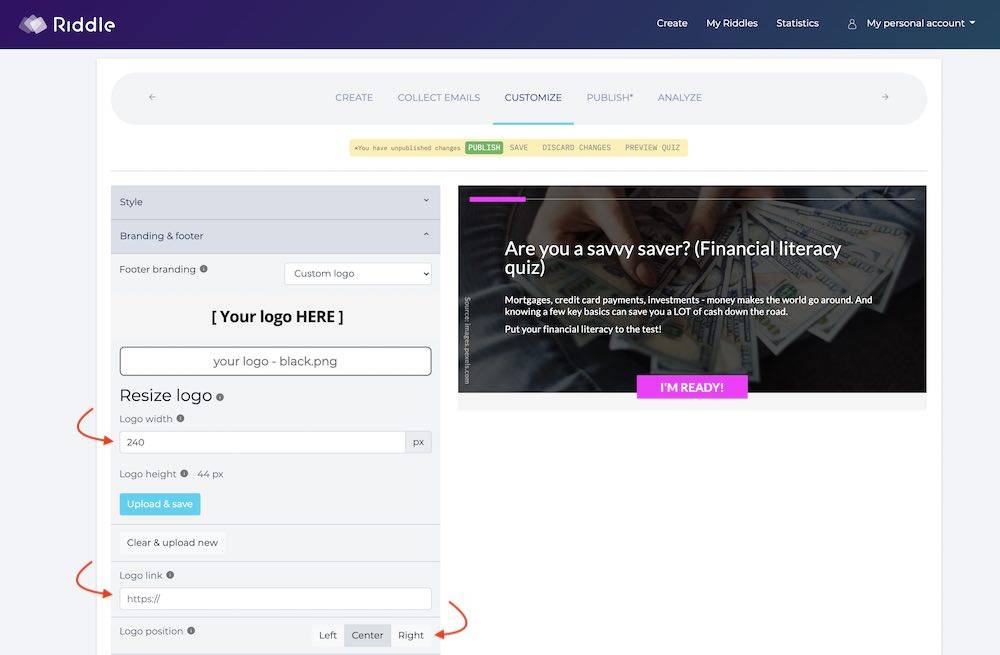 The last step? Decide if you want to change the logo bar color from grey to any other color under the sun.
In our example below, you can see we've added a red background color for the logo: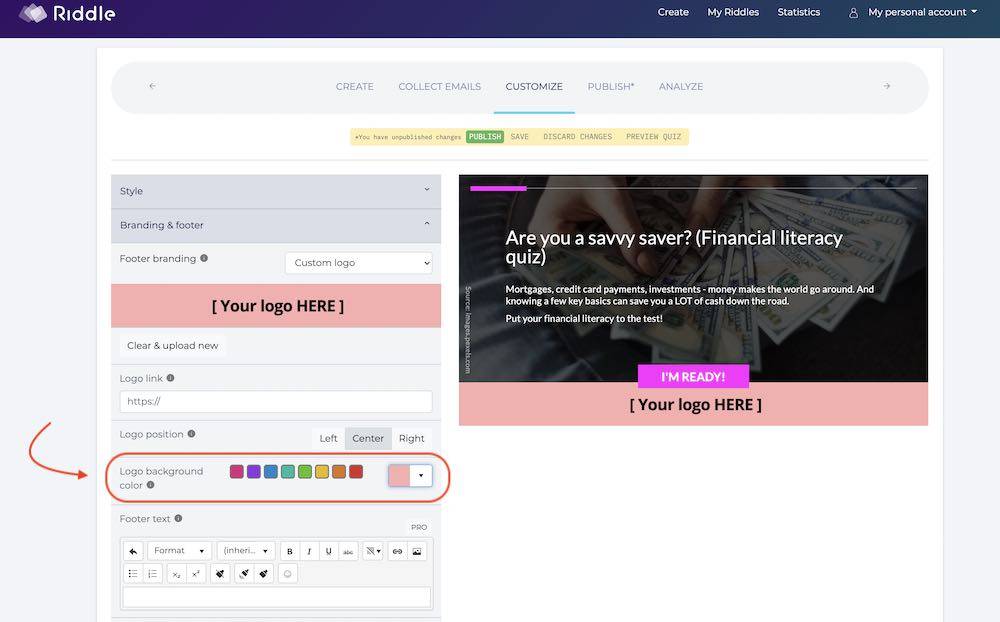 Any questions?
There you have it – all the steps you need for making a quiz that's 100% white-labeled, using Riddle's online quiz creator.
We're always happy to help; if you have any questions, just use our support chat on our site or on our blog. We're quick to respond – most people get an answer in under 30 seconds.

(We're so fast that we're often asked – "Hey, are you guys bots?") 🙂
******
Video transcript: adding your own logo
Sure, it's a bit old school, but we like to add transcripts to every one of our online quiz maker help videos and walkthroughs. Some users just prefer to quickly skim the text, and it's also a more convenient option for folks with accessibility challenges (plus we're a fully accessible quiz maker).
"Hi there. My name is Mike and I am one of the co-founders here at Riddle and in this handy help video, I'm going to show you how you can easily white label any of your Riddle quizzes, polls, surveys, or any of our other 15 interactive formats.
I'm just going to go click on a quiz, for example, and I'm going to copy this template about financial literacy.
Next, once your questions and answers and everything are all set up, pop over to the customized step.
And this is where the magic happens in terms of white-labeling.
Now Riddle is a fully white-labeled online quiz maker – so what you'll want to do is scroll down to 'branding and footer'. And you'll see, we give you several options.
On our basic plan, we include this 'Create your own quiz powered by Riddle' branding. However, with our pro and team plans, we've designed for folks like startups and agencies, brands, publishers, and things like that. You can choose our 'no footer' option – and many folks say, "You know what? I'm already embedding this on my site with my logo. I don't need to have my logo as well."
But if you want to add your logo or if you want to add a sponsor or a client, here's how you do it.
So I clicked on 'custom logo'.
Next, I'm going to choose logo and in this case I have a demonstration logo already set up. So I'm going to click on this and add it here. You can change the sizing and then you want to click upload and save and there we have it. So now we have the logo and you can choose to have it center-, right-, and left-justified, of course. So there we go.
That's how you handle it. Once you're done, though, don't forget to press publish. This will push the changes live and then it'll be nice and ready to go on your website.
Any questions about how to white label your quiz or how to use other customizations, like our CSS editor or custom fonts? Please use our support chat and you'll see here that we responded about two minutes.
We respond very quickly because when you type your message, your question will pop up on all of our phones… oh, there's one right now. All of our smartphones will ping, and we all race to answer it first.
So again you'll be answered very quickly. Alright, thanks so much. And Happy Riddling!"