13
min read
Want to see live quiz examples from some of the biggest brands and publishers in the world? (Click here to jump to the quiz examples.)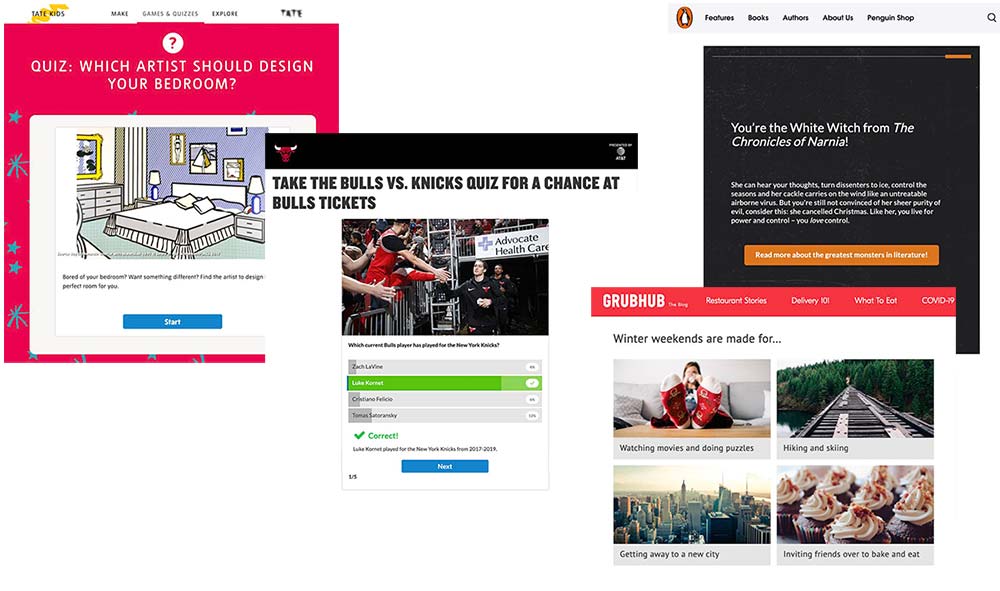 You're probably here because you know quizzes, polls, and other interactive content are awesome at both engaging your audience – and collecting leads.
On the engagement side, we've seen up to 85% of quiz takers finish quizzes, spending an average of 3 minutes and 34 seconds per quiz – that's a 31% improvement over the internet average session length of 2 minutes and 47 seconds.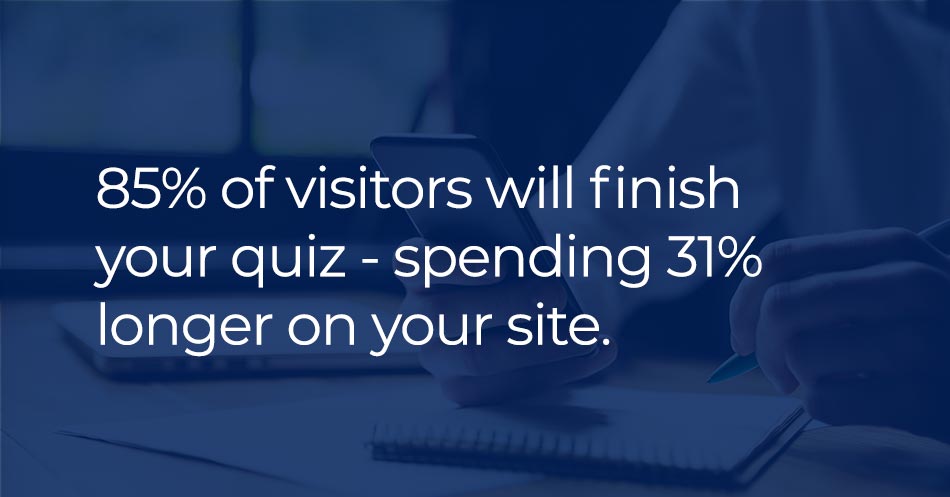 And let's not forget about collecting emails and quiz data. Done well, your quiz can get from 35-45% opt-in rates – over 20X better than the typical 'sign up for my newsletter' pop-up.
We've even seen stand out quizzes like life coach Merilyn Beretta's "What's your WoW Archetype" achieve 68% completion rates – needless to say, she's a very happy quiz marketer with Riddle!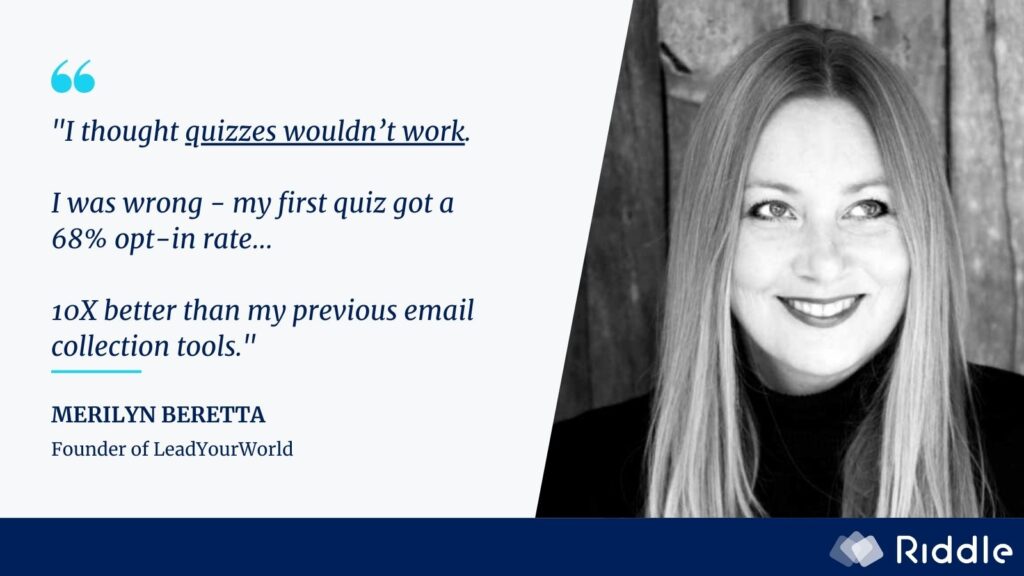 Live quiz examples
So, it's clear that quizzes work, right?
But we also know it's a little intimidating thinnking up the perfect quiz or poll to catch your audience's attention – and get them clicking.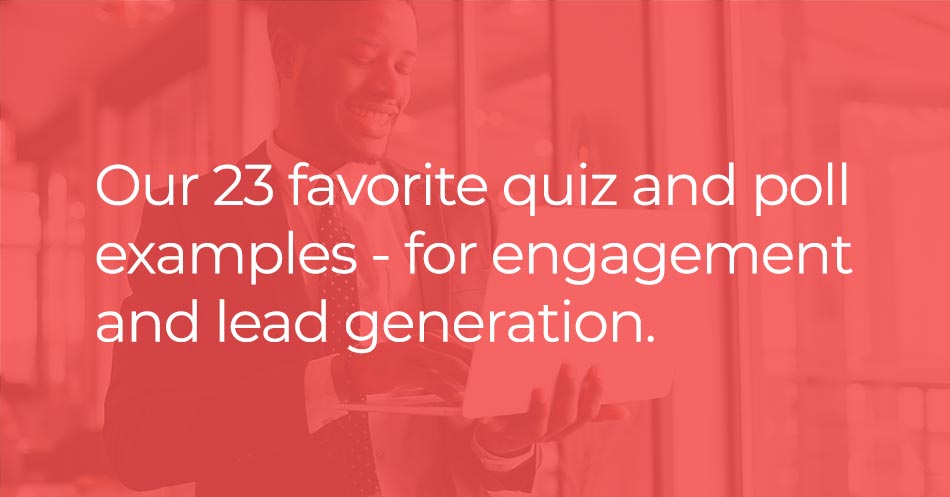 Fear not – we've got you covered. Our team of quiz experts have curated this list of our 23 favorite quiz examples from our Riddle partners like the NFL, BBC, and Red Bull – across a range of use cases.
We'll break down why each works – and give you the tips and tricks to make your own quiz or personality test equally awesome.
Quizzes for product & content recommendations
Forget one size fits all marketing. Every customer is different – the challenge is coming up with a scalable way to discover what makes them tick – and how you can help.
One of the most common use cases for quizzes has to do with helping visitors discover the right product or content for their needs.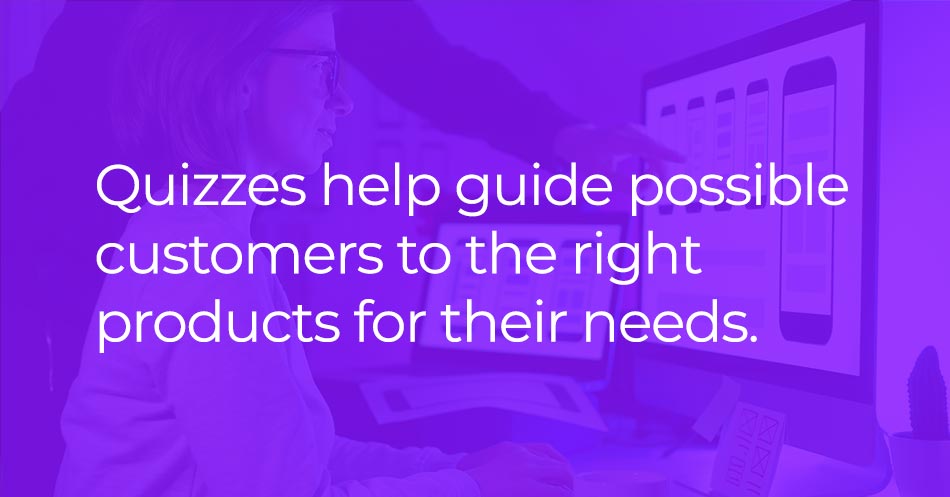 Think about it – in the 'real world', a helpful store assistant would ask a few questions to guide customers to the right products. Or a librarian could suggest books or other content for their interests.
Riddle's quiz maker takes this approach online – our personality test, our branching logic 'journey', and other formats let you ask key questions – then suggest the right product. Combine that with our call to action buttons or result redirect pages, and you can direct interested users to the right pages on your site.
Here are some of our favorite product recommendation quiz examples:
AVA Grace Vineyards: simple and oh-so-effective, we have to raise a glass to Grace Vineyards – this nine question personality test helps wine drinkers find the right vino, and include links to that wine's page. They include a special offer on shipping to help seal the deal.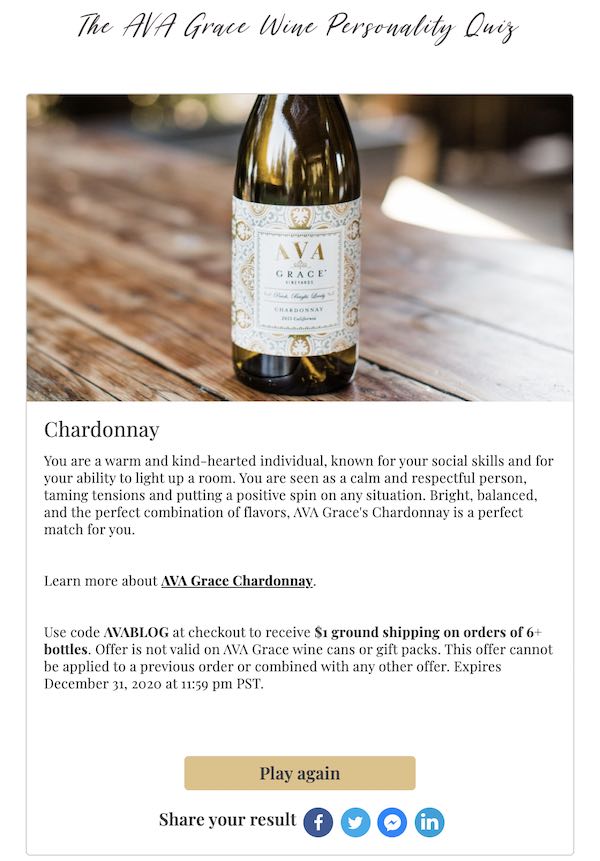 Choice Hotels: This is one of our all time favorite example quizzes – we love how they suggest vacation ideas around cities with their hotels. Plus, it looks super slick with their clever use of our CSS editor to seamlessly match their site.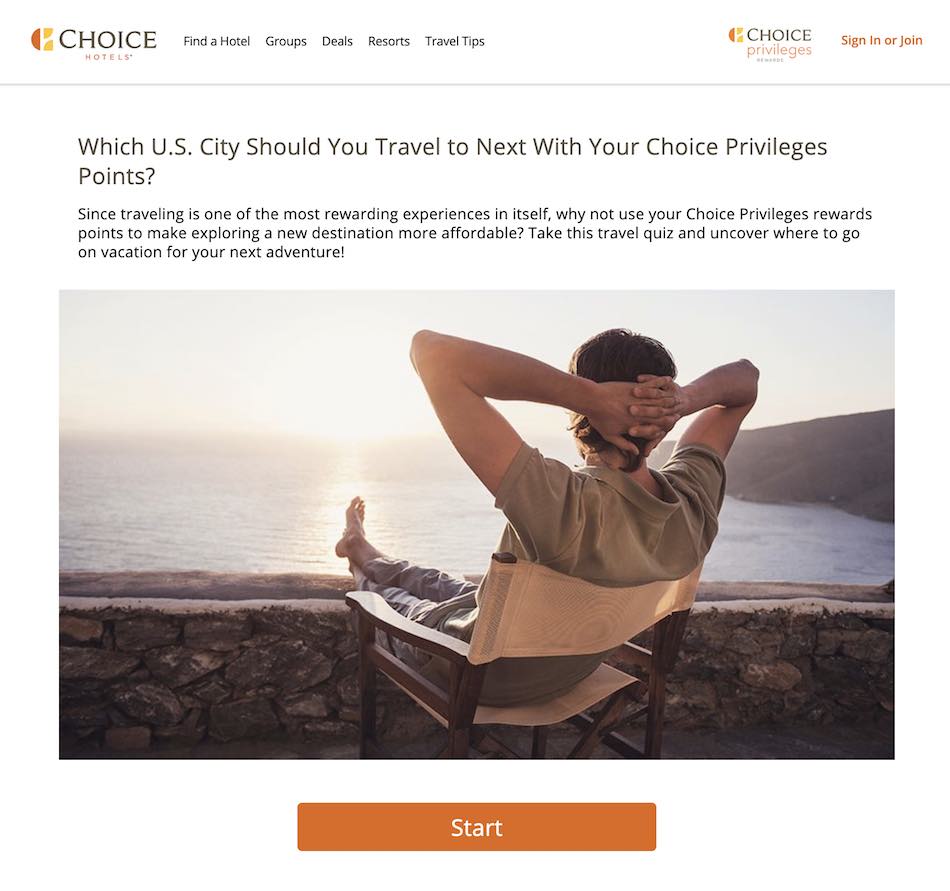 Grubhub: Food delivery powerhouse Grubhub consistently create quizzes to help nudge their audience to try new takeaway options. It's impossible to take their 'What should you order this winter?' personality test – and not get tempted to place an order.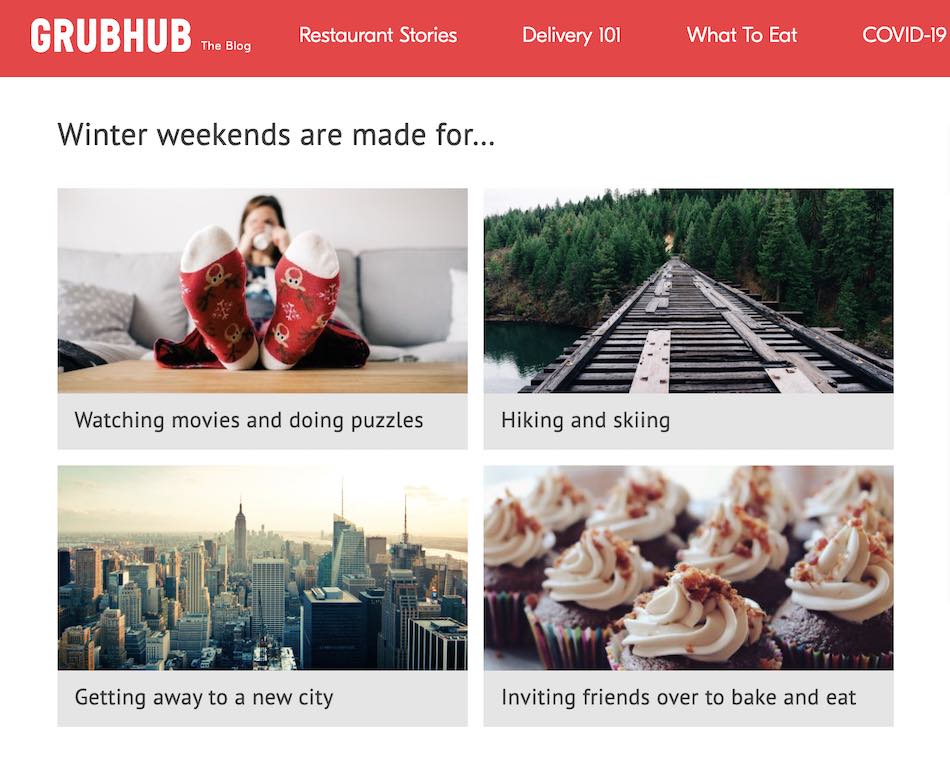 Penguin Random House: One of the world's largest publishers, PRH has the challenge of selling too many different books. Their 'What literary monster are you?' quiz helped guide their readers towards the right story – and includes 'call to action' buttons to each book's purchase page.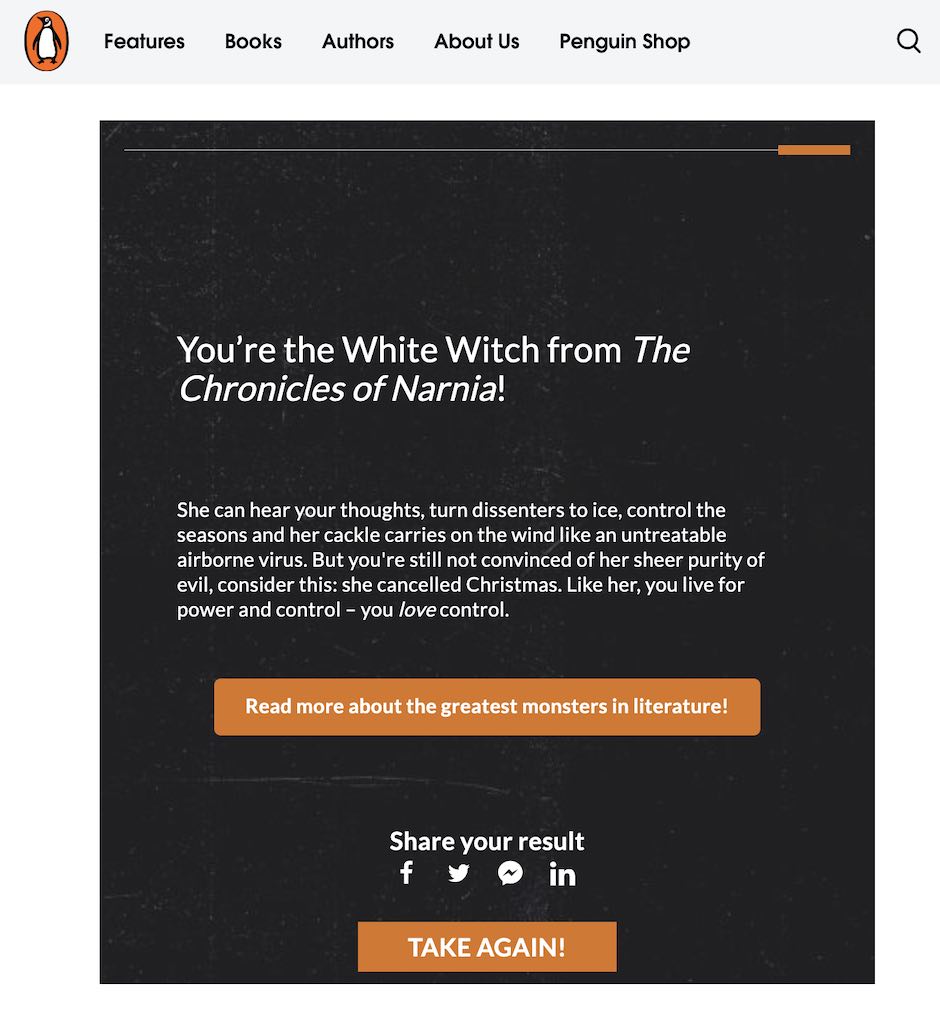 Contests and sponsored content
Brands have long known that contests are winners at collecting entries and emails from their audience. People just love a chance to win something – especially when they get to show off how much they know.
That's where quizzes come in – running a quiz contest flat out works, especially when you add a qualifying score requirement (e.g. "Get 80% or more for a chance to win!").
And quizzes – contests and otherwise – are great for sponsors, who want to be associated with interesting, innovative content.
NBA's Chicago Bulls: The Bulls use quiz contests as a core element of their fan outreach. Short and sweet, like their "Take this Bulls vs Knicks quiz" – they consistently get 45%+ opt-in rates. Thousands of emails, for the price of two tickets – that's a slam dunk of a ROI.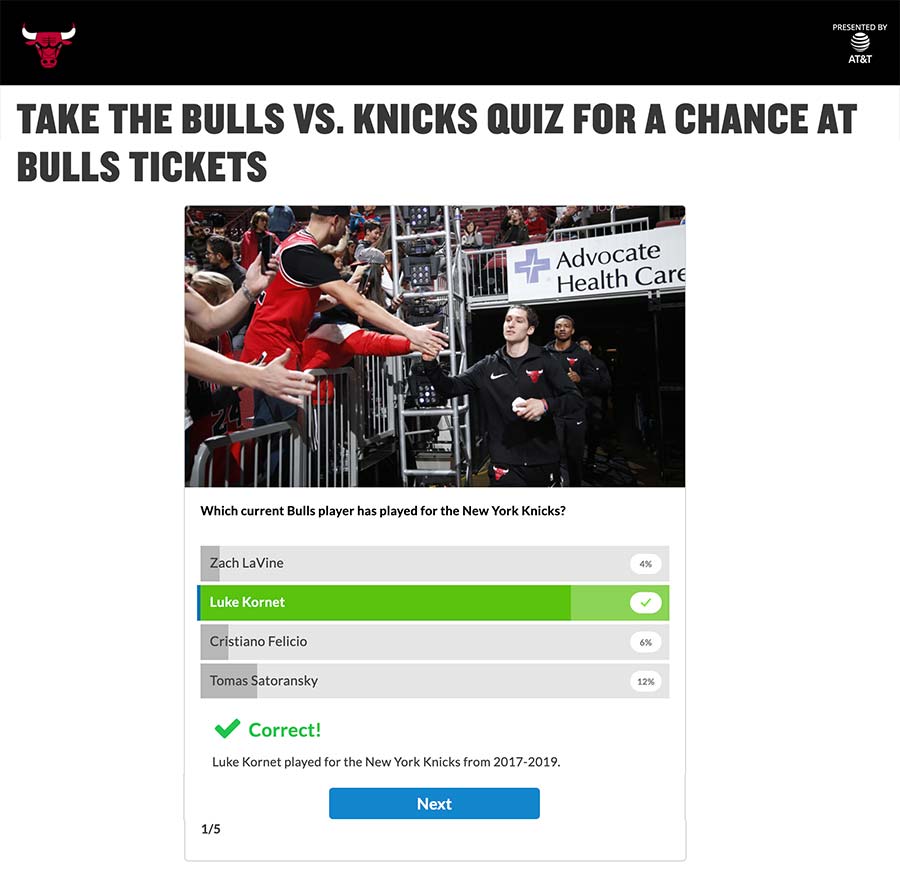 NFL's Chicago Bears: the Bears are masters of the sponsored quiz – they create a quiz before each game (like this "9 questions to test your knowledge of Bears-49ers history" quiz, and it can be branded by one of their corporate partners (in this case Xfinity). Fans love testing their knowledge, and the sponsor gets associated with this fun experience.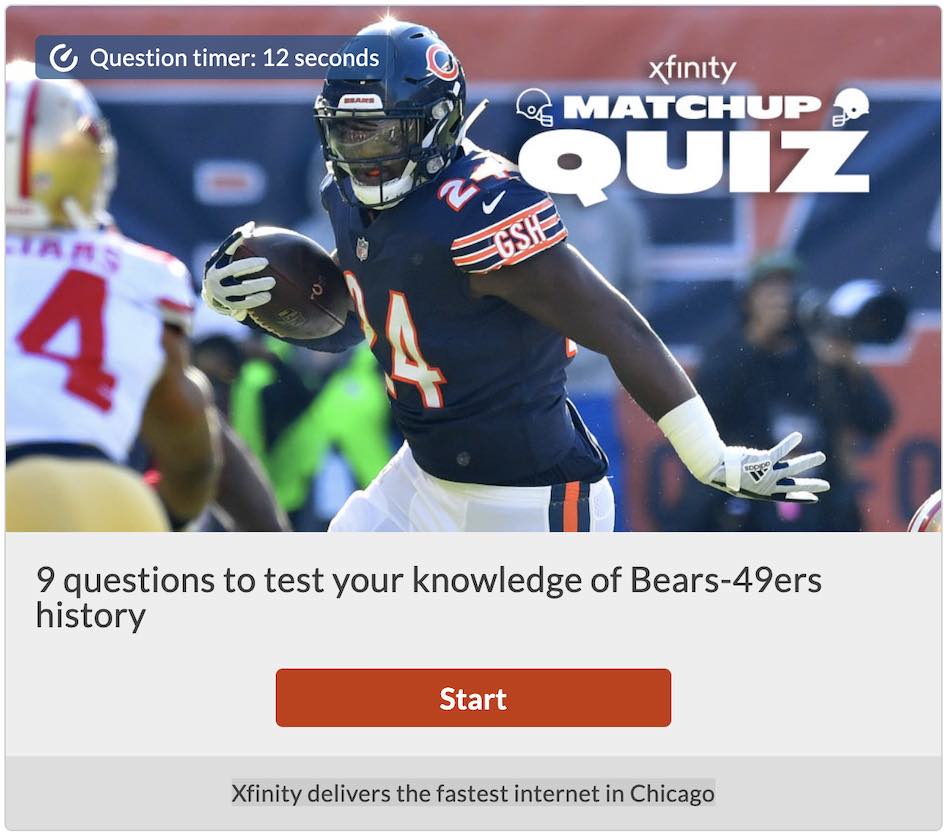 ABC TV: Quizzes can also provoke or intrigue potential customers, especially when use with influencer marketing. In this example, ABC TV created this "What Kind of American Housewife Are You?" personality test to promote (you guessed it) their show "American Housewife". They collaborated with bloggers like Divine Lifestyle and had their quiz embedded in thematically linked content for excellent results (on their page, scroll down to see quiz).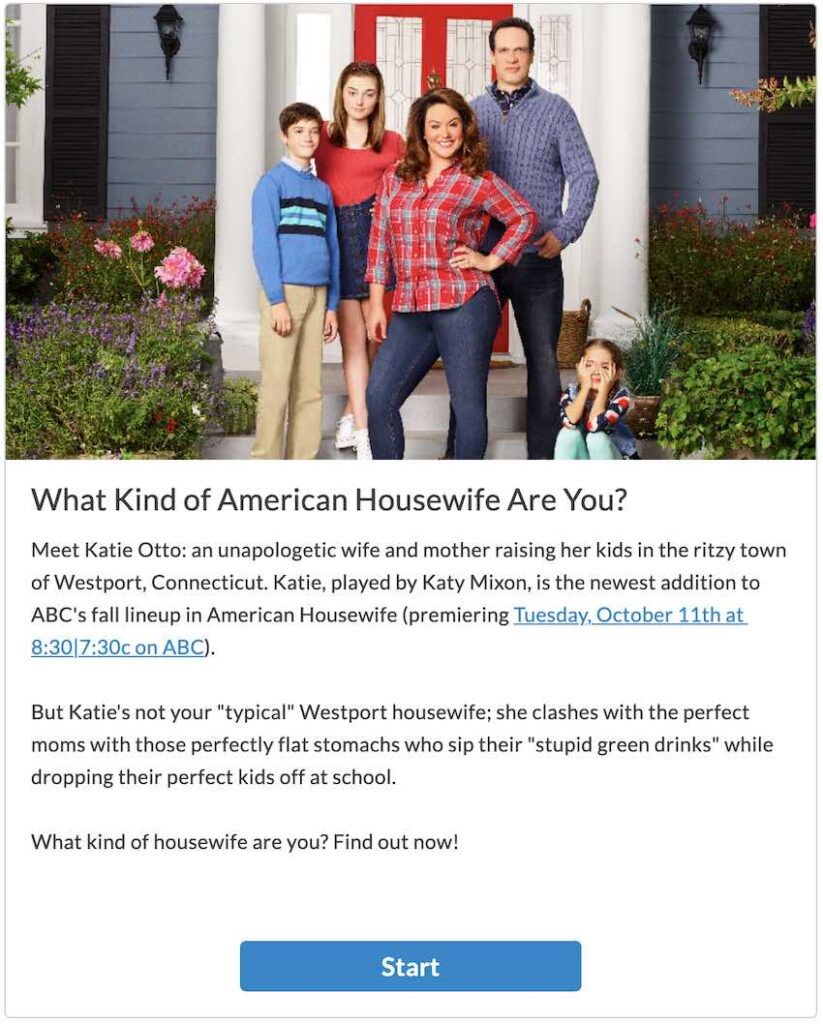 90min (Minute Media): Sports publisher 90min runs advertising supported sites across all major spots. And branded quizzes play a big role in getting sponsors to commit their ad budget. Take a look at this quiz sponsored by Komho Tyre – as part of their 50 greatest footballers of all time article.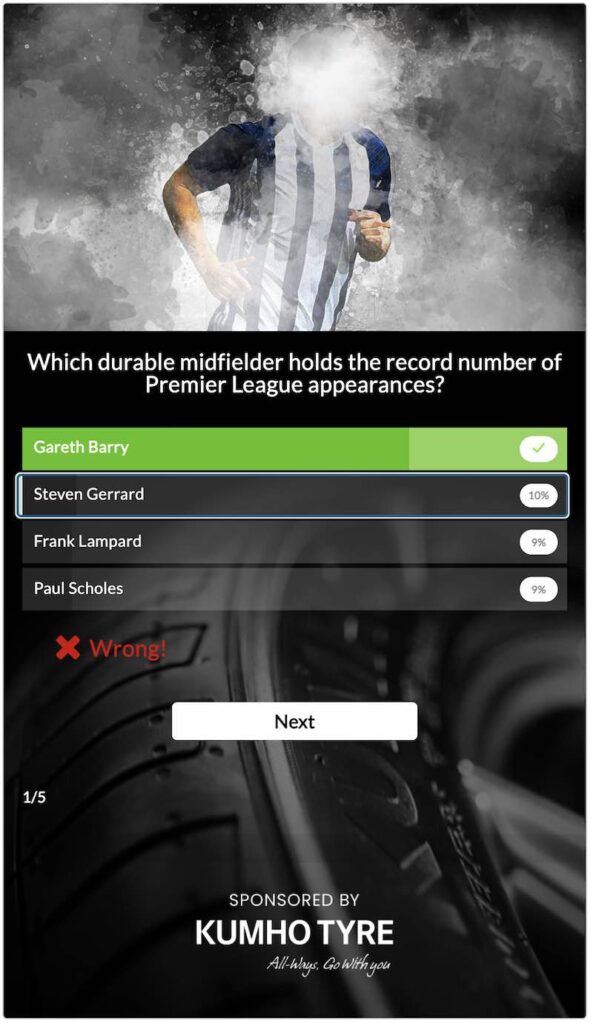 Non-profit quiz examples
The non-profit sector is a big fan of using quizzes for marketing. Facing tight budgets and big goals for fund-raising, using a quiz maker like Riddle lets non-profits create a stream of high quality, highly effective content, without the need for expensive agencies.
Polls, quizzes, and personality tests are ideal to engage their existing supporters, or educate and inspire new ones. Let's look at some quiz examples in more detail:
World Animal Protection: The renowned animal rights organization have been leveraging interactive content for years. They know images are incredibly powerful – and eye-catching images to draw visitors in for 'top of funnel' awareness and educational campaigns – like their "Take our lion quiz".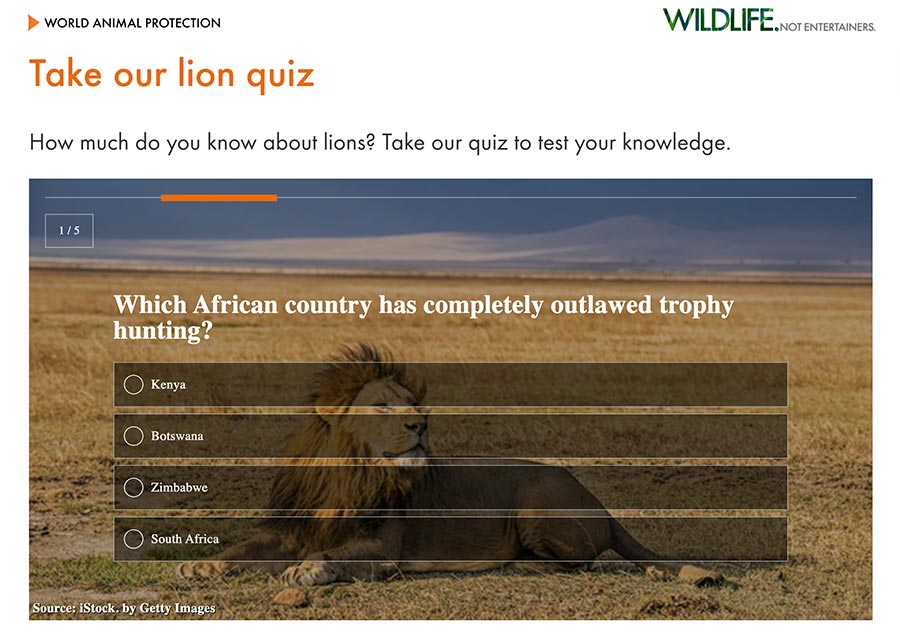 Tate Kids: The world-famous museum is turning to online content to reach their younger audience – with quizzes leading the way. Their team is super-creative using content like this "Which artist should design your bedroom?" personality test – it gets kids inspired to learn more about their matching artist.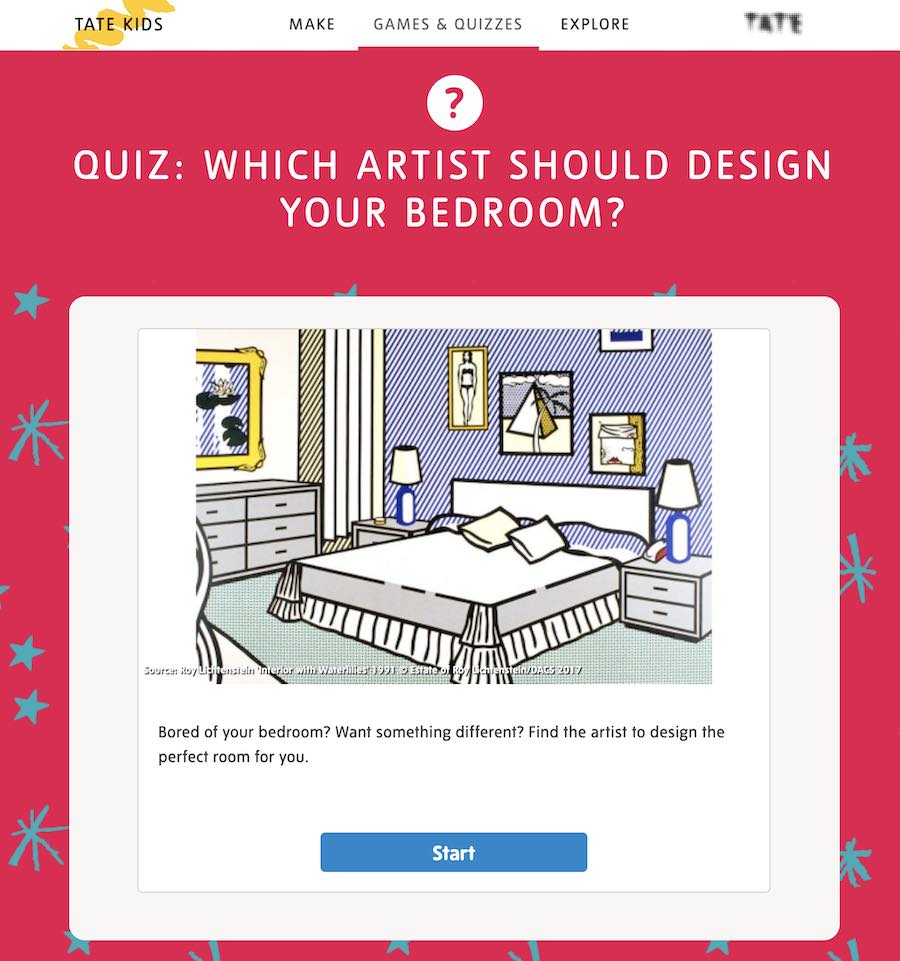 Energy Saving Trust: How do you make saving energy… fun? The Energy Saving Trust integrates quizzes in everything they do – it gives context to long-form dry content. You can see this approach at work in the EST's "Could an electric van work for you?" quiz, using our branching logic 'journey' format – they added this to their in-depth article on electric vans for business owners.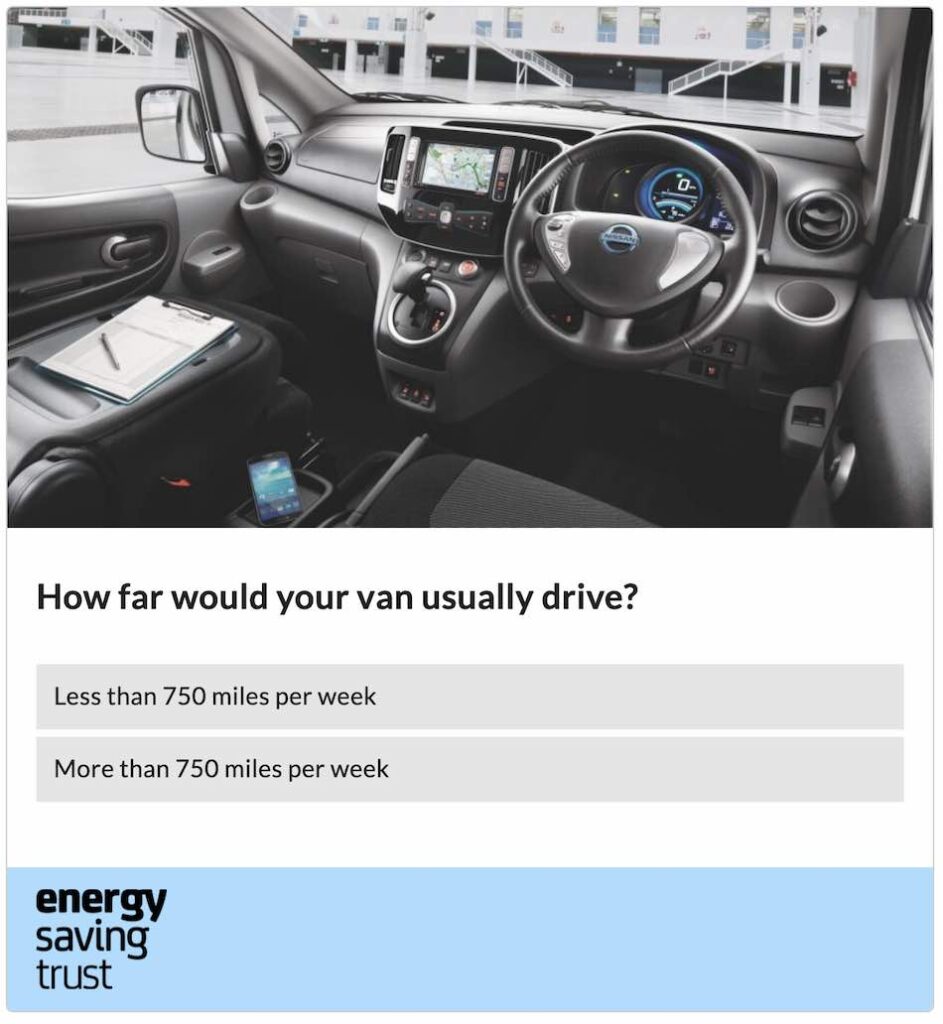 Polls and surveys
Quizzes can a lot of the attention by marketers – but you shouldn't discount the power of a poll or a survey. People love to sound off and give their opinion about everything under the sun – especially it looks fun and engaging (vs. those annoying 'Give us your feedback about our site' pop ups) you see so often.
BBC Sport: Picture the scene – a BBC journalist is about to publish the story of Liverpool's dramatic 4-3 comeback win against Barcelona. About to hit 'send', she pauses – and in less than a minute, quickly creates and adds this Riddle reaction poll to the article.
Time taken: 60 seconds. Results? 300,000+ votes from happy fans – a classic case study how polls boost engagement.

Celtic FC: Perennial Scottish football (or soccer if you're from the US) powerhouse Celtic used Riddle's multi-poll to power their 'Player of the Year' voting. (The poll is now closed – but you can view it here.)
It looks stunning – with their own custom font and CSS, and was a big win for their sponsor to (ahem) boot.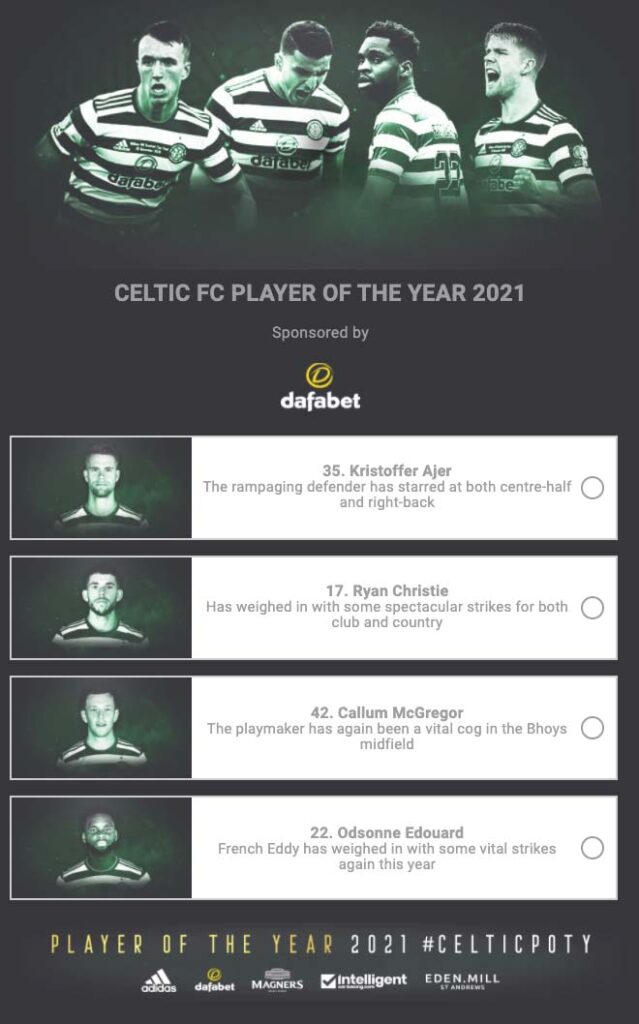 NFL's Indianapolis Colts: the Colts took this concept a step further, and used Riddle's survey tool to create their 'All-Indy Team' event – fans could pick their favorite players for each position from throughout the Colts' storied history.
The voting is over – but you can still see the survey here.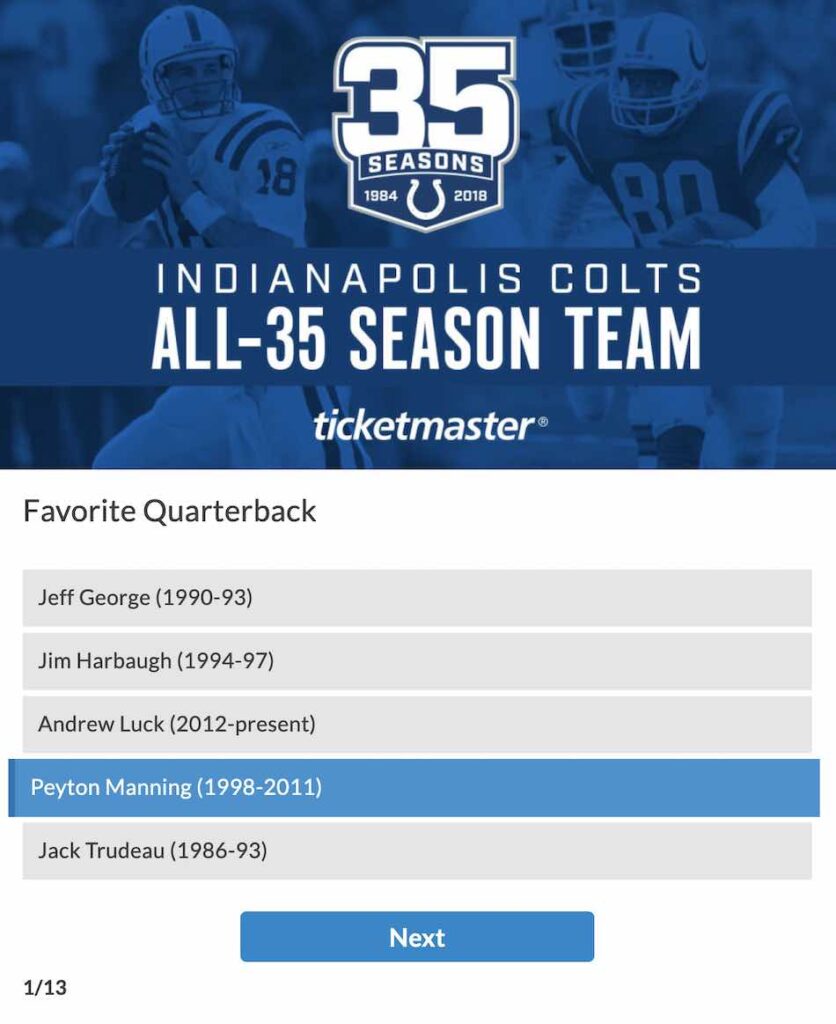 Video quiz examples
If a picture is powerful, just think how much more impact a video-driven quiz can have. Riddle supports adding YouTube, Vimeo, and MP4 video clips to your quiz.
Our partners have been exceptionally creative in leveraging this to make their quizzes and interactive content full multi-media experiences.
NFL: The NFL league office used our upvote poll for their 'Play of the Year' voting in 2020. Our upvote format is perfect for videos – with lots of screen space and an unrolled format, especially conducive for smartphones.
The voting is closed – but you can still see and take the NFL's poll here.

BBC: The BBC gives the NFL a run for their money in being clever with video clips. They were masterful in using these highlight videos to let fans guess if a player should have expected to score.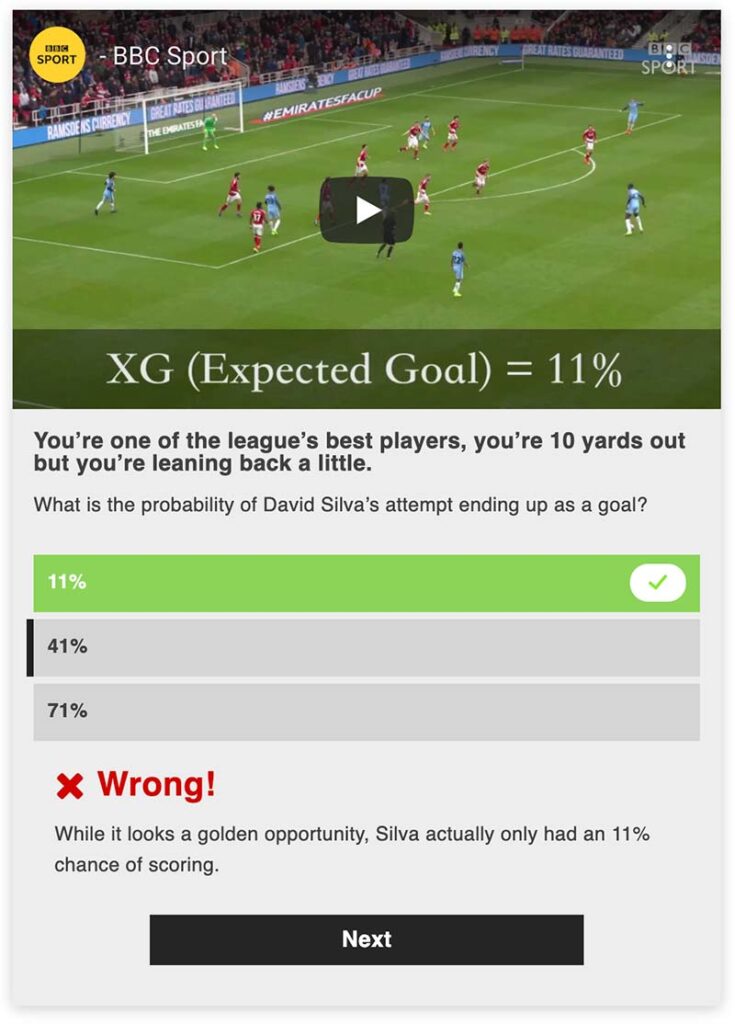 'Out of the box' quiz examples
One of the things we love most about Riddle is seeing the unique ways our quiz maker community think up to use quizzes in their marketing. Check out these 'best in class' quiz examples below!
AgathaChristie.com: The content team at Agatha Christie turn to Riddle's quizzes to keep their mystery-loving audience engaged. Hercules Poirot himself would love their 'Agatha Christie stories in emojis' quiz!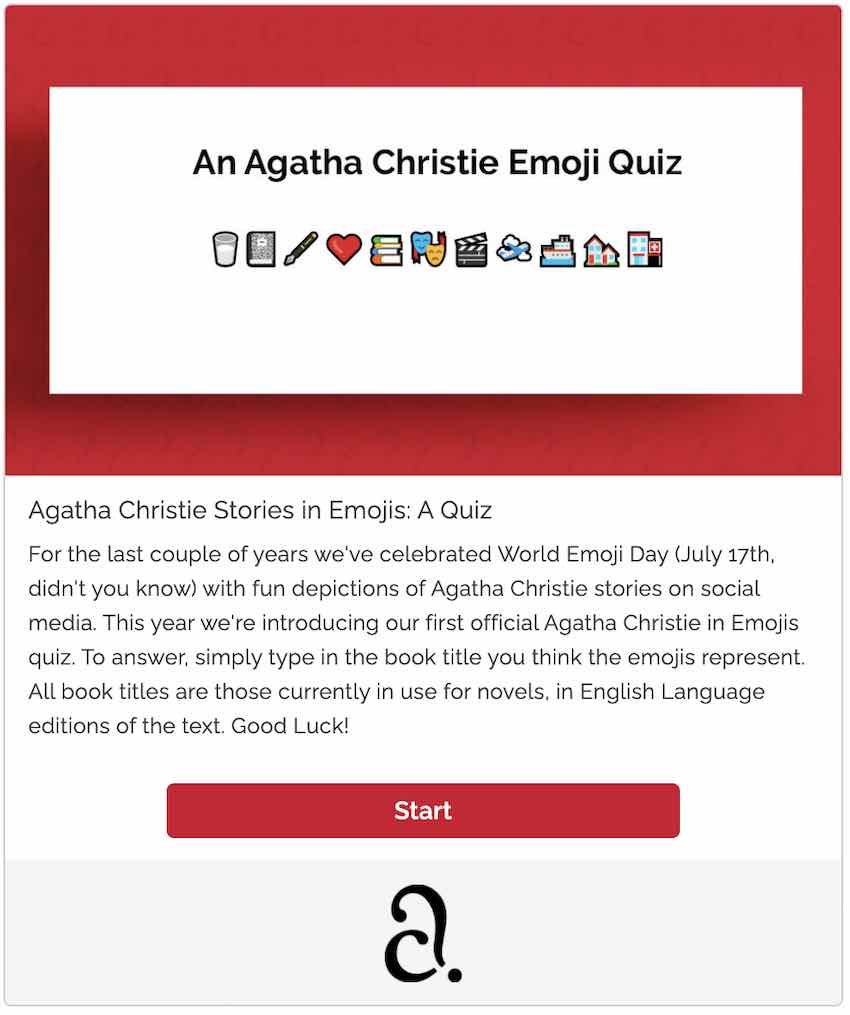 ATP Tennis Tour: Brilliant use our 'tap and find' quiz type – where the answers are hot spots in the image. Using different formats keeps things new and interesting for your audience. (Take the quiz: https://www.atptour.com/en/news/quiz-monte-carlo-2021-nadal-challenge)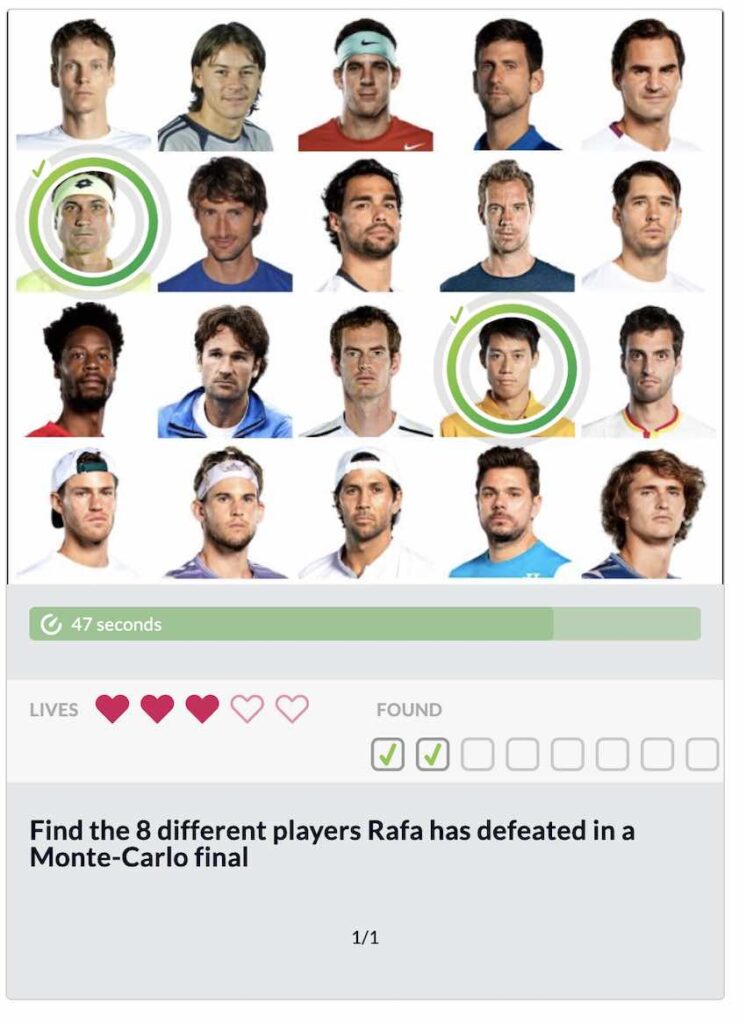 NFL's San Francisco 49ers: We had to include them for two reasons – one, they're our cofounder Mike's favorite team, and two, they're among our most innovative quiz creators. They indulged their inner PhotoShop geeks and created this '49ers face swap quiz' – one player's body, another's face. Goofy, difficult, and a big hit with their fans.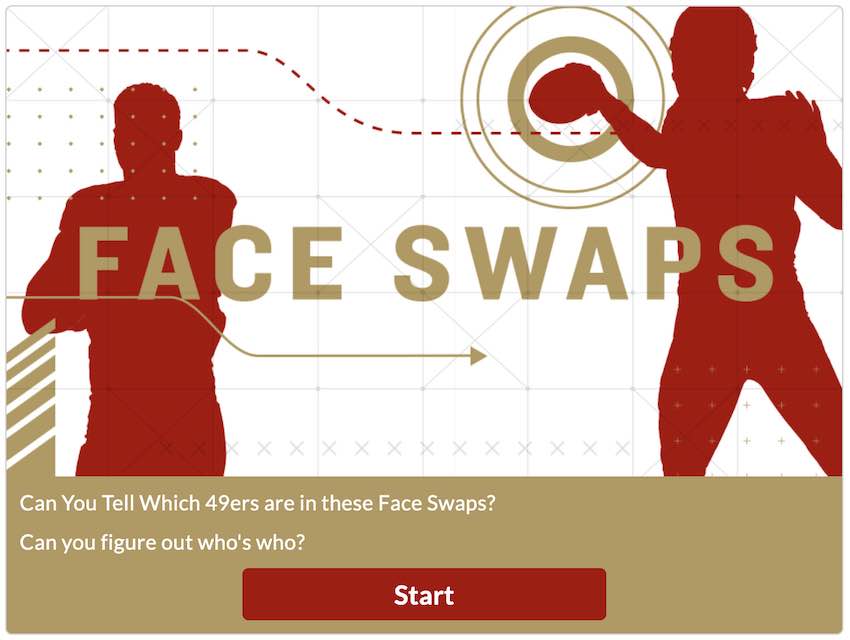 Wimbledon (Lawn & Tennis Association): The organizers of the world's most famous tennis tournament face a tough challenge – how to keep their tennis-hungry audience involved before and after the tournament?
We loved their 'Guess who? (Wimbledon champions)' quiz – simple twist on a classic kids' game, but superbly done with custom graphics.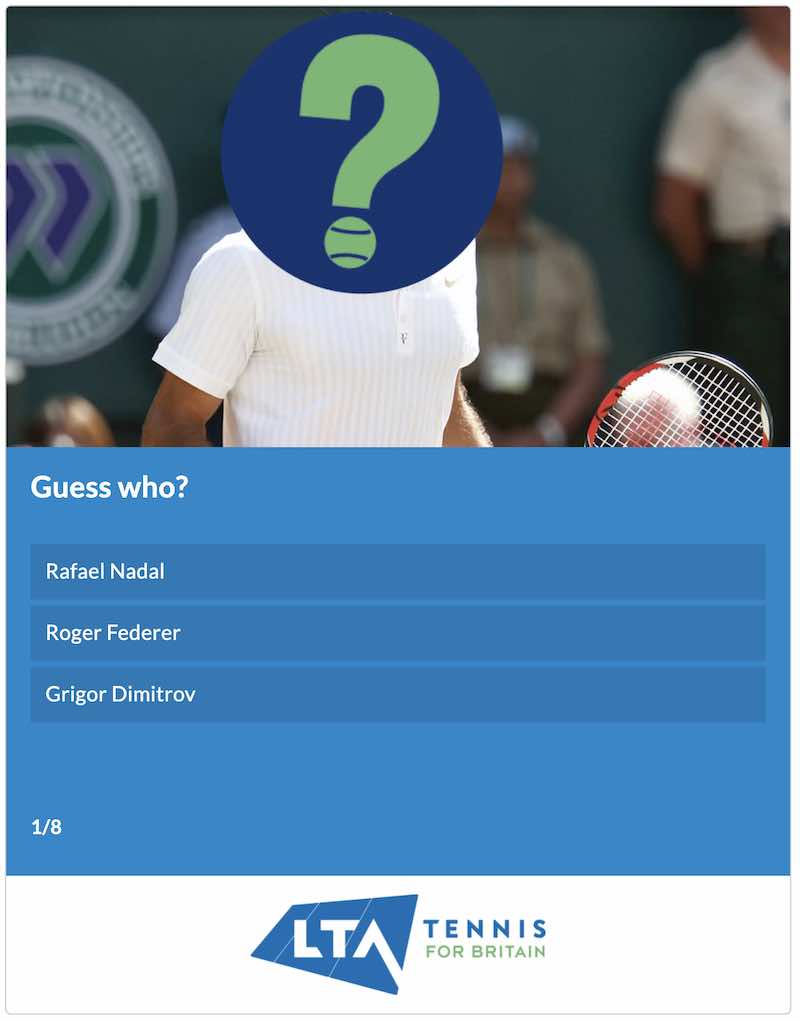 'Just awesome' quiz examples
We work with some of the best brands on the planet – so it was incredibly difficult narrowing down this list of quiz examples. So we added this 'Just awesome' group – more of our favorites from brands like CNN, Red Bull, and Shopify.
Red Bull: The team at Red Bull is about far more than energy drinks. They've earned their reputation as some of the most creative sports marketers around – and content like their 'Name That Race – Trophy Edition' quiz play a role in building up the buzz around Red Bull's exciting sport events.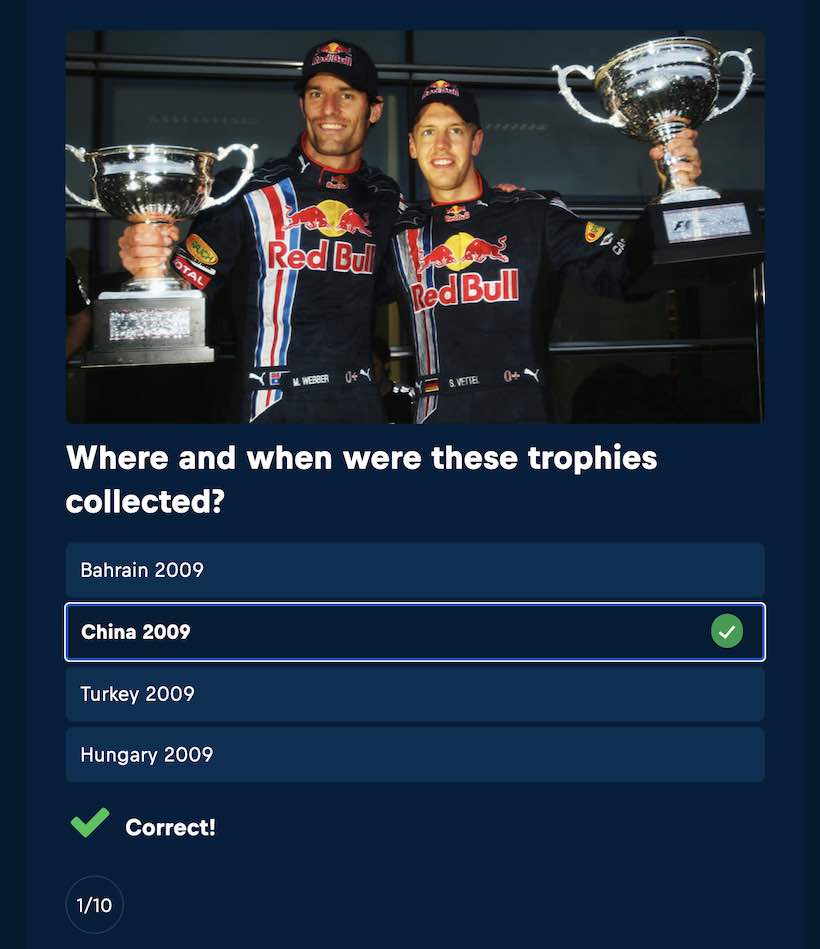 CNN: The news team at CNN has turned to quizzes, polls, and other interactive formats to make their site more 'sticky' – and increase their time on site. We're big fans how they used our free-form 'Story' format to sum up the life of former President Trump – much more engaging than a long text-heavy article.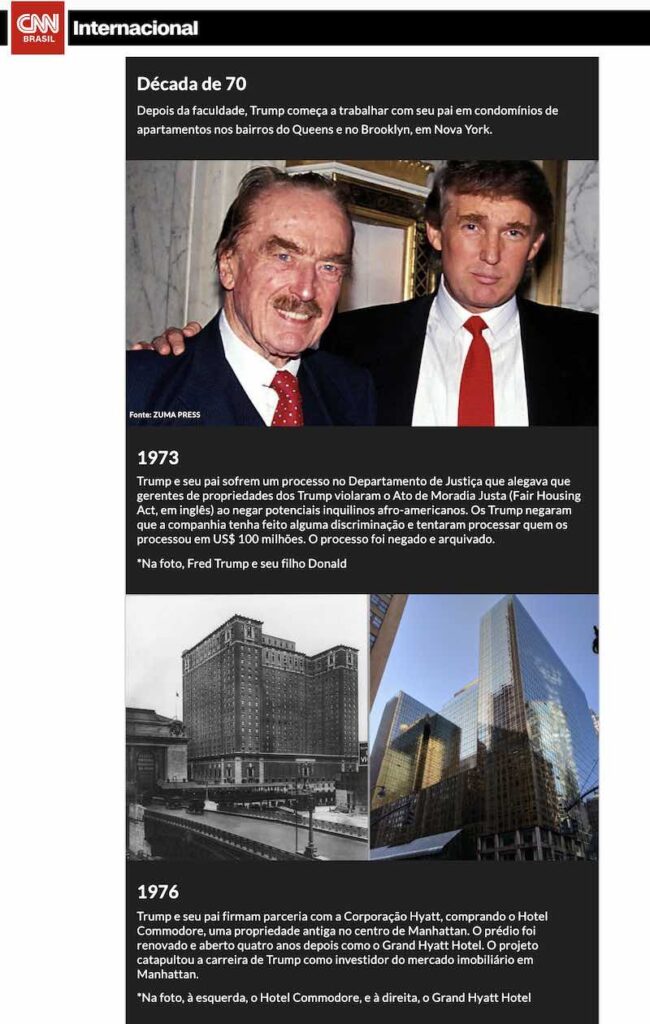 Shopify: The e-commerce giant knows a thing or two about content marketing. They've crafted a series of quiz marketing funnels – using polished quizzes like their 'What type of entrepreneur are you?' personality test – to inspire potential customers thinking about starting their own business.
They then follow up with targeted drip email campaigns around each lead's quiz responses – to boost conversions and sign ups for their SaaS products.
Zillow: The team at Zillow were trailblazers, disrupting the traditional real estate business with their easy to use portal. Their content folks make quizzes like "Should you renovate your home or sell?" to inform and educate – the goal is to turn Zillow beyond a mere listing of homes for sale, and into THE destination for all questions and information about real estate.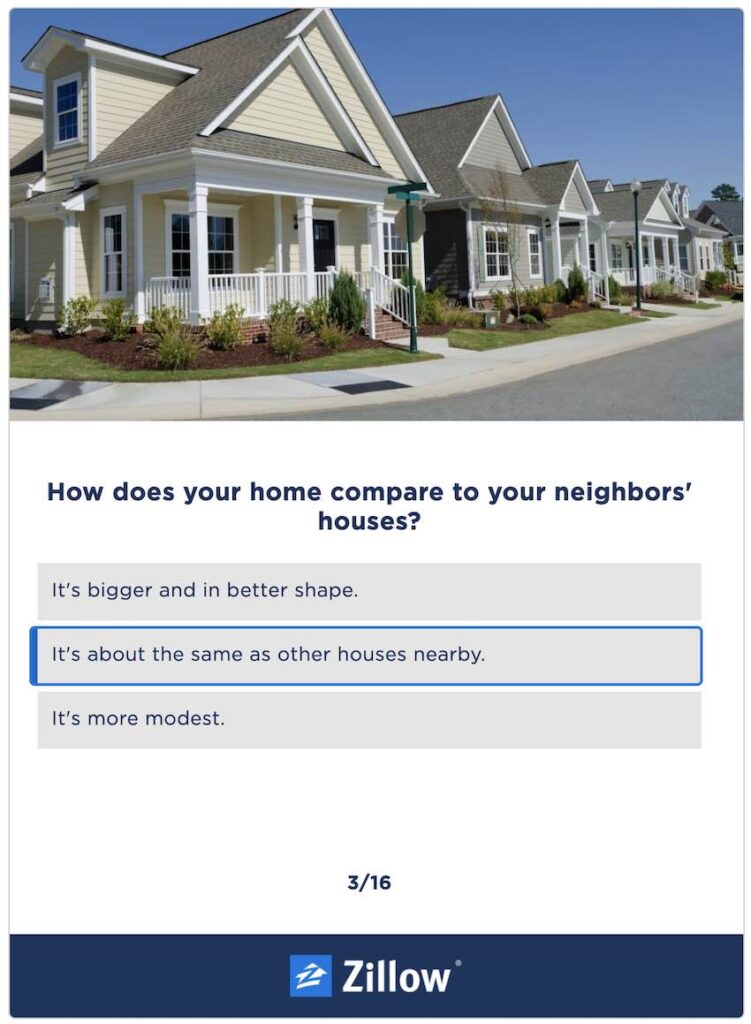 Quiz portals
One of the best things about quizzes? People love taking them – AND will takes as many quizzes as you provide. These quiz examples show how brands increase their visitors' time on site – simply by showing all their quizzes in one page.
(Side note: Want to automatically display new questions to each quiz taker? Check out our quiz generator. Simply upload a spreadsheet of questions – and your quiz will constantly show new questions.)
Formula 1 racing: The race gurus behind the world's highest profile circuit have some of the most enthusiastic fans in the business. They add quizzes and polls in their long-form content – but F1 also created this quiz portal – so fans can find them all in one place.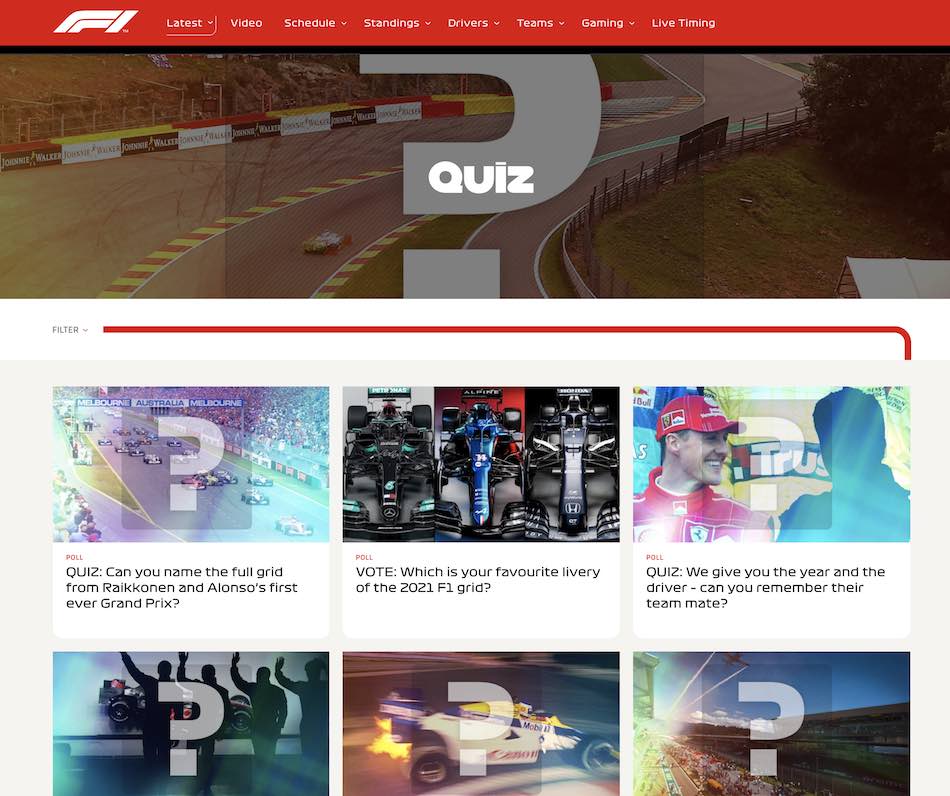 NFL's New York Giants: Just like F1, the Giants also need to keep their fans happily engaged with new content. Their squad of quiz writers create weekly quizzes for their posts – but this NY Giants fan trivia HQ is their fans' ticket to hours of quiz content.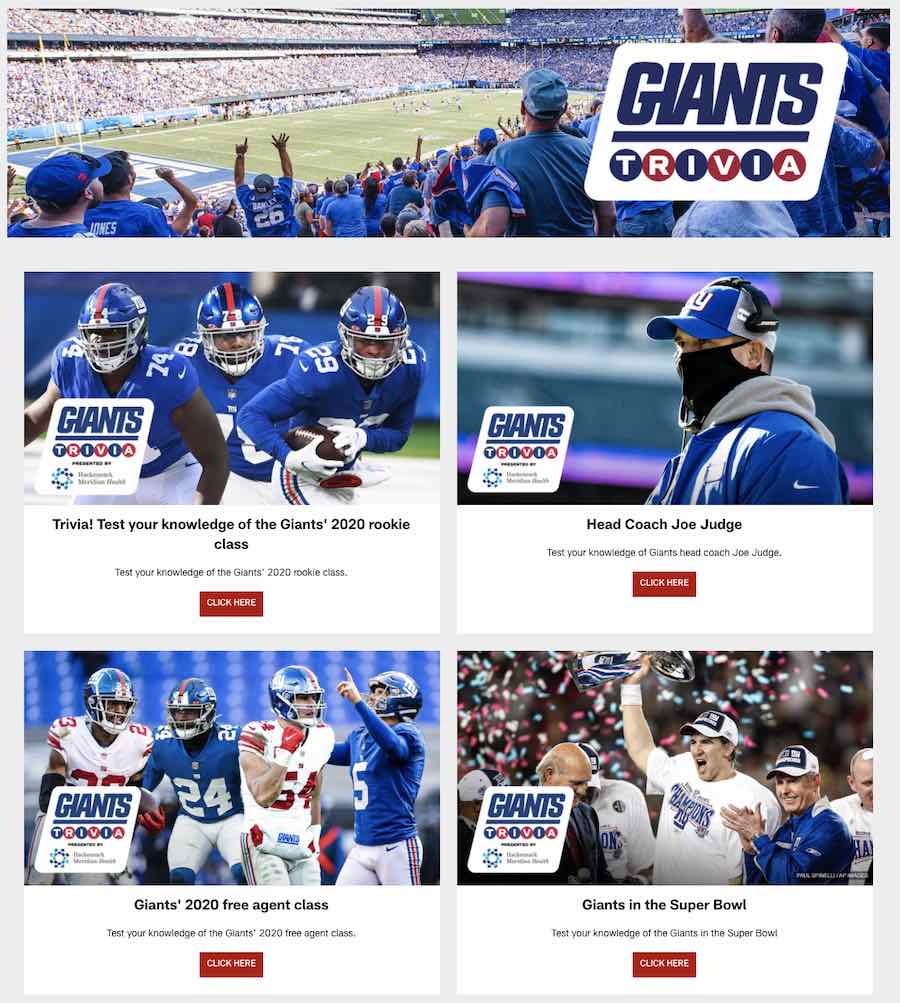 Video: Why these quiz examples work?
We break down some of our favorite quiz examples – to learn why they work so well, and share the best practices that will help you with your own quiz marketing.
Video transcript
(We know some folks like to just speed read instead of watch a video – so we've included this transcript of our quiz examples video.)
Hi there. My name is Mike and I'm one of the co-founders here at Riddle. And in this video, I'm going to show you a quick walkthrough some of our favorite quiz examples, why they work, why they're effective and how you can apply these lessons to your own quizzes.
So let's dive in. The first quiz that we're going to take a look at is from the gang at Wimbleton.
One thing that they do exceptionally well with this quiz? They want to build fan engagement, especially when the tournament is not happening. We love their high quality graphics. They've actually uploaded an animated gift with this little tennis ball – it's simple, slick styling.
And from a quiz title perspective, they actually personalize it by adding 'you' to the title. "Can you figure out these Wimbledon champions?" is much more effective than just something like "the Wimbledon champion quiz". That's more engaging for users.
If you dive into their content, you can see that they've uploaded high quality images throughout. Plus, they've had a cool concept around a kids' game – getting quiz takers to find the player without their face. Just really well done – the right answer after each question.
Quiz length is also spot on – we like how they kept this quiz at eight questions. It's tempting to go crazy because Riddle is so easy to use – and make a 15, 20, or even 30 question quiz. However, you'll see engagement drop off. So six to eight, maybe 10 questions is a good rule of thumb for most use cases.
However, there are always exceptions.
So the next of our quiz examples… in this case, Zillow is one of the leaders in online real estate, especially over in the US. They've done something so clever and so effective with this quiz – "Should you renovate or sell?"
Now the goal for this quiz is to help evolve Zillow into more than just a list of houses for sale. They want to provide information resources as well, so potential buyers or sellers in this case can find out what the answers they need.
The title is a simple, personal question – "Should you renovate or sell?"
We love the branding – they have a nice tasteful Zillow branding at the end. And they've used some of our custom CSS to have this blend seamlessly into their site, plus they uploaded their own corporate font, which is part of our team plan as well.
They actually had gone for 16 questions – that's normally a bit longer than we'd recommend. However, Zillow knows that when people well are looking to buy or sell a house, they are very interested in the topic. Users are happy to put in a little more time and provide a little more information so that Zillow can provide the right details back at them.
So in this case, they have 16 questions – such as 'What's the real estate market like in your area?" and so on. But still – look how fast it is to take. We're really big fans of this.
Now I've skipped ahead to the actual results, but again, Zillow just knocks it out of the park here. They've actually put a lot of time and effort into crafting really good results. So in this case, I got "Consider renovating" – but they also gave me lots of very good information with links to other content.
They've also included a link to Zillow offers. So they just absolutely nailed it in terms of an all-inclusive engagement piece that informs, but also guides people to further content.
Next up? E-commerce giant Shopify. Their challenge? They provide some of the best e-commerce tools for small businesses on the planet, but they know that many people who are visiting their site might still be thinking, "I'm not sure do I want to start my own business?"
So Shopify uses quizzes like this "What's your founder sign?" to get people thinking about, well, am I an entrepreneur? Because if they are, Shopify has the tools that will make it easy to set up their own online website.
Now this is also interesting. They don't use images in their questions. It's text only. Most of the time we highly encourage images, but Shopify used a great image at the front to catch atttention – and then goes for text only for a faster quiz experience.
Again, they've gone a bit long with 12 questions, but because they're such simple and gut check type of questions, it's still a very short quiz. So it works really well for them.
Shopify has used Riddle's lead-generation tool to gate off the results – "Give us your email address to get your results." They can use that info for a drip campaign based around the results – in this case "You're a Mountaineer!" – to convert them to a customer.
And you'll also see here that they have a call to action button that links out to more information about the Mountaineer, which says, "Oh, well, this is what the Mountaineer does." Strengths, weaknesses, things like that.
Shopify also included a Riddle poll here. So again, they're keeping people interactive. That's clever.
Next up? We'll take a step back from real estate and e-commerce and focus on AgathaChristie.com.
Their community of mystery lovers loves everything to do with Agatha Christie, obviously – and so they're quite geeky. The content team at Agatha Christie knows they need to create quizzes to keep them engaged and discovering new things about Agatha Christie, but they need to do it in a way that's quite challenging.
They created a quiz that uses emojis in each question that spells out and Agatha Christie title.
Now I am actually rubbish at Agatha Christie titles. So I'm not going to get this correct, but you'll see here, they're using free text answers.
Normally, we recommend our multiple choice, click buttons questions, because they're simple and fast. But Agatha Christie knows that their fans are geeks who love to demonstrate what they know.
I've entered "Murder on the Orient Express" – which I'm sure is wrong.
It's actually "The Body in the Library" – you can see there's a tomb in a stack of books. So really clever.
This got a lot of social traction for Agatha Christie, because people love to demonstrate what they know and when the quiz challenges them enough, they want to show and brag about it to their friends.
Very well done.
Now taking a step in another direction, you can also use quizzes as the centerpiece for sponsored content. 90min.com is a huge sports publisher and they have sports sites for everything from football to racing, baseball and so on, and they're advertiser supported.
So what they'll do is craft custom quizzes around a particular campaign. In this case, this is a sponsored quiz called the "Ultimate Football Quiz", sponsored by Kumho Tyre.
They're using our CSS editor to embed that really cool image and sponsored logo behind the quiz so it has a really nice look and feel. So the sponsor is is an integral part of the experience, but the user still get really cool quizzes that they can go through and click.
One of the things we especially love about this campaign is the video ad integration. After the last question before the results, you see a Kumho video ad – that explains more about what they do.
You could actually take this to the next level and integrate your own video in an iFrame or upload your own MP4 videos so it would autoplay.
In this case, they've used YouTube, which is fine, but you'll see, it has a lot of YouTube branding and logos, and it doesn't auto-play. So that's something that they could work on.
Wrapping things up for our quiz examples… If you have gone and created a number of quizzes and polls using our 15 types of content, don't just stick each in one article.
One thing we found is that you catch people taking a quiz, they'll want to take more quizzes.
So in this case, this is the NFL's San Francisco 49ers. At the start of the pandemic, they knew that they had to create a center of online content for their users stuck at home.
Now anytime they make a quiz, they'll have it in other parts of the site – but they're also added here. So if you're a 49er fan, you can just go in and take all these quizzes.
Formula 1 does the same thing with a a quiz center – with their quizzes and polls. And again, they're dealing with F1 fans who love showing what they know. So why not give them a one-stop shop for quizzes?
So that's our quick look at some of our favorite quiz examples.
If you have any questions about how these particular quizzes were created, when you're on Riddle.com or our blog, use our support chat down here.
We are super fast at responding. You'll see my co-founder Boris myself – we actually race all of our developers to answer questions first.
What that means for you? You'll get you an answer in under two minutes.
(People think we're actually so fast that we must be bots. Nope, we're not bots. We just love helping out. If you write a message right now, all of our phones will go off and we'll respond to you right away.)
Okay. So these are some of our favorite quiz examples – hope you found that useful. And of course, happy riddling!