8
min read
Introducing our 'Journey' – an interactive story quiz that lets you show different questions to each quiz taker. Use conditional logic in our quiz maker to create interactive quizzes with logic jumps.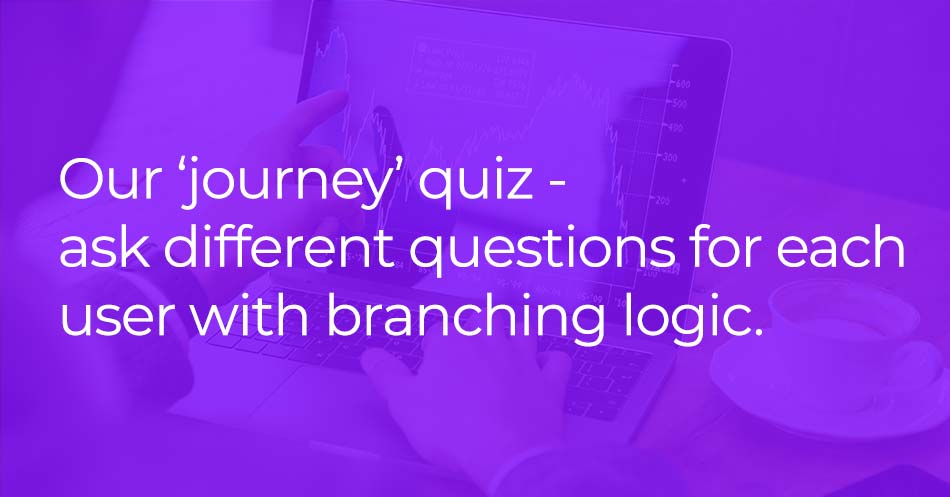 (Updated: our interactive story quiz is now called 'Journey'… our community told us that this was a more descriptive name, as each user goes on a unique 'journey' through the possible questions – based on their own answers.)
Online quizzes have always been great for growing your audience or qualifying leads (AdWeek says quizzes are among 'the most shared pieces of content').
However, they all present the same questions in the same order to every user – until now.
Let's dive in – we'll show you how to make an interactive quiz around your unique use case.
Journey / interactive story quiz: overview
Do you remember those classic 'Choose your own adventure' books when you were a kid?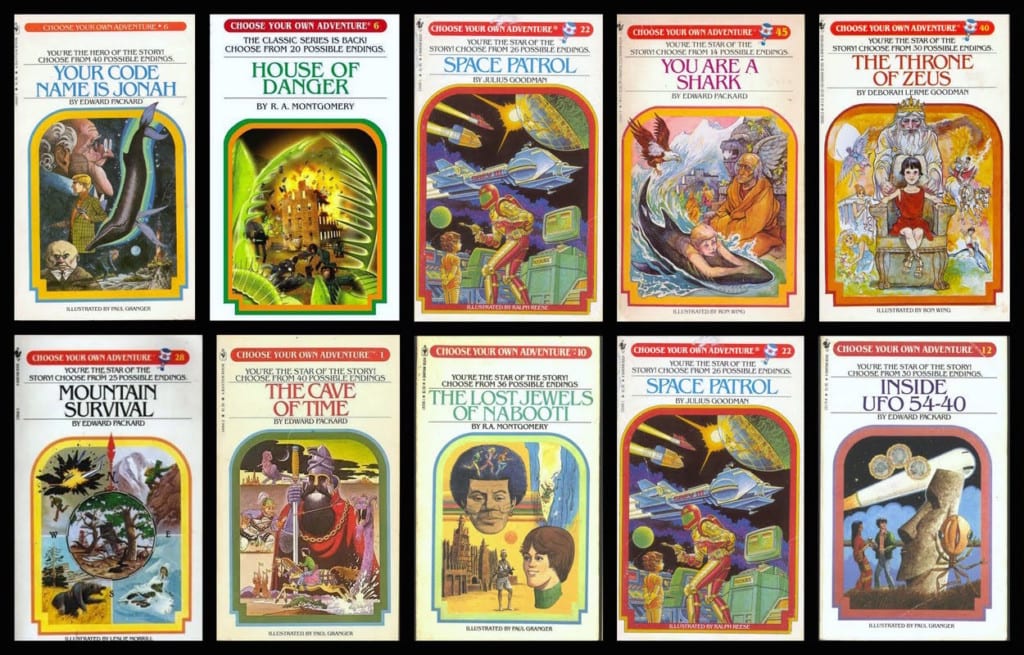 You'd read a page, and then have to choose what happens next. For example, "a door stands before you, but you hear loud breathing. Do you:
open it (go to page 87)
leave it alone (go to page 56)
Our community wanted even more flexibility with Riddle's quiz maker. They kept asking 'Can we show different questions to each user, based on how they respond to each question?'
Our interactive story quiz now makes that easy. (A video 'how to' is at the bottom of this post.)
Questions won't have 'right' or 'wrong' answers – instead, each response leads to either another question or a final result for that user, along with an explanation.
Live examples: interactive quizzes with logic jumps
Here's a couple of live journeys to help illustrate the type of content you create.
Riddle example – 'What type of quiz should I make?'
Our use case:
Our online quiz creator features 15 types of quizzes, personality tests, polls, and more.
That's a lot of choices – and we're often asked on customer support… 'Hey, I want to create a quiz – which type should I choose?
We

created this interactive story quiz

– asking a few questions, and recommending the right quiz for each user.
Check out our example below:
BBC example – 'Can you tell if someone is struggling with anxiety?'
The BBC created a phenomenal interactive story quiz for 'Mental Health Awareness' – called "Can you tell if someone is struggling?". Each quiz taker is asked real-world scenario questions, to help them be alert for signs a colleague or friend might be suffering from anxiety.
Branching quiz logic – visual overview
You can see how the BBC's creators set up the logic of their 'journey' – in our 'overview' step. It can get a little complicated keeping track of the flow – so we designed this visual editor to help out.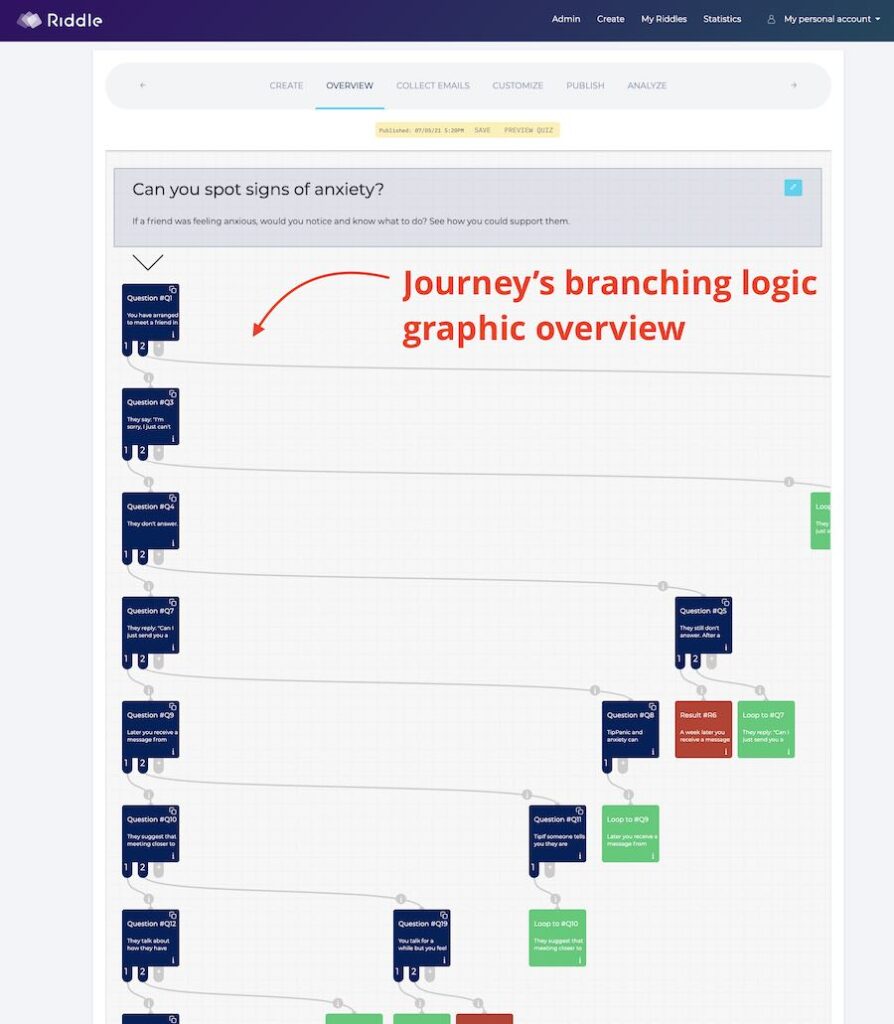 Interactive story quiz: getting started
Step 1: Map out the flow (on paper!)
Riddle's quiz creator is super intuitive – we try hard to make it easy for you to create interactive quizzes.
However, before you start making your interactive story, we recommend you go a little 'old school' and map out the flow of your interactive story quiz.
When it comes to how to make an interactive quiz, it helps to have an idea of how each question will lead to the next – and on until the user's results.
Here's my initial sketch for a 'job interview' interactive quiz I created: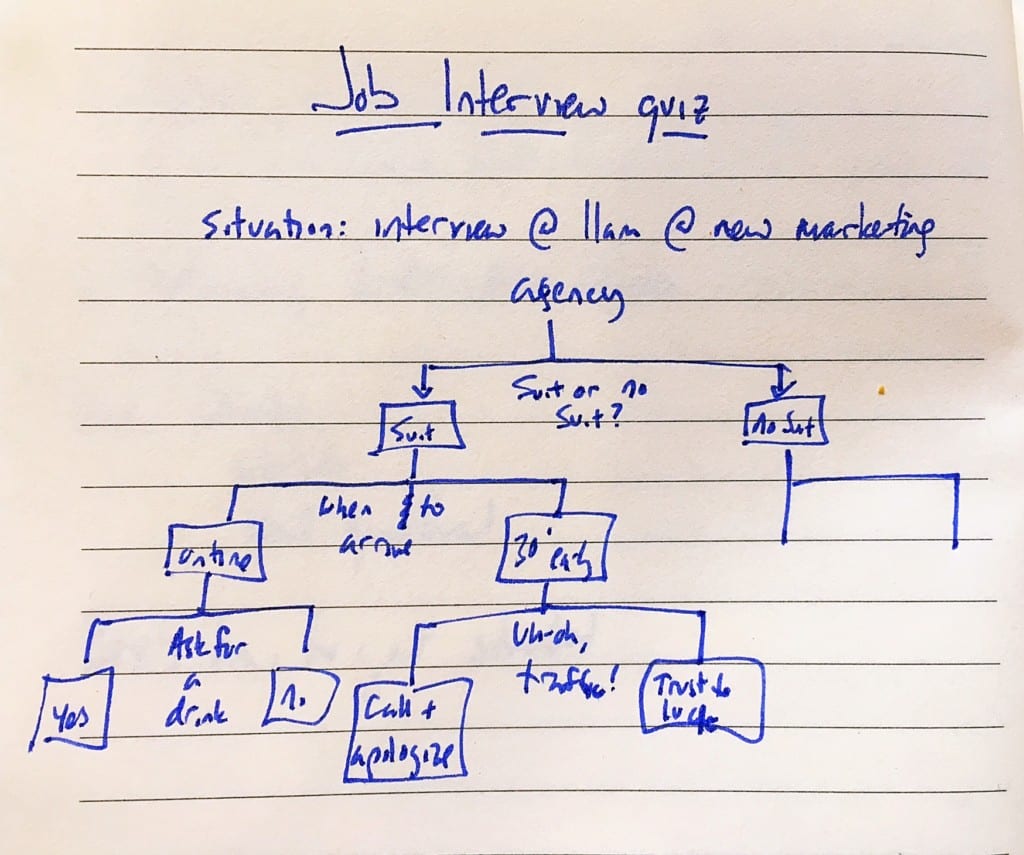 Step 2: Set the stage
Give your interactive story quiz a good title and compelling image. This will get people interested to click and start your story.
Step 3: Questions and results
Create your first question – with at least two answer options.
Each answer can lead to:
another question
a result (which ends the interactive story for that user)
Step 4: Complete one branch first
Each interactive story quiz can be a little complicated to start.
We recommend finishing one 'branch' of your story first.
Follow a potential user's journey, all the way to a final result.
For example, go from their question #1 answer and create a good question #2 (or result)
Then go from that answer and create a question #3 and so on.
Once you're at a final result, go back to question #1 and complete the question/results for anyone who answers the 2nd option.
PRO TIP: save time, and

link to existing questions or results

whenever possible.
Here's the flow from our 'What type of quiz should I make?' – journey quizzes are perfect for product recommendations.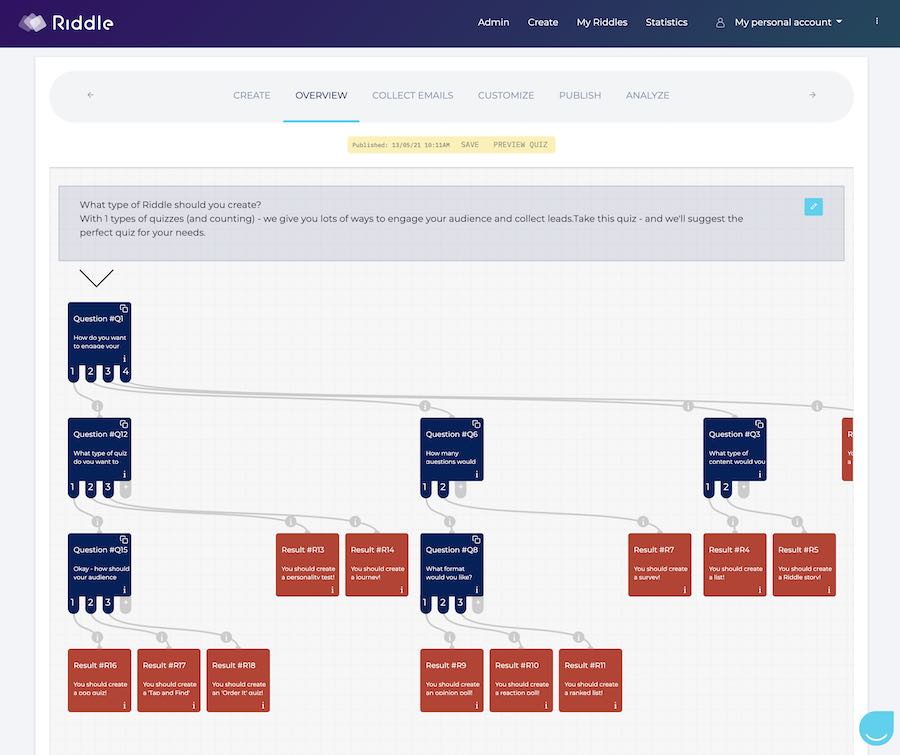 Step 5: Look for orphans
The last step? You want to make sure that each response leads somewhere – to a question or a result.
You can easily spot these 'orphans'.
If you see a white tab under any question that means one or more responses doesn't have a follow up question or result assigned.
Step 6: (Optional) Add a lead generation form
Just like all 14 of our quizzes on our quiz maker, you can add a lead generation form to our interactive story quiz.
Collect leads online by asking each user for their email and other info before displaying their results – then send this information along with their answers to:
Interactive story quiz: copy branch
We've added a 'copy branch' option as a big time saver.
Sometimes, you'll want to duplicate a series of questions from one branch to another. Instead of having to type them all out, now you can copy/paste a question (and all the questions below it in that branch).
This also is helpful when you want to delete a question – but keep the other questions in that branch.
(While we recommend mapping your quiz out on paper first before creating your quiz, sometimes you'll want to make changes.)
Here's how you do it:
When editing your quiz, go to the 'overview' step in our quiz creator.
Click on the paired rectangle icon in any question.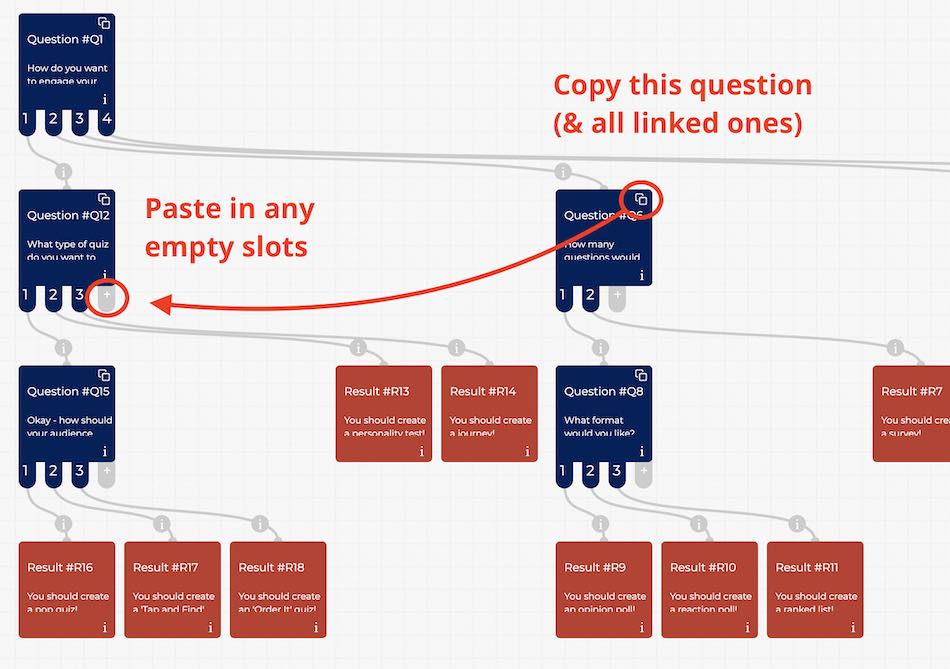 Now, click on any grey tab below any other question – that shows there's a slot available to paste in your branch of questions.
We also recommend making a copy of your quiz first as a backup – just in case you'd like to revert to your original version.
Interactive story quiz: video walkthrough
If you prefer to see a live example, watch our co-founder Mike as he talks through how to create your own journey quiz.
Interactive quizzes with logic jumps are powerful for use cases like simulations, product recommendations, and one heck of a lot more.
Any questions – just ask!
Did we miss anything? Got a question about how to create a quiz?
Please drop us a note at hello@riddle.com – as bonafide customer service geeks, our entire team at Riddle race each other to read and respond to everyone, generally in under five minutes if we're awake. 🙂
*******
Video transcript: How to create an interactive story quiz
(We've started adding these transcripts for our quiz videos – because some folks find reading text to be faster than watching a video. What can we say? We love being helpful!)
Hi there, my name is Mike and I'm one of the co-founders here at Riddle and in this video, I'm going to give you a quick overview on how you can quickly create your own journey with branching logic. This is a really powerful quiz for use cases like product recommendations, like "Which car should I buy?"
Any sort of logic tree that you want to show different questions to different people based on their previous questions. So I'm going to go into our create step and I'm going to click on Journey now. You'll see here we have some templates set up so that will simplify things.
I recommend you definitely try copying one of these like this one to your account so you can see how we've set up this branching logic. Now, in this case, the use case we have is actually around using Riddle's quiz maker.
We are often asked what type of quiz should I create? And we have 15 types, so it can be a little confusing. So in this case, we've used Riddle.com journey to show different questions to each user. For example, in our overview step, I'm going to click on question one. Hey, how do you want to engage your audience? And there are four choices. Create a quiz. I want to give a vote to tell a story, things like that.
And what you do is select 'give your audience a vote'. You can see here, choice number two comes down to this option and it's like, OK, cool, how many questions? I want one question or I want more than one question. And if it's one question, it's branch number one. What format? OK, do you want a classic with text or images or a slider or an upvote where people can choose which of a list they like the best.
In this case, we are going to pick sliders. So that's number two. And again, you popped down here number two. And the overall recommendation we suggest is our reaction poll. So, again, a couple of questions and we then arrive at a recommendation. Now, let's go see how you actually make one of these things in the create step. You go in and create your first question. And the story, if you'll pardon a really bad pun, behind the journey story is you remember those choose your own adventure books, where at the end of every page you had a choice.
And it's like, "OK, you know, you are in a haunted house, do you open the door?" If yes, go to page fifty eight. If no, go to page thirty six. That's the thinking behind our journey quiz. You show different questions to each person.
So in this case, I'm going to start off with a question "How do you want to engage your audience?" And then I've created these answers and you'll see here you can also add images, if you like, or just text one limitation in Riddle 1.0, which is what we're demonstrating here.
You can only use four options. That's just an oversight on our part. We are going to improve that in Riddle 2.0 (coming in August). So sorry about that.
But anyway, I'm going to create a story and then you would you said, OK, I'm going to create a new question. And then click save.
When you get a new question then is what you can do is with the introduction, you can explain the previous choice. So, for example, someone says, "I want to create a quiz" and then it's OK. My introduction could be something like "Awesome – quizzes are powerful" (I can never type if people are watching). So I'm giving some context to the previous choice. Now I'm asking a new choice or a new question.
OK, cool. How many questions? And then you just give answers, you say, "I want to have one answer, one question or multiple."
And then again, for each of these, you'll then update a link and then you'll just keep going through this process. Now, I could either have a question which leads to other questions or I can select a result which ends the quiz experience.
So in this case, I'm actually just going to select a result.
We have a lot of results already, so I'm going to have to go pick one and click save. And you'll see here, so if we go back to our overview step, how many questions? I've suggested to the user "OK, based on your choices, you should create a pop quiz. Here's why."
And this is really important.
You want to give some good context on why people should be completing this. So in this case, I'm saying, "OK, well, check out this quiz from the NFL's Raiders. Here's why it's really important."
You can also add a call to action buttons on our pro or team plan where you can link, give buttons and link people to different pages on your site, like a product page or content that might be interested in things like that. So that's essentially how you do it.
There are some other cool functionality where you can copy an entire branch of questions and this is a really good time saver. If you're saying, you know what, I actually need to use a lot of this branch in this area, I'm just going to copy this and it'll copy this question, these results, and I'm going to paste it here. Now, you see this branch and this branch are the same, so you can save some time.
These are very similar. Now, I can just go in here and start editing. The other thing you can do is actually link back to other questions. So, for example, let's say in this question, how many questions would you like to ask? I'm going to add another link. All I'm going to add another question and I'm going to actually link over to. I'll just link back to here, so I've picked a question and now I'm clicking save, now look at this.
This is green and it's saying, OK, if I select this question and this question and this option, it's going to look me back to Q1, which is back up here. So, again, if you have some other branches that are set up, you can link from other sections of the quiz and send them over here again and we'll save you time. You don't have to create all the questions. OK, so that is our branching logic.
It is a little confusing, but it's super powerful. If you have any questions whatsoever, definitely give us a shout down on support.
You'll see myself, my co-founder, Borrus, we are all super-fast to respond and you'll probably get an answer in under two minutes. And most people think because we're so fast that we must be bots. And it's not. It's just that, well, we love being fast.
Every time you ask a question, all of our phones will go off and we instantly race to answer.
So any questions? Just let us know. All right. That's our interactive story quiz with Riddle. Thank you very much. And have a good one.