6
min read
The team at Riddle are super excited about our new interactive story quiz. Online quizzes have always been great for growing your audience or qualifying leads (AdWeek says quizzes are among 'the most shared pieces of content').
However, they all present the same questions in the same order to every user – until now.
Interactive story quiz: overview
Do you remember those classic 'Choose your own adventure' books when you were a kid?
You'd read a page, and then have to choose what happens next. For example, "a door stands before you, but you hear loud breathing. Do you:
open it (go to page 87)
leave it alone (go to page 56)
Our community wanted even more flexibility with Riddle's quiz maker. They kept asking 'Can we show different questions to each user, based on how they respond to each question?'
Our interactive story quiz now makes that easy. (A video 'how to' is at the bottom of this post.)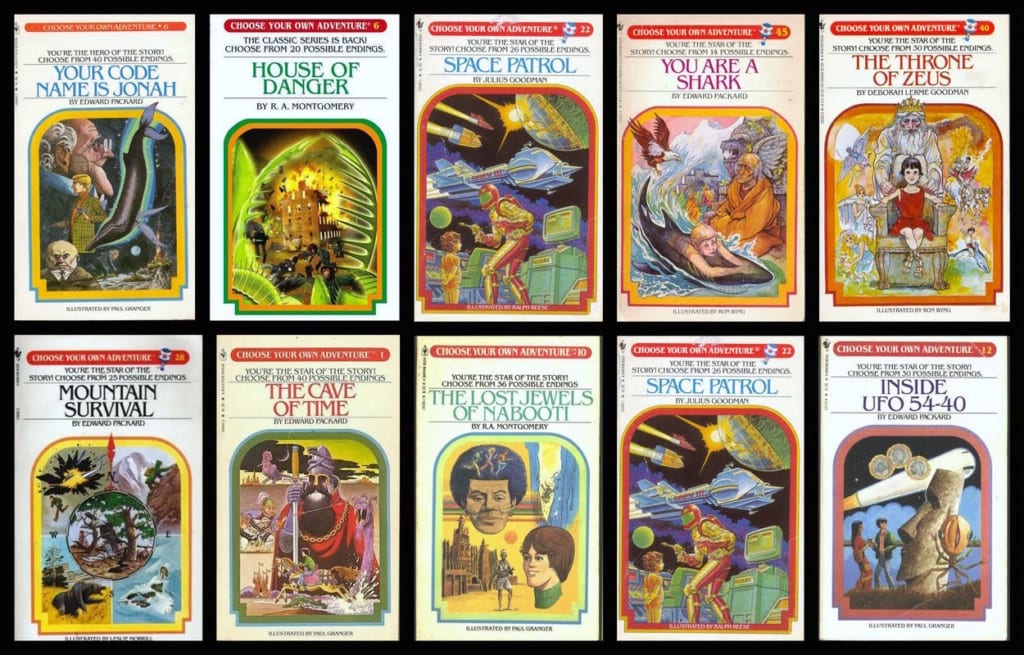 Questions won't have 'right' or 'wrong' answers – instead, each response leads to either another question or a final result for that user, along with an explanation.
Interactive story quiz: live example
Here's a sample of the type of content you create. Imagine you run a careers advice site – with tips and best practices about landing the perfect job.
Instead of a bland list of do's and don'ts, you create an interactive story – around the many pitfalls facing the interviewee.
Check out our example below:
Interactive story demo: "Are you good in job interviews?"
Let's face it – almost nobody likes job interviews. They're stressful – with tricky questions, awkward social chit chat, and sartorial dilemmas (Suit or no suit Dress up or dress down?).
You've put in loads of hours… scouring the job ads online, researching the companies, then sending in dozens of personalized resumes.
Now, you just have to pass one more hurdle before you've got the job of your dreams.
Let's put your skills to the test in this interactive job interview simulator!
What do you wear? (To 'suit or no suit' – that is the question…)
Great news! You have an interview tomorrow at 11am with a new company that's just starting up. They're looking for someone with your skills to help them grow… are you ready for the challenge?
What time should you arrive?
Okay – next hurdle… what time do you plan to head down for your interview?
What do you do?
Ouch. Bad luck – a traffic accident left you stuck on the highway… you're going to be 30 minutes late.
No job for you…
You walk into the office, and realize that you are vastly, considerably under-dressed. You can tell your interviewers aren't impressed – and while they give you a 15 minute chat out of politeness, there's no call back or offer for a second interview.
Remember – you only get one chance to make a first impression… when in doubt, it's better to dress a little too formal than the opposite.
"Would you like something to drink?"
Great move – your safety margin came in handy!
You left home with a nice buffer… and even with an overturned bus on the highway and several attempts to find a parking space, you wander in with 15 minutes early.
Plenty of time to get composed, take a deep breath, and get ready.
The interview's starting…
A call is a good idea and they graciously allow you to interview the following week.
You don't get the job though – it turns out they loved a person who interviewed immediately after your original slot.
Remember – better to be an hour early, than even five minutes late.
No job for you!
Let's just say – that wasn't the best idea…
Your interviewers have a full day lined up – and can't make time for you. They ask you to wait for them to contact you with an alternate day.
(Needless to say, no call comes and the job goes to someone else.)
Lesson: Better to be an hour early than five minutes late. And if you're late, at least show you value their time – and call as soon as you'll know you won't make it as planned.
What are your salary expectations?
Classic choice – but a bit risky…
The potential downsides:
Coffee breath – no one likes that
Caffeine – instead of calm, reasonable answers, you sound like a hyperactive 12 year old
Better to play it safe and go with water.
What are your salary expectations?
Yup – perfect choice.
It gives your hands something to do, plus keeps you calm.
Bonus points – you can use it if you get a dry throat due to nerves.
No job for you!
Seriously? Beer – at an interview at 11am?
The only bright side is that you get to see a look of sheer disbelief on your interviewer's face.
The downsides? You don't get a beer, and worst of all – you don't get the job.
You got the job (but not the big raise you were hoping for!)
Congratulations!
The interviewers all liked how you handled yourself – and offered you the job.
Slight downside – you hurt your negotiating position for your salary by telling them too early. Always better to hold off talking specific salary requirements as long as you can – so they get more and committed to you as a candidate.
You got the job (AND the big raise!)
Great answer.
It's confident and a little cagey – you don't want to either under-value or price yourself out of the running.
Your objective at this stage is sell yourself and get them excited about what you can offer so they bring you back for subsequent interviews.
The longer you wait, the more time they invest and the better negotiating position you'll be in.
(July, 2018 update: We just found out that the Children's team at the BBC were nominated for a Broadcast Digital Award for Best Children's Digital Content. They used our interactive story quiz to create this awesome ten mission 'choose your adventure' sequence around their 'Last Commanders' series. Awesome job – and a great way to see what's possible using this quiz type.)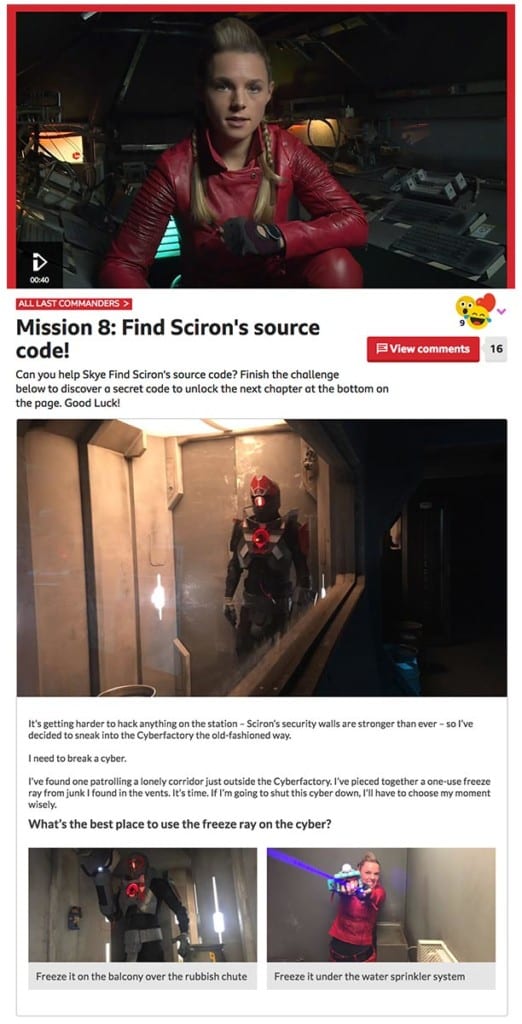 Interactive story quiz: getting started
Step 1: Map out the flow
Riddle's quiz creator is super intuitive. However, before you start making your interactive story, we recommend you go a little 'old school' and map out the flow of your interactive story quiz.
It helps to have an idea of how each question will lead to the next – and on until the user's results.
Here's my initial sketch for my 'job interview' quiz example: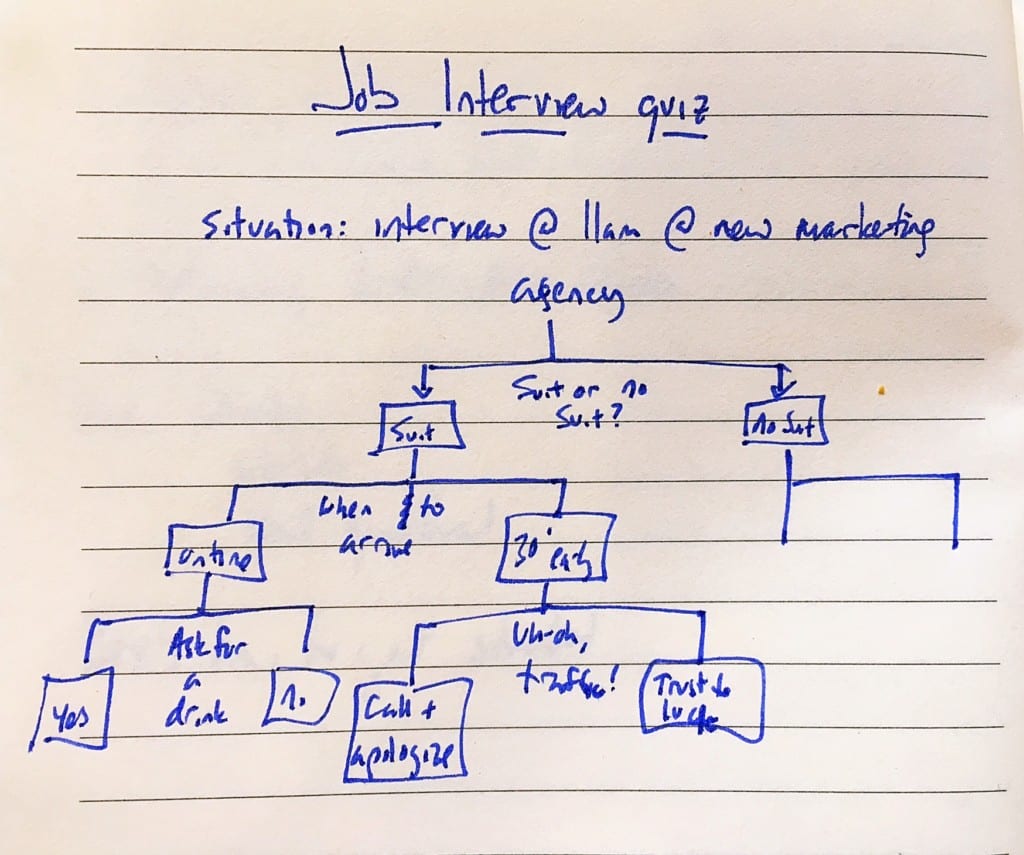 Step 2: Set the stage
Give your interactive story quiz a good title and compelling image. This will get people interested to click and start your story.
Step 3: Questions and results
Create your first question – with at least two answer options.
Each answer can lead to:
another question
a result (which ends the interactive story for that user)
Step 4: Complete one branch first
Each interactive story quiz can be a little complicated to start.
We recommend finishing one 'branch' of your story first.
Follow a potential user's journey, all the way to a final result.
For example, go from their question #1 answer and create a good question #2 (or result)
Then go from that answer and create a question #3 and so on.
Once you're at a final result, go back to question #1 and complete the question/results for anyone who answers the 2nd option.
PRO TIP: save time, and link to existing questions or results whenever possible.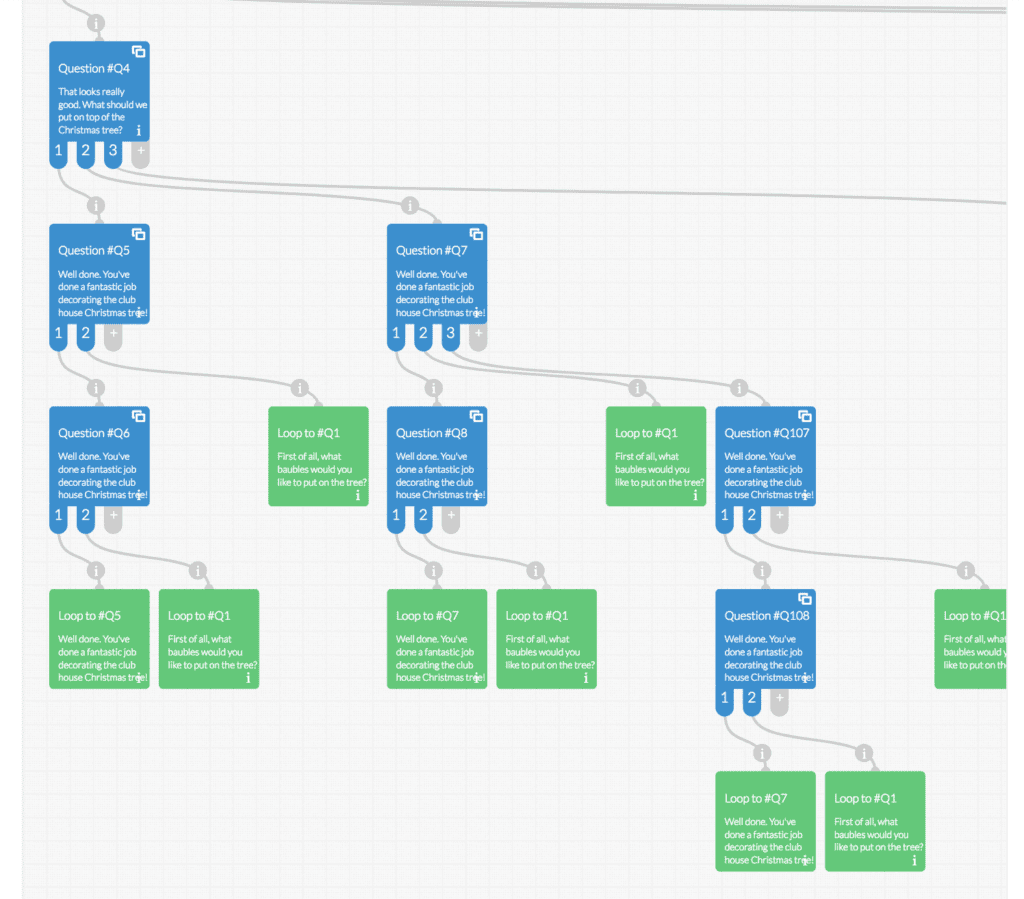 Step 5: Look for orphans
The last step? You want to make sure that each response leads somewhere – to a question or a result.
You can easily spot these 'orphans'.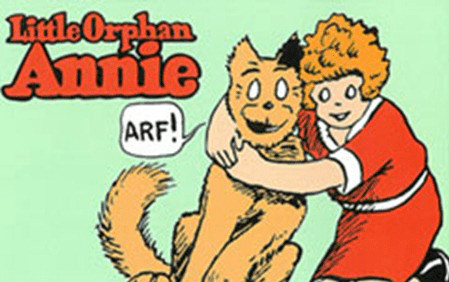 If you see a white tab under any question that means one or more responses doesn't have a follow up question or result assigned.
Step 6: (Optional) Add a lead generation form
Just like all of our quiz types, you can add a lead generation form to our interactive story quiz.
Ask each user for their email and other info before displaying their results – then send this information along with their answers to:
Interactive story quiz: copy branch
We've added a 'copy branch' option as a big time saver.
Sometimes, you'll want to duplicate a series of questions from one branch to another. Instead of having to type them all out, now you can copy/paste a question (and all the questions below it in that branch).
This also is helpful when you want to delete a question – but keep the other questions in that branch.
(While we recommend mapping your quiz out on paper first before creating your quiz, sometimes you'll want to make changes.)
Here's how you do it:
Go to the 'overview' step of the Riddle creation process
Click on the paired rectangle icon in any question.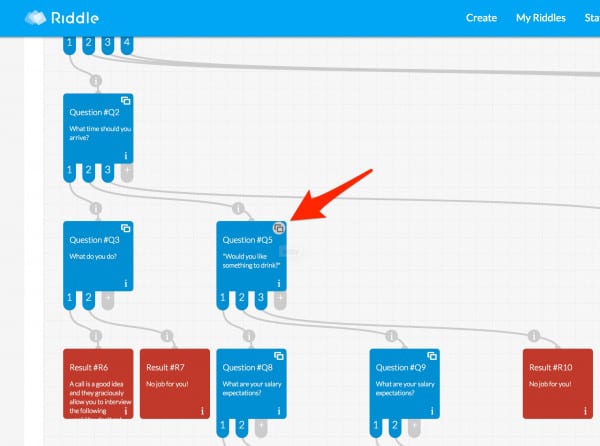 Now, click on any grey tab below any other question – that shows there's a slot available to paste in your branch of questions.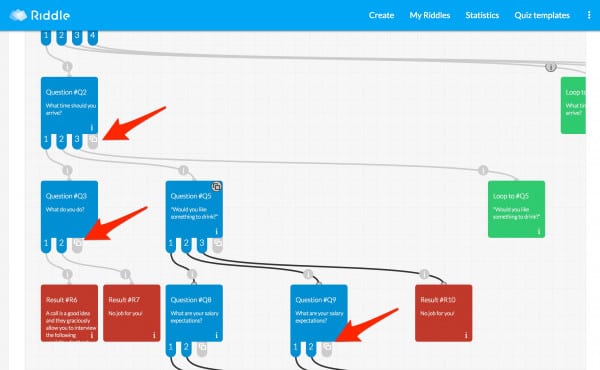 We also recommend making a copy of your quiz first as a backup – just in case you'd like to revert to your original version.
Interactive story quiz: video walkthrough
Did we miss anything? This is a new tool – and we'd love to hear how we can make it better.

Please drop us a note at hello@riddle.com – Boris and I read and respond to everyone, generally in under five minutes if we're awake. 🙂