We've made it easy to connect Riddle's online quiz maker to any email marketing software tool on the planet. From HubSpot to ActiveCampaign, MailChimp to Mailerlite, we have you covered (check out our more in-depth explanation).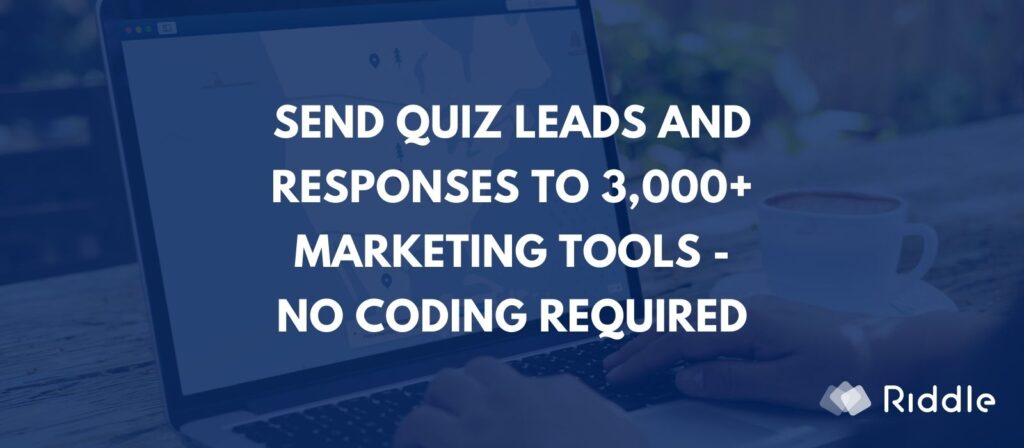 Quiz email marketing – built-in data privacy
Plus, we're a GDPR-compliant quiz maker. For example, we're a 100% EU-based company and don't add cookies or trackers to collect personal data from your audience.
We designed Riddle's online quiz maker to send all of your customers' data directly to you, without touching our servers.
Our approach to data privacy means we also comply with California's CCPA, Canada's PIPEDA, and other global data privacy regulations.
What email marketing tools does Riddle support?
Native integrations:
MailChimp
AWeber
Google Documents
Blue State Digital
ActiveCampaign
Coming soon to Riddle:
Constant Contact
Klaviyo
Shopify
Convertkit
HubSpot
Salesforce
Get Response
InfusionSoft
Zapier:
You can also easily connect Riddle to any email marketing software (from Constant Contact to Salesforce and 1000's more) using our free Zapier app – no coding required. (Learn more)
Webhook:
Don't want to use Zapier? You can also use our free webhook with any of our plans.
We provide a sample webhook code to connect your quiz with your favorite email marketing tools – it takes about 30 minutes to adapt to your own system's setup.
The added bonus?
The webhook is an especially good tool if you're worried about collecting leads while complying with GDPR. It's a direct connection from Riddle to your database. Your customers' quiz responses and personal information will be added seamlessly.
Any questions?
And of course, any questions about connecting your email marketing tools with your quiz?
Just ask us via our support chat – you'll get our founders Boris or Mike or the rest of our team, in under two minutes.
We can help with anything from crafting the right quiz for your use case to connecting to your email marketing software.
Boom – that's fast!