Changing your Riddle quiz maker subscription
It's super easy to change your quiz maker plan:
Log in, then click on the '…' menu in the top right corner
Select 'View your subscription portal' – under 'Subscription'
Then just choose your plan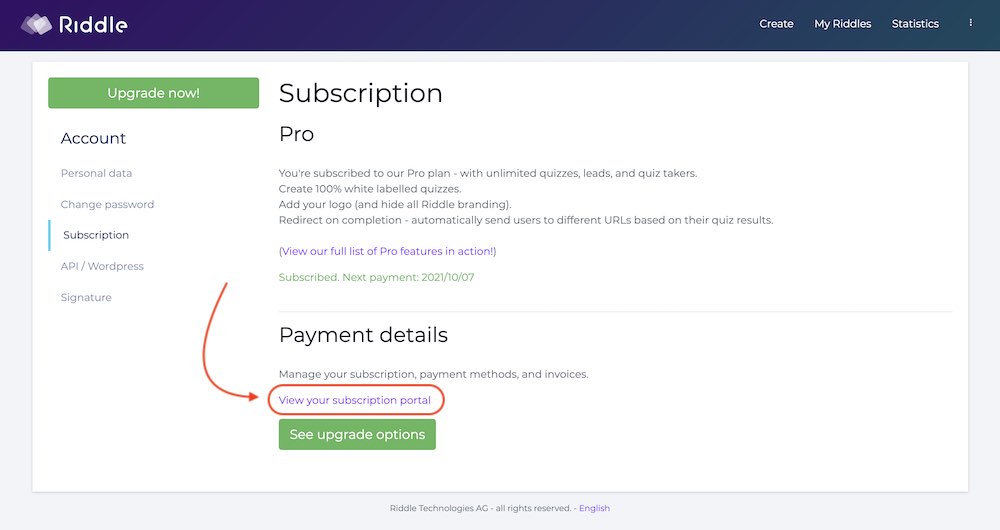 Can I upgrade and downgrade my account?
Yes – we like being nice and flexible for our community, and you can change your monthly subscription at any time.
Please note: if you change from TEAM or PRO down to BASIC, you will lose our premium features such as white labelling and hiding the Riddle branding.
Annual or monthly – what's the difference?
Our monthly online quiz creator plans are very flexible – you can cancel at any time.
Our annual plans include a 27-35% discount – but you'll pay for 12 months at the start of your subscription.
We recommend starting with our monthly option for a few months, then changing to our annual plan once Riddle has become a firm part of your marketing plans.
Want an overview of the differences between our plans?
Video: Want to change your Riddle plan?
We created this handy video walkthrough, showing how you can upgrade, downgrade, or otherwise change your online quiz maker subscription.
You can also cancel or pause your subscription.
Video transcript:
(We like adding transcripts for our quiz maker help videos – they're helpful for our community members who use screen readers and other accessibility tools.)
Hi there. My name is Mike and I'm one of the co-founders here at Riddle. In this short walkthrough video, I'm going to show you how you can change your subscription – upgrade, cancel, and things like that.
So what you'll want to do first? Click on the top right corner and go to our subscription section and then go to View Subscription Portal.
Now, once you're in here, this is where you can manage your subscription, so click on subscription and you'll see here I'm an enterprise free. This is an account we've set up for basically admins or members of Riddle, but basically, you can either cancel or pause your subscription or you could change your plan and you can then decide which plan you would like to select.
One note…  if you are on our yearly plan, which is a pay in advance for twelve months option where you get a discount. If you want to switch to a monthly plan, you will need to wait until the end of this annual subscription before it takes effect. So you can't go three months into an annual subscription and then switch to monthly.
Basically monthly is a little more expensive but more flexible. Yearly gives you a discount but is less flexible.
You just pick your plan and then go from there.
Any questions about this? Please let us know on Support Chat. Anyone who uses Riddle will know how fast we are to respond, so we tend to respond in under two minutes.
You can catch us pretty much from 07:00 in the morning to around 10:00 at night UK time, which is around 2:00am to 5pm EST.
Alright, thanks so much and Happy Riddling!