2
min read
Riddle's quiz maker has built in social sharing – now your quiz takers can easily share their quiz results on Facebook, Messenger, Twitter, WhatsApp, and LinkedIn. All that social virality makes your quizzes powerful viral marketing and content tools – as AdWeek points out, quizzes are the most shared content online.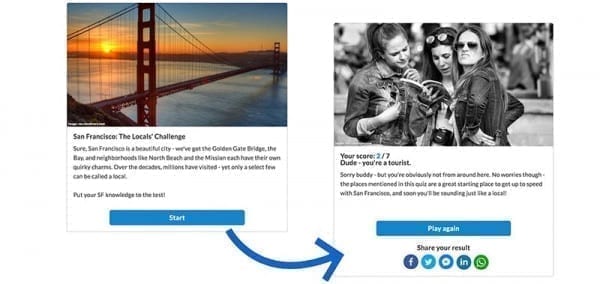 Next, we've made sharing of Riddles more personal and unique – connecting each share message with your user's results. This has a HUGE positive impact on virality and social sharing.​
On average – we've found about anywhere up to 10% of visitors share their quiz results on social media (a good average is 3-4%). It doesn't sounds like a lot – but that's high quality, free traffic – all coming back to your site to get their own results and continue the viral conversation with their friends.
Our social sharing doesn't stop there – we also give you full control over your social sharing messaging.
Customize the prefilled template messages that your users will share on each different social network – or hide social sharing altogether.
For example, your Twitter users might share 'Sweet, I got "You're hella a local" on this "San Francisco: The Locals' Challenge" quiz. #SFrocks', while you might prefer a more formal "Can you beat my 8/8 on this "San Francisco: The Locals' Challenge" quiz?" for LinkedIn or Facebook.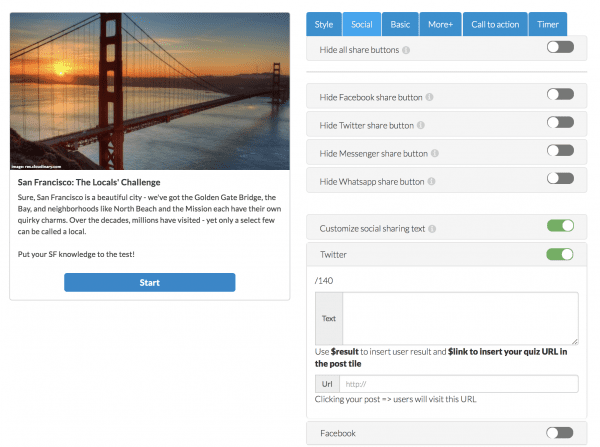 That's just the start – we continually adding more social sharing options and functionality to Riddle's quiz maker. Did we miss anything?
Just drop us a line at hello@riddle.com – we'd love to hear from you!