Writing a popular online quiz is as much as art as science. They're taking over the internet – for one simple reason. Quizzes feed into our need to see how we compare with other people – especially about a subject that interests us.
But creating a popular online quiz is more than just coming up with a series of questions.
Here's our best tips and tricks that will help your quiz go viral:
Why use Riddle to make a popular online quiz?
It's fun (and easy) – no coding required
Up to 75% of your users will complete your quiz – spending up to five minutes longer on your site.
Quizzes are brilliant for collecting emails and building your marketing list (>25% of all users will sign up).
Grow your audience – quizzes get up to 217% more shares on social media, and all traffic comes back to your site!
Creating a popular online quiz – the secret recipe:
Sign up for your free 14 day trial of Riddle – no credit card required.
Click the 'Create' icon on the left menu – and choose the quiz option.
Next, choose your title and write a short description of what the quiz is about.
Pick a compelling main/title image – you can use our image options (Getty, Google, Instagram) or upload your own.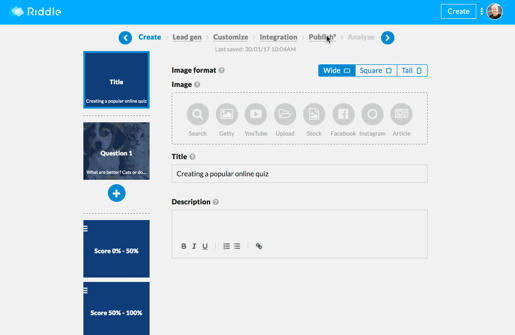 Now – the best part… writing the questions!
What questions work in a popular online quiz?
Quizzes have answers with a clear 'right' or 'wrong' answer.
About 8-10 questions is the sweet spot – after that you'll see a drop-off in completion rates.
Your questions (and answers) can be all text – or you add images.
(We recommend images – on average, people are 72.7% more likely to finish your quiz.)
Add answers – and put a green check mark by the correct one
Add a correct answer explanation… people don't mind being wrong, but they love to know why.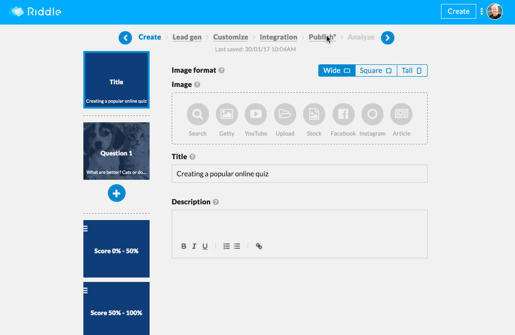 User result types are crucial for a popular online quiz
Finishing a quiz – and merely finding out how many questions you get right is booooring!
Quizzes are viral because users learn something about themselves – and want to share with their friends.
Riddle lets you go beyond numbers – by adding a personal result type for each score. A funny (or even slightly snarky) description is far more likely to be shared.
Top tip: Don't spend all your creativity on the questions. Spend at least as much time on each result type.
Imagine you created a cooking quiz – your answer types could be:
'You're such a bad cook you could burn water!'
'You're good at cooking but you tend to just cook what you know'
'You have flashes of brilliance in the kitchen'
'You are a true master chef!'
Add a few words describing their performance – or in this case skills (or lack) in the kitchen.
Remember that the idea is to ensure the user likes their result – and won't be embarrassed to share with their friends.
It's okay to be a little sassy on the lowest result – the user knows they've got to be pretty bad to get this result!
Examples of a popular online quiz?
Check out these examples of great quizzes by our community:
Chicago Bulls (NBA): http://www.nba.com/bulls/quizzes/how-well-do-you-know-your-usa-basketball-olympics-history
Which? (consumer rights): https://conversation.which.co.uk/technology/april-fools-quiz-test-spot-truth-lies/
Penguin / Random House: https://www.penguin.co.uk/puffin/articles/are-you-roald-dahls-biggest-fan/
Chelsea FC (Premiership soccer/football team): http://www.chelseafc.com/news/latest-news/2016/12/the-chelsea-christmas-quiz.html
Looking for tips on creating one of the always popular personality tests? Check out our blog post chock full of ideas and best practices.
Have a question about writing quizzes that go viral? Let us know at hello@riddle.com – we read and respond to every message!