12
min read
Writing an online quiz is as much as art as science. They're taking over the internet – for one simple reason. Quizzes feed into our need to see how we compare with other people – especially about a subject that interests us. That means an online quiz can be incredibly powerful for audience engagement, as well as lead generation and data collection.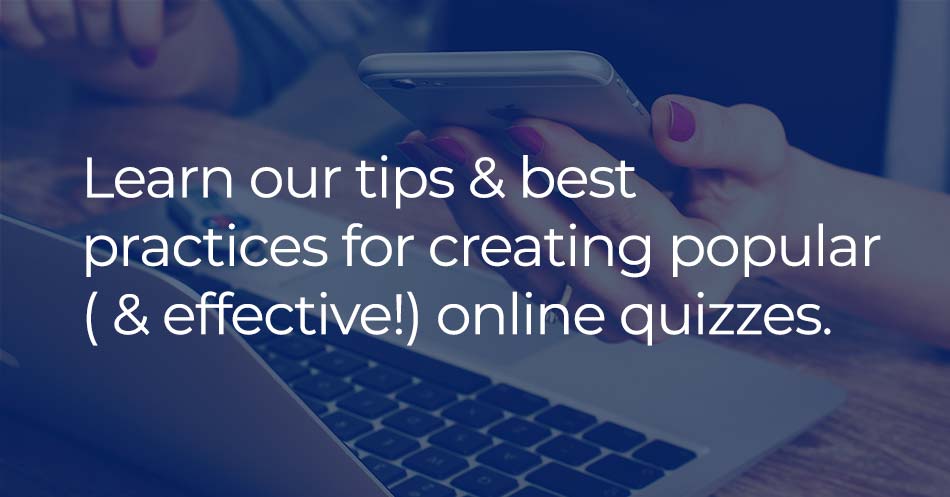 But creating an effective online quiz is more than just coming up with a series of questions.
You need to craft a compelling title and the right types of questions – plus use the most effective quiz images – to keep your audience engaged and entertained.
Let's dive in – and talk about each step of the online quiz process.
Video: How to create your online quiz
In this video, our cofounder Mike shares our tips and best practices around creating an online quiz – from the best title to the right number of questions and even setting up a quiz contest.
Why use Riddle for your online quiz?
Our online quiz maker has been around since 2014 – we're used by both big brands (such as the BBC, Red Bull, and CNN) as well as thousands of small businesses (like fast-growing The Hair Fuel).
And privacy is absolutely our key priority. We're fully GDPR and CCPA-compliant – we never place ads, trackers, or scripts to your quizzes.
It's fun (and easy) – no coding require.
Up to 75% of your users will complete your quiz – spending up to five minutes longer on your site.
Quizzes are brilliant for collecting emails and building your marketing list (35-45% of your quiz takers will opt-in).
Grow your audience – quizzes get up to 217% more shares on social media compared to static articles, with all that traffic coming back to your site!
How to create a custom quiz with Riddle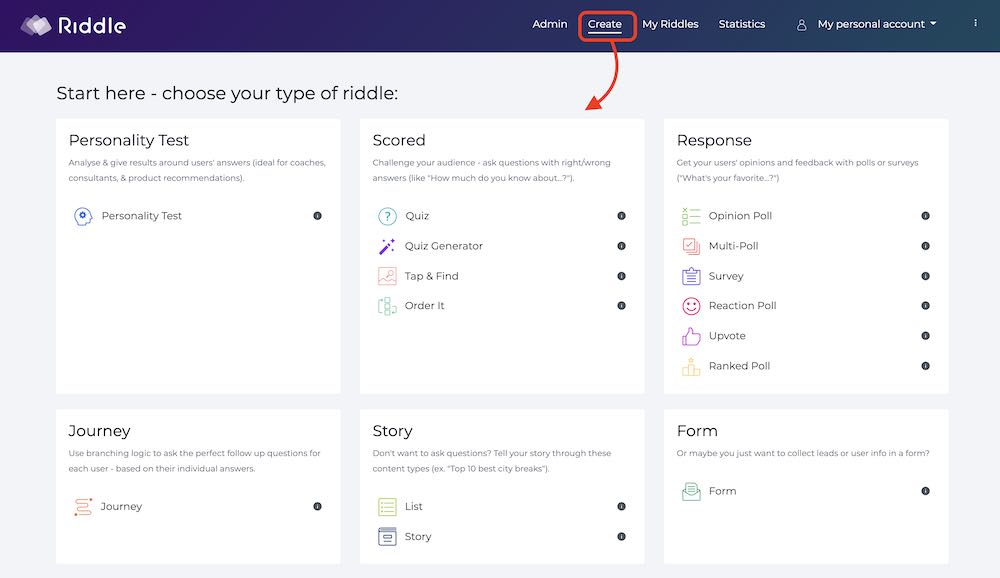 In the 'Create' step, choose your title and write a short description of what the quiz is about.
Pick a compelling main/title image – you can use our image options (Pexels, Google, Instagram), GIFs, videos or upload your own.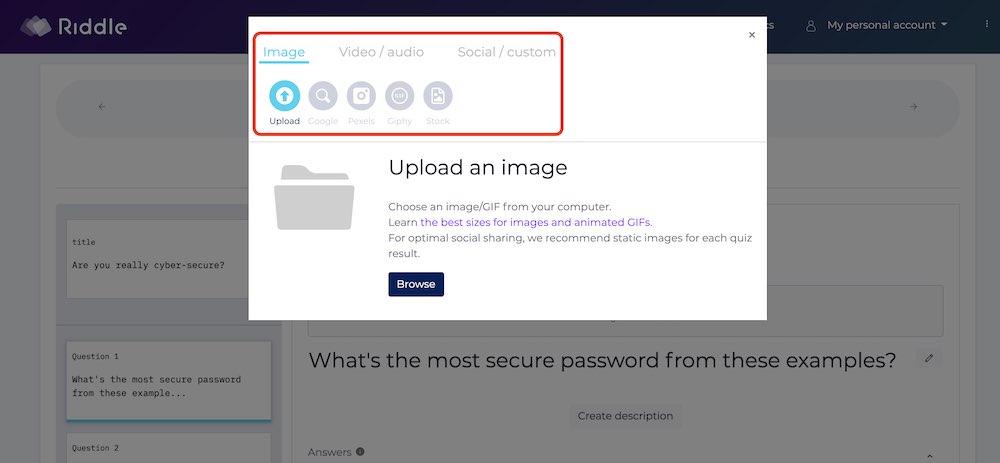 What online quiz questions work best?
Now – the best part and most important part of creating your Riddle quiz – writing your quiz questions!
Quizzes have answers with a clear 'right' or 'wrong' answer.
About

6-8 questions is the sweet spot

– after that you'll see a drop-off in completion rates.
Question type – your questions (and answers) can be all text, or you can add images.
(We recommend adding images – on average, people are 72.7% more likely to finish your quiz.)
Add answers – and put a green check mark by the correct one
Add a correct answer explanation… people don't mind being wrong, but they

love to know what the correct answer is – and why

.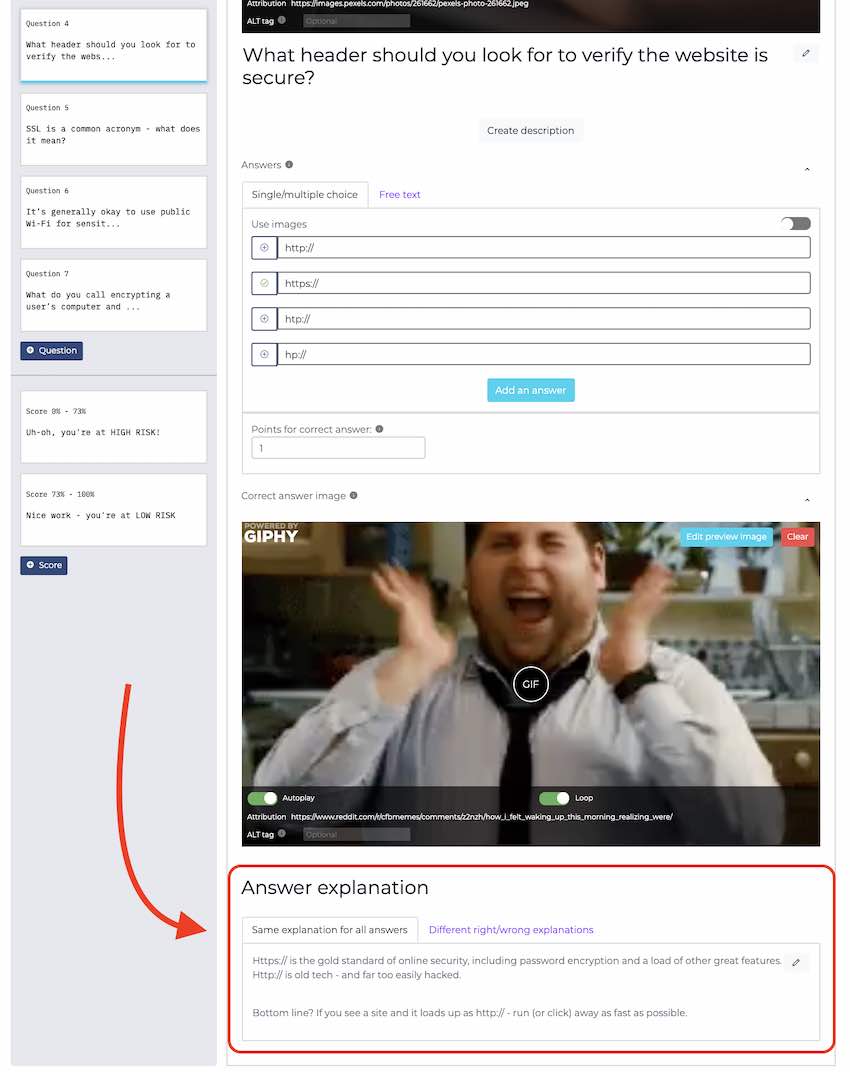 Give each user a result type
Finishing a quiz – and merely finding out how many questions you get right is booooring!
An online quiz goes viral because users learn something about themselves – and want to share with their friends.
Riddle lets you go beyond numbers – by adding a personal result type for each score. A funny (or even slightly snarky) description is far more likely to be shared.
Top tip: Don't spend all your creativity on the questions. Spend at least as much time on each result type.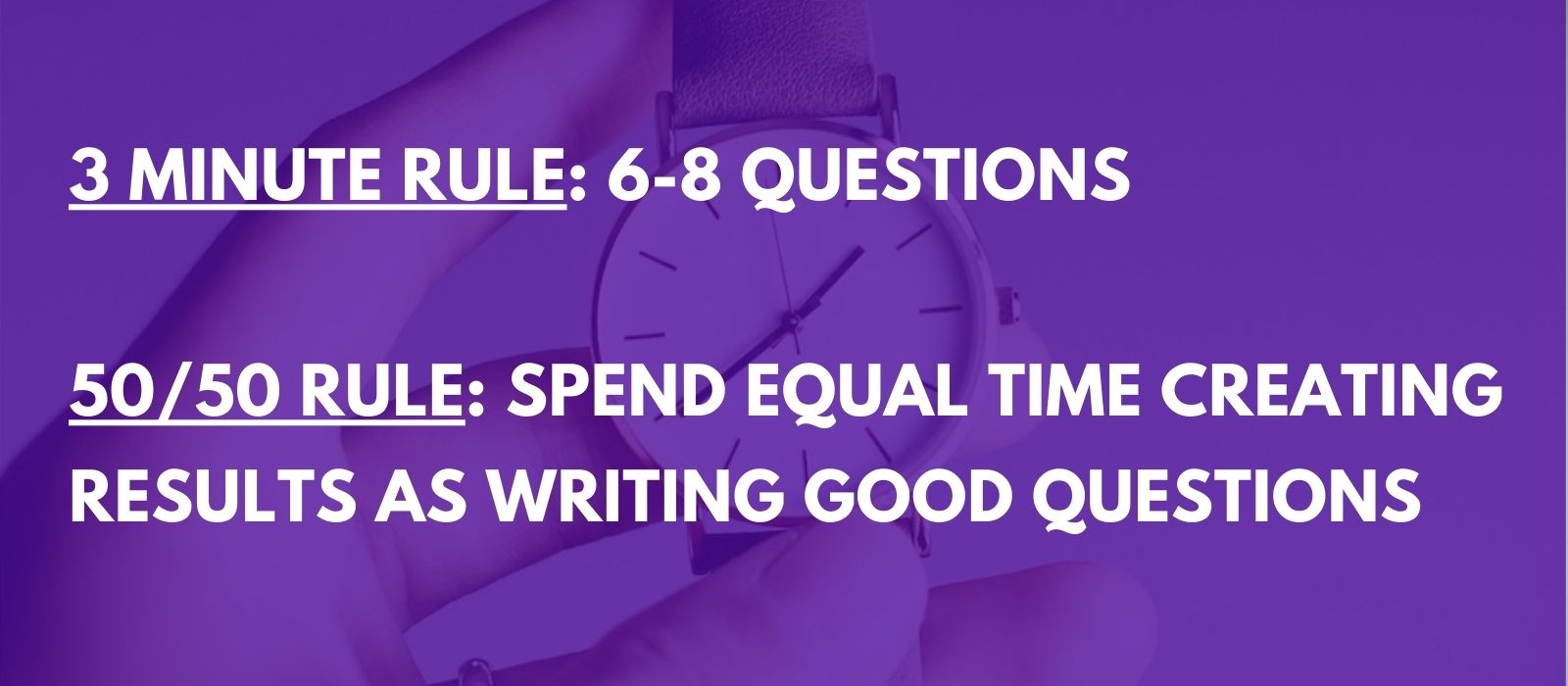 Imagine you created a cooking quiz – your answer types could be:
'You're such a bad cook you could burn water!'
'You're good at cooking but you tend to just cook what you know'
'You have flashes of brilliance in the kitchen'
'You are a true master chef!'
Add a few words describing their performance – or in this case skills (or lack) in the kitchen.
Remember that the idea is to ensure the user likes their result – and won't be embarrassed to share with their friends.
It's okay to be a little sassy on the lowest result – the user knows they've got to be pretty bad to get this result!
Add a quiz timer
Using a quiz timer will add a whole new dynamic to your online quiz.
Seeing that progress bar march down question by question gets the pulse pounding – and boosts completion rates. (It also prevents folks from turning to trusty Google to find the answers.)
Set a quiz time limit – give your users X seconds to finish the whole online quiz.
Add question limits – you can also choose to set a timer for each question, such as '10 seconds to answer each question'.
Individual quiz question times – want to get a little tricky? Start easy and go hard with different timers for each question. Question #1 might have 15 seconds, #2 13 seconds, and so on. Subtle yet effective way to ramp up the challenge.
With Riddle's online quiz maker, you can quickly add your own timers – and mix/match these formats in a single quiz. Timers are also brilliant for running quiz contests – especially combined with a lead generation form.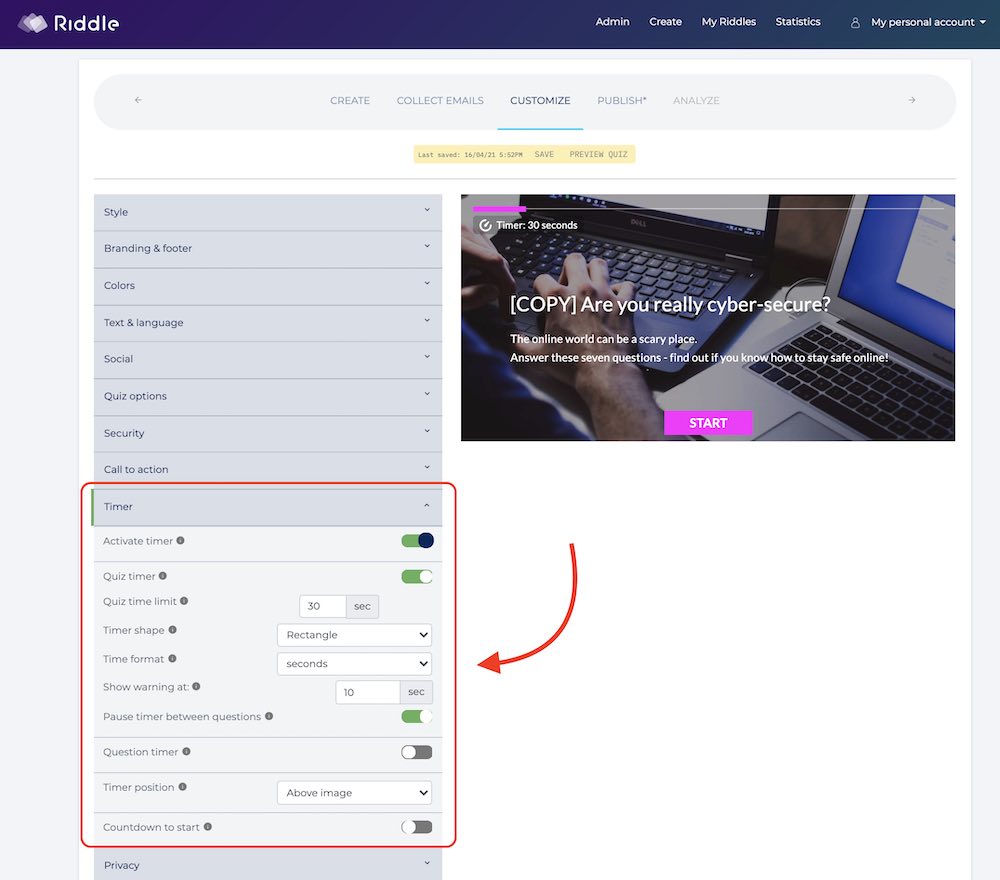 Live online quiz examples – BBC, CNN, Red Bull
Sure – that makes sense, but let's check out some of our favorite quizzes – these online quiz examples are from our Riddle partners: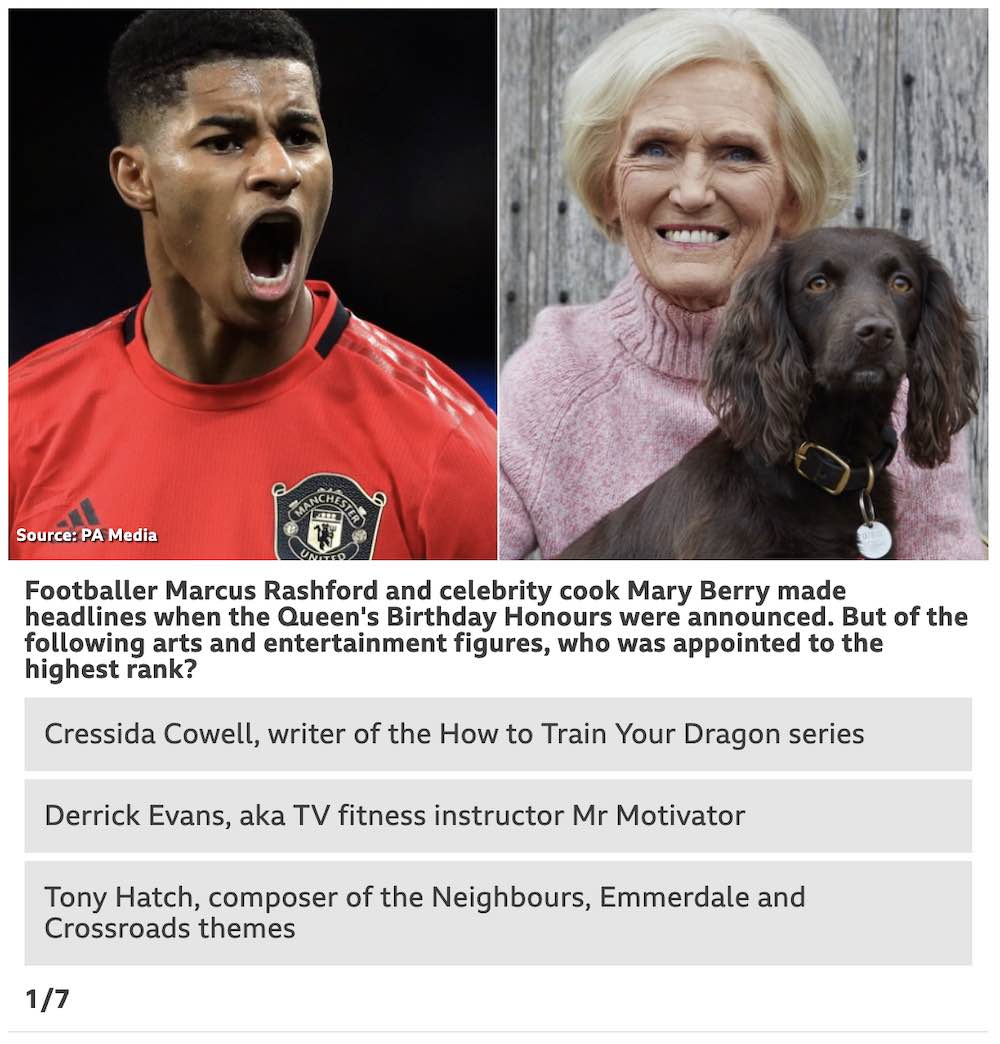 143 great online quiz titles – and live examples
We put this handy list of our favorite 143 quiz titles – including links so you can see them 'in the wild' on our partner sites like the BBC and Red Bull.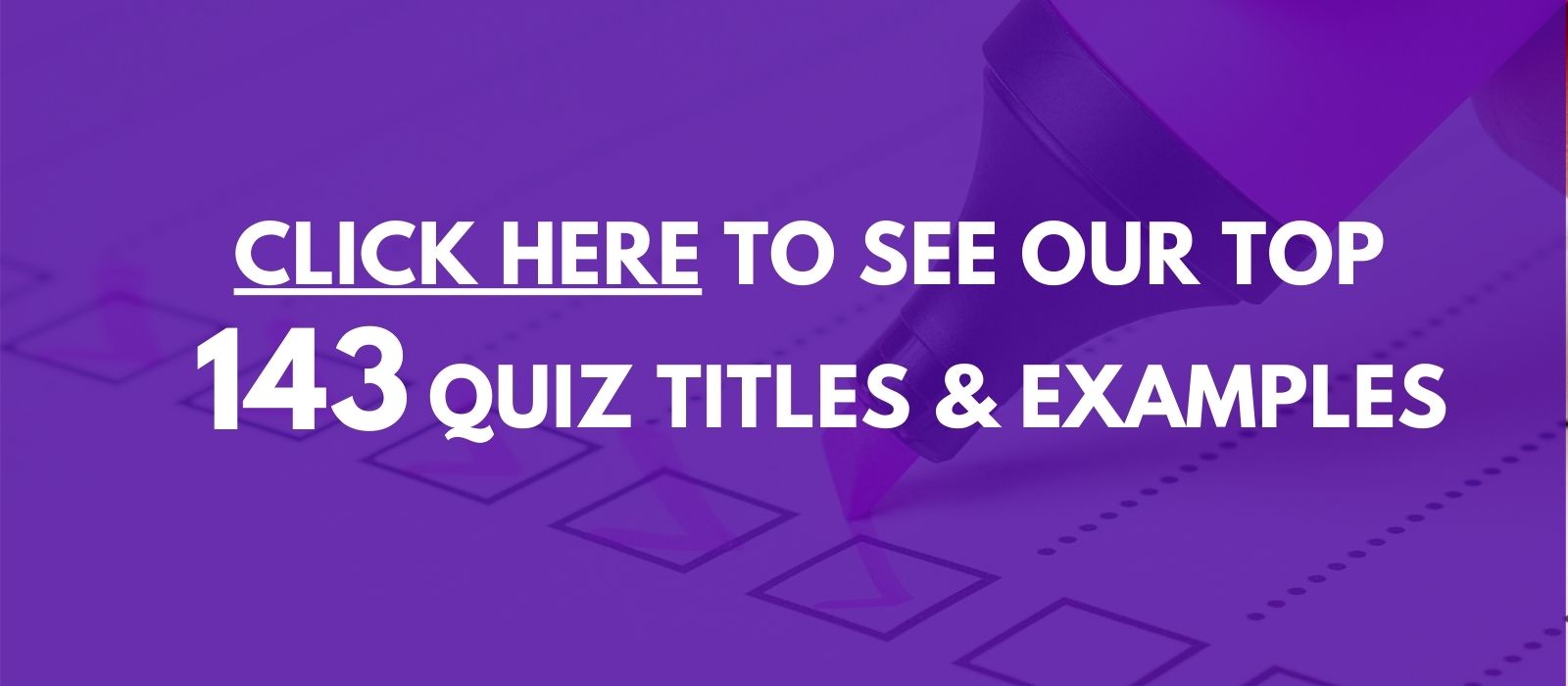 Online quiz uses cases
We're often asked for quiz ideas – across a range of subjects. That's part of the beauty of using an online quiz for your site – people love being challenged to show how much they know… it doesn't really matter the topic.
Here are some use cases – to help inspire you to make your own quiz:
Trivia quizzes – these are the online equivalent to the pub quiz. Simply create an assortment of quiz questions, across a range of subjects. If you're stumped, you can use our quiz generator – to auto-generate a quiz for you from 10,000 free questions covering popular subjects like entertainment, sports, science, and history.
Audio quiz – adding MP3 audio clips turns any quiz into an audio quiz. Perfect for language teachers, or just a novel way to test people knowledge (like this BBC sound effects quiz).
Fun quizzes – your online quiz doesn't have to be serious. You can make light-hearted and fun quizzes – like a "Can you pass this ultimate Friends trivia quiz?"
Map quiz – dust off your inner geek, and challenge your audience around their geography smarts. We loved how the BBC does this – you can try their 'Mind-blowing map quiz' – or the 'Map Master' quiz for their children's audience (powered by our Tap & Find module).
Entertainment or celebrity quizzes – another rich vein for online quizzes, you can easily ask questions around any TV show or movie (like this Radio Times online quiz about Bridgerton), or famous folks in the news.
History quizzes – chock full of fascinating stories, people, and dates, history quizzes are always popular – check out History Extra's 'How much do you know about the US ban on booze?' (and cheers!)
Art quizzes – the Tate loves making art accessible. We loved their 'Turner, Turnip, or Turtle?' online quiz – one of the more creative quizzes we've seen, it's a quirky original take on typical trivia quizzes.
Science quiz – the Science and Industry museum did the same thing with the last frontier, in their fun 'Try our quiz about space, man' quiz. (Spot the pun?)
Emoji quizzes – one of our favorite quizzes, we loved how Agatha Christie challenged their mystery-loving fans with this very clever – and very difficult – 'Agatha Christie stories in emojis' quiz.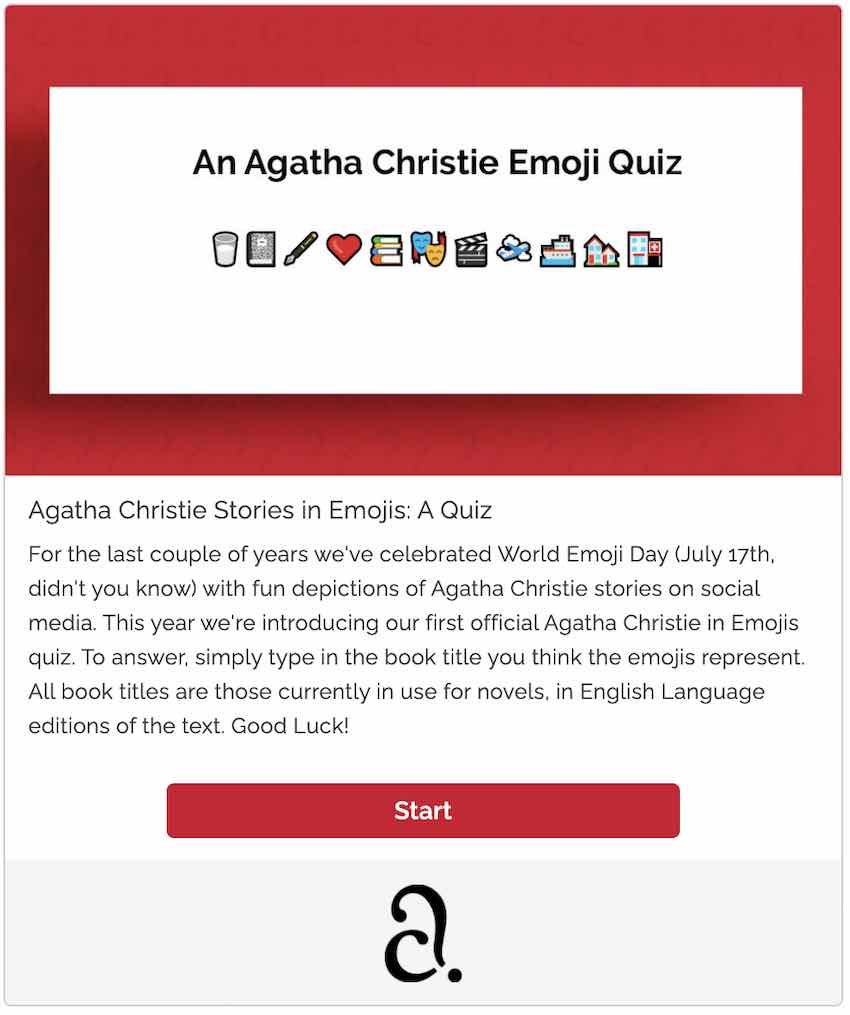 Lead generation and special offers
Audience engagement is one thing – but an online quiz is also highly effective around lead generation and collecting emails.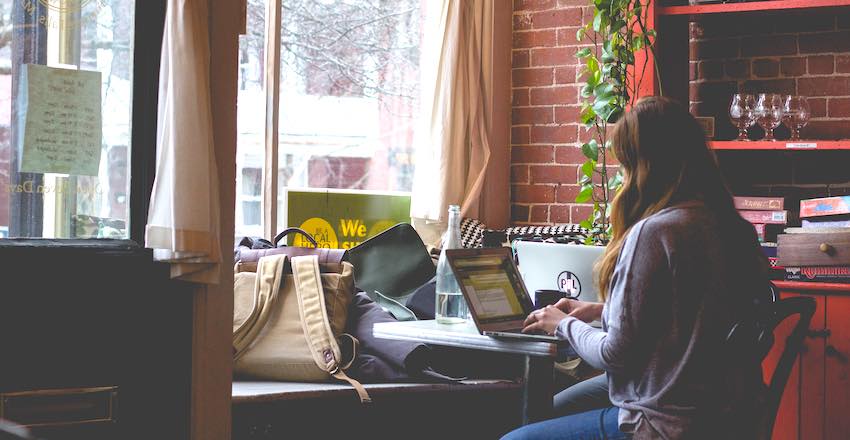 We designed Riddle's online quiz maker so you can easily collect users' emails in your online quiz.
The way it works:
You add a lead gen form in the 'collect emails' step of the creation process.
The form can be mandatory or optional.
Each user sees the form after their last question and before the results.

Why there? Our research shows this is the best location for engagement – after answering 6-10 questions, quiz takers are emotionally invested to seeing their results.

All your quiz leads (and their quiz/poll responses) can be automatically sent to ActiveCampaign, Mailchimp, or any marketing software you use – so you can automatically follow up with email messages or special offers around their quiz results.
You can also send them to Google Sheets – or download as a XLS/CSV file.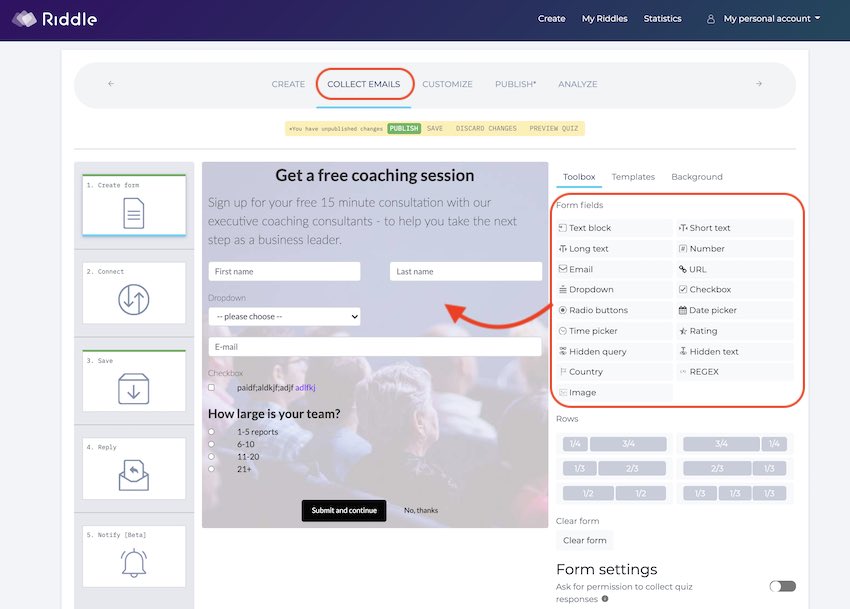 What about creating a personality test?
Creating an online quiz is one thing – what about tips for personality tests? Check out our blog post chock full of ideas and best practices.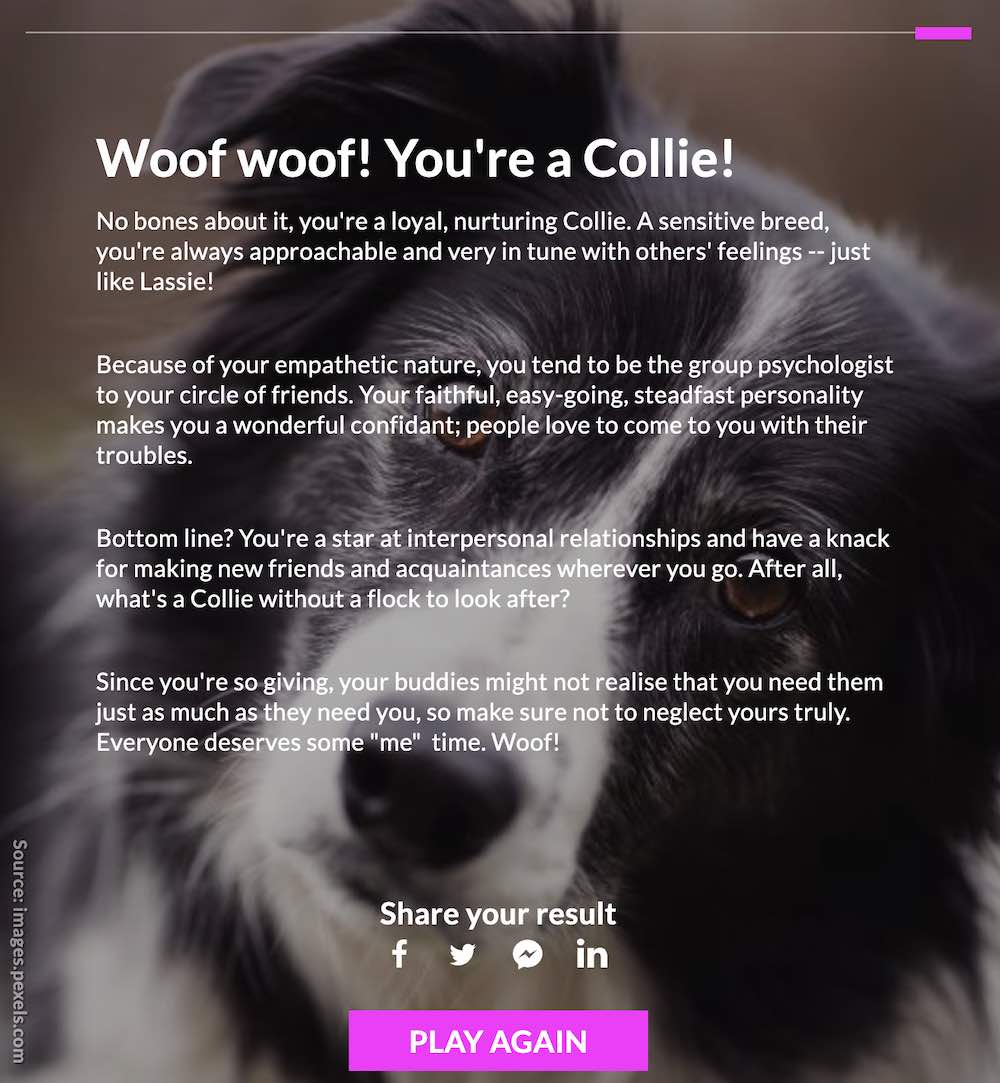 Any questions – ask us!
Have a question about writing an online quiz or quiz marketing in general?
Let us know at hello@riddle.com – we read and respond to every message!
---
****************
Video transcript
(We like to add transcripts of our video walkthroughs – in case folks prefer to just read, vs. watching a video. Transcripts are also much easier for people with disabilities – using screenreaders and other devices.)
Hi there, my name's Mike and I'm one of the co-founders here at Riddle. And in this video, I'm going to give you a quick tutorial or hopefully a "master class" of how to use our quiz maker to create really effective custom quizzes with our online quiz maker.
So here we are, at our create step here. And I'm just going to select our quiz format now. You'll see from our templates here – online quizzes work across any topic. They're all essentially a collection of right or wrong questions.
And people love to know and prove how much they know. So it could be anything from cybersecurity, San Francisco, 80s music trivia, football trivia. It doesn't really matter what the topic – you can easily create an online quiz to engage your audience and collect leads.
And this is how you do it. Next, I'm going to copy our cybersecurity example. But again, it works across any topic. First off, you're going to need a really good quiz title.
For online quizzes, we found that short, punchy titles work the best. So in this case, our title is "Are you really cyber secure?"
Now, this does two things. One, it's short – for easy reading. Second, it has the word 'you' and has the word 'really'. Adding 'you' personalizes the quiz, makes it kind of catch people's attention. And the 'really', it is a subtle little way to challenge your visitor. If your quiz is embedded on your website, seeing something like 'Are you really…?' or 'Do you really know much about <your topic>?' is a nice way to catch their attention.
In this case, 'Are you really cyber secure?' is much more effective and much more engaging than 'The cybersecurity quiz' or 'Test your cybersecurity knowledge'.
The other thing to remember is that your quiz title, along with your main image, is like the title of a book. You need a compelling main image and a compelling title to catch people's attention, get them clicking and get them engaging – you can have the best online quiz in the world, but if no one click start, it's kind of pointless.
OK, next up, how long should your online quiz be?
We have found that six to ten questions for trivia quizzes and other types of online quizzes works the best, because after that, you're going to go past the three minute threshold. That's where we see people start dropping off. Remember, a lot of times people are on smartphones. They might be waiting for a bus or at the store. Three minutes is normally what people will devote.
So six to ten questions is a good example.
Next up, what types of images and questions should you ask?
In our quiz maker, you can use single or multiple choice questions – plus you can also have free text answers where people have to type the answer.
We recommend in a six to ten question quiz to mix it up. We would recommend probably around for a ten question quiz, to go with probably six or seven single one or two multiple choice, and then one free text answer to mix it up.
Free text is the hardest quiz question type because people have to know the answer. They can't get clues from the other choices. But on a smartphone, again, free text is just not a great user experience. So don't do too many free text questions.
We also recommend if you're for single or multiple choice questions, about half your questions should be text only like this, and the other half should add images or animated gifts to again mix it up. Text, image answers, free text.
We definitely encourage you to use our answer explanation section where you can tell people and educate your users why they got the and the answer correct or why they got it wrong. So in this case, we explain why this is the best password, since it has letters, numbers, symbols and upper and lower case letters and so on. OK, besides six to ten questions, keeping each question to just three to four answer options is another is another good tip.
Moving on then to the results, this is the part where people sometimes get lazy, so we came up with the 50/50 rule. You should spend as much time creating your results (what people see when they finish your online quiz) as you do the questions.
And here's why. When you finish your online quiz as a user, you get your score, "Hey, you got seven out of 10 correct!"
That's fine, but that's not really enough to close the loop, to finish the experience and make the person feel positive about that quiz.
Instead, this is a good chance to craft a really good result type – even if they do badly. So for this example, if they do badly, it's like, "Oh, you're high risk!" You'll note that I've used a Scooby Doo GIF for with Shaggy just to add some humor.
My tone is informative and encouraging. I'm not insulting you, saying you're not very good at cybersecurity.
I'm just saying, "OK, you know, you're falling prey to some of the more common scams out there. You should be cautious. And, hey, don't worry about it. Here's some additional information that you could use to improve your skills."
Whereas someone who knows their stuff – in this case gets six out of seven or seven out of seven correct, I can throw in another nice animated GIF to add some humor to it. But again, it's like, "Oh, wow, you know your stuff. But hey, don't get too comfy. You can always learn more."
And you'll see in both of these quizzes, you can then suggest follow up content to there to each person. So now for the low risk person, I'm going to say, "OK, you know your stuff. Here's a button to click and go to our advanced cybersecurity courses." But for someone who's high risk, they'll get "Hey, here's some basic cybersecurity information."
So, again, spend some time on the results, craft some really good ones. And if you're doing more light-hearted trivia quizzes like sports quizzes or things, you can gently heckle or even, frankly, be sassy about people who don't do well, because if the results are funny enough, people will still share them on social networks. For example, if I took a Sex and the City quiz (and I've never seen Sex in the City past one episode), I would get frankly zero right.
But if I got a funny quiz result saying, "You're sure no Miranda, go back to watching Friends!" – or something along those lines, I might still share that on Facebook because it's actually pretty funny.
OK, so those are questions and images. Some other quick tips when it comes to images. If you are looking at our media picker, you'll see that we have lots of different ways to add images.
But you can also add animated GIFs, videos, or audio clips – so again, mix it up.
If you have a 10 question quiz, let's say you're having six non-text questions, I might go with four images, maybe one video and then one animated GIF. And I'd probably put the video, have it on auto-play so just automatically starts.
I'd have that around question two or three, and then maybe put the animated GIF again toward the end where people might be losing interest. It's a bit funny. It has energy and it keeps people clicking. And again, this autoplays and loops, so there's no need to click.
The last thing we're going to talk about is how to combine your online quiz with lead generation.
Now, online quizzes are super effective when it comes to collecting emails, and here's why. One, people have just spent three to four minutes engaging with your quiz. They have just finished that last question. Then you show them this form, which in our example is 'Sign up for our free cybersecurity webinar!'
I've just taken questions about this. Now there's a call to action saying, get a free webinar if I just give my email address, that's pretty cool.
And you'll get around 35-45% percent of your quiz takers giving their email. As long as you have something good or a compelling reason to sign up – don't just say sign up for our newsletter, because very few people do that.
But give something – a free webinar, free tickets to something, a chance to win something… anything. And then what you can do is use our lead generation tool to send all that information to your email marketing tools.
One other tip with quizzes. These are really good for quiz contests. So in our cybersecurity example, you could say 'Get more than 75% right – and you'll be entered to win.
Once you get all of these responses, you filter out all the people who got the bad results – and keep only the people who got the good result.
You then have a drawing to pick a winner – and announce on social.
Again, a quiz contest is a great way to be compelling and boost engagement rates.
Now, when we get to the customize step, we're not going to spend a lot of time here. But don't forget to add a quiz timer, which can be either this overall timer, which is thirty seconds or any time, or set a question timer where every question has ten seconds.
A quiz timer is another great way to boost completion rates because it adds a little dose of adrenaline for each quiz taker.
We don't stop there – there are some other options. If you fancy, you can shuffle questions and do all sorts of stuff to customize the quiz to your needs.
But overall, that's it. That's how you create your online quiz with Riddle's online quiz maker.
If you have any questions, please don't hesitate to use our support chat. Down here you'll see me, my co-founder Boris our entire team of devs. We don't have an outsourced support team. We all love helping our community with questions.
If you ask a question on support, our phones are all going to go off and we're going to race each other to answer your question – normally in under two minutes.
Whatever your questions about creating an online quiz, just let us know and we are happy to help.
That's our take on creating custom quizzes with Riddle. Thanks so much… and Happy Riddling.