2
min read
With Riddle's online quiz maker, you can now easily search and embed YouTube videos in online quizzes. If the old saying says a picture's worth a thousand words – a video must be worth… sheesh – a million?
With over 7 billion videos (and 300 hours of video added every minute!), Riddle's YouTube integration gives online quiz creators free access to a vast library of ready-made content under any topic under the sun.
Unleash your inner Spielberg – choose just the right clip to make your quiz, test, or poll even more engaging and viral.
How to use YouTube videos in online quizzes:
Create any type of Riddle online quiz (with the Riddle quiz maker)
Click on the media selector and then the YouTube button. We give you two options:
Type your search term to search within Riddle
Know the YouTube video you'd like to use? Simply paste the video URL in the the search box.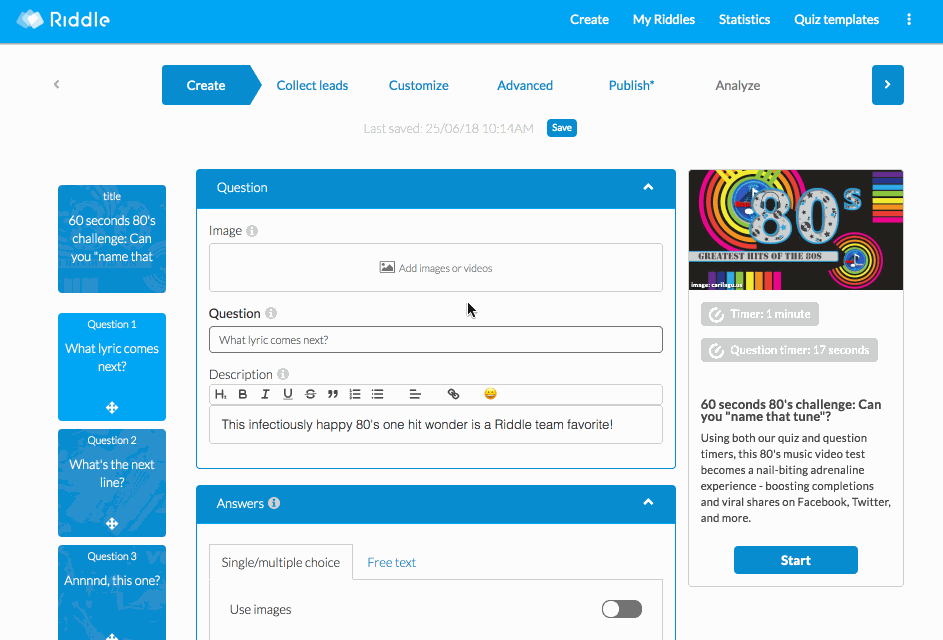 ​​
YouTube videos in online quizzes – edit the timing
Many times you might not want to show the whole five or ten minute video.
Now you can pick just the right start point and end point – to keep your quiz experience as tightly edited as possible.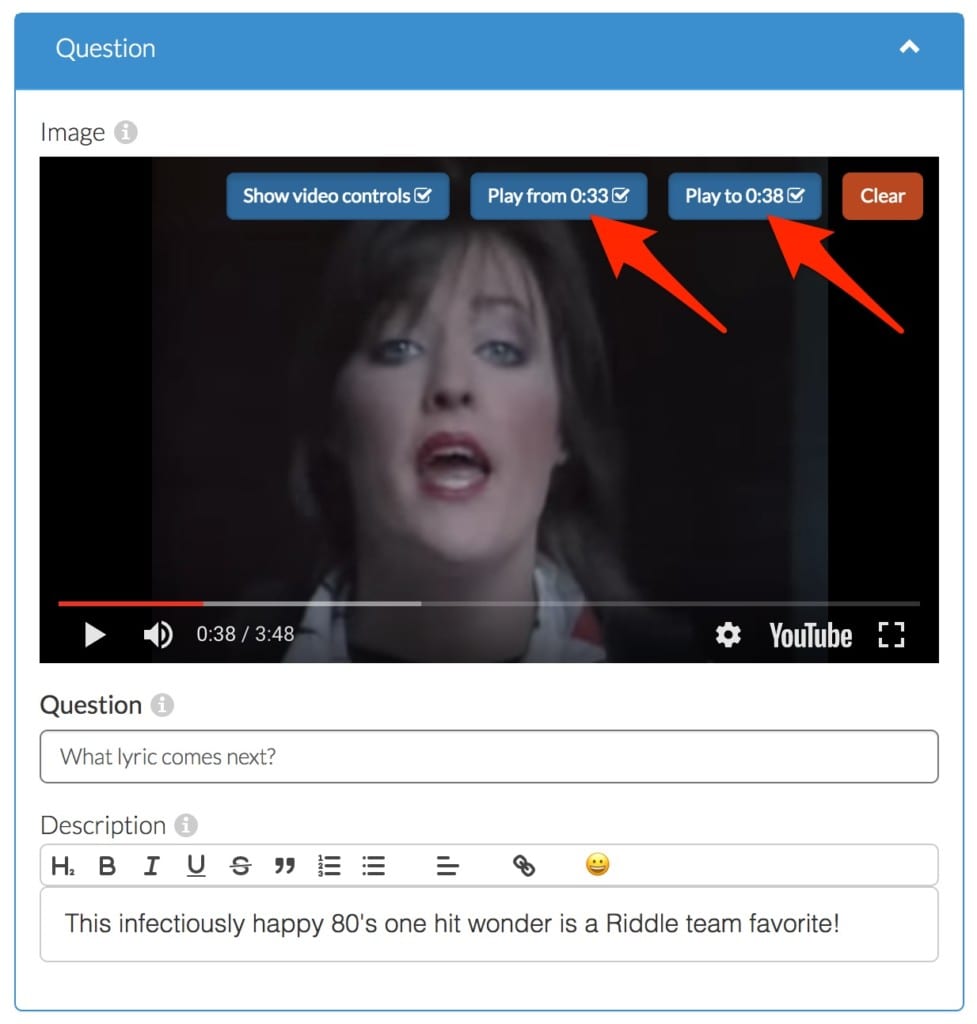 You can also use this feature for running highly effective quiz contests like 'Name that tune'.
Show a few seconds of a famous film or song – then have the audience pick what happens next.
After the user answers each question, you can show the next few seconds video c next few seconds to
Add a lead form – so users can enter their name, email, etc.
Set the criteria – only people who get 9/10 correct would be entered into a prize drawing.
These 'knowledge gap' video quizzes work really well for engagement and social sharing. ​
YouTube videos in online quizzes – branding options:
Riddle also gives you ability to customize the amount of branding your audience will see.
You can click the 'show video controls' and add/remove the fast forward/pause controls (as well as the YouTube branding).
Here's our 'no branding option':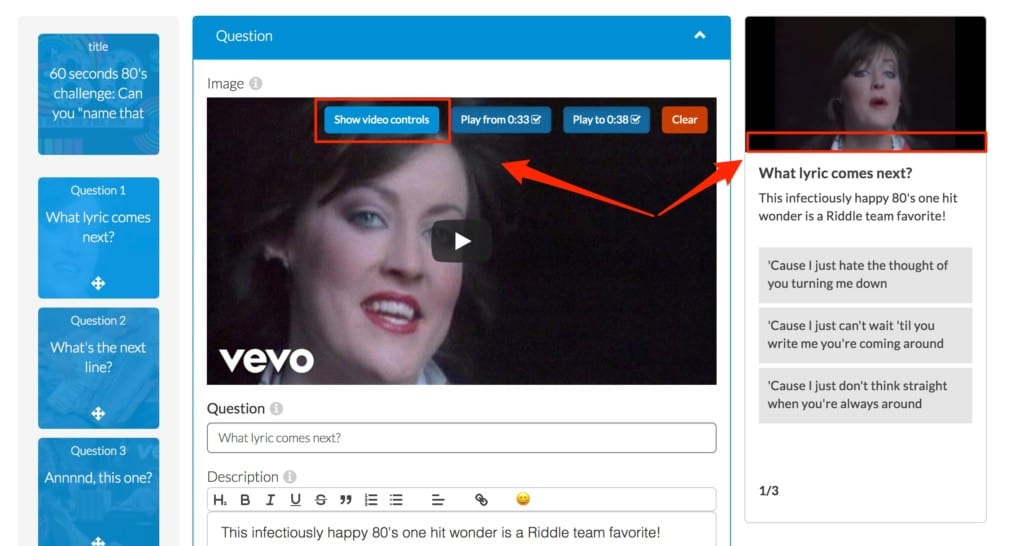 And with the controls enabled: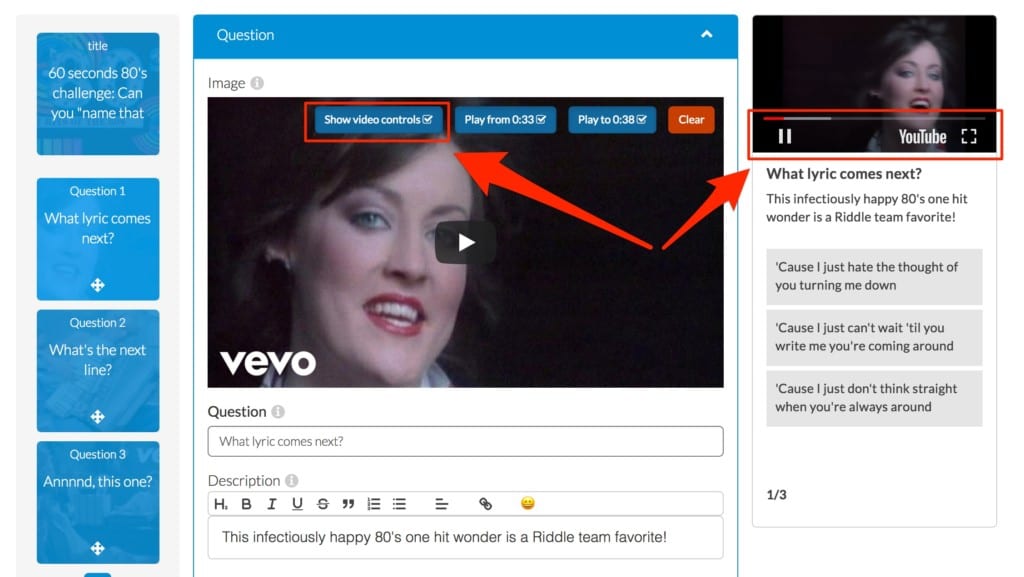 YouTube videos in online quizzes – best practices:
Adding videos to an online quiz, personality test or other interactive content can be powerful to capture your audience's attention. Here are a few tips for getting the most out of them:
Short and sweet – as we mention in our free e-book 'Quizmaster', today's audience have very short attention spans. Your quiz should follow the 'Three Minute Rule' – a quiz that takes longer than that will see a big drop off in completions.
Edit wisely – keep your video clips short, for maximum impact. Use our start/end points to show only the most relevant parts of each video.
Mix/match question types – keep things interesting for your audience. Use different question types for variety – start with mostly image or text questions, then add a bit of energy with a video question or two.
Whew… that got a little long-winded, but we get a bit fired up about all things quiz-related.
If you have any questions about how to effectively use YouTube videos in online quizzes (or anything else about quizzes), please just drop us a line at hello@riddle.com – we're big quiz geeks and love to help!