6
min read
Looking about how (and why) to use GIFs in a quiz? We've got you covered.
In this blog post – learn how (and why) you should use animated GIFs in your quizzes or other interactive content. And, equally important – when you should leave test GIFs out.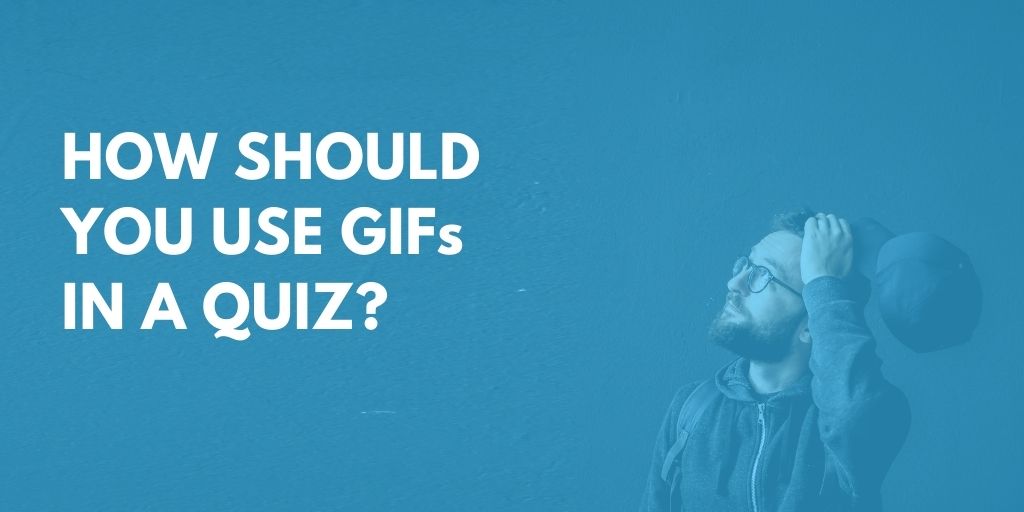 Animated GIFs – a quick overview
No doubt you've seen animated GIFs before – they are those bite-size bits of animation used all over the web, from social media to big-time publishers. Up to 10 billion GIFs are displayed every day on Giphy make it easy to search and embed.
They tend to be short, funny or cute little clips – the best are around six seconds in length, but common tools like Giphy can support up to 15 second long clips.
One of our favorites has to be this classic Shaq vs. cat face-off: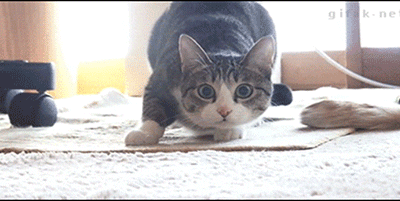 Adding GIFs in a quiz are powerful because each will autoplay and loop – so it will display over and over again for your audience.
Compare that with YouTube videos, for example – they require a click to play. A big chunk of your audience won't bother, which means they'll miss out on your message.
Sample Riddle quiz – comparing GIFs vs YouTube
To highlight the difference, check out this demo Riddle quiz:
Question #1 uses a GIF
Question #2 a YouTube video
Bonus points – GIFs are also more mobile-friendly than video.
When you watch a video on your smartphone, it will open in a new window or app.
GIFs just play on the page – for a much more seamless experience.
Why add GIFs in a quiz?
We're big (huge!) fans of using GIFs in a quiz – done right, GIFs can make your quiz come to life with motion and energy compared to static text and images. This sort of connection translates into more people completing and sharing your quiz with their friends.
And does your online quiz include a lead form?
We've seen people who add GIFs in a quiz get 27% more leads – more users are engaged throughout the quiz, which translates into more seeing and opting to your lead form before their results.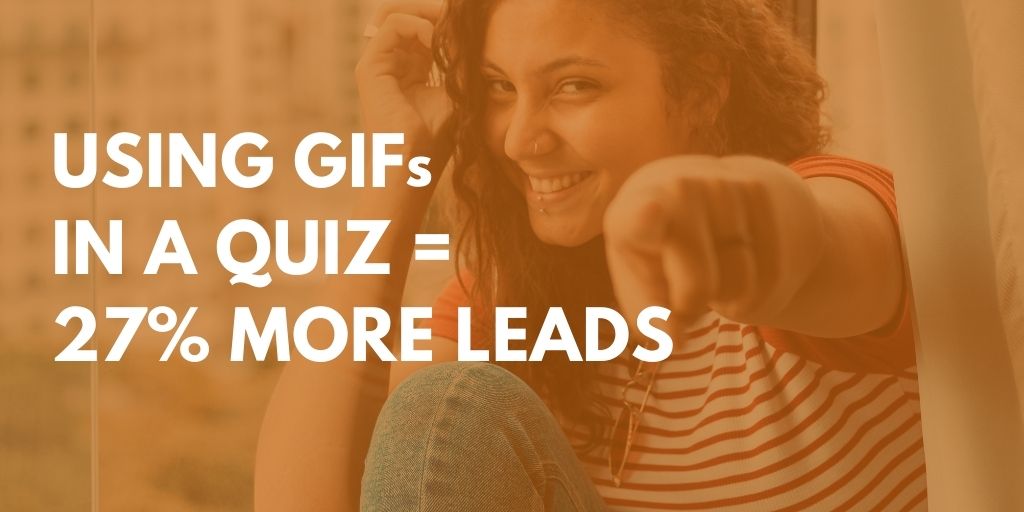 Three can't-miss reasons to use GIFs in a quiz
Today's audience loves them – Time magazine reported that "Nearly two-thirds of millennials said GIFs did the job better than words, compared to about 40% of those in their golden years." If you want your content to reaches out and grab people's attention, adding GIF in a quiz is a good place to start.
Super-effective at conveying information – Let's face it. We humans aren't great at retaining information from text – one study says we remember only 20% about what we read. But factor in that 90% of the information we process are visual, plus we process visuals a jaw-dropping 60,000 times faster than text – short, powerful animations are very powerful.
Convey complex issues quickly – GIFs are perfect for quickly summarizing and showing information. Think about it – if you were learning about the solar system, would you learn more from a static image, or an animation showing the movement of the planets? A short five second animation can show more information than paragraphs of text.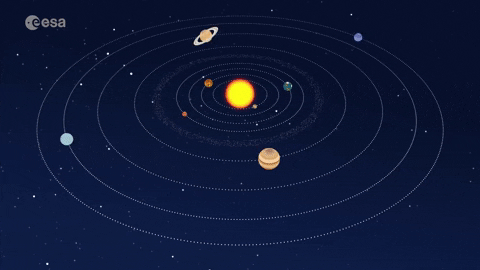 GIFs options – search and re-use, or create your own?
The good news is that it has never been easier to add GIFs in a quiz. You don't even had to be a coder or super-technical.
> Search and use GIFs
There are a number of sites that feature millions of animated GIFs:
Giphy: the most popular site out there, you can easily search and embed GIFs with Riddle's quiz maker.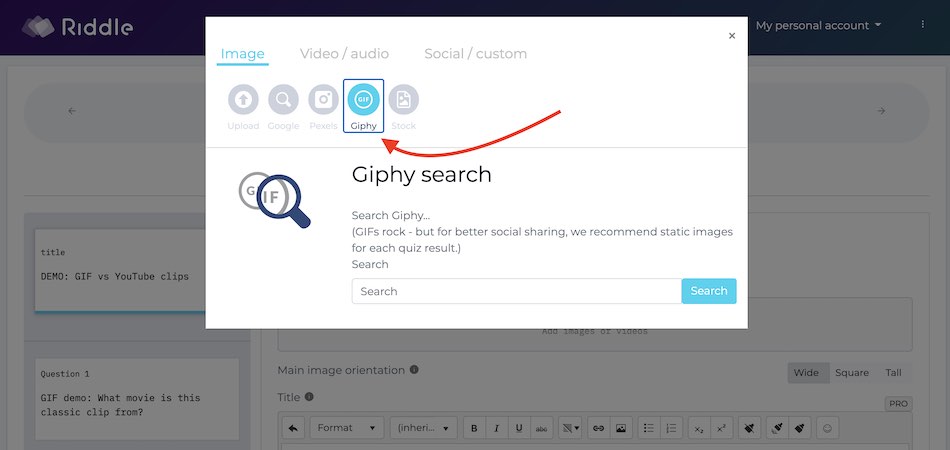 But you can also check out this excellent list of alternate animated GIF sites, including:
However, you'll need to download them and re-upload to Riddle – using our nifty image upload option.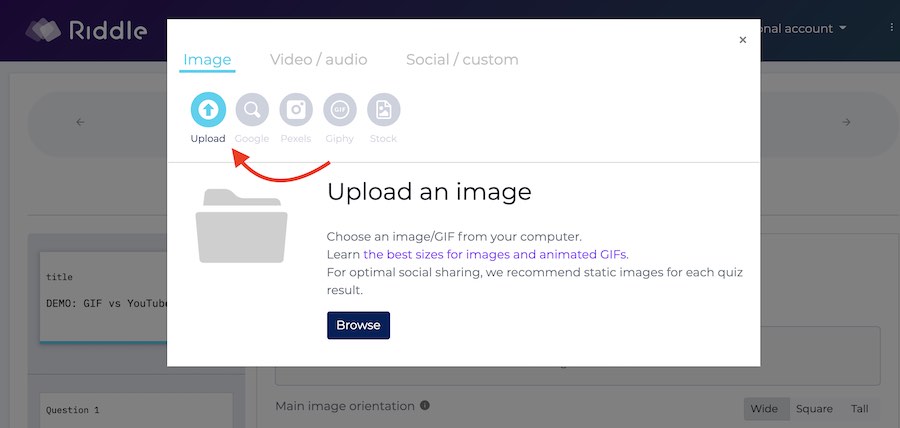 > Create your own GIFs
This is a good option for creating your own content – that you can then use to add GIFs in a quiz. These three free sites make it easy – just upload a series of static images or video clips, and they'll do the rest:
These tools also feature options to optimize the file size of your GIF – so they'll load quickly in your quiz.
The downside? They're ad-supported, so will often add their own ad tracking and cookies to visitors using their creation tools to add GIFs in a quiz.
You can also take the bull by the horns and create your own GIF in image editing software like Photoshop. It's a bit tedious but straightforward – essentially, you'll upload and merge a series of images in to an animated GIF (check out Adobe's instructional overview).
Top tips when to add GIFs in a quiz
Okay – so we shown how and why you should add GIFs in a quiz.
But it's equally important to know when you should not use them – a poorly timed or badly chosen GIF can undo all your quiz's success at engaging your audience and collecting leads.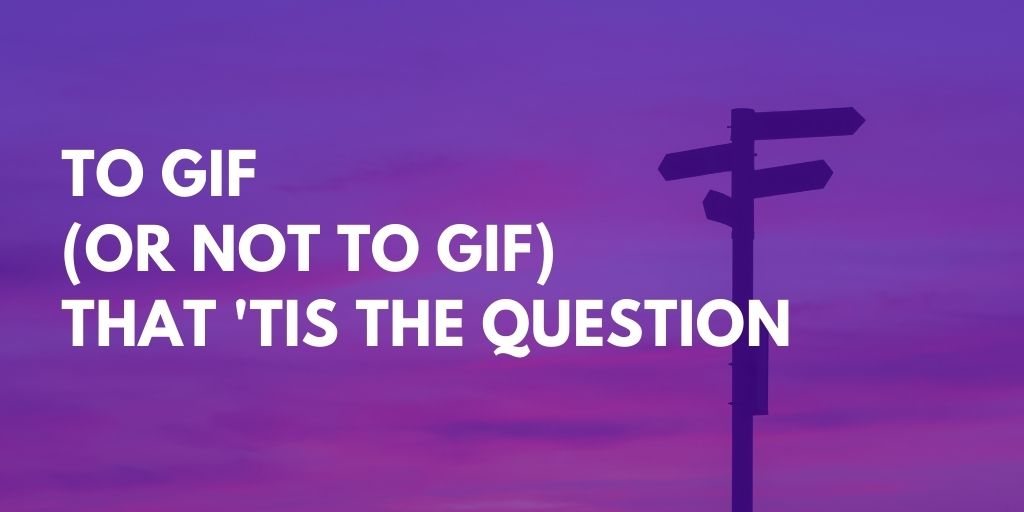 Here are our best practices for deciding when to use GIFs in your online quiz:
Don't overuse GIFs – like everything in life, it's possible to have too much of a good thing (we're looking at YOU – Ben and Jerry's Phish Food ice cream!). A little is good but too much leave you feeling a bit 'meh'. GIFs work the same way – use them strategically at key points in your quiz. We recommend:

Max 20% GIF usage – we recommend using GIFs no more than one out of every five questions. Any more – they're no longer 'special' and your audience will start tuning them out.
Add GIFs as question images (not answers) – GIFs work best just as the main image. Imagine using GIFs for each of your four answer choices – all those GIFs playing will make your audience dizzy; not the reaction you're going for.
Save a GIF towards the end – popping in a GIF near the end of a 6-10 question quiz (like #7) gives your quiz a nice burst of energy. This will keep your quiz takers interested and finish – so they see your lead form and their quiz results.

Mind the tone – most GIFs, especially found with online tools like Giphy, tend to be more light-hearted. Be careful on how you add GIFs in a more serious quiz – either choose wisely, or avoid altogether.
Don't use GIFs in your quiz results – Facebook, Twitter, and other social platforms treat GIFs differently than images. Static images appear at full size, while GIFs are cropped and won't show up as well in people's feeds. We recommend using images only in your quiz results.

Make a quiz with animated GIFs: Image specifications
Okay – if you're going to make and add GIFs in a quiz on Riddle, we do have some technical specifications designed to help your GIFs load quickly for all your audience.
Your animated GIFs should be under 250kb in file size.
If your GIF doesn't load inside our quiz maker, we suggest trying these steps below to shrink your GIF's file size.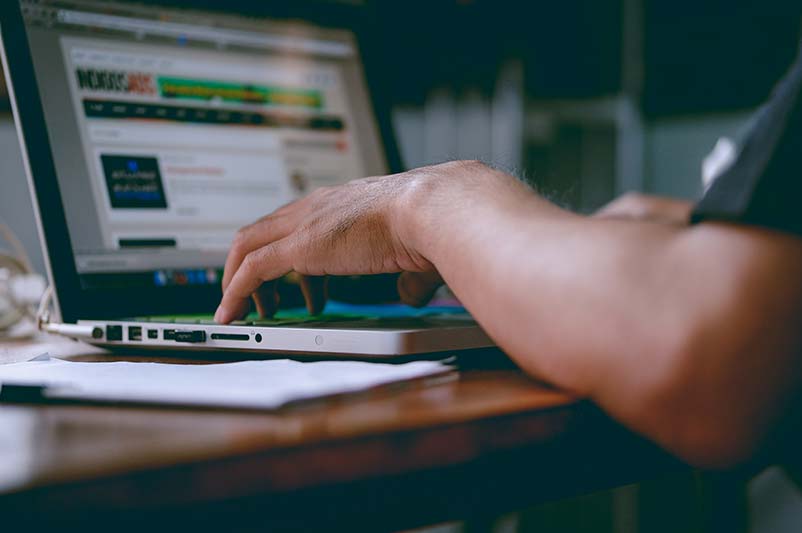 Reducing your GIF's file size
GIFs are funny files – calculating their size isn't as simple as looking in your file explorer.
Instead, you calculate each GIF's size using this equation: the total resolution x the number of frames in your GIF
To keep your quiz loading quickly for users, our image server has a cap of 7MB for any GIFs you upload.
Example:
You create a GIF with 1,000 pixels wide and 700 pixels high.
There are 100 frames in the animation.
Your file actually weighs in at 1,000 pixels (width) x 700 pixels (height) x 100 frames.
That comes to: 700,000 pixels x 100 frames = 70,000,000 bytes (that's 70MB!)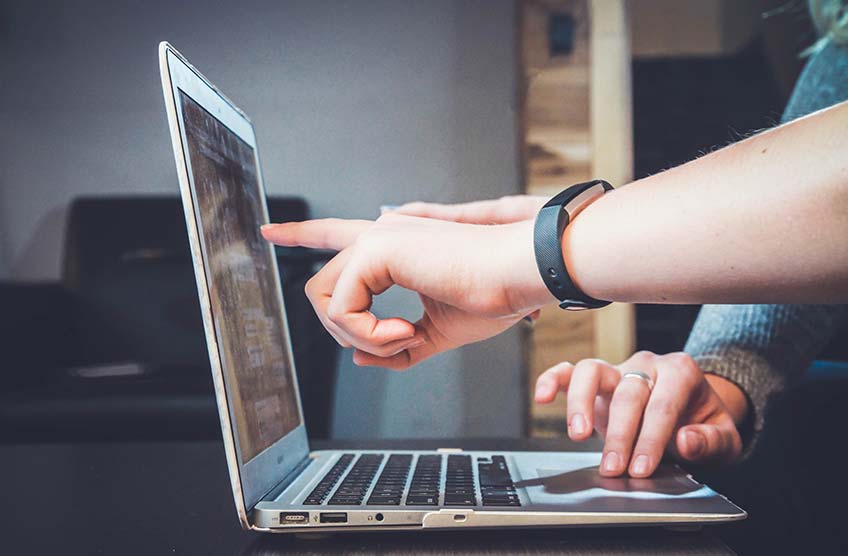 As a first step, make every frame as small as possible (in Photoshop or whatever program you're using)
Recommended GIF dimensions – 960×540 for our wide 16:9 format.
Reduce the # of frames – 5 or 6 frames per second work well.
Optimize the file – we like EZGIF's free tool; you can shrink GIFs by up to 35% in a few clicks.
Adding GIFs in a quiz – wrapping things up
Adding GIFs in a quiz can help improve engagement with you audience, as well the percentage of quiz takers who complete and share your quiz.
(Want more tips? Check out our top secrets behind successful quizzes.)
Riddle's quiz maker is nice and flexible – you can search and add GIFs using Giphy, or you can make and upload your own.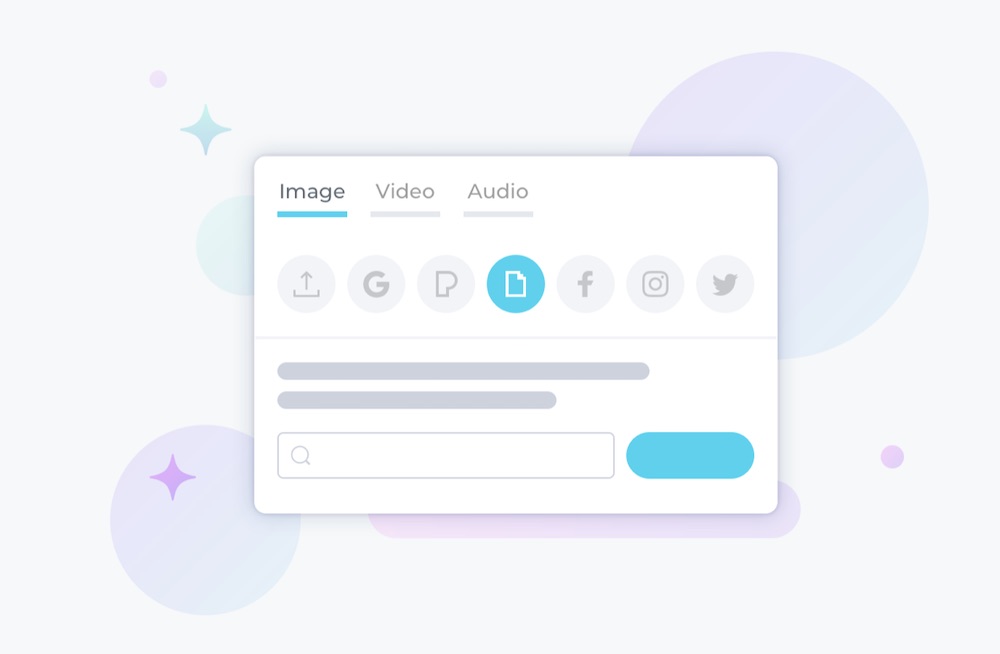 Be careful not to overuse GIFs (less is more, sometimes) – or to add GIFs in a quiz where it's not a natural fit. As a guide, serious, somber topics don't tend to be good fits for GIFs.
Have any questions about using GIFs in a quiz?
Please just drop us a note at hello@www.riddle.com/blog or in support chat.
From our founders to our developers, we're all big quiz geeks at Riddle – we love racing each other to respond first to questions.