We're often asked – "Hey Team Riddle, how can I hide that 'Riddle.com' when my quiz takers share their results on Facebook?"
The origin of the share will always say riddle.com as a default.
This is because Facebook uses the URL from which the shared content is served and displays that as the source. They're sticklers for that, unfortunately.
However – we have some good news!
We have added a white-label option to our share settings to allow you to use the open graph tags from the page where the Riddle is embedded and thus avoid saying riddle.com in the main share message.
How to (partially) white label your share message
You can see more info on how to use this and the implications of white-labeling your share message can be found in this post.
But even with white-labeling activated, you will still see riddle next to your name when the results are shared.

100% white label your sharing messages => Create a Facebook app
The only way to fully customize the share message and remove all mentions of riddle.com is to create a Facebook App and use that app to manage the share display.
Instead of riddle.com, the name of your Facebook App will be shown along with the share message.

Don't worry – this sounds more complicated than it actually is.
Just follow these simple steps to create a Facebook App and get full brand control over all Facebook shares of your Riddle content.
Log in to your Facebook Account
Add a new app by clicking on the big + on the top of the screen

4. Name your app and enter your contact email. The display name you enter is the name that will be shown in the share message.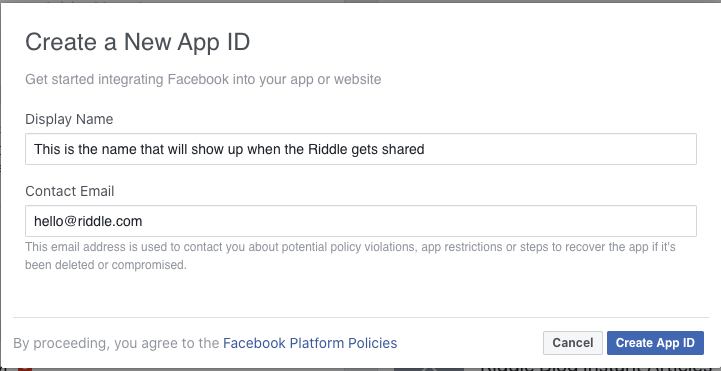 5. Go to settings
Add riddle.com and the URL of the website(s) where you will embed the Riddle into the App Domains field.
Insert links to your privacy Policy URL and your Terms of service URL, without them, Facebook will not approve your app.
Lastly, pick a category that best suits your website.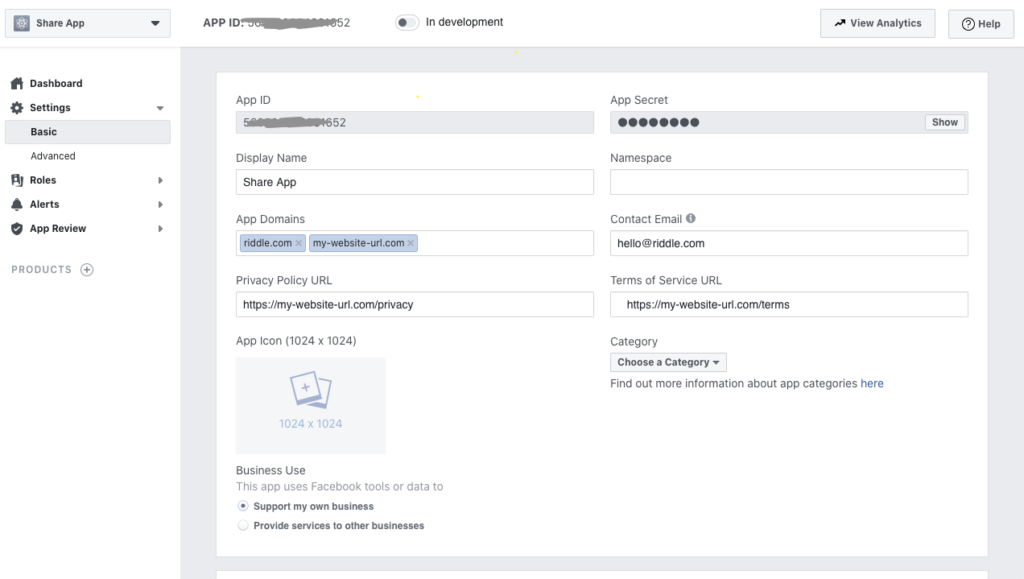 6. Publish your app by moving the switch at the top to "Live"

7. Copy the app ID and paste that into your riddle on the customize / social step.
You can now use this app ID for all your riddles – hurrah!
NOTE: Just make sure to add new website URLs if you embed riddles on websites that are not listed in your FB App settings.
Also, just a quick reminder, with our Basic and Pro plan, our license lets you only embed Riddles on websites that you own. If you are creating content for clients, please upgrade to our Team plan.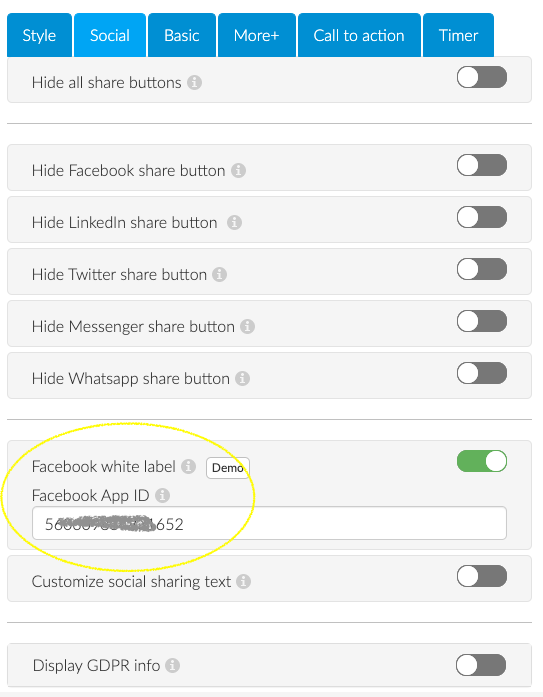 Your Facebook shares will now be clear of any mention of riddle.com and instead name your app as the share source along with the URL where the Riddle is embedded.

IMPORTANT INFO – PLEASE READ
Creating an app is easy. However, when you use the white-label method to share your quizzes, Facebook will try to pull the share image and share text from your page on which the Riddle is embedded.
Normally, Facebook will show the image from each result type (e.g. "You're Harry Potter!").
But in this case with white-labelling, Facebook won't be able to do that, as it has no access to the Riddle iFrame. You have to add Open Graph tags to the page yourself to set the share image and share text.
We wish there was a better way to allow you to use dynamic data from Riddle AND remove our name from the share, but that is unfortunately not possible with the Facebook share API.
Fingers/toes crossed they update it soon! But in the meanwhile, blame Facebook. 😉