Do you have our WordPress plug-in installed – and your current version number is lower than 4.3.5 (for ex. 4.2)?
Do NOT update via WordPress.org – you might lose all your quiz leaderboard data.
The back story: WordPress messed up – suddenly changing their system architecture, without letting us know. Super, super frustrating!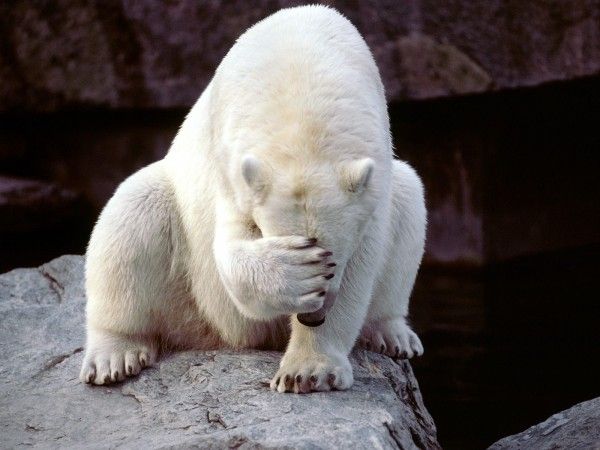 [Haven't created a leaderboard yet? – or don't mind losing your leaderboard data? Just upgrade to our newest quiz plug-in (4.3.5) as normal via our WordPress page – all future leaderboards will work perfectly.]
Right – to manually update your plug-in (and keep your leaderboard data), please follow these steps below:
As usual with any WordPress updates, make sure to backup your website and database.
Download version 4.3.5 of our plug-in from the link below
Download a .zip file of our plugin by clicking the link or download button below:
2. Unzip the file to your hard drive.
Video Instructions
Watch our founder Boris below – as he shows how to manually update your Riddle quiz maker plug-in.
Step by step instructions:
Alas, instead of using the default upgrade tool for WordPress plug-ins, we'll need you to manually upload the new plug-in files, overwriting the existing plugin files.
Sounds tricky – but it's not too bad.
You can use any FTP client to do that, if you are familiar with FTP tools.
If you do not have FTP access to your WordPress host, follow the steps below.
Install the WP Filemanager plug-in. This plug-in gives you access to the folder structure of your WordPress website.
WARNING: Be very careful to follow the steps below and do not alter or touch any other file or folder.
Deleting, moving or renaming any other file except for the ones mentioned below may render your WordPress site useless.
Open the file manager and navigate to the riddle plugin folder.
The folder is located at wp-content -> plugins -> riddle-playful-content-on-the-go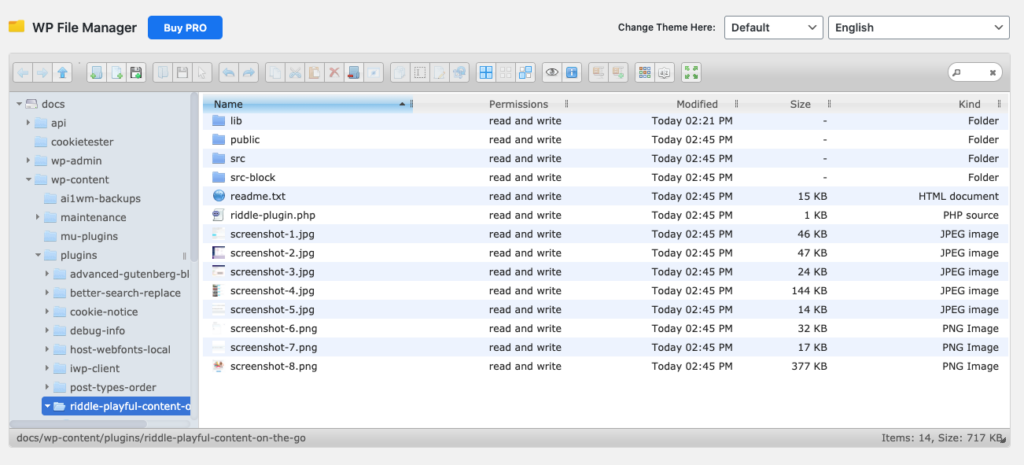 Open the corresponding folder on your hard drive where you unzipped the plug-in file.
Drag all the files over to WP Filemanager, dropping them in the white space below the last file in the file list.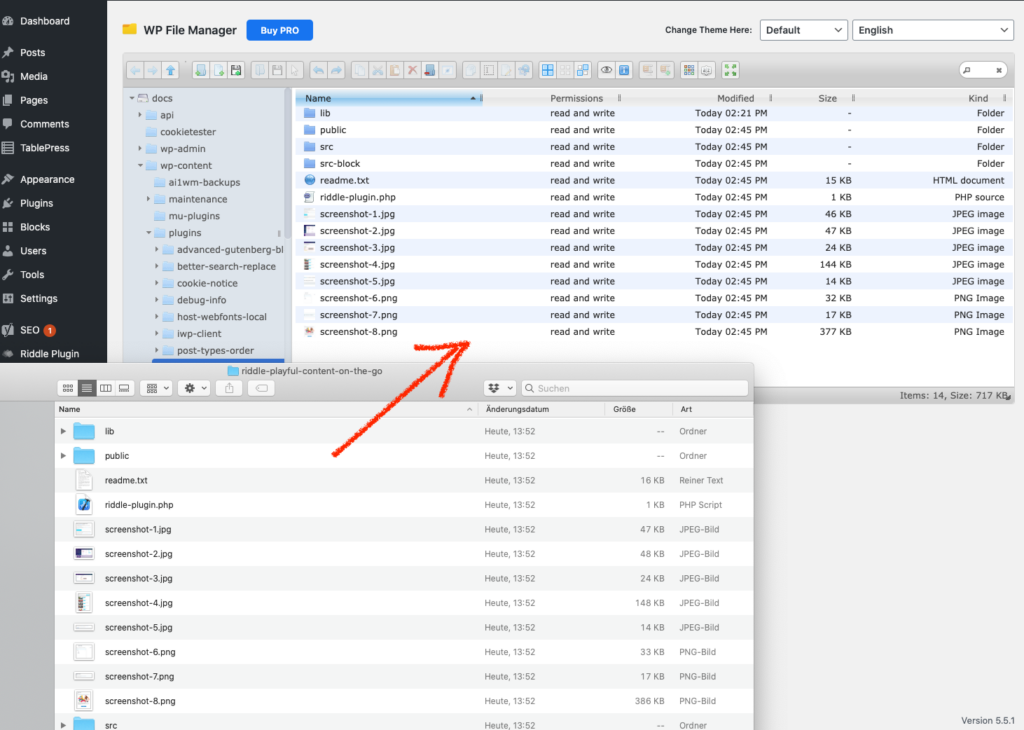 You will see a warning message, that files and folders with the same name exist. That's a good sign.
If you do not see that warning, then you are copying the files into a wrong location. That's bad… very bad.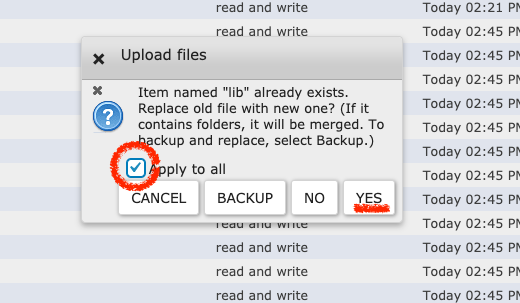 Select "Apply to all" and click YES.
Once that is done, your Riddle Plugin will work and your leaderboard entries have been copied from the file system to the WordPress Database, where they are safe for future updates of our plugin.
The good news?
This won't happen again.
All your future versions can be updated using the regular WordPress Plugin Update process.
Many apologies again – we pride ourselves on making Riddle super-intuitive.
We know this was definitely not the smoothest customer experience for you and our community.
If it helps, here's a picture of our lead plug-in developer after his all-night code-a-thon, fixing WordPress' mistake: