Quiz creation just got a whole lot easier (and faster!) with our Team plan.
Do you find yourself creating lots of very similar content? Now, you can save any of your riddles as a 'team riddle template' for easy reuse.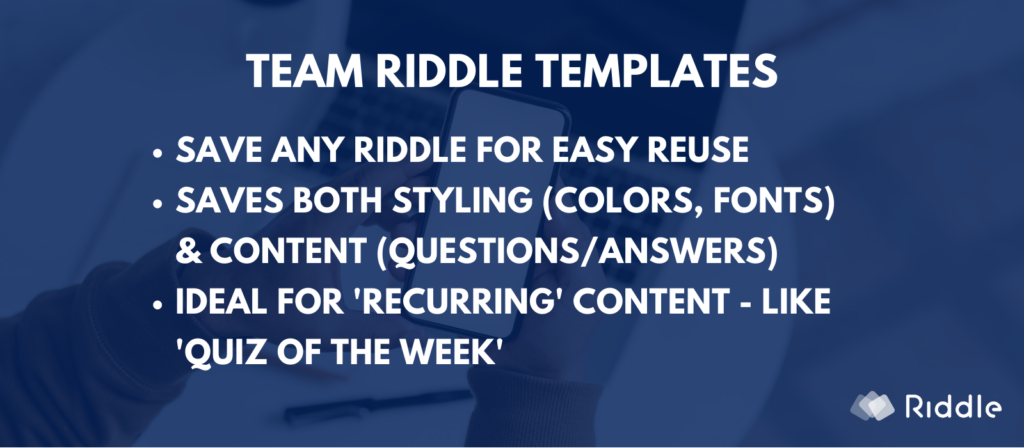 Possible use cases include any 'recurring' content such as:
Weekly quiz
Player of the week
Poll of the month
As part of our Team plan, you can save any of our quiz types as a team riddle template, so you or your team members can use it in the future.
Note: team riddle templates save both the content (questions/answers/images) as well as the styling and quiz options (font, colors, CSS, layouts) for your content. A team riddle template can only be used in the same type of content – a personality test template can only work for a personality test template, for example.
We give you two options to do this:
Option 1 – from 'My Riddles'
You need to be in a team workspace – not 'My personal account'
Go to 'My Riddles'
Click on the the '…' menu by your quiz
Select 'save as template'
Option 2 – from 'Publish' step
When editing or creating your quiz:
Go to the 'publish' step
In the 'Extras' tab, click on 'save as template'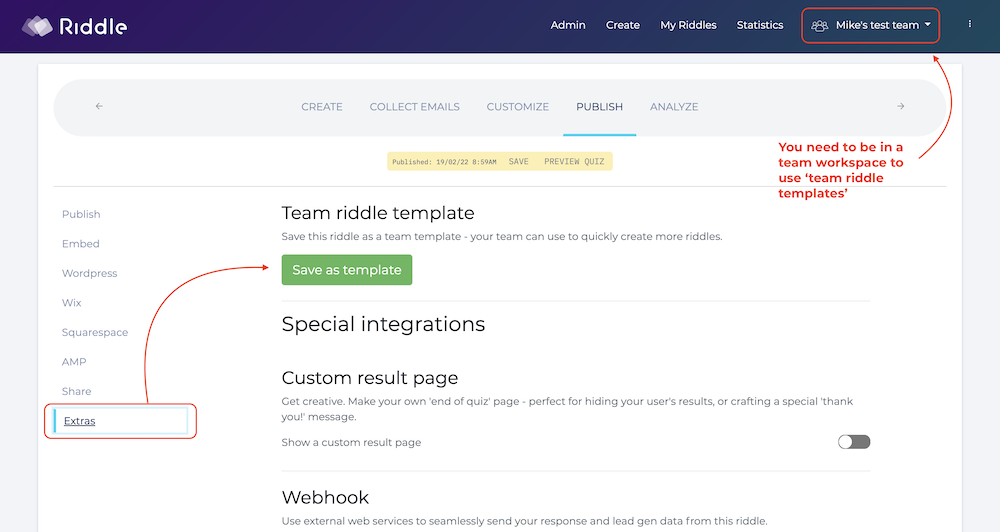 Give your team riddle template a name – and click 'save my quiz template'.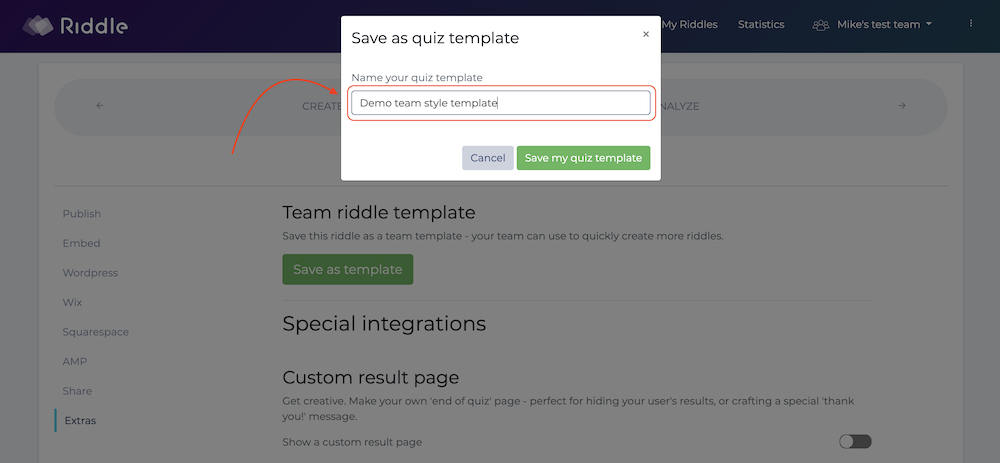 To use your team riddle quiz template, click on create and select the saved template.
Please note: team riddle quiz templates are linked to the Riddle format.
For example, you can only use a saved quiz template when creating a quiz. You won't be able to use that in a personality test or poll.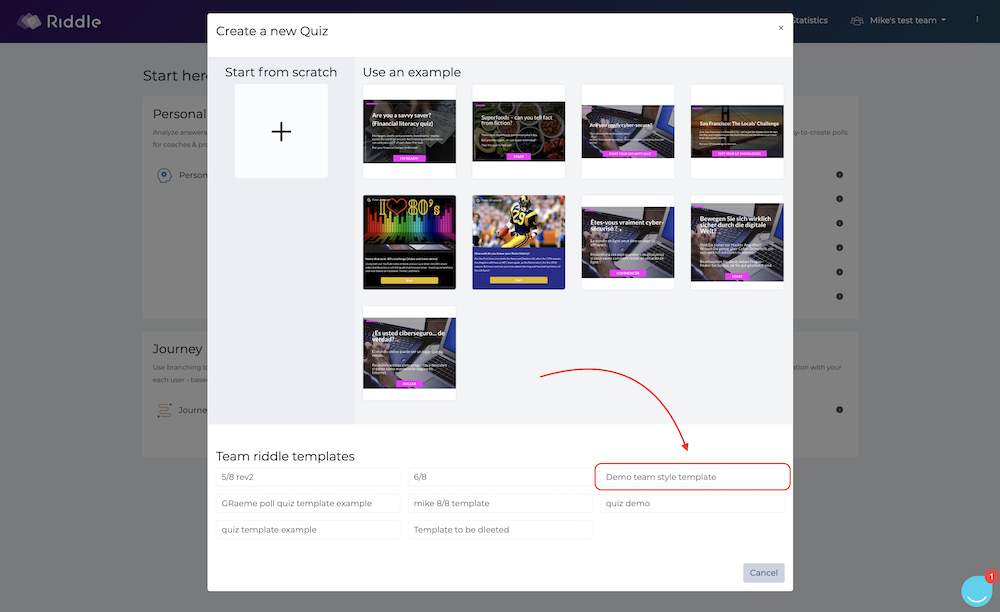 Delete a team riddle template
Sometimes, you might want to get rid of a saved riddle template.
If you're the account owner or a team admin, you can delete any of your saved team templates.
Simply go to 'My teams'
Click 'Edit' for the right team
Go to 'Templates'.
Click the rubbish bin icon by the saved template to delete it.
Here's a quick video I created to show this in action:
Use our 75+ quiz, poll, and survey templates
Want inspiration on how to use our team riddle templates?
We have over 75 of our own quiz templates that you can use – simply copy any of our own template Riddles directly to your account.
Click on any quiz type
Select the eye icon to preview and play the quiz
Click the '+' to add this template to your account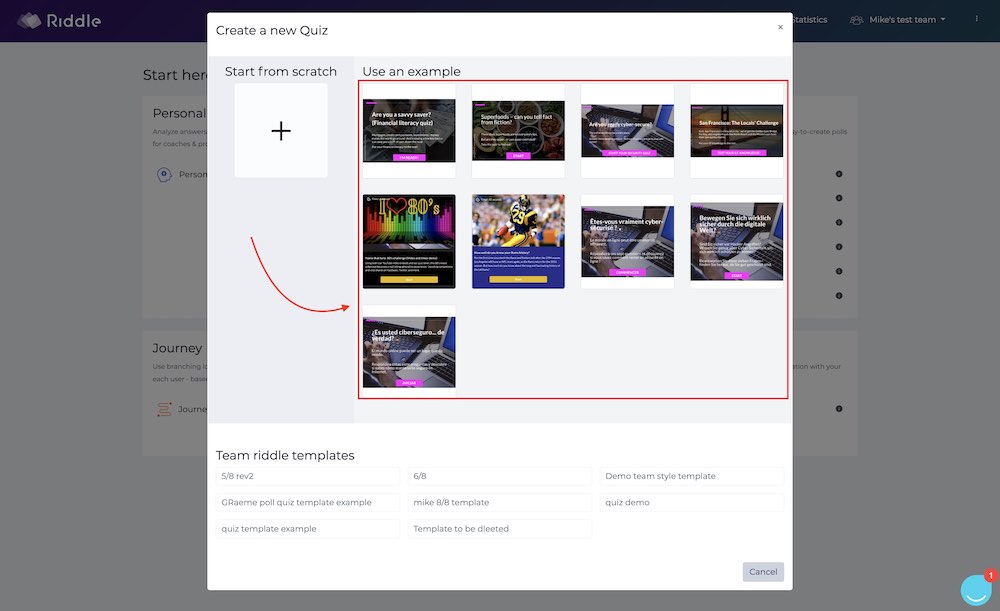 Want more flexibility? Try 'style templates'!
You can also create a 'team style template' – which saves just the information from the 'customize' step, including colors, CSS, fonts, and social sharing. You can apply that as a default setting for any Riddle formats.
Got any questions about quiz templates?
Just ask us on support chat. We're always (and fast!) to help out with any questions about quiz marketing.
(We should tell you – there's a monthly beer competition involved… for the person who helps the most customers. Our team are British and German – and loves beer!)