It's easy to create a lead generation form to collect leads with quizzes or other interactive content. Our form builder is simple to use – just 'drag and drop' the fields you want and your form is ready to go!
We'll show you how to use our 17 different lead form fields, add background images and other formatting, plus make your field mandatory or optional.
Let's get started!
Riddle lead generation features
Drag and drop to make your own forms
Choose from 17 types of form fields (email, date picker, etc.)
For our advanced users:
Customize the text & options of every field and button
Save forms as a template for easy re-use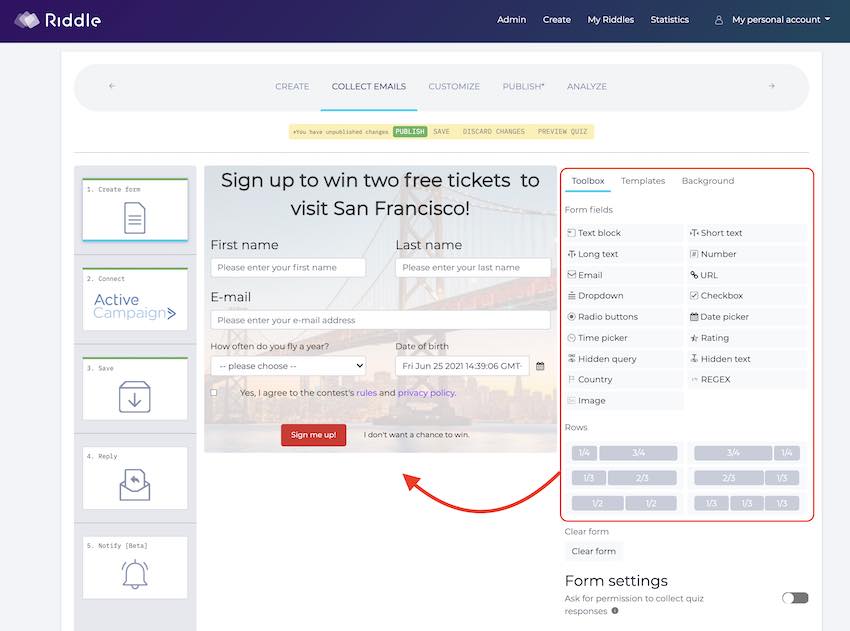 How to create your a lead form?
We give a whole overview on how to use our quiz lead generation module – but basically, you'll want to head over to our 'Collect email' step in your Riddle content.
Go the 'Collect leads' step in your Riddle.
Click on 'Create a form' and select 'Lead generation form'.
Choose the row widths (ex. 1/3 and 2/3, or 1/2 and 1/2).
Drag and drop the fields you need.
Edit the field names and messages to suit your needs.
Video: Creating your quiz lead form
We whipped up this handy video from our cofounder Mike – showing you how to easily make your own quiz lead generation form.
Want to customize your form's send/submit buttons?
This is a very popular request – we're often asked how to make lead generation forms mandatory or skippable.
There's no 'best' way to do this – it depends on your marketing objectives.
Mandatory forms tend to get more leads – but at the risk of annoying some users, and you'll get a fair number of fake email addresses from folks who just want their quiz results.
Optional forms are the reverse – you'll get fewer, but more high quality leads.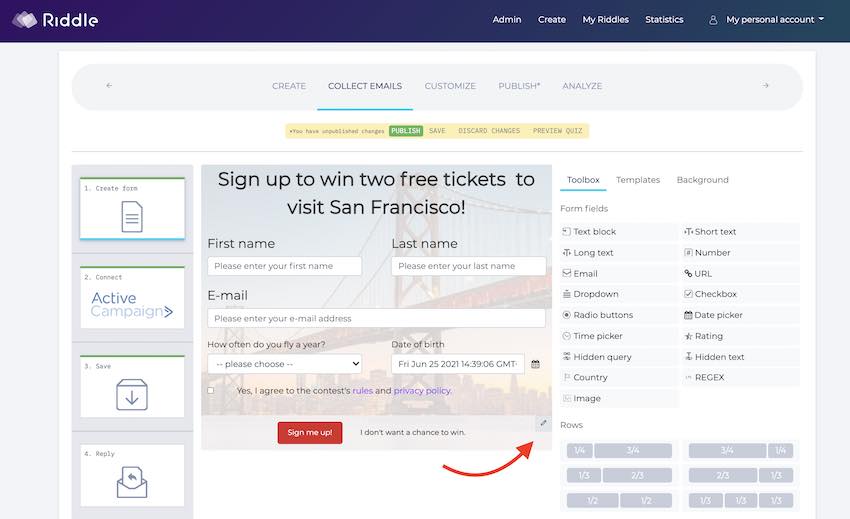 Click on the 'edit' button.
Change everything from the position to the colors/opacity of your send/opt-out buttons.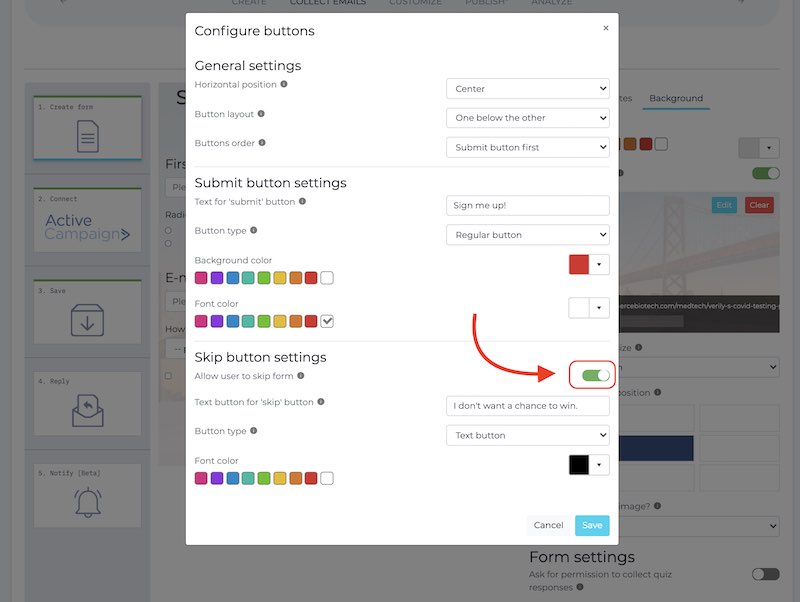 Additional form customization options
Creating a beautiful quiz that matches your site is only part of the process. Now you have your quiz takers' undivided attention, you'll want your offer to reflect your brand.
We make it easy – you can add background colors or images, plus change fonts and font colors, so that your lead form will look and feel 100% on-brand.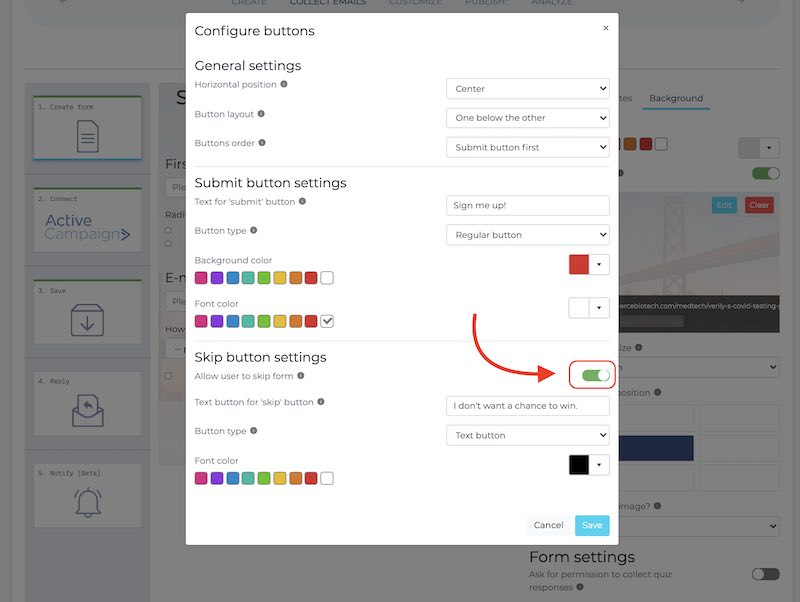 Saving lead form templates
You might want to reuse a particular lead generation form in future quizzes.
In that case, you can use our nifty lead form templates feature – quickly save and reuse templates in any other Riddle quiz or other content you create.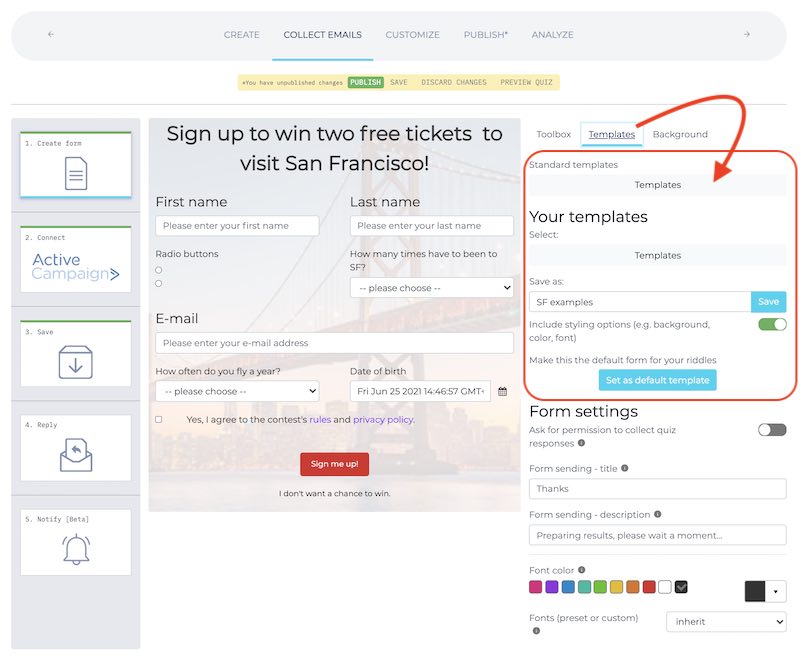 Any questions?
Use our handy support chat or email (hello@riddle.com) – ask us anything quiz-related. We're super fast to reply – we're not bots… just super dedicated to helping out. And most of the time, we respond in under two minutes flat.
****************************
Video transcript
(We like to add these video transcripts – to help make our walkthrough videos as accessible as our quiz maker for our community who might use screen-reading or other devices.)
Hi there, my name is Mike and I'm one of the co-founders here at Riddle.
And in this video, I'm going to give you a quick walkthrough on how you can easily create your own quiz lead generation forms.
Riddle's online quiz maker has a 'collect email' step. Once you're done adding questions and other content to your quiz, you'll want to head over to the 'collect email' step. And you'll see here that we have this form that I've built.
Now, you can just add and drag and drop different fields and columns. So, for example, I'm just going to add a column where I can have two fields. I'm going to drag a drag over a drop down option and maybe I'll do a radio button one instead.
And then you see here, I've added this one by accident. I'm just going to quickly delete this field.
Now with all these lead form fields, you can just pop in and mouseover. Then, click on the edit option and you can then add your choices.
For example, in my drop down, I might want to ask "How many times have you been to San Francisco?" The choices could be 'Never' (which is a tragedy), 'Once', and 'A lot'.
You can also make the required or not, so people either have to fill them out or they can skip this field entirely.
But that's pretty much all there is to it.
We also give you a number of things you can do to make this lead form creation process easier. Imagine this form is something I want to use in other Riddle formats. I could use our template option and just save it as a template.
In this case, I'm just going to call it 'San Francisco example' and I'm going to save this. And you can also decide – do I also want to bring in the styling, the colors and things like that, or just the text in fields?
You can also make your lead form a default template going forward. Every time you create a lead form, this will automatically populate just an option.
Other cool things – you'll see here, I've added a background image. I've also added this nice opacity fade – watch what happens if I bring it to zero. So that image is too dark and covers up the text. But if I use this slider, we now have it as a nice faint background.
So there's just a few of the options you can do.
The last thing I want to point out – we're often asked, "How do I make this lead form optiona?"
Many people might not want to force quiz takers to have to give their email address to see their results. You can just mouse over this field, click on the edit icon – you'll also see we give you lots of options when it comes to the different buttons and fields.
In this case, I want the buttons to be one above the other. This are a lot of options. And so now it's above the other. And you've got a nice text link below it.
There you have it. So that's our drag and drop lead generation form builder. If you have any questions, of course, just give us a shout on support. We're really fast to respond. I think we're averaging around a minute and a half to two minutes to get back to people.
You'll catch me by co-founder Boris and our entire team of devs as we all raced to answer your questions. All right. That's our lead form builder.
Thanks so much. And Happy Riddling.