The EU's privacy law (the GDPR) has changed everything about how you must delete quiz lead generation data. This sweeping data protection regulation means that companies collecting lead generation data (for example, in a quiz) must delete all personal information within 30 days.
Now, normally this would be quite tricky. Your tech team will need to dive into various databases and manually delete any personal information for that person.
The good news? It is super easy to delete quiz lead generation data with Riddle's quiz maker.
We added a 'Manage Leads' section – so you can do this in just a few seconds.
How to delete quiz lead generation data on Riddle:
1. Click on 'Manage leads' in the top-right menu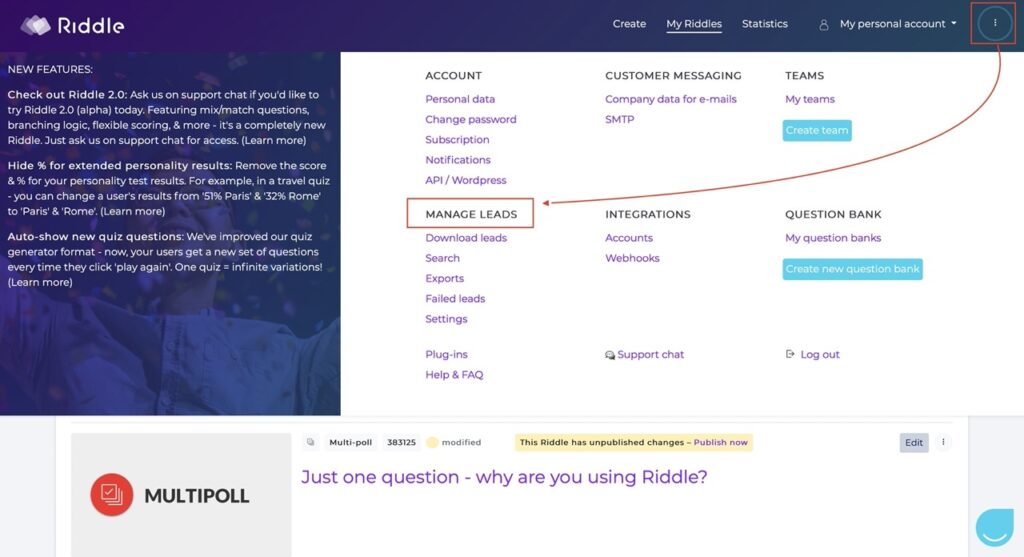 2. Choose which option to delete quiz lead generation data suits your needs: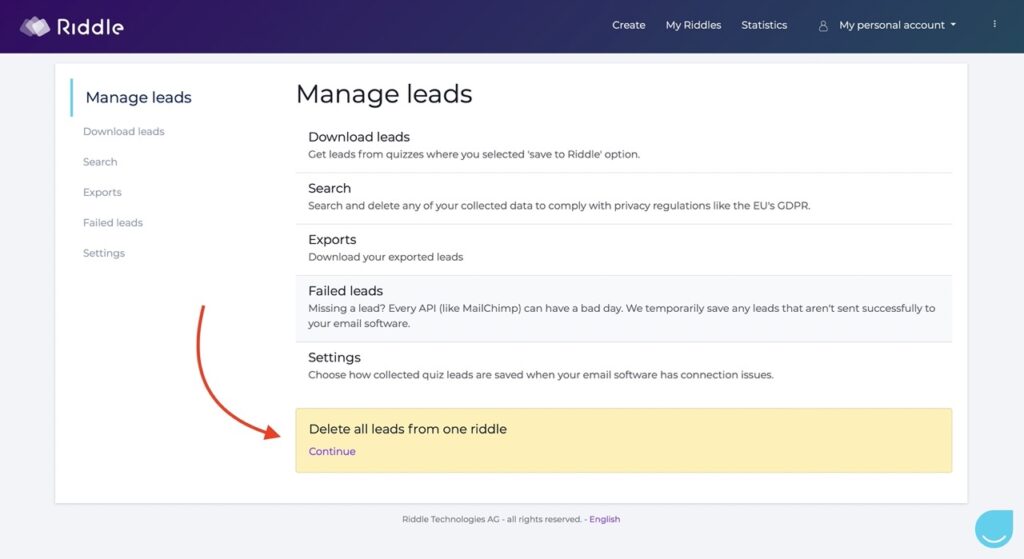 Download leads – this doesn't delete your quiz leads, but gives you them as an XLS or CSV file.
Search – designed for individual delete requests, enter the email or address for the lead you wish to delete.
Delete all leads from one Riddle – this option will delete quiz lead generation data for the leads you gathered in a particular Riddle.

Use this one super, super carefully – it's not reversible.

But if you have, say, 11,259 leads that you wish to delete at one go… this is the choice for you.
Hope you found this useful – but if you have any questions about how to delete quiz lead generation data (or anything else quiz-related), just give us a shout via support chat or at hello@riddle.com.
We're super fast to respond to requests – look forward to hearing from you!
PS. Now sure, we're not GDPR experts by any stretch. But you might also want to check out our GDPR for Small Business guide. It walks you through the problems and pitfalls of collecting data – and how to do it safely using a quiz maker like Riddle.