Quiz Lead Generation 2.0 – using form templates
Quiz Lead Generation 2.0 – using form templates
Saving a form template:
With our Quiz Lead Generation 2.0, our templates let you easily reuse any form you create.
Create a form once – then add to any quiz you build.
Once your form is perfect, click on the 'templates' tab.
Type a descriptive name in the 'save as' field, then press 'save'.
Default form templates:
Want to make this form your default for any future quizzes?
Click the 'Set as default template'
Your template will appear any time you want to add a form to a quiz
(Don't worry – you can always edit or change the form for each quiz.)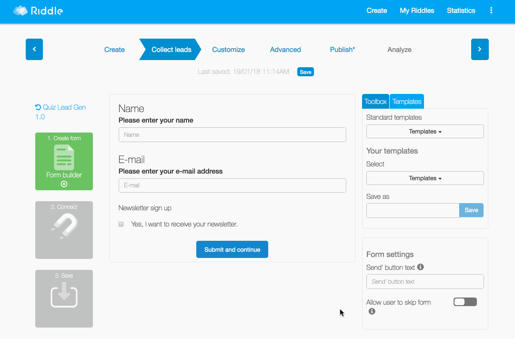 Using standard templates:
We've also included some pre-built templates to save you time.
Click on 'standard templates'
Choose the one that suits your needs
Our templates are just a starting point – feel free to customize any fields, then save as your own template.
******
Not a Riddle user yet? Try a free trial – no card needed.