Quiz Lead Generation 2.0: creating a lead form
Quiz Lead Generation 2.0: creating a lead form
Our new lead generation module is *ahem* pretty awesome.
(Sure we're biased – but we think you'll be big fans as well.)
Quiz Lead Generation 2.0 features:
Drag and drop to make your own forms
Choose from 17 types of form fields (email, date picker, etc.)
For our advanced users:
Customize the text & options of every field and button
Save forms as a template for easy re-use
How to create your a lead form:
Go the 'Collect leads' step in your Riddle.
Click on 'Create a form' and select 'Lead generation form'.
Choose the row widths (ex. 1/3 and 2/3, or 1/2 and 1/2).
Drag and drop the fields you need.
Edit the field names and messages to suit your needs.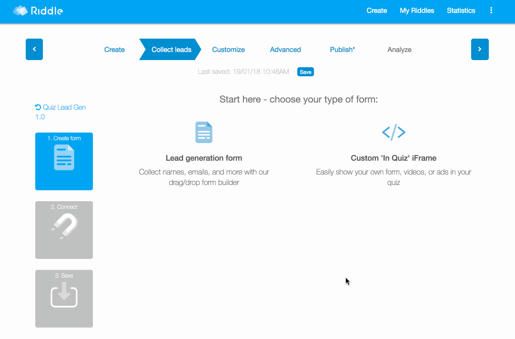 And here's a video overview of our quiz maker's lead generation form builder – but give us a shout if you have any questions at hello@riddle.com.
Lead generation with Riddle's quiz maker
Want to customize your form's send/submit buttons?
Click on the 'edit' button.
Change everything from the position to the colors/opacity of your send/opt-out buttons.
*** Not a Riddle user yet? Try a free trial – no card needed.